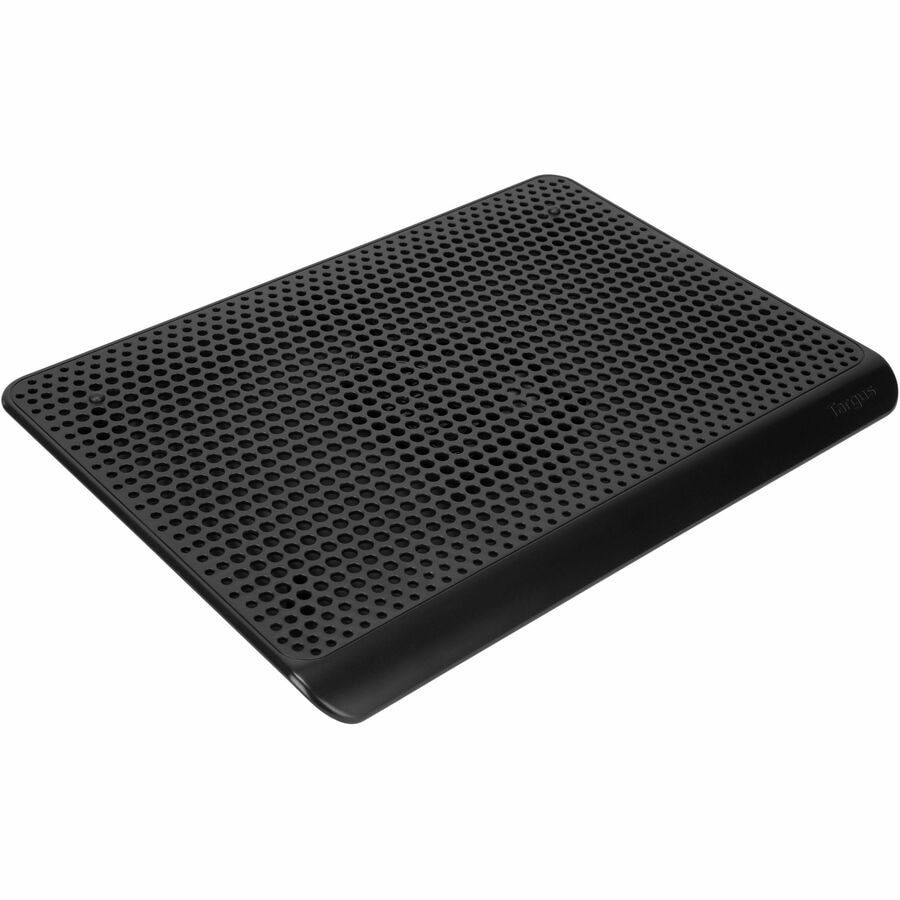 Quick tech specs
View All
Know your gear
The Targus Single Fan Chill Mat provides a comfortable work surface to keep you and your laptop cool. The Chill Mat rests on your lap and disperses heat, using a single fan to provide ventilation which can be obstructed if the laptop is used on a pillow or comforter. Simply plug the USB connector into the laptop to activate cooling. The Targus Single Fan Chill Mat makes using your laptop an enjoyable experience.
Targus Single Fan Chill Mat - notebook fan
is rated
4.40
out of
5
by
19
.
Rated

5

out of

5
by
Lilmissk76
from
16" single fan chill mat
I recieved and absolutely love this.....easy to set up and use....ithelps keep your labtop cool while extending life for your labtop ....I highly reccommend to all family and friends.........i love this toll soo much
Date published: 2021-03-14T00:00:00-05:00
Rated

5

out of

5
by
elim123
from
Works well and very quiet!
This chill mat has been such a huge help with working virtually from home. It requires no set up - just open up the package and you are ready to go. The mat brings a cable that connects to the computer's USB port and that is it! The fan started working right away. It is super quiet - which is great especially if you do not want any extra noise during your zoom calls! My computer is a 13 inch laptop, even though it is smaller than then mat it sits nicely and does not slide around. The top is made of plastic and has opening all over letting the air from the fan move easily to the computer. My own computer has a built in cooling fan and it does not turn on while I am using this product. I am really happy with the way it works and that it keeps my computer cool.
Date published: 2021-04-13T00:00:00-04:00
Rated

5

out of

5
by
CoolMeDown
from
Fan runs slow
The fan runs too slow, still getting up to 84 degree heat. Will try the dual fan version next.
Date published: 2021-03-30T00:00:00-04:00
Rated

5

out of

5
by
kkpenney
from
A valuable product for a common problem
This chill mat with fan is a very functional addition to my various computer accessories. It's very common for my laptop's fan to start whirring and the machine to get hot. This fan in the chill matt helps to alleviate that.
Date published: 2021-03-22T00:00:00-04:00
Rated

5

out of

5
by
Shan2609
from
Light and quiet.
This is perfect for my laptop. Nice lightweight and quiet operation. Keeps my laptop from getting too warm especially since I'm on it working all day. Simple and easy use just plug it into your laptop and your ready to go.
Date published: 2021-03-08T00:00:00-05:00
Rated

5

out of

5
by
tcc319
from
Great fan chill mat for large computers
My partner has a larger laptop and can require a lot of power due to the programs and software he uses. I knocked off one star because I don't think this is absolutely necessary for everybody but if you are someone who has a powerful computer, I do think this is important to have so the computer does not overheat.
Date published: 2021-06-19T00:00:00-04:00
Rated

5

out of

5
by
Unknown
from
Super cool
When I got this, I knew it was going to be a little big for the laptop that I was using, but it still works. None of the other laptops are able to use it, because they are too big. It's also super simple to work.
Date published: 2021-03-11T00:00:00-05:00
Rated

5

out of

5
by
AliRaza
from
Good Product
I like it, its nice and quite that's the best thing about it, otherwise the other cooling mats make a lot of noise an you can't concentrate. it keep my Mac cool and its light in weight just plug in and go, the only thing is now a days every laptop comes with a USB c so it would be time for the mat to upgrade to it. apart from that all is amazing.
Date published: 2021-03-15T00:00:00-04:00
Rated

5

out of

5
by
mobix
from
Great for work from home
I'm the type of person who likes to work on just about every surface in my home including my couch with my computer on my lap. This has helped my computer from getting warm on my lap and is super convenient.
Date published: 2021-04-15T00:00:00-04:00
Rated

5

out of

5
by
IvyeBean
from
16" Single Fan Chill Mat
I received the 16" Single Fan Chill Mat when my laptop would get very warm. I was hoping that the chill mat would help cool my laptop down. The 16" Single Fan Chill Mat definitely does exactly what it says it would do. It cooled down my laptop.
Date published: 2021-03-25T00:00:00-04:00
Rated

5

out of

5
by
tdjhurley
from
Works great!
I have a pretty old laptop that gets hot and shuts itself down after being on to long which is why I got this Chill mat. It has made a huge difference! It keeps it cool and does not overheat at all anymore. I wish I gotten one sooner!
Date published: 2021-03-08T00:00:00-05:00
Rated

5

out of

5
by
Debby86
from
Low sound
Made this purchase since I'm always on road trips. This helps a lot for my laptop. The fans run really smooth. Sometimes I even forget that I have it turned on. It fits really well on multiple laptops.
Date published: 2021-06-26T00:00:00-04:00
Rated

5

out of

5
by
zeri
from
Targus Chill Mat
The Targus 16" Fan Chill Mat fits great under my 15" laptop and is keeping it from heating up when I'm using it and also keep my processor safe. All you need to do is plug in to a USB-A port and it turns on, real simple. Very good quality and it has been working as described so I am very pleased.
Date published: 2021-03-19T00:00:00-04:00
Rated

5

out of

5
by
customkc
from
No frills - basic fan mat
Using with my new HP Omen gaming laptop as they are known to get quite hot with use. Super easy to set up. Plug and "play." One of the rubber feet fell off the minute I took it out of the plastic packaging. It's not overly bulky, but it's not slim either. It fits my 15.6" fine. I would not recommend this to use as a lap pad - it works fine and is stable when in use on a desk or solid surface. Overall, I'm not super impressed.
Date published: 2021-03-17T00:00:00-04:00
Rated

5

out of

5
by
Juni44
from
Overall good product
I was happy to find this cooling mat for my laptop. True to it's name it does keep my laptop significantly cooler. Being that, also as it is named ninety percent of the time used is in my lap. This is not at all a pleasant experience due to the heat given off from the bottom. The cooling mat does a great job of eliminating this issue completely!! I will most definitely be recommending this to family and friends.
Date published: 2021-03-25T00:00:00-04:00
Rated

5

out of

5
by
Tld66
from
Works great!
So happy to have this fan for my laptop. I work from home so this is great to have and works perfectly to cool my laptop down after hours of use. The way it's set up is perfect. I like that the cord is short and not in the way.
Date published: 2021-03-23T00:00:00-04:00
Rated

5

out of

5
by
DTinNC
from
Nice single fan chill mat
My son has a school PC laptop that heats up, and this Single Fan Chill Mat helps cool it down during classes. It's well designed, sturdy and the fan runs through a USB into the laptop when the PC gets too Hot. I would recommend this to a friend with the same issues.
Date published: 2021-03-10T00:00:00-05:00
Rated

5

out of

5
by
Kunu14
from
Good unit not perfect but it does what it say it w
This laptop cooler is pretty good. Overall it is sturdy, the fabric has a neoprene softness and the weight is low (no sense adding to the laptop I was a little apprehensive at first, but the first time I used it I was pleasantly surprised. It made a huge difference in the temperature of the laptop. I have one of those gaming laptops because it has the high end specs i need, but doesn't cost an arm an a leg to buy. The only reason I give it 3 stars is the rubber pads that hold the laptop elevated off the surface of the mesh. Yes they allow for the air flow from the fans but the rubber is small and the laptop can slide especially if you are holding both in your lap and your knees are higher than your hips. I know most people won't be doing that so it probably isn't an issue really, but I did notice my larger laptop slide a little. The chill mat actually looks sort of like a large binder that doesn't open the fans connect to your USB port and are powered from your laptop so if your running on battery it might drain a little faster. Laptops running on battery usually slowdown to conserve so getting hot may not be an issue unless you set you laptop up to run full out even on battery. The chill mat can also be used to angle the laptop on a desk which is a nice benefit. It doesn't adjust but hey its not really for the desktop. I would like the option to add either more fans or enlarge the one already there, but I don,t see a way that can happen o this unit. Also the option to plug it into the wall outlet would be nice so I am not using battery. I would recommend it to someone who has there laptop in there lap it keep you from felling the heat..
Date published: 2021-03-17T00:00:00-04:00
Rated

5

out of

5
by
Anna Wiley
from
lightweight and effective
I'm using a laptop for field work in 90 degree heat. I had numerous problems with overheating. This little cooler fits between my Targus TKCO13GL-70 holder and my 13"laptop and keeps it cool enough that my system hasn't crashed since I started using it. HOWEVER, it does drain the battery much faster.
Date published: 2019-08-30T00:00:00-04:00