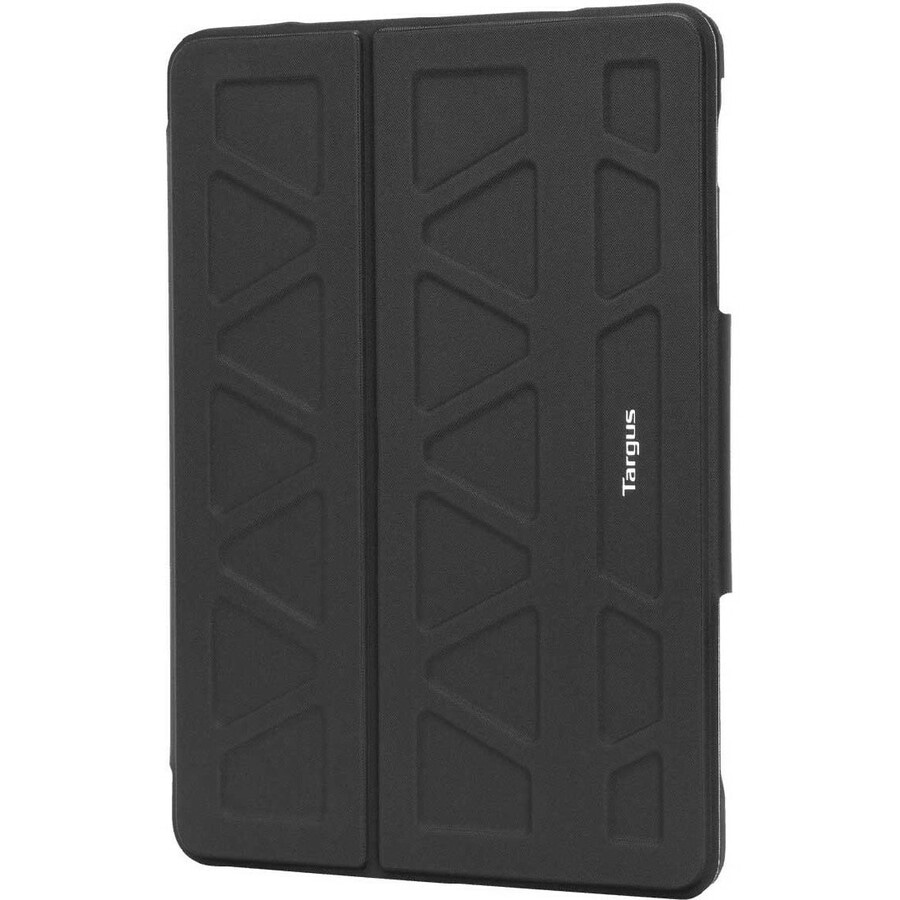 Quick tech specs
Tek
polyurethane
black
10.5"
8th generation
Flip cover for tablet
thermoplastic polyurethane (TPU)
10.2"
for Apple 10.2-inch iPad (7th generation
9th generation); 10.5-inch iPad Air (3rd generation); 10.5-inch iPad Pro
View All
Know your gear
Wrap your iPad (9th/8th/7th gen.) 10.2-inch in strong, military grade drop protection. Engineered for durability without adding weight, this architectural case features a flexible tray with wrap-around bezel and reinforced corners to ward off bumps and dings.

The tray design also flexes to fit the 10.5-inch iPad Air and iPad Pro for a snug, safe fit. It is also structurally designed to redirect sound for enhanced audio. Precision cutouts give full access to controls, ports and cameras. Convenient sleep/wake feature reduces downtime and conserves the battery.

The structured cover is engineered to protect, while a non-slip interior makes it easy to adjust your iPad into infinite viewing angles or a comfortable typing position. Altogether, it's a superior choice for protecting your iPad.
Targus Pro-Tek - flip cover for tablet
is rated
3.30
out of
5
by
10
.
Rated

5

out of

5
by
Major
from
Great product!
I've had this case for a few weeks now and I'm still really satisfied with how it fits and feels when I use it. Highly recommend!
Date published: 2022-01-17T00:00:00-05:00
Rated

5

out of

5
by
D J
from
Standing ability.
Great. Except to stand pad vertically. Otherwise, as advertised.
Date published: 2022-02-02T00:00:00-05:00
Rated

5

out of

5
by
Jsdds
from
Can't hold with ease
Great affordable case except for the fact that you can't hold the iPad with ease
Date published: 2022-09-26T00:00:00-04:00
Rated

5

out of

5
by
Anita
from
Love this
This is one of the best tablet covers. I highly recommend it.
Date published: 2023-02-22T00:00:00-05:00
Rated

5

out of

5
by
Linda
from
Ipad
Got this one for my husband as I liked mine so well
Date published: 2023-01-28T00:00:00-05:00
Rated

5

out of

5
by
Sandyb
from
Mark us for Travis!
Great and light. Just wish it had a swivel option. We bought at Argus before and Love the brand. My husband didn't want to change but his other iPad case was WORN OUT. After 10 years of use tho!
Date published: 2023-06-25T00:00:00-04:00
Rated

5

out of

5
by
Doris
from
Not what I expected
I am not happy with how this Targus product unfolds, leaving my I pad at a huge slant while trying to view it. I literally have to hand hold this cover each and every attempt to stand it. The closure flap is in the way and it bends too many places. I hate it, Thank you for having me buy your product and using it. You wasted my money,
Date published: 2020-10-11T00:00:00-04:00
Rated

5

out of

5
by
Kim
from
Model# THZ85202 GL- 50 F/C AC0086 PO# 244895
This a piece of garbage. Spent a lot of money on it also from Best Buy. iPad will not stay up it keep slipping, I have to hold it or lean it on something. After spending a lot on this one. No pen with it. Must have been an older model. Very disappointing. Will not buy there products again.
Date published: 2020-10-19T00:00:00-04:00
Rated

5

out of

5
by
Rotwang
from
ALMOST a great case!
Got the case on sale at Best Buy, good start. I was looking for a rigid, stable,protective case for my new iPad 8 & this one looked (and is good. However, 2 design flaws remove it from the perfect list. 1- The retaining ring around the edge of the screen is 1/16" too narrow. This causes it to interfere with the protective screen cover especially the corners, making it want to lift off. 2- The main complaint. The hinge connecting the cover to the main body/holder is too wide and flexible rendering the whole thing unstable. This hinge must be wide enough to allow the cover to close. So rather than 1 wide floppy hinge use 2 like the one in the middle of the cover with a stiffener between them. 2 minor changes and you have a 5 star, perfect case comprable to the $100 jobs! By the way the rating below leaves out functionality.
Date published: 2021-06-04T00:00:00-04:00
Rated

5

out of

5
by
NikkiSixx1226
from
Use it with a pillow...
It does not stand it slides or falls , I have to use a pillow in order to actually use it. My previous cheap case from Walmart Never needed any props and always stood up on it's own. But after it became too worn out I decided to invest in an expensive fancy case and purchased this one . This has been so disappointing even i googled if I was doing it wrong on how to stand it up but nope I was doing it right.
Date published: 2020-11-15T00:00:00-05:00