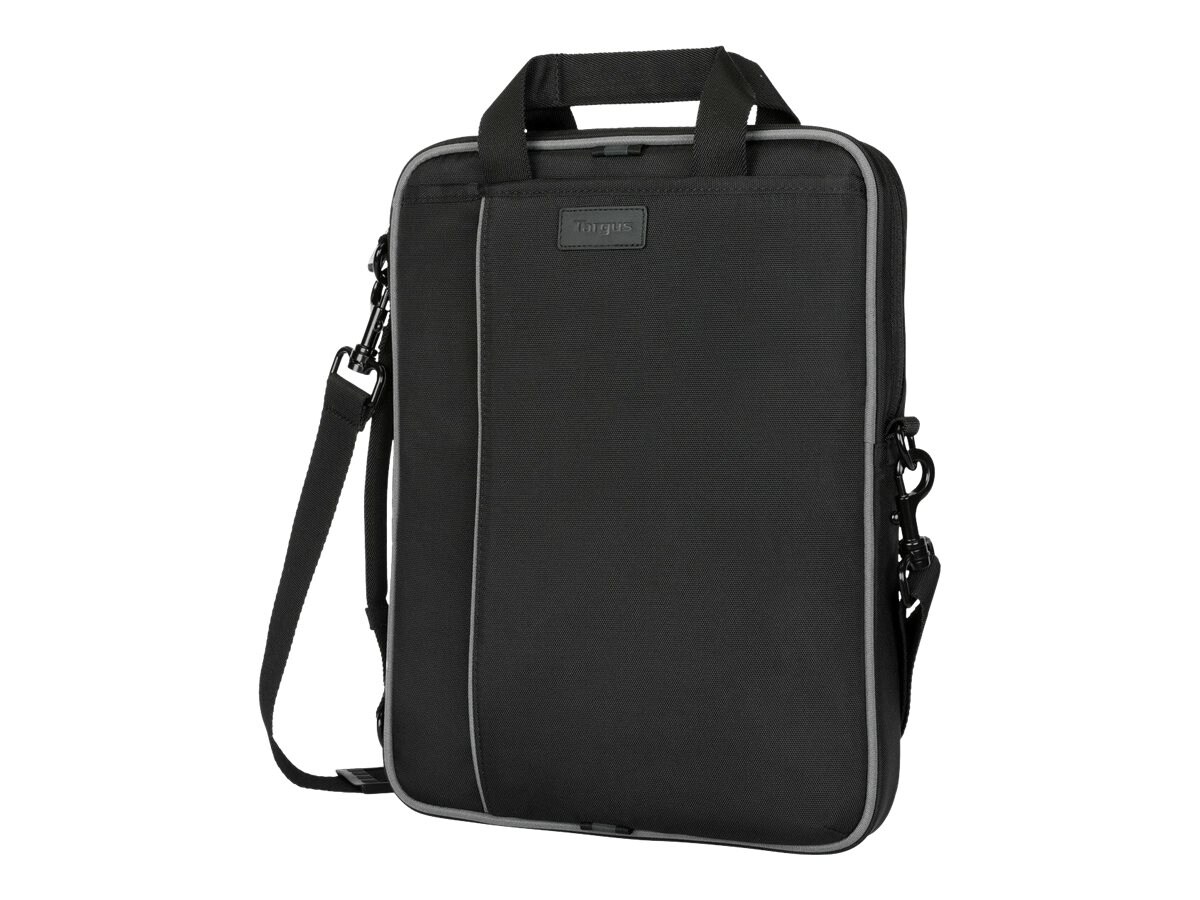 Quick tech specs
Notebook carrying case
14"
View All
Know your gear
Wrap your laptop in tough protection with the 12-14" Grid Essentials Slipcase with Dome Protection System (DPS). Made to stand up to the rigors of student life, this case sports a fully reinforced front and back panel and incorporates the patented Dome Protection System to help protect the laptop's screen in case of bumps or drops. It even has metal hardware to stand up to the daily trek to and from class.

Pack your chargers, pens, and pencils in the large front pocket for accessories. Plus add your own personality or contact information into the extra-large ID card holder. Carry it your way with the top and side handles or throw it over your shoulder with a removable shoulder strap.
Targus Grid Essentials Slipcase - notebook carrying case
is rated
4.70
out of
5
by
15
.
Rated

5

out of

5
by
Katieann1232000
from
Great Case!
This Grid Essentials Slipcase with Dome Protection System is awesome! The case is made with such great quality. The case is very sturdy. I am very happy with this product. There is a lot of room in the case and the pockets. I highly recommend!
Date published: 2021-04-24T00:00:00-04:00
Rated

5

out of

5
by
KateM
from
Functionality is perfect, look is bulky
This case protects my computer really well. This makes it a little bulky, and doesn't fit into my backpack with many other things. The slip pocket is great for storing pens. Overall, I feel very safe putting my laptop in this case before bringing it to work, on a plane, etc.
Date published: 2021-04-26T00:00:00-04:00
Rated

5

out of

5
by
Becky m
from
Great case and light weight
I really enjoyed the case. It's at my computer perfectly plus my two notebooks plus my phone. I liked that the strap was changeable. I was able to change so it could hang horizontally or vertically depending on what I needed.
Date published: 2021-04-27T00:00:00-04:00
Rated

5

out of

5
by
Kristy
from
Great computer case
I have been using this computer case now for a few weeks, It offers plenty of space and keeps my computer secure and safe when taking it from one place to another. I would definitely purchase this computer case again in the future if I have another need for one!
Date published: 2021-05-04T00:00:00-04:00
Rated

5

out of

5
by
Melanie
from
Slipcase
Well padded and compact. Works great for my MacBook Pro.
Date published: 2021-11-06T00:00:00-04:00
Rated

5

out of

5
by
MJVAL
from
Great for work and travel
This case holds both my laptop and tablet (photo). Features I love The option of a short handle or an adjustable strap. An added zipper pocket that holds my wallet, keys and Phone, perfect! A photo ID pocket great for my work ID. Case is padded to protect my electronics. I highly recommend especially for a minimalist.
Date published: 2021-04-23T00:00:00-04:00
Rated

5

out of

5
by
Shubham
from
Perfect Case for iPad
This laptop bag is perfect for my use. It holds my MacBook Pro along with my iPad at the same time. Also, It has a photo id pocket. I used to keep my work id in that. Most importantly, It is designed in such a way that the user can hold it horizontally or vertically. It also provides padded cushioning comfort from the inner side to protect an electronic gadget.
Date published: 2021-04-29T00:00:00-04:00
Rated

5

out of

5
by
BenattiFamilyReviews
from
Awesome slipcase!
I used this for my personal travel laptop and found it very personable in functionality and aesthetics. In comparison, I have a bigger slipcase for my work laptop. This is sleeker in size and alot lighter. It snugs very well to my laptop and I feel it provides good protection in travel. I also like that the straps can be placed on two separate pairs of rings so it can be carried the traditional horizontal way or a newer fashionable vertical way. My wife preferred the vertical look if she would use it herself. I'm extremely happy with this product and would suggest it to friends and family.
Date published: 2021-04-25T00:00:00-04:00
Rated

5

out of

5
by
LibH
from
Lightweight yet heavy duty
This computer bag is lightweight yet offers solid protection and padding for my chrome book and tablet. The versatile carrying handles and straps make this a comfortable bag to carry. Overall it has a very durable feel with the grid padding but is still stylish to carry on a daily basis. It says 12-14 inches and it truly has ample space for a full 14 inch laptop/chrome book. I am very pleased with this bag.
Date published: 2021-04-26T00:00:00-04:00
Rated

5

out of

5
by
Flynt
from
Large zipper
The large top zipper has no hesitation when opening the main compartment. The front pocket offers plenty of space for charging cords and mouse. The main compartment pocket for the laptop is well padded and allows the laptop to sit securely inside the bag.
Date published: 2021-04-29T00:00:00-04:00
Rated

5

out of

5
by
Miss dee
from
Great bag
It's a great small bag it holds everything I need . I can place it in my desk without a problem . I love the quality of the bag and it was made very well. The color is very nice I wipe it off if it's needs cleaning
Date published: 2021-04-26T00:00:00-04:00
Rated

5

out of

5
by
Cinderella Ann
from
Great for school size Chromebooks
I received this for my daughter and the design is amazing. It is the perfect size for the small Chromebooks the kids have for school. The design is great with the hexagon shapes for protection and the smaller size with pockets for the little things they need for class is great. The straps make for easy carry in both directions. Great for any smaller electronic.
Date published: 2021-04-27T00:00:00-04:00
Rated

5

out of

5
by
Nammu
from
Super flexible
Laptop bag is flexible and inside is safe cool item works great. Interior of the main compartment is moderately padded and is lined material that shouldn't scratch the device. I'm actually using this for my mac book pro, pockets holds charger cable.
Date published: 2021-04-28T00:00:00-04:00
Rated

5

out of

5
by
JAY31
from
Sleek slipcase
I love the sleep look of the bag. the materials are very soft and of high quality. My current notebook/Ipad fits perfectly inside. I completely like the waffle pattern on the inside of the main pocket it is a great idea that nicely protects my notebook/Ipad. I love the other pockets is designed to make it easy to tuck things in. Finally, the different carrying handles are another great features I like about this product.  Overall it's an amazing product to travel with from everyday travel to longer travels. 
Date published: 2021-04-25T00:00:00-04:00
Rated

5

out of

5
by
myfolsom
from
Great protection for my Galaxy Tab S7+
Recently I had purchased Galaxy Tab S7+ and needed a lightweight but good carrying case. This slipcase is the right size for my 12.4 inch Galaxy Tab and offers very good protection (as can be seen from the photographs. It has 2 options for carrying - like a briefcase with handle or from the shoulder. The product is very well built and I am very happy with the purchase.
Date published: 2021-04-26T00:00:00-04:00