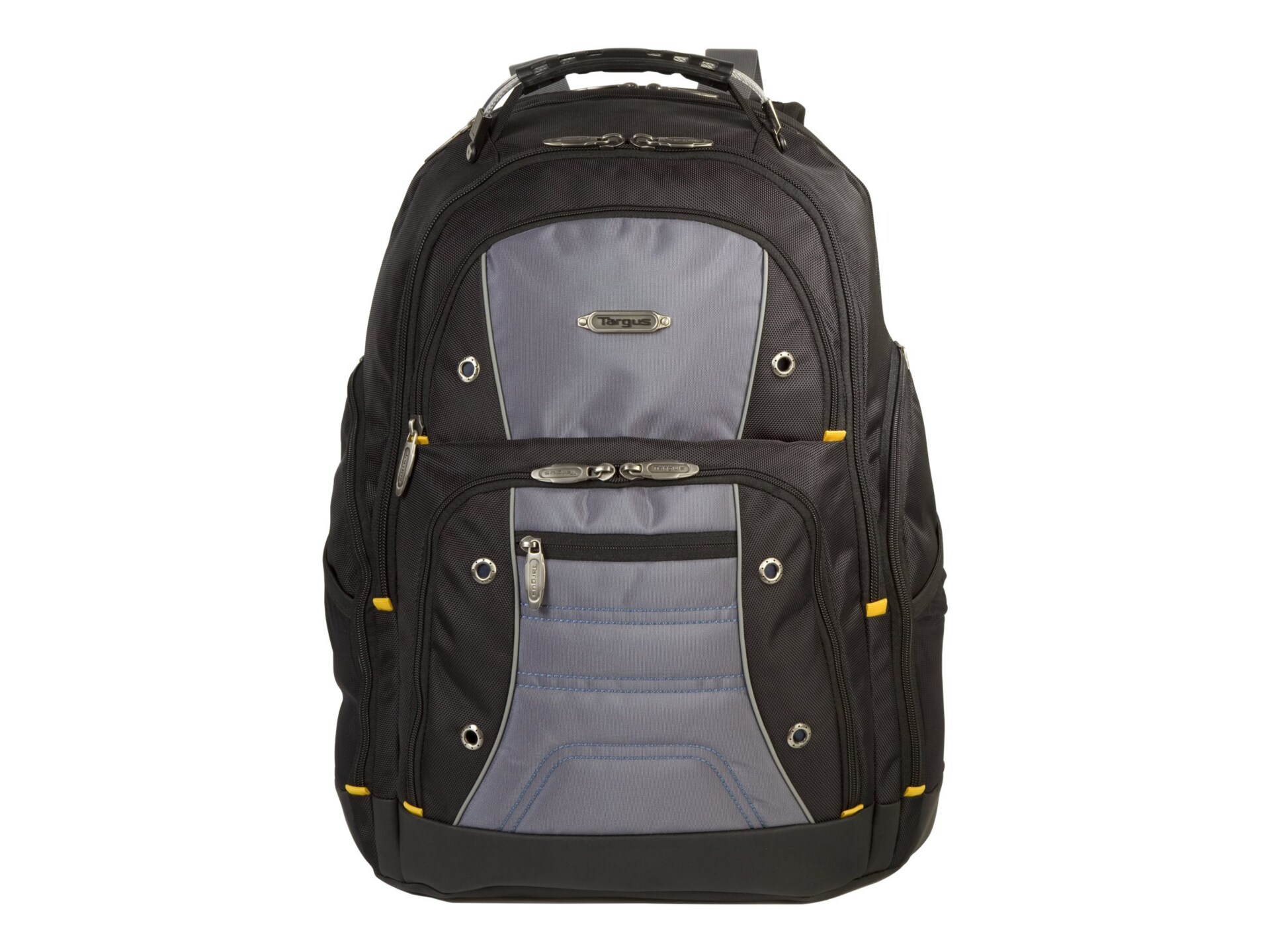 Know your gear
The 17" Drifter II Laptop Backpack is designed to fit laptops with up to 17" screens. This backpack features several large compartments for storage including a padded laptop compartment that keeps the device secure and separate from other items carried in the case. The thick padding on the back panel includes a large hidden zippered compartment and is strategically placed to provide lumbar support for your back. The heavily padded shoulder straps provide comfort for travel. The main front compartment includes pockets for business cards, a mesh accessory pocket and key clip. A convenient soft, lined pocket located on top of the bag is scratch-resistant to store fragile accessories such as glasses, and more. To keep files in order, the interior divider provides a safe place to store documents.

Focusing on durability, the Drifter backpack features a weather-resistant bottom, thick industrial zipper pulls and a sturdy molded plastic handle supported by metal grommets and cabling. The Drifter Backpack offers a rugged case full of storage options and protective compartments for important devices.


Targus Drifter II Laptop Backpack
is rated
3.00
out of
5
by
10
.
Rated

5

out of

5
by
cablemonkey
from
not real durable
bought a year ago. straps are ok, but the fabric is ripping around the zipper of the lower outside compartment. looks bad and i'm afraid i'll loose something. don't know how it started ripping... : (
Date published: 2017-10-31T00:00:00-04:00
Rated

5

out of

5
by
Craig
from
A mistake that I wish I could take back
Generally good quality and functionality. However, the zipper system is awful. Wont stay closed and I will have retire rhis bag before I start losing items just walking down the street.
Date published: 2019-04-24T00:00:00-04:00
Rated

5

out of

5
by
maxnix
from
Expensive Junk
Used this product for one week and main pocket zipper (where laptop goes) separated. Returned for refund.
Date published: 2019-04-10T00:00:00-04:00
Rated

5

out of

5
by
buddycat66
from
very handy
I'm very pleased with this backpack, it has all the space I could ever need and it seems to be durable enough to protect my laptop from just about anything
Date published: 2018-09-05T00:00:00-04:00
Rated

5

out of

5
by
Danny
from
Awesome Padded Backpack - Awesome Protection with Lots of Storage Very Durable and Lasts
We have bought this same backpack for years (about 7 years and probably over 50+ of these exact same ones) from Dell for our company. Even with laptops screen sizes getting smaller we still get the model. With all of these bought we are still using the same ones. I have maybe once replaced out this backpack. I've had my same one for around 7 years+. Quality, Durable and Last.There is SO MUCH storage places. Everything you need to take with you will fit as well.Excellent padding on the back so it is Not uncomfortable when carrying.Awesome Protection!Absolutely Love Them!
Date published: 2018-07-25T00:00:00-04:00
Rated

5

out of

5
by
delluser74
from
Bad straps
Spent lots of time looking for the right bag. In less than a month the straps ripped. I do not recommend.
Date published: 2016-04-01T00:00:00-04:00
Rated

5

out of

5
by
Ben
from
Received a defective bag - Stay away!
I bought this bag 3 months ago. After 2 weeks of use, the straps started to tear. I was willing to compromise but it just kept on tearing. I contacted the Targus costumers service, and they offered to examine the product and send a replacement *only if* it is a production defect - That's fine.The representative send me the details on how to conduct the claim:I will have to send the bag to them, pay for the delivery (almost half of the bag's price, wait about 4 weeks for them to examine it and decide whether I should get a replacement or not.I will take a long brake until purchasing Targus products again. Stay away of this product as well - it is not as comfortable and diverse as it looks in the images.
Date published: 2016-06-20T00:00:00-04:00
Rated

5

out of

5
by
Joyce Moat
from
Good bag for the price
I really like this bag a lot. Good features, sturdy and lots of pockets for stuff. It seems like it will last forever.
Date published: 2019-04-19T00:00:00-04:00
Rated

5

out of

5
by
Shawn Denny
from
This is a man's bag...
If you're a man, you want this bag. Thing will probably outlast me. I didn't realize Targus has such cool stuff, I'll be back.
Date published: 2019-04-19T00:00:00-04:00
Rated

5

out of

5
by
Zach
from
An Immortal Laptop Bag
I've owned a Drifter Laptop Bag for the last 13 years; it's traveled over three continents with me through tens of thousands of miles on the road and on a plane. It truly lives up to its name; I only purchased a second one so that my child can have the same laptop protection as I have, and I'm almost positive I will hand my original down to one of my future grandkids.
Date published: 2020-01-13T00:00:00-05:00