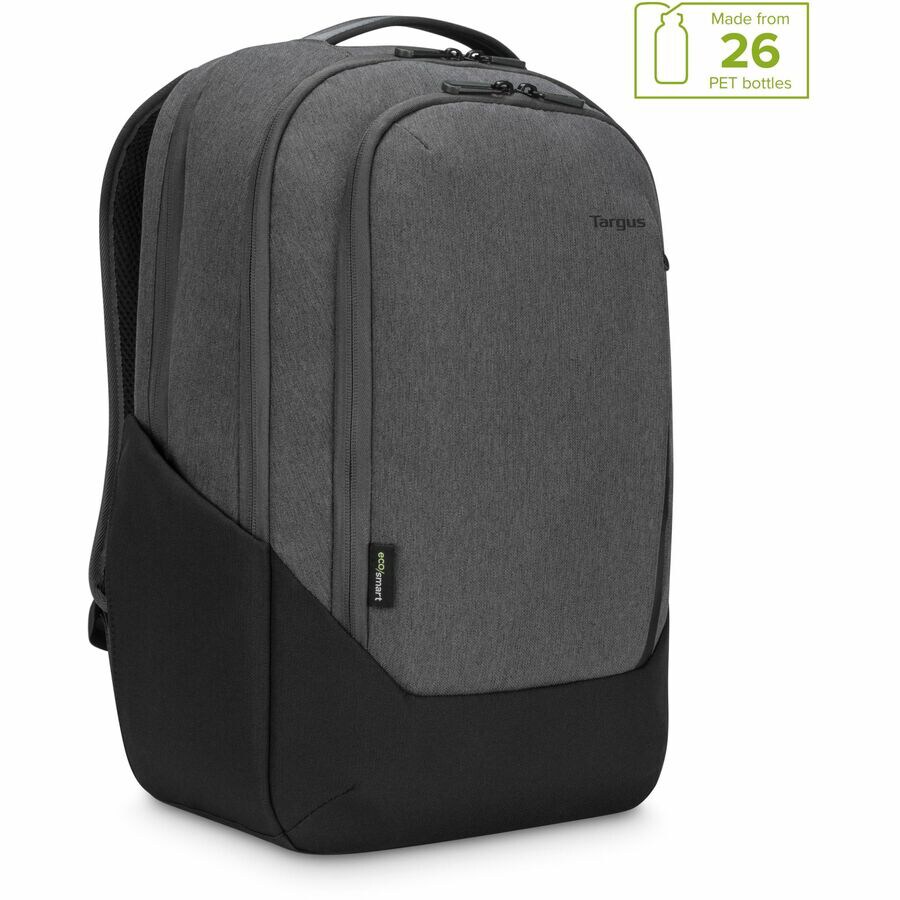 Quick tech specs
Notebook carrying backpack
gray
View All
Know your gear
Made from recyclable materials on the inside and out. Using fabric woven from recycled water bottles, 26 to be exact, the 15.6" Cypress Hero Backpack with EcoSmart is thoughtfully designed to protect your work essentials while also protecting the environment.

Built to fit 15.6" laptops, this EcoSmart bag features a dedicated padded compartment to cradle your laptop, plus boasts a large main compartment, a secondary compartment with a workstation, and a convenient front quick-stash pocket to provide you enough room for your everyday essentials.

Its smart design also features adjustable, ergonomic shoulder straps and a padded back panel to ensure a comfortable fit, as well as a pass-through trolley strap for easy transport on luggage.
Targus Cypress Hero Backpack with EcoSmart - notebook carrying backpack
is rated
4.90
out of
5
by
18
.
Rated

5

out of

5
by
Ahar
from
Great quality
This backpack is a bit smaller than what I was looking for. However, it is pretty great quality and a thick bottom so it'll be great for carrying my laptop home from work. It doesn't have all of the features of a regular backpack I.e. bottle holder
Date published: 2021-12-06T00:00:00-05:00
Rated

5

out of

5
by
Kwellnitz
from
Love the compartments
I got this for my son to use in high school. He needed something that would carry his laptop along with his other things. This is perfect! It isn't huge and cumbersome but it is big enough to fit everything he wants to carry. He said it was really comfortable and he can find everything he wants very easily. It is very well made so this should last him a long time. I'm very happy with it.
Date published: 2021-12-06T00:00:00-05:00
Rated

5

out of

5
by
Acoop
from
Great backpack
I use this backpack daily for work. It is a great size, holds what I need without being too large. I enjoy that it is made from recycled materials. It has a very sleek, modern look to it while still being incredibly durable. I would highly recommend.
Date published: 2022-05-25T00:00:00-04:00
Rated

5

out of

5
by
jennzenn
from
Very pleased with!
I received my Targus - 15.6" Cypress Hero Backpack with EcoSmart just in time for school! I am very pleased with the backpack as it is very compact and yet very roomy! Perfect for my books as well as my laptop. I love the structure that it has as it does not collapse when adding or removing items.
Date published: 2022-04-01T00:00:00-04:00
Rated

5

out of

5
by
vigorousrae
from
great for anything
This back back looks and feels amazing. I was using it for going to work. holds my laptop and my stuff great. the backpack is lightweight so it doesnt make your posture worse. i love that it state it was made from 26 plastic bottles. I am all about saving the earth and recycle. its also sleek looking too.
Date published: 2021-12-06T00:00:00-05:00
Rated

5

out of

5
by
Commuter
from
Comfort
The straps are very comfortable, and the backpack is spacious.
Date published: 2021-12-30T00:00:00-05:00
Rated

5

out of

5
by
KayceeW
from
Beautiful design and heavy duty
This bag is beautifully designed and heavy duty. It fits my Dell laptop beautifully and gives me comfort that it will be protected as the bag is pretty cushiony. It is made quite well in terms of durability. The color is nice and goes with everything as it is gray. I definitely recommend it to anyone needing or looking for a good bag for their laptops or even gaming systems.
Date published: 2022-02-07T00:00:00-05:00
Rated

5

out of

5
by
Frescalee3
from
Exactly what I needed
This backpack ticks all my boxes. Aesthetically, I like the gray and black color combo. The fabric feels like really nice quality and it's great that it is waterproof. The shoulder straps are nicely padded yet breathable so it's comfortable to carry. I love that it has a handle on top. It has the right number of pockets and I especially like the front pocket with all of its compartments for organizing my cords and accessories. It's a good, functional size without feeling too bulky and I love that's it's made from recycled plastic bottles.
Date published: 2021-11-27T00:00:00-05:00
Rated

5

out of

5
by
DulceP
from
Made with High quality recycle materials!
Amazing backpack, I love that is made with recycled materials Ecosmart, makes this backpack very special since I love to recycle and take care of our planet. The design of the backpack is very sleek and modern, I love that I can put my 16 inches computer inside and protect my computer. It has different compartments for accessories or anything you might need to carry in there, great to travel, school or just to carry your laptop whatever you going!
Date published: 2021-12-02T00:00:00-05:00
Rated

5

out of

5
by
Blurb13
from
Very sturdy
This is a nice looking bag, love the colors and design, it's very sharp and expensive looking. What separates this from a regular backpack is how sturdy it is. Right away you can tell this bag was meant to protect the items inside. It manages to be this amazing fortress for electronics while still being lightweight and easy to carry around everywhere. This is the perfect backpack laptop bag
Date published: 2021-11-28T00:00:00-05:00
Rated

5

out of

5
by
Rebornin05
from
Love it!
This Targus -Cypress Hero Backpack with EcoSmart, is awesome! It is a good quality, durable and very spacious backpack. Lots of compartments and room to carry alot with you. It looks nice and very comfortable to wear. Best backpack that I ever owned. I highly recommend it.
Date published: 2022-01-21T00:00:00-05:00
Rated

5

out of

5
by
JenniferS29
from
Well made backpack
I love everything about Targus' 15.6" Cypress Hero Backpack with EcoSmart® in Light Gray! This is perfect for fitting my work laptop, power cord, mouse, docking station, cables and way more. It has tons of storage, loads of pockets and plenty of nifty features. On it's own, it's very lightweight for travel and can really hold a lot of stuff with very durable straps on the back and top. The gray/black combo is a bit staid, but looks professional. I love all the thought and design that went into this backpack, and even better that it diverted 26 water bottles away from a landfill. 10 out of 10!
Date published: 2021-11-23T00:00:00-05:00
Rated

5

out of

5
by
Laurie
from
Gorgeous gift
I bought this for my husband as a surprise for an upcoming trip. He loves it. It was great in the airport. Everything fit perfectly and much less bulky then his aged traditional pack. And it's beautiful
Date published: 2022-08-02T00:00:00-04:00
Rated

5

out of

5
by
gambit202
from
One of the best backpacks I've ever owned
This bag is really comfortable, even while carrying a laptop. The back of the bag has a good amount of cushion that feels good on your back. The straps were also ergonomically designed that takes a lot of the load off and makes it feel comfortable when carrying. Both of the sides of the bag have a pocket perfect for carrying a bottle of water. There are four different zippers for compartments perfect for carrying anything you need. two of the compartments seem like they have a divider for laptops or tablets. So essentially you can have your laptop and power cable in one, a iPad in another, and carry any other accessories you need in the other compartments. I highly recommend.
Date published: 2021-12-02T00:00:00-05:00
Rated

5

out of

5
by
JimFlman
from
Super great quality!
This is a very durable, lightweight, spacious backpack. Great for school or for anything you need it for. My wife's 13" laptop fit very easily with her other stuff for nursing school like thick book. The zippers are smooth and this is just made with great quality. Cypress hero ecosmart backpark will definitely go with us on our travels!
Date published: 2021-11-25T00:00:00-05:00
Rated

5

out of

5
by
Mellymel
from
Best backpack!
I struggle with back issues, and this pack has to be the most comfortable and lightweight pack I have ever used! It's simply amazing! My 15" laptop and other accessories fit perfectly into the pack. It has multiple pockets and zipper storage. It definitely is a must have!!
Date published: 2021-11-22T00:00:00-05:00
Rated

5

out of

5
by
SYG3
from
Great Bag with Pockets!
The 15.6" Cypress Hero Backpack with EcoSmart is a great backpack that fits EVERYTHING! My laptop, charger, mouse, and iPad will all fit in this convenient and well-designed carry-all. I love the fact that it is padded with comfortable straps and multiple pockets, easy-pull zippers and full-size bottle pockets. Thank you for the great design and ergonomic ease of use backpack!
Date published: 2021-11-27T00:00:00-05:00
Rated

5

out of

5
by
Josh24
from
Great quality Backpack!!
Perfect for my needs. I can carry everything I need and more! Confident that my laptop is well protected while traveling, the design is good, a reachable workstation to keep close to reach small things, padded shoulder straps very comfortable to carry on for longer periods of time, and the best part made with recycled materials.
Date published: 2021-12-03T00:00:00-05:00