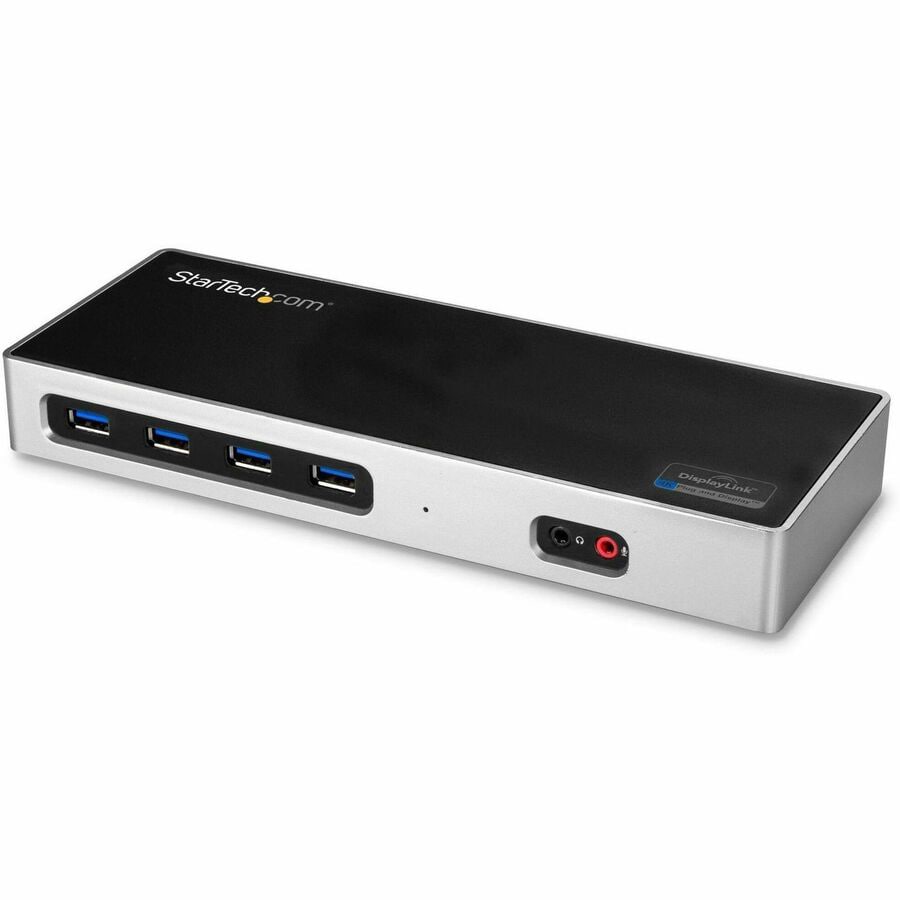 Quick tech specs
Dual monitor hybrid USB-A USB-C dock works with USB Type-C/TB3 or USB A laptops/computers/PCs
Supports 2 extended displays on Macbook Pro/Air w/ Intel processor or Apple M1 chip
6 port USB-A Hub (5Gbps USB 3.1/3.2 Gen 1) | Gigabit Ethernet | 3.5mm Audio (Headphone and Mic) | DisplayLink Certified
Dual 4K 60Hz docking station with 3 video options: 2x DisplayPort | 2x HDMI | 1x DP + 1x HDMI
Universal USB 3.0 docking station w/ USBC and USB-A host cables
Windows macOS Chrome OS Ubuntu
View All
Know your gear
This dual-4K docking station offers wide flexibility in setting up your workstation, working with both USB-C and USB-A port laptops and supporting multiple combinations of Ultra HD 4K DisplayPort and HDMI monitors.
Enhance Productivity with Dual-4K 60Hz Video
Ideal for highly detailed graphics applications, this dual-4K 60Hz docking station enhances your productivity by expanding the display capabilities of your laptop across two Ultra HD 4K monitors. The laptop docking station works with DisplayLink to support high-resolution monitors, enabling two full 4K 60Hz displays from a single USB connection.
With the dual-4K dock, you can connect two 4K DisplayPort displays or two 4K HDMI displays (up to 4096 x 2160p @ 60Hz), or a DisplayPort and HDMI combination.
Connects to USC-C and USB-A Laptops
The USB 3.0 docking station supports USB-C and USB-A enabled Mac and Windows laptops. This means you can connect newer USB-C or Thunderbolt 3 laptops or extend the life of legacy USB 3.0 (Type-A) laptops. Both USB-A and USB-C cables are included.
All the Connections You Need
This USB-A and USB-C dock lets you transform your Mac or Windows laptop into a full workstation with six USB 3.0 (Type-A) ports, a Gigabit Ethernet port, and separate 3.5 mm audio and microphone ports for multiple audio connections, all using a single cable. DK30A2DH is backed by a StarTech.com 3-year warranty and free lifetime technical support.
StarTech.com USB-A & USB-C Hybrid Dock - Dual 4K 60Hz HDMI and DisplayPort
is rated
3.40
out of
5
by
18
.
Rated

5

out of

5
by
ZHANG, L.
from
a good product
easy to setup and very reliable, support 4K monitors with different port type support
Date published: 2020-09-24T08:58:42-04:00
Rated

5

out of

5
by
Aristotle the G
from
Jitter on 4k panasonic TV with Macbook Pro 10.15
it works ok then after a while it starts to slow down display and jitter and cursor multiples on screen, then reset and goes back to normal
Date published: 2020-08-01T00:00:00-04:00
Rated

5

out of

5
by
moon
from
Docking station is unable to power my MAC
The docking station works fine with the display but I am unable to get it to power my mac
Date published: 2020-04-18T00:00:00-04:00
Rated

5

out of

5
by
karanbazaz
from
mouse/video refresh is working with latency
Problem is related to DiplayLink Driver for MAC OS
Date published: 2019-09-15T00:00:00-04:00
Rated

5

out of

5
by
bebedotno
from
Great, you don't need anything more, except...
How come you didn't added charging and SD card into this device - otherwise it's the perfect adapter for the Mac Book Pro! Works great with my Lacie disks Works great with two 4K LG screens (3840x2160 60Hz) Mouse and Keyboard (I prefer the wired mouse)
Date published: 2019-08-08T00:00:00-04:00
Rated

5

out of

5
by
ecolson
from
Didn't work, even with the help of customer support.
This is a poorly made product and I suggest you look elsewhere. StarTech does little to support this product and the product itself is a little more than a plastic box with ports. Not worth it.
Date published: 2019-04-03T00:00:00-04:00
Rated

5

out of

5
by
Brandon
from
Works well WHEN it works
I've had this docking station for a while now and I can't seem to get through a full day (even a few hours) of work without it disconnecting the video. About a third of the time when I plug it into my computer (2018 MBP) it doesn't recognize the USB keyboard. I have to either disconnect and reconnect, or turn the docking station off and on again. I've tried updating firmware and DisplayLink drivers on my Mac but nothing has helped. My (much less expensive) docking station in my home office does not have these issues, so I know it's not my computer. It's frustrating that I can't get this to just work the way it's advertised...
Date published: 2019-10-01T00:00:00-04:00
Rated

5

out of

5
by
akay
from
X1 Cardon Extreme Gen2 GPU not used
NVIDIA display settings are not available with this dock with USB-C. Tried updating all drivers and still, it doesn't work. No documentation found either. Recommend to just get the Lenovo usb-c dock instead
Date published: 2020-04-04T00:00:00-04:00
Rated

5

out of

5
by
LE, T.
from
Not a good product for Mac-grade class.
Make sure to download and install its driver at first if you use Mac before you panic to reach out customer support. Unlike other product, this doc seems to increase your CPU consumption. How bad it is, I don't know; up to the use-case. But the increment is significant for you to recognize.
Date published: 2020-06-04T13:44:33-04:00
Rated

5

out of

5
by
nivek
from
Excellent Dock
This docking station has all the ports you need for a laptop. It has enough weight and grip that it did not slide around on my desk due to cable weight. I really enjoyed having 6 USB3.0 ports.
Date published: 2018-05-16T00:00:00-04:00
Rated

5

out of

5
by
Nick_107
from
Lots of ports and just works!
Small, lots of ports, sturdy, and worked without me doing anything on both my Dell (Windows), and Macbook. If it worked with Linux, had an extra USB-C port, and delivered power over USB-C, it would be the perfect dock for me! C'mon guys... I need to add an extra USB-C adapter to get power to the Macbook using this dock? Add a second, power-delivering port, and call it a day! Other than power, my only complaint is that the USB-C port that it does have, for connecting a laptop, is on the back. Since I have to switch cables to connect my laptops, and I "mount" my docks towards the back of the desk with other devices in a stack, having to reach behind and swap cables is annoying. If I had this dock on a shared desk, I'd hear about it from the users! Anyway, on to the positive.... Small, sturdy, LOTS of ports (compared to my other USB3 and TB3 docks!), and fast throughput. Connected three different laptops in total, and no driver pause or installs for me (maybe I already have the DisplayLink drivers from before?). Video is flawless at full resolution, I've played games, done some Blender and Photoshop stuff.... So now this dock is part of the mounted stack on my desk! If it delivered power, I'd probably take my TB3 dock out since this works just fine with my Macbook now, and HAS MORE PORTS!!! :)
Date published: 2018-06-11T00:00:00-04:00
Rated

5

out of

5
by
andrewxs11
from
So many ports!
This is a really versatile docking station. Depending on what monitors you have, you invariably have to look at adapters for something or other, or you are tied to only using one device. This dock lets you connect different host machines (USB 3.0 or USB-C) to a wide variety of monitors. I was impressed with the 4 USB 3.0 ports in the front, I thought all these ports would make it look crowded, but it's very slick and everything works. I can go between my 2 laptops and connect to everything I need. This would be a great option for Hoteling stations, where people don't all have the same hardware. Setup is very easy and every Win10 machine I've connected finds all the drivers quickly and efficiently. I received this product in exchange for an unbiased review
Date published: 2018-05-24T00:00:00-04:00
Rated

5

out of

5
by
Macphoto1970_5
from
Great features, and well built
This is a great docking station for people who want simple and easy connection. This dock is well built and has just enough weight to it to sit firmly on the desk with cables as to not move around too much. I have tried similar docks from other manufactures and this one tends to stay in one place better. I like the simplicity of a simple connection of usb-c or usb 3.0. I had no issues with hookup to my windows based laptop and found everything worked as planned. The monitor resolution and image was great when used and I could see no artifacting at all. I appreciate the ethernet port as so many laptops are dropping this feature but in the office having a solid hard wired connection is always a nice addition. Overall the quality is excellent. I received this product in exchange for an unbiased review
Date published: 2018-05-13T00:00:00-04:00
Rated

5

out of

5
by
ShawnO_1
from
Excellent Dock!
Setup is simple and one can be up and running very quickly. It astounds me that the unit can have so many ports while remaining so compact. The rubber feet grip the desk nicely and with it's small size it is unobtrusive on the desk. Works as expected to power two additional monitors. Disclaimer: I received this product in exchange for an unbiased review.
Date published: 2018-05-16T00:00:00-04:00
Rated

5

out of

5
by
NickD_CA47
from
Universal Dock that Never Lags
I have tested this dock using several laptops both with the USB-A and USB-C connections. Each time it took a while to install but performed great afterwards. The dock comes in a box about half the size of a breakfast cereal box lengthwise. The dock is made out of plastic but looks very premium and could be mistaken for metal before touching it. The dock has 6 USB ports, 2 HDMI, 2 DVI, 1 Network and Mic/Speaker ports for audio. To use the dock you need to plug it in using the supplied AC adaptor and have the power switch turned on. The port to connect to a computer is a USB-C port and it comes with both a USB-C to USB-A cable and a USB-C to USB-C cable. When I fist connected this dock to a new computer using USB-C nothing seemed to happen. I waited a bit for installations to occur but none went. After trying a few things, I found that I needed to have my laptop already connected to the internet, then on next connection it downloaded all necessary drivers and was working within minutes. On a different older computer using USB-A cable, I got a message "USB device not recognized". After waiting a couple minutes for the computer to download and install all drivers, it was working without any issues. The displays are very fast through the dock and during my testing I never noticed any lag or choppiness from the displays. Connecting the dock after everything was setup was quick and simple, although I still get the USB error when it's connected but everything seems to work without any issues. This dock is not a Thunderbolt dock so it will not charge your laptop and will install a new USB video card for display output. The computer will need to be connected to power for charging with a separate cable. Little rocky installation but once it got going it works really great. It has lots of ports and performs quickly. I received this product in exchange for an unbiased review.
Date published: 2018-05-18T00:00:00-04:00
Rated

5

out of

5
by
FrilleKrilleSwe
from
Works great on MacOS
I bought this last week and it has worked great on my MacBook Pro 2019 MacOS Monterey using the USB-C-to-USB-C cable and on my MacBook Pro Early 2015 MacOS Big Sur using the USB-C-to-USB-A. Using two displays and audio. I had to download the drivers manually from the website to make it work on MacOS.
Date published: 2022-01-12T00:00:00-05:00
Rated

5

out of

5
by
Raymond123
from
Does NOT provide power over the back USB-C port!
My unit did not provide power on the back USB-C port so i contacted their support chat support and I was told that the USB-C port on the back does not provide laptop power unless you but the adapter listed in the description: HB30C1A1CPD. Add an extra $35 if you want to use it as a full docking station.....
Date published: 2021-03-29T00:00:00-04:00
Rated

5

out of

5
by
MICHAEL W.
from
Performs the way its advertised.
This item works as advertised. No complaints at all. Solid item.
Date published: 2022-11-02T16:13:13-04:00