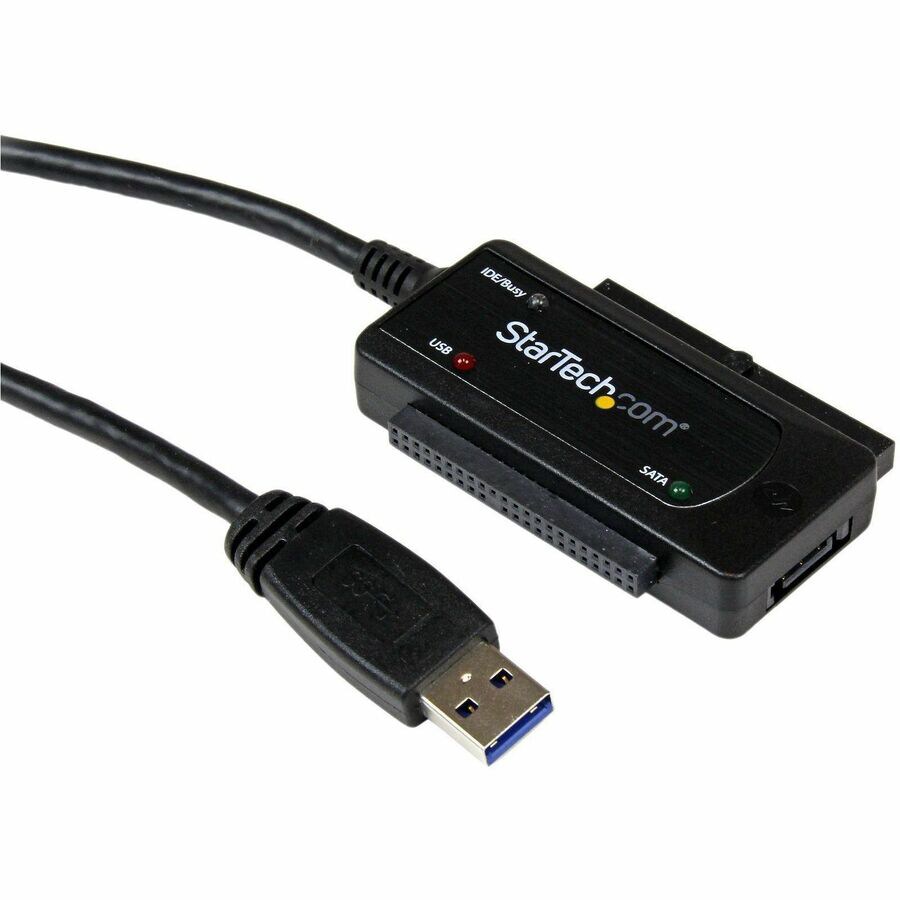 Quick tech specs
Connect a 2.5in/3.5in SATA or IDE Hard Drive through a USB 3.0 Port
USB 3.0 to SATA Converter
IDE to USB 3.0 Adapter
5 Gbit/s USB 3.0 Super-Speed
SATA to USB 3.0 HDD Adapter Cable
USB 3.0 to SATA IDE Adapter
USB 3 Hard Drive Adapter
View All
Know your gear
Connect a 2.5in / 3.5in SATA or IDE Hard Drive through a USB 3.0 Port. The USB3SSATAIDE USB 3.0 to IDE/SATA Adapter Cable connects any standard 2.5in or 3.5in SATA or IDE hard drive to a computer through an available USB 3.0 Port (Backward compatible with USB 2.0). The adapter lets you connect a bare drive with no enclosure, saving time and hassle.

The USB 3.0 SATA/IDE Adapter lets you externally connect a bare drive with no drive enclosure or HDD dock required, and features LED indicators that allow you to easily monitor status and activity updates.

The adapter cable works with Windows, Linux, and Mac computers and does not require any software or driver installation - a true plug-and-play solution for adding cost-effective external storage, or overcoming incompatibility between all hard drives and USB enabled motherboards that may not be SATA or IDE-equipped.

The USB3SSATAIDE USB 3.0 to IDE/SATA Adapter Cable comes complete with universal adapter and power cords, providing the additional power required to connect 3.5-inch and larger capacity 2.5-inch hard drives.


StarTech.com USB 3.0 to SATA or IDE Hard Drive Adapter Converter
is rated
3.00
out of
5
by
5
.
Rated

5

out of

5
by
Bull dog
from
Perfect
Worked perfect. I was able to open an old drive that crashed and retrieve all my pictures and other important files.
Date published: 2015-01-09T00:00:00-05:00
Rated

5

out of

5
by
namyzzo
from
Worthless on most older / smaller drives
I have a stack of older SATA & IDE drives. Most are 500GB or less. Only 2 out of 9 detect (and I've tried verything). BOO HISS - too expensive to NOT WORK..
Date published: 2018-10-28T00:00:00-04:00
Rated

5

out of

5
by
vonernsk
from
WHAT A USEFUL DEVICE FOR PC REPAIRERS OR BUILDERS
I have always constructed my PCs according to what my requirements are. Over the years I had accumulated a number of old drives that I could not bring myself to throw away. I also spend a fair bit of time removing or fitting hard disk drives to meet particular requirements. I receive 'Custom PC' monthly and last month's issue contained mention of a device that would enable access to data on older IDE HDDs through the USB3 ports on newer PCs (also handling newer SATA drives as well). This adapter from Startech has, at a stroke, removed much of the hassle and fiddle when trying to utilise data from an older HDD on a newer PC. Thank you Startech a long awaited tool for all PC builders and - dare I say 'Nerds'. Great bit of kit that will see a lot of use in the future.
Date published: 2014-02-08T00:00:00-05:00
Rated

5

out of

5
by
NL2021
from
Not sure it works
I bought this device yesterday and tried to use it to recover data from a hard drive _SATA) that I believe has crashed. After setting it up according to the instructions, I'm getting a message that Windows does not recognize the USB device. The SATA light on the adapter is green. The USB light is red. Any advice?
Date published: 2021-06-27T00:00:00-04:00
Rated

5

out of

5
by
Tarquinius801
from
Mix Results
I have used this device with my Windows 8.1 Laptop that says it has USB 3.0 ports. I only used a two sata drives and two or three IDE drives and never had a problem. I tried connecting to my new laptop with Windows 11 and it just crash every time I connect it. I was using IDE CD/DVD drives. My old laptop still works good with it. It still was hit or miss with the DVD drive. Some times I plugged it in and windows didn't recognize it. Then I would unplug it and plug it back in and it would work.
Date published: 2022-08-14T00:00:00-04:00