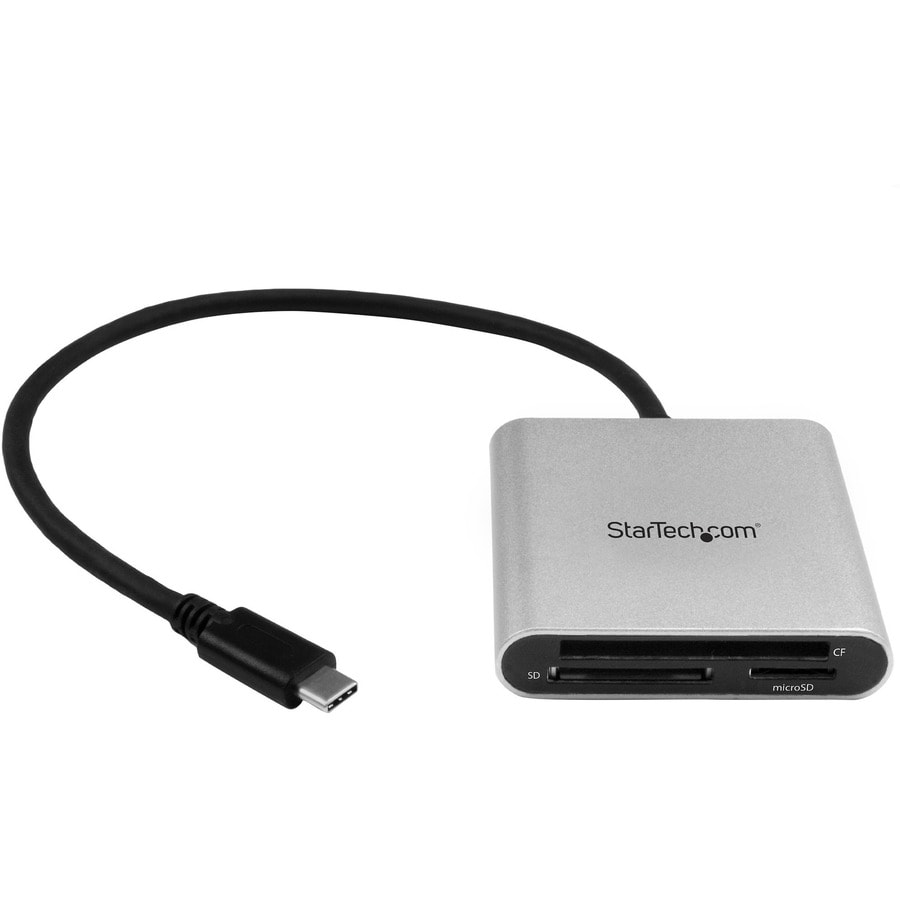 Quick tech specs
Access data on a wide range of memory cards using your USB-C enabled mobile device or computer
SD and microSD and CompactFlash
Portable SD/microSD/CF card reader
Stylish compact design w/ brushed aluminum housing
USB 3.0 Flash Memory Multi-Card Reader and Writer with USB Type-C
USB C card reader
Transfer photos and videos to and from your memory card to your USB-C enabled smartphone or tablet or laptop such as MacBook/MacBook Pro/Chromebook Pixel
Backward compatible w/USB 2.0
View All
Know your gear
Access data on a wide range of memory cards using your USB-C enabled mobile device or computer. Ideal for creative professionals, this multi-card reader/writer saves you time and helps you work more efficiently when working with a wide variety of flash media, letting you quickly transfer and back-up files. It supports SD (Secure Digital), microSD, and CompactFlash cards, and connects to the USB-C port on your tablet, smartphone, laptop or desktop computer.

The multi-card reader makes it easy to offload photos, video, and other files you've saved on your memory cards, providing fast access through USB 3.0 (also known as USB 3.1 Gen 1) with file transfer speeds up to 5Gbps. The reader increases workflow efficiency for creative professionals such as photographers and videographers. It helps to increase your productivity by saving you time when offloading raw images or editing video and photos, and backing up files.

The card reader is also backward compatible with USB 2.0, ensuring compatibility with older systems.

This multi-card flash reader gives you the flexibility and convenience of accessing multiple types of memory cards. It gives you read and write access to virtually any format of flash media card from your digital cameras or video cameras, with support for SD, SDHC (Secure Digital High Capacity), SDXC (Secure Digital Extended Capacity), microSD and CompactFlash cards. You can easily review files or back up and archive data from your smartphone, tablet, laptop or other USB Type-C enabled device. The three memory card slots for SD, microSD, and CompactFlash cards are all hot swappable, for additional flexbility.

The card reader gives you a portable solution for accessing a wide variety of memory cards anywhere you go. With its small form factor, it fits easily into your pocket, backpack, briefcase or laptop bag. The integrated USB Type-C cable lets you quickly connect to a computer or pack it up quickly when you're done using it, without having to carry an additional cable with you. The card reader is powered directly from the USB port and supports plug-and-play installation, with no driver or software installation required.


StarTech.com USB 3.0 Flash Memory Multi-Card Reader and Writer with USB-C
is rated
4.50
out of
5
by
6
.
Rated

5

out of

5
by
Starr
from
Simple, Easy and Compact Card Reader
When Apple came out with the newMacBook Pro's with Touchbar they did not include the SD Card Readers or USB 2.0 ports so. Having a laptop that only has USB-C ports made it difficult to access data on any type of SD cards. Once again StarTech has an answer for this issue. Their new USB-C SD Card Reader is plug and play ready and includes SD Card, MicroSD, and Compact Flash ports. I have found that it is as simple as plug the reader into the laptop and it works.
Date published: 2017-01-31T00:00:00-05:00
Rated

5

out of

5
by
Andrew11
from
Handy portable reader
This is a great little reader if all you need is SD, MicroSD, and CF. The size is great for travelling and the cord isn't so long that it gets in the way. My only comment would be on the way SD cards are inserted (pins up), it would be nice to have a graphic on the top to remind you how to insert it. Downloading photos is super fast and I really like the one-piece aluminum housing. I received this product in exchange for an unbiased review
Date published: 2017-02-03T00:00:00-05:00
Rated

5

out of

5
by
CynicMWN
from
Worked well, when it worked
Bought this in July 2017. No longer reads CF cards. Have reached out to customer service as it has a two year warranty - see whether they will honour it.
Date published: 2018-10-28T00:00:00-04:00
Rated

5

out of

5
by
scottgosse416
from
Plug and play - easy to use!
No power required - just plug this reader into a USB-C port and it starts working immediately. It has SD, microSD and CompactFlash (I did not not try this one as I do not have any media for it) and the SD / microSD worked flawlessly. The speed of the transfer of data will depend on the make and model of the media. This product definitely gets a thumbs up from me as there were no power adapters or drivers required - ease of use at its finest. I received this product in exchange for an unbiased review.
Date published: 2017-02-12T00:00:00-05:00
Rated

5

out of

5
by
N101010
from
Works right out of the box
Using the adapter with the new Macbook Pro, working with SD cards (cameras and phones mostly). Plug it in, and it just works. If I have the SD card in the reader before connecting to the Macbook, I have to remove the SDcard and re-seat it. But other than that one thing, it doesn't have any downsides. Transfers data very quickly indeed! Solid metal shell, thick cable, and holds the cards firmly. It seems to attract every bit of dust/hair/pollen imaginable, so keep it in a case or bag when not in use. Would love to see StarTech have a molded slot cover for this adapter. I received this product in exchange for an unbiased review.
Date published: 2017-02-16T00:00:00-05:00
Rated

5

out of

5
by
James H
from
USB 3.0 Flash Memory Read Write Made Easy
I have been in the technology business for over 35 years and for the past 20+ years I have been asked to provide unbiased reviews of various products from both the AV and IT world. In review of this product I have found that it transfers photos, videos, music and other files to and from various memory cards to USB-C enabled tablets, laptops, smartphones and desktop computers with very good data transmission speeds. There was no software or drivers required to utilize this devise, which is a huge plus. I found this unit to be backward compatible to USB 2.0. Finally, I liked that the multi-card flash reader and writer supports Secure Digital, microSD and CompactFlash cards In the box: -Multi-Card Reader and Writer -Instruction Manual In summation, solid product, easy to use. I received this product in exchange for an unbiased review.
Date published: 2017-01-27T00:00:00-05:00