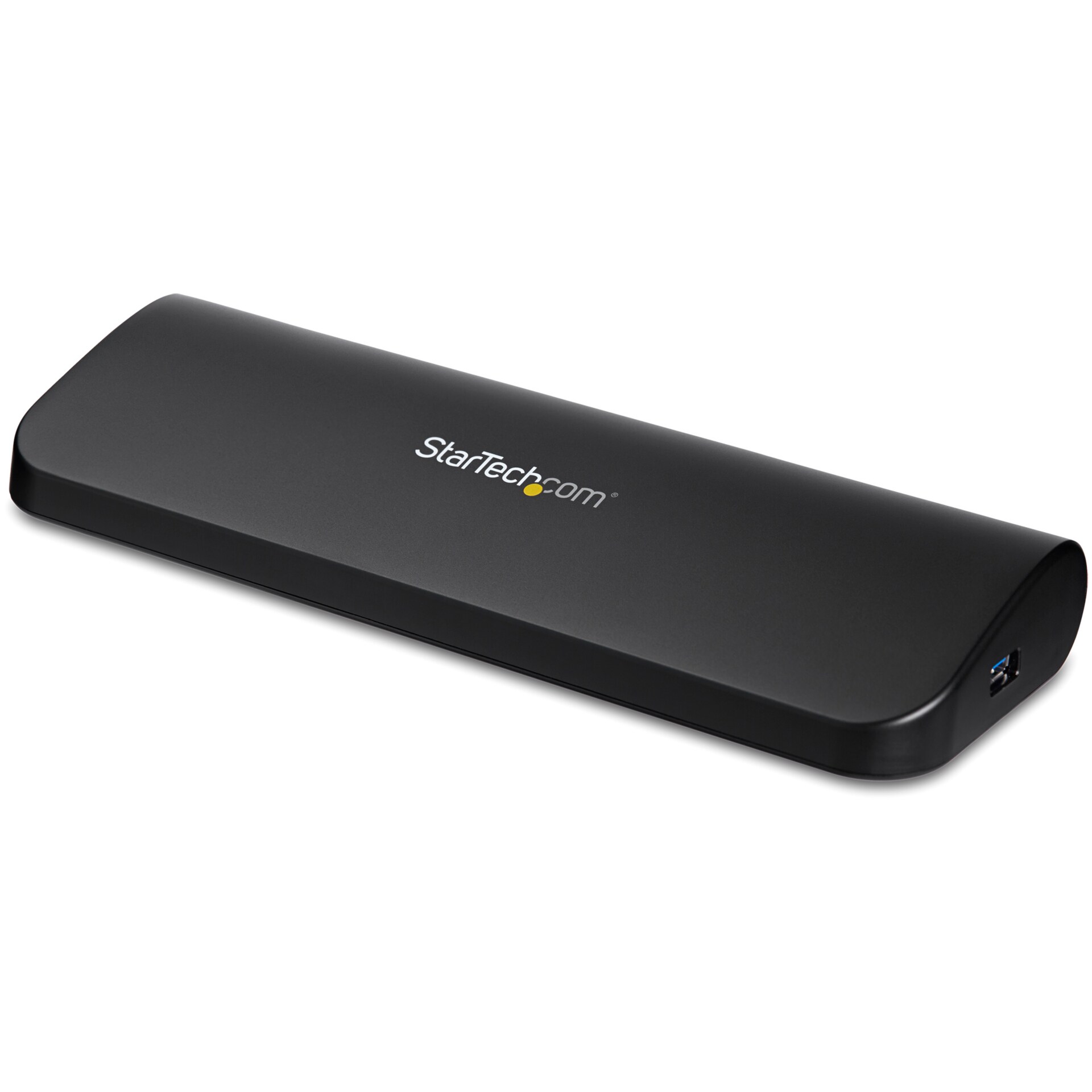 Quick tech specs
Dual Monitor USB 3.0 docking station features HDMI VGA and DVI outputs for broad display compatibility
3x USB3.2 Gen 1 (5 Gbps) ports | Gigabit Ethernet | 3.5mm mic and audio jack
Connect directly to older VGA and DVI monitors without additional adapters or converters | Supports up to 1920x1080 (HDMI) 1920x1200 (DVI-D) and 2048x1152 (VGA)
Supports Windows macOS ChromeOS | Includes 3ft USB 3.2 host cable | Connectivity Tools to manage dock features available for download
View All
Know your gear
This USB 3.0 Docking Station combines USB 2.0 and USB 3.0 (3.1) hubs, headphone and microphone audio connectors, and a Gigabit Ethernet RJ45 port into a single docking station. It is the perfect accessory for enhancing your laptop's capabilities.
Display Adaptability


Offering flexible dual video combinations right out-of-the-box, this universal laptop docking station features HDMI, DVI and VGA external monitor outputs. Each video output supports HD video resolutions (2048x1152 max) and HD video playback for an ideal solution to expanding your notebook's video capability. Available combinations include: HDMI + VGA or HDMI + DVI
Integrated USB Dock


The built-in USB hub features three USB 3.0 ports for connecting extra peripherals such as external hard drives or a wired mouse, as if they are connected directly to your laptop.


Direct Ethernet Connectivity


The integrated RJ45 Ethernet port supports speeds of 10/100/1000 Mbps, giving you an instant connection to a wired network.
All-In-One Solution


StarTech.com's laptop docking stations can be used with current laptops for cost savings, faster deployment with just a single cable.


USB3SDOCKHDV is backed by a StarTech.com 3-year warranty and free lifetime technical support.
StarTech.com USB 3.0 Docking Station
is rated
3.00
out of
5
by
17
.
Rated

5

out of

5
by
Garri
from
do not know yet
First product received was defective, confirmed by CDW and Star Tech online technicians. Returned defective product for replacement but have not received the replacement yet. Maybe upon receipt a better review could be forthcoming.
Date published: 2019-07-18T00:00:00-04:00
Rated

5

out of

5
by
Leapy99
from
Mostly works, but freezes once day
I have 4 of these docking stations for our small business. The docking stations are generally good and work fine. However, overtime I am noticing that the docking stations are starting to freeze about once per day. The only way of fixing this is to unplug the docking station and plug it back in or restart the computer. Both of which are annoying. Also the S/N I have for the product does not match anything in Startech's database making it difficult to get support. Hopefully they will contact me when they see this review...
Date published: 2018-05-20T00:00:00-04:00
Rated

5

out of

5
by
Sylb
from
USB Devices Keep Dropping
Connecting Docking station to monitor, wired keyboard, wireless mouse and printer via a StarTech switch SV231DDVDUA (2 Port DVI VGA Dual Monitor KVM Switch USB with Audio & USB 2.0 Hub) with StarTech cables. On initial connection everything works through the dock, but after several minutes the keyboard, mouse and printer drop (USB Device Failures). Video stays connect with 1 monitor via DVI connection. Tried loading set-up software from site rather than disk provided and different USB ports, but same results. Another manufacturers docking station work fine with the switch. Like StarTech and would like to resolve, but not working well at this time.
Date published: 2019-01-07T00:00:00-05:00
Rated

5

out of

5
by
DeeDee
from
Works great minus one problem
Bought this device for two work computers. Works very well, easy to install if you follow instructions. Took some fiddling around with monitor brightness/contrast settings to get it right but the picture is great now. Only one problem I'm experiencing with both setups is the keyboard/mouse lags. When connected through the dock, my Microsoft wireless keyboard/mouse combo lags quite a bit and I'm not able to use it that way. I've had to revert back to plugging that directly into the laptop, which sort of defeats the purpose of the dock as I now have zero available USB ports on my laptop. If anyone has a solution for this it would be greatly appreciated!
Date published: 2018-04-25T00:00:00-04:00
Rated

5

out of

5
by
Catherine
from
Works Seemlessly
My first experience with Startech was using their 2.0 USB docking station, which caused problems when trying fix the external monitor resolution. I had gone back to Startech and got support from their online help team, who has always been great in handling my questions. They were able to identify a resolution compatibility issue and suggested using the new 3.0 dock. I went along with the suggestion and tried the 3.0 USB dock..... and it is working great! It's been working for about a month now, no problems with resolution, no problems with connecting all the other various peripheries for the work station. I would highly recommend this dock to anyone looking for a simple, and sleek solution to their office or home working station. Next time I need a docking station, I will be getting this one from Startech as it is working perfectly!
Date published: 2015-03-16T00:00:00-04:00
Rated

5

out of

5
by
Not happy camper
from
Not for mac
It stopped working and it's not been fixed. No two screens and no audio feature on newest iOS update.
Date published: 2018-12-06T00:00:00-05:00
Rated

5

out of

5
by
PDJ4ck
from
Great functionality but kiling CPU usage
I've tried a number of different docks and this is one of the best available, but it has caused significantly increased CPU usage to the extent that multi-tasking ability is constrained.
Date published: 2018-05-24T00:00:00-04:00
Rated

5

out of

5
by
Thomas
from
Very nice when it works..
have problems to connect to my external monitors often. Had it for a few years and tried to update drivers etc but not working as it should.
Date published: 2017-02-24T00:00:00-05:00
Rated

5

out of

5
by
Jimbo
from
Great docking station.
I have purchased five docking station in the past few months. Each one was a plug and play install. Systems work great. There is a small issue with one unit not connecting to the ethernet. I'm sure it's a minor issue and can be easily corrected when I have time to get to units location. All in all, if I need more units I will be ordering them from you guys.
Date published: 2017-10-31T00:00:00-04:00
Rated

5

out of

5
by
SuAu77
from
Audio quality
I have this dock for more than a year. It works ok. Time to time displaylink software get out date and requires updates. Audio capabilities ( Speak Sound and Mic) are sub par and almost useless. I have to use either laptop's mic or external Bluetooth mic.
Date published: 2017-11-04T00:00:00-04:00
Rated

5

out of

5
by
Ann1049
from
User Friendly
It was an easy setup. If you are not tech savvy this is the docking station for you. Anyone can set this one up. Just make sure you have a laptop that includes a DVD reader.
Date published: 2018-01-02T00:00:00-05:00
Rated

5

out of

5
by
cb12
from
Great but...
Only problem I have is the receiver for the wireless mouse does not seem to work well in the usb port and the unit is only two feet away.
Date published: 2018-01-01T00:00:00-05:00
Rated

5

out of

5
by
CLinChicago
from
MacBook Air 2015 IOS 10.14.6 - Rock Solid
I'm not going to write a lengthy review, other than to say this device is rock solid on my MacBook Air. Easy to follow instructions on their website re: install. I did have one small issue (my fault) and I called support. Support, in Ohio USA, answered on the 3rd ring. Solved it VERY quickly. I've been using this 6 months, and again, it's rock solid.
Date published: 2019-12-02T00:00:00-05:00
Rated

5

out of

5
by
Frederg
from
Stopped working after 2 years
All of a sudden Windows won't recognise the devide. The lights in the device (ethernet cable) not turning on. The power plus is connected tightly. All connections are good. Just died on me...
Date published: 2020-01-08T00:00:00-05:00
Rated

5

out of

5
by
RNM78
from
Works almost as expected
I bought this a while back to work from home. I have an external LG monitor, external wireless keyboard and external wireless mouse. The monitor worked once while connected to the dock. The keyboard and mouse work fine. Ethernet does not work, so that along with the monitor is disappointing.
Date published: 2020-03-24T00:00:00-04:00
Rated

5

out of

5
by
Linney
from
Slightly annoying
Just set this Docking Station up, windows 10 machine and two screen, DVI and HDMI. Works fine other than a pause occasionally, meaning I have to wait for the the machine to catch up. never had this problem with my machine prior to this.....any advice?
Date published: 2020-01-24T00:00:00-05:00
Rated

5

out of

5
by
CMunoz
from
USB Ports Drop and are Laggy
I bought this bar to have access to extra USB ports. Well this bar keeps dropping two out of the three ports. For keyboard/mouse and headphones the quality is laggy and the USD stops working, which completely beats the purpose of getting a docking station to begin with. I only use VGA connection for the monitor other than the USB ports. How an this be fixed?
Date published: 2021-08-31T00:00:00-04:00