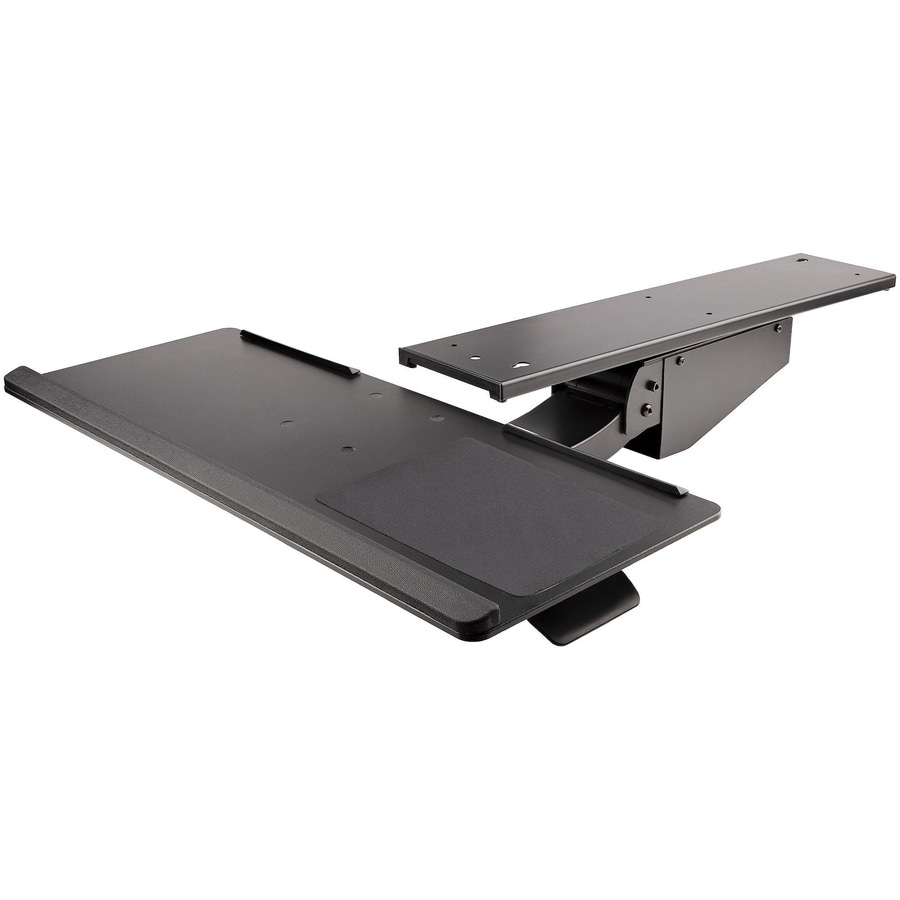 Quick tech specs
Adjustable keyboard tray (10x26") fits full size keyboard and mouse | 4.4lb weight capacity
Sliding computer keyboard tray/holder with built-in wrist rest and anti-slip mouse pad | Stores under your desk
4x cable management clips
Spring-assisted easy adjustable height can be locked in any position (range of 13") | Tilt +15/-13° | Slide-out tray extends 18.5"
Full motion ergonomic keyboard tray incl. mounting template and adhesive foam pad to protect desk during height adjustments
View All
Know your gear
This under-desk keyboard tray adds comfort to your work day, by easing the strain on your wrists and arms. It also frees up valuable desk space.
Spacious and Stable Design
The spacious design of the keyboard tray, 26.4"" (670 mm) width x 10"" (255 mm) depth, gives you ample room for your full-size keyboard and mouse. Its quality construction, with a weight capacity of 4.4 lb. (2 kg), provides a stable platform that helps prevent the tray from shaking while you're typing.
Wide Range of Movement to Maximize Comfort
The ergonomic design of this adjustable keyboard tray, including a built-in wrist rest (670mm x 28mm x 12mm) provides a wide range of movement to help reduce discomfort and increase productivity. It lets you adjust your position for comfortable arm and shoulder postures while typing, helping you be more productive throughout your work day.
Easily adjust your spring-assisted keyboard tray down or up with the height adjustment paddle, with a total range of up to 13.4"" (340 mm) that can be locked in at any position. You can slide the keyboard tray in or out from your desk to find your ideal position. Conveniently adjust the lever at the side to tilt the keyboard tray +15° / -13° for added comfort. You can even adjust your keyboard tray to the left or right, with +180° / -180° swivel.
The under-table computer keyboard tray clears space on your desktop. The track-mounted design lets you slide it under your desk when not in use or extend it up to 18.5"" (470 mm) from the edge of the desk.
Simple Installation
There is an included mounting template, which ensures precise installation, and a self-adhesive foam pad (150mm x 14mm) that helps to protect the underside of the desk when adjusting the height or swiveling the tray above the surface. Please note: the minimum required mounting surface space is 750mm (depth) x 147mm (width) and a desk thickness of 20mm.
Four self-adhesive cable management clips are also included, ensuring an organized workspace and preventing cable interference when moving or adjusting the keyboard tray.
The KBTRAYADJ2 is backed by a StarTech.com 2-year warranty and free lifetime technical support.