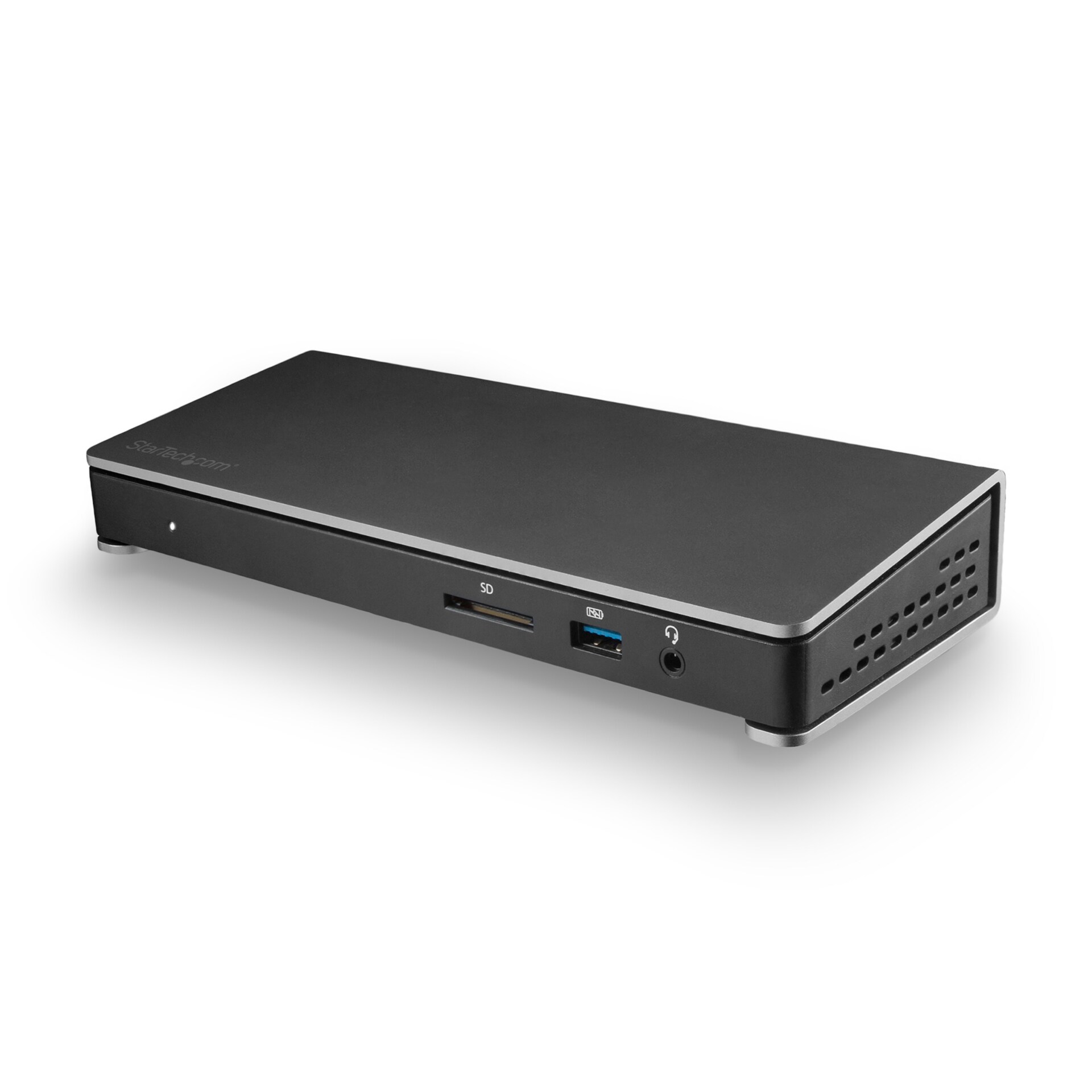 Quick tech specs
Certified Thunderbolt 3 docking station w/ dual monitor 4K 60Hz w/ DisplayPort + TB3 (USB-C) video output or single 5K
USB 3.0 / USB 3.1 Gen 1 5Gbps Hub (5xA and 1xC) / SD 4.0 / Gigabit Ethernet / Headset Port -Incl. 6ft USB-C to DP cable/TB3 host cable
Extended dual display support on MacBooks w/ Intel processor and single display w/ Apple M1 chip
TB3 dock w/ 85W Power Delivery (PD) to charge macOS/Windows laptop
Downstream TB3 port for 2nd display/TB3 daisy chain or USB Type-C devices
View All
Know your gear
Easily transform your TB3 equipped MacBook Pro or Windows laptop into a dual-4K workstation with up to 40Gbps of throughput. The high-quality Thunderbolt 3 dock features six USB 3.0 ports, 85W Power Delivery to charge your laptop, and an SD card reader.
Create a Dual-4K 60Hz Workstation
This dual-monitor docking station supports 40Gbps speeds and 4K (4096 x 2160) resolution at 60Hz on two monitors, enabling resource-demanding applications on independent displays without draining system resources. The TB3 dock can support 5K (5120 x 2880) resolutions @ 60Hz on a single display.
Connect Your Laptop To:
- 1 x 4K monitor via the DP Port
- 1 x 4K monitor via the TB3 USB-C Port (1.8 m cable included)


OR

- 1 x 5K monitor via the DP and TB3 USB-C ports
Easy Installation and Deployment
Simply connect the TB3 port replicator to your laptop with the included TB3 cable and start working immediately. No time-consuming driver installations are required. Set up a second monitor using the included USB-C to DisplayPort cable adapter, eliminating the need for extra adapters.
Plenty of Ports Including SD Card Reader
The TB3 docking station offers six USB type 3.0 ports, including a Fast-Charge port and USB-C port, a GbE port and audio/microphone port. The built-in SD card reader adds storage not usually available on most docking stations.
85W Power Delivery
Using a single cable, the universal laptop docking station provides up to 85W of Power Delivery to power and charge your laptop, and power your peripherals with its 180W power adapter.
TB3DOCK2DPPD is backed by a StarTech.com 3-year warranty and free lifetime technical support.
StarTech.com Thunderbolt 3 Docking Station
is rated
3.90
out of
5
by
12
.
Rated

5

out of

5
by
Danorian
from
How is this possible??
This dock has saved my computer's life. I used to use all four of MBP's thunderbolt 3 ports including the headphone jack. Now I just come in to work and this dock magically does everything through one cable flawlessly. It charges my computer, phone, reads my SD cards, runs my second monitor (4k), speakers, ethernet, printer, and time machine backup. It could do more, but I ran out of peripherals. This dock is seriously amazing. Everyone who comes into my office can't believe how much goes through the single cable to my laptop. Highly recommend!
Date published: 2018-02-28T00:00:00-05:00
Rated

5

out of

5
by
jrh85674
from
Great Functionality on this Thunderbolt Dock
I have been in the AV/IT Integration space for over 30 years. This Thunderbolt 3 dock provides connectivity to two 4K Ultra HD monitors. I like the ability that this dock provides 85W of Power Delivery to charge the laptop, while also powering peripherals with its 180W power adapter. What is unique about this dock is that the dock provides direct access to SD memory cards with the onboard SD card slot, which can also be used for additional storage and backup. What is Included: 1 - Docking Station 1 - Thunderbolt Cable 1 - Instruction Manual 1 - USB-C to Display Port Cable 2 - Power Cords 1 - Universal Power Adapter Note: "I received this product in exchange for an unbiased review."
Date published: 2018-03-20T00:00:00-04:00
Rated

5

out of

5
by
11nivek11
from
Amazing
I got this Dock because I got tired of constantly connecting and disconnecting my peripherals. Now i just pull one plug and I am on my way.
Date published: 2018-04-17T00:00:00-04:00
Rated

5

out of

5
by
Curt
from
Meets all expectations
Everything you could possibly ask for in a docking station - 1) lots of ports; 2) no drivers required; 3) no problems. Plugged this into my HP Spetre set-up and immediately had power distribution and DP support; I approved the ThunderBolt device and all connected USB devices / external hard drives were recognized.
Date published: 2019-02-11T00:00:00-05:00
Rated

5

out of

5
by
Slvrscoobie
from
One Cable Maniac
I bought this to eliminate clutter and docking time on my macbook pro. it has 4 thunderbolt ports, but plugging them all in was a pain. I was able to use this to allow GigE connection, but more importantly, dual monitors. worked with the thunderbolt 3->2 adapter to allow me to use my dell U2713hm along with a Thunderbolt display from apple. I recently upgraded both monitors to Dell U2715H and was able to use the displayport and the USB-C/thunderbolt to run both monitors.
Date published: 2019-05-20T00:00:00-04:00
Rated

5

out of

5
by
BogeyMan
from
A pretty solid dock
Bought for use with my MacBook Pro (15", 2019). Works fine straight out of the box. Only issue I have is the power delivery - it's not passing through enough power to keep my MBP fully charged, so I still have to connect my Mac to additional power.
Date published: 2020-06-16T00:00:00-04:00
Rated

5

out of

5
by
stevesteve
from
Linux drivers
I recently got this after using another StarTech docking device, can't remember the model number. The only issue I am having with this one is that I am not able to use it on Ubuntu 18.04. Would be great if there was drivers available to make this work.
Date published: 2021-07-24T00:00:00-04:00
Rated

5

out of

5
by
DudelikeMrDude
from
Macbook Pro
Simply great - easy set up, bonus that the cables were included, nice touch StarTech!
Date published: 2019-08-16T00:00:00-04:00
Rated

5

out of

5
by
DaveM1
from
What's with the squealing sound?
I love the functionality of this dock but I'm so disappointed that it makes a squealing sound (static?) constantly. I can't work with it as it drives me nuts. I've see other reviews with the same issue, how can i fix this?
Date published: 2021-07-05T00:00:00-04:00
Rated

5

out of

5
by
Asim
from
Great features but horrible noise
Summary: Great features, solid build quality but very loud coil whine. Cons: -If you have headphones or are in calls, or listening to music then it is fine, but if you are just trying to read emails/articles or prepare a presentation, it is very difficult to concentrate. -The noise only happens when the Thunderbolt Cable is connected to a computer. As soon as you disconnect the laptop, it becomes silent. Pros: Solid build quality, great port selection, included USB C to DP cable, good weight so it doesn't move around like other docking stations. Matches a space gray Macbook pretty well. Overall I cannot recommend this docking station unless you are always using headphones. I would recommend a USB C displaylink docking station like the Dell DS6000 series. It has all the same features, and is dead silent - only downside is that i supplies less bandwidth, but that tradeoff for a silent docking station is worth it.
Date published: 2022-07-06T00:00:00-04:00
Rated

5

out of

5
by
MBPUser
from
Great dock, loud coil whine
After going through several docks, this is the only one I've found that works reliably with two 4K60 monitors on a 2019 Macbook Pro - the others almost always have one port that fails to give a picture when the laptop or monitor is coming out of sleep mode or powering on, or has weird USB issues. This one is rock solid. The only downside is there is a TON of coil noise, warbling all over the place presumably as the power load varies. Even placing it behind my desk, I could hear it above the noise of the desktop PC (containing four 7200 RPM hard drives and several fans) sitting next to my desk. Going from the other reviews, it looks like this is typical for this dock. So I'd guess you really need some place you can put this that's reasonably acoustically isolated from your usual seating position (in a different room, in some sort of enclosure), or be wearing headphones all the time.
Date published: 2022-09-10T00:00:00-04:00
Rated

5

out of

5
by
bra123
from
Great features and looks, strange noise
I love the features and looks of this dock but I'm so disappointed that it makes a squealing sound. Is there a way this can be fixed ?
Date published: 2022-10-12T00:00:00-04:00