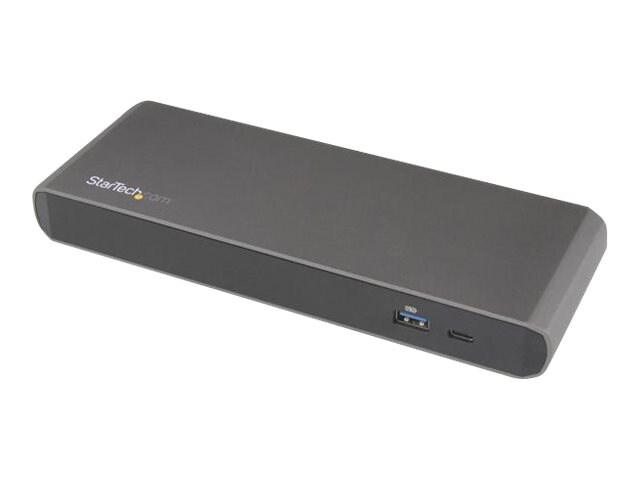 Quick tech specs
4K displays & multiple peripherals at speeds up to 40Gbps
Thunderbolt 3 Dual-4K Docking Station for Laptops
Thunderbolt 3 Dock w/ Dual 4K Ultra HD
Easily deployed and installed with display adapter included and no driver installation required
Windows Only
Compatible with most Windows based Thunderbolt 3 equipped laptops & Ultrabooks / Dell XPS / Asus Zenbook / HP Zbook 15 G3/ HP Zbook 17 G3/ Lenovo P50
View All
Know your gear
The SM2NGFFMBU33 external USB 3.0 to M.2 (NGFF) enclosure turns your SATA M.2 solid state driveinto a portable, high speed USB 3.0 drive.
Get higher external performance by using an M.2 SSD in place of a platter drive, harnessing the full potential of your USB 3.0 computer system. The enclosuresupports UASP, enablingyou toachievetransfer speeds up to 70% faster than traditional USB 3.0 when used with a UASP-enabled host computer.
This slim, pocket-sized SSDenclosurehas beenspecifically engineered for mobility. The enclosurefeaturesalightweightyet durable design, which fits easily into your pocket or laptop bag. For further convenience, the enclosure is powered entirely using the USB host bus andrequires no external power adapter.
Durable aluminum construction helps to ensureyour drive won't be damaged while you're on the move. Plus,to maximize heat dissipation the enclosure featuresspecially engineeredventilation holes which help maintaina cooleroperating environment for optimal performance and a longer life span for your drive.
For wide compatibility with all of the common M.2 solid state drives, the enclosure can mount multiple drive heights including: 2242, 2260, and2280.
The M.2 enclosure is backed by a StarTech.com 2-year warranty and free lifetime technical support.
Improved Performance with UASP
UASP is supported in Windows 8, Mac OSX (10.8 or above), and Linux. In testing UASP performs with a 70% faster read speed and 40% faster write speed over traditional USB 3.0 at peak performance.
At the same peak in testing UASP also shows an 80% reduction in required processor resources.
Testing results were obtained using an Intel Ivy Bridge system, a UASP enabled StarTech.com Enclosure, and a SATA III solid state drive.
Contact Sales Assistance
(800) 800-4239
,
Monday-Friday 7am-7:30pm CT