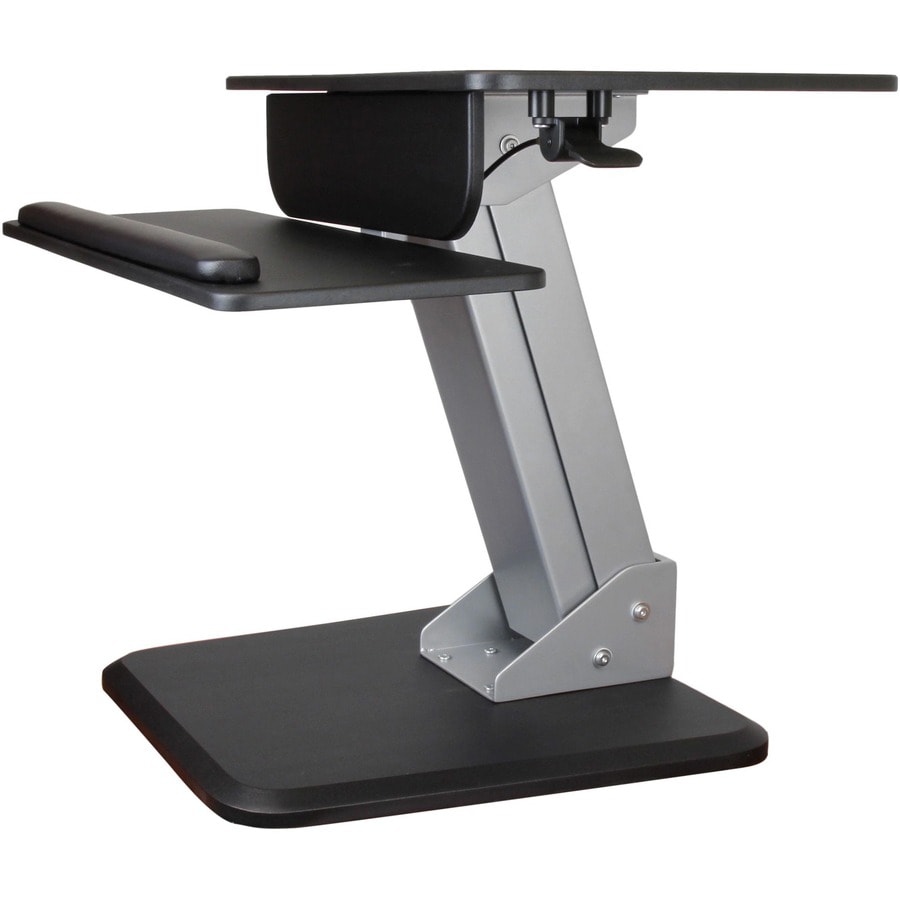 Quick tech specs
Turn your desk into a sit-stand workspace with easy height adjustment for increased comfort and productivity
Pneumatic spring with lever provides one-touch height adjustment
Compatible with StarTech.com monitor arms including ARMDUAL and ARMPIVOT and ARMSLIM
Sit-to-Stand Workstation
Create an affordable ergonomic workspace
Sit/stand workstation features high-quality steel construction with engineered wood base
View All
Know your gear
This sit-to-stand workstation lets you change your working position throughout the day, to enhance your comfort and productivity.

Go from sit to stand, with one touch

The sit-to-stand desk workstation is designed to fit you and your needs throughout the day. With one touch, you can switch your position to sitting or standing, to keep a balanced level of movement. The workstation features an advanced pneumatic arm that provides effortless movement - you simply raise or lower the platform with one touch of the lever. You can easily adjust the standing desk to match your exact height requirements, instead of selecting from pre-determined heights. You can also adjust the tension according to the weight of monitors, laptops and other components on the platform, to make raising or lowering the workstation easy. To increase your comfort while standing, the Ergonomic Anti-Fatigue Mat (STSMAT) from StarTech.com makes the perfect accessory to the ARMSTS.

A cost-effective ergonomic solution

Create a more ergonomic work environment at a fraction of the cost of a standing desk. This compact sit-to-stand workstation fits easily into your work space. You simply set the workstation on your desk surface, tabletop or another stable work surface (minimum 26" depth).

Flexible use and spacious setup

The sit-stand workstation lets you make the most out of your desk area, and it's easy to integrate it into your current layout. It simply sits on your desktop. The workstation provides lots of space for writing notes or placing accessories on its base and a large keyboard tray that accommodates your keyboard and mouse, making it perfect for any workspace including business settings and home offices.

Setting up your workstation is easy. You can place one monitor (from 12" to 30") directly on the stand. The sit-stand workstation is also compatible with StarTech.com monitor arms.

If you prefer a dual-monitor setup, you can purchase the StarTech.com ARMDUAL Dual Monitor Mount with Articulating Arms, which supports two displays from 12" to 24". You can also create a single-monitor setup with the StarTech.com ARMPIVOT Pivoting Monitor Mount (supports a display from 12" to 30") or the ARMSLIM Monitor Mount with Articulating Arm (supports a display from 12" to 26"). A generous weight capacity of 13 kg (28.7 lb) gives you many options for setup.

Note: When mounting a StarTech.com monitor arm on ARMSTS you must secure the rear of the workstation to the desk using the C-clamp provided with your monitor arm.

The ARMSTS is backed by a StarTech.com 2-year warranty and free lifetime technical support.