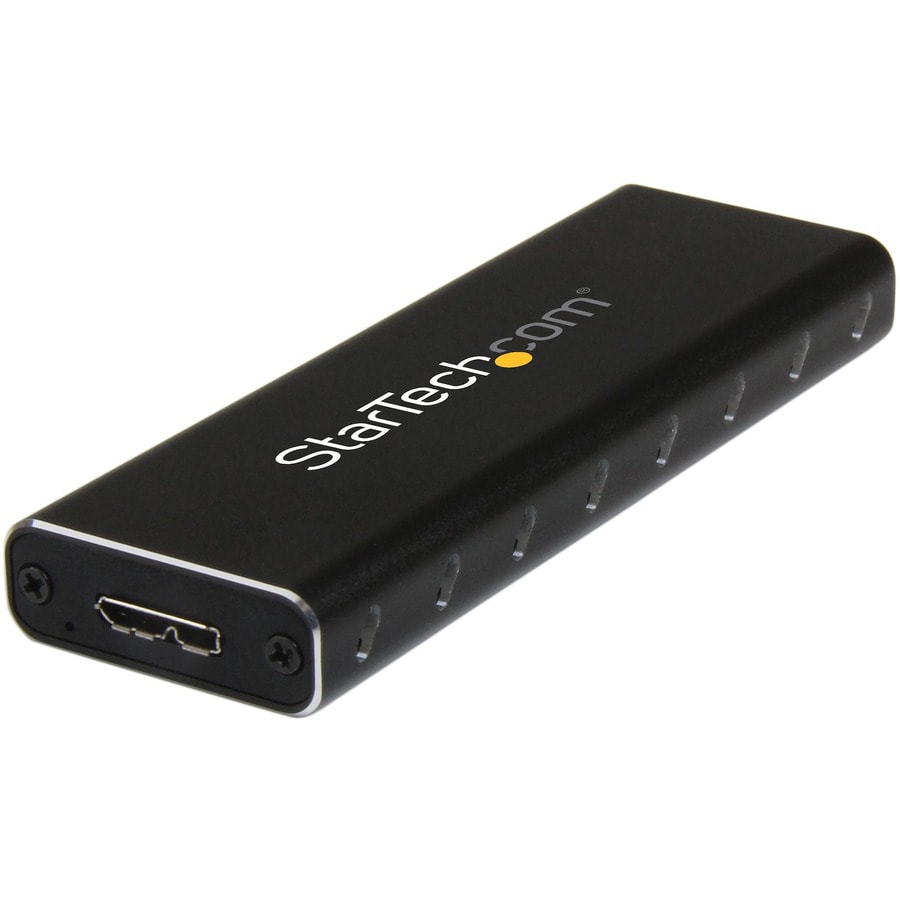 Quick tech specs
Turn your M.2 SATA drive into an ultra-portable pocket drive w/this M.2 SSD Enclosure for M.2 SATA SSDs
M.2 SSD enclosure
Broad compatibility w/ support for the most common M.2 SATA SSDs(Not compatible w/ M.2 NVMe or AHCI PCI-Express SSDs)
OS independent M.2 SSD enclosure
Compatible w/ USB 3.0 computers such as HP Probook and Samsung Chromebook and M.2 SATA solid state drives
Aluminum
USB 3.0 SSD enclosure supports SATA I/II/III
Re-purpose an M.2 SSD as a USB 3.0 external drive
View All
Know your gear
The SM2NGFFMBU33 external USB 3.0 to M.2 (NGFF) enclosure turns your SATA M.2 solid state driveinto a portable, high speed USB 3.0 drive.
Get higher external performance by using an M.2 SSD in place of a platter drive, harnessing the full potential of your USB 3.0 computer system. The enclosuresupports UASP, enablingyou toachievetransfer speeds up to 70% faster than traditional USB 3.0 when used with a UASP-enabled host computer.
This slim, pocket-sized SSDenclosurehas beenspecifically engineered for mobility. The enclosurefeaturesalightweightyet durable design, which fits easily into your pocket or laptop bag. For further convenience, the enclosure is powered entirely using the USB host bus andrequires no external power adapter.
Durable aluminum construction helps to ensureyour drive won't be damaged while you're on the move. Plus,to maximize heat dissipation the enclosure featuresspecially engineeredventilation holes which help maintaina cooleroperating environment for optimal performance and a longer life span for your drive.
For wide compatibility with all of the common M.2 solid state drives, the enclosure can mount multiple drive heights including: 2242, 2260, and2280.
The M.2 enclosure is backed by a StarTech.com 2-year warranty and free lifetime technical support.
Improved Performance with UASP
UASP is supported in Windows 8, Mac OSX (10.8 or above), and Linux. In testing UASP performs with a 70% faster read speed and 40% faster write speed over traditional USB 3.0 at peak performance.
At the same peak in testing UASP also shows an 80% reduction in required processor resources.
Testing results were obtained using an Intel Ivy Bridge system, a UASP enabled StarTech.com Enclosure, and a SATA III solid state drive.
StarTech.com M.2 SSD Enclosure for M.2 SATA SSD - USB 3.0 5Gbps - Aluminum
is rated
3.10
out of
5
by
29
.
Rated

5

out of

5
by
CNGM
from
Not compatible with Samsung 960 M.2 EVO
Disappointed. The Samsung Evo 960 M.2 EVO is just slightly too large to fit the connector.
Date published: 2017-05-12T00:00:00-04:00
Rated

5

out of

5
by
hydrox2000
from
Works!
Found this on newegg. I do like, however I did not receive the screwdriver or the screws that close the front plate. I did to take one screw from the back to close the front plate.
Date published: 2016-09-07T00:00:00-04:00
Rated

5

out of

5
by
macphoto1970_012
from
Good product, poor instructions and missing parts
This is a good quality enclosure as far as function and overall build. The instructions are poor and what should be a mindless install had me stumped for a bit. The instructions talk of a standoff installed...Mine was in the bag and I thought it was to screw the m.2 down. I was missing the screws for the end of the enclosure as none were provided. This should be a fast install but wow for some reason I had to read and figure this out. Then I looked at other reviews and found out that this is common. The screw is too short....no its the right length you need to screw down the stand off with the nut and then the other screw ...screws in the standoff. The enclosure works well but I still found it frustrating that what should take zero instructions took me time to figure out...and the poor instructions made thing even more difficult to understand. On top of that missing screws ...well thats an incomplete product. Good and bad with this but function is what really matters and for that it is ok I reviewed this product in exchange for an unbiased review.
Date published: 2019-01-12T00:00:00-05:00
Rated

5

out of

5
by
Willdabeest
from
Works well, but cheaply constructed.
I needed to migrate the data from a dead laptop and picked one of these up yesterday. Mounting the M.2 drive to the board is ridiculous, as the screw/nuts included are too tiny to be handled easily and don't feel solidly connected. The back panel on mine is misaligned (badly drilled holes), as only 1 screw can be used, the other is off-centered.
Date published: 2016-10-21T00:00:00-04:00
Rated

5

out of

5
by
IT Dude
from
SSD Drive does not fit in the enclosure
I've purchased a couple of these when they came out as our IT dept was rolling out SSD drives in our organization. I have had no issues with those two, therefore the rating. HOWEVER, when I received this one last week, I noticed the SSD drive would not slide in as easy as it would on the others. After closer examination, I see that there are 5 contacts on the left when inserting the SSD drive into the enclosure and it doesn't seem to fit in. If I look at the others I purchased, I see 4 contacts on the left with a space in between them. The part numbers and all other HW info is the same on this one vs the others. Is this a defect? Should I purchase another to see if it mirrors the ones I already have and work? Thank you.
Date published: 2017-06-08T00:00:00-04:00
Rated

5

out of

5
by
Tazbier3
from
Rugged SSD storage enclosure that goes anywhere!
The build quality and the compact size on the SSD ultra portable external drive were the first thing I noticed straight out of the box. Also given all the tools needed including the mini screwdriver was a plus so I could install the drive quickly. Most drives I have seen are in a plastic housing and the housing will make sure to protect and add longevity to the drive to be used over and over again.
Date published: 2016-12-30T00:00:00-05:00
Rated

5

out of

5
by
Winston
from
Not detecting SSD
Hi, i have the SM2NGFFMBU33 i added a crucial P1 M.2 2280, after connecting the unit to the computer, it fails to recognize the SSD -. Windows can see the Disk 2 Removable but states no Media. the SSD is connected and if i put it in a laptop it works fine. advice? Thanks
Date published: 2019-01-15T00:00:00-05:00
Rated

5

out of

5
by
trillal
from
parts missing
Not all parts were in package, i am missing the end plate so i can't really use it since the whole drive just slips out of the "enclosure".
Date published: 2018-12-06T00:00:00-05:00
Rated

5

out of

5
by
jackmerde
from
Screws don't even fit
I bought this a couple days ago, and I tried to connect my WD ssd but they screw wasn't long to hold the ssd down. I can connect the ssd to the port, but that's all I can do. Completely unsatisfied with this product, if you have an m.2 ssd with 2280 standard model then this product will not fit for you.
Date published: 2017-07-21T00:00:00-04:00
Rated

5

out of

5
by
BetterCallKaul
from
Works great with Lenovo M.2 drive
No issues whatsoever when using it with my M.2 SSD drive from my Lenovo X1 Yoga. Works better than expected!
Date published: 2018-08-23T00:00:00-04:00
Rated

5

out of

5
by
ABThompsons
from
Great product - Sturdy and Portable
This product includes the USB 3.0 to M.2 NGFF SSD enclosure, a USB 3.0 cable, the SSD screw kit and Mini screw driver. The assembly was relatively quick, but a little difficult due to the tiny screw sizes. The enclosure is able accept different drive lengths by moving the drive mounting stand. The enclosure is aluminum and light weight, perfect for throwing into your laptop bag. Its sturdy construction ensures that the contained drive will not get damaged. It also has ventilation holes on both sides to prevent overheating. This enclosure is perfect for turning your M.2 SSD into a portable unit. I received this product in exchange for an unbiased review.
Date published: 2017-01-24T00:00:00-05:00
Rated

5

out of

5
by
jerome
from
Works
I bought this 2 days ago, received it today. Product looks flimsy. The only thing i wasn't impressed was the front enclose cap/lid is missing ! I am not sure if i want to keep it or send it back. Since the SSD slides out without the front plate :( .
Date published: 2016-12-01T00:00:00-05:00
Rated

5

out of

5
by
TonyP
from
Not fit for my Samsung 960 EVO MZ M.2 2280
I need such like this and so happy to order this but connector not fit my Samsung 960 EVO MZ M.2 2280 A little small.
Date published: 2018-07-23T00:00:00-04:00
Rated

5

out of

5
by
Andrew11
from
Better than a flash drive!
I wanted one of these to work with a WD green M.2 drive I picked up on special to see if i could 'make' a large capacity USB drive. This worked better than I expected. Not only did I get a large capacity drive in a portable enclosure, the cable means a large USB stick isn't sitting in my USB port daring me to bump it and ruin the port. Transfer speeds are very good with large files and the enclosure is very good at dissipating heat. Overall I am very impressed!
Date published: 2019-01-30T00:00:00-05:00
Rated

5

out of

5
by
sam07
from
Not recognised by Samsung Data Migration Software
I bought this to use the spare M.2 SSD from an upgrade. It works as an external drive via the Microsoft UAS mass storage driver. The drive is listed as ASMT 2115 and can be formated. However, the Samsung SSD EVO 850 256GB cannot be recognised by Samsung Data Migration. There does not seem to be a way around this so a little dissapointing :(
Date published: 2017-05-22T00:00:00-04:00
Rated

5

out of

5
by
NS123
from
TRIM support
Supported TRIM perfectly BUT only after a search for the correct ASM 1153E firmware file - 140509_A1_82_40.bin then update with a third party MPtool application. This was done at my own risk - I do not recommend other users do this as they may render the unit non-functional. Perhaps I had an unit with older firmware. Suggestion - maybe provide the ASM1153E firmware which supports TRIM directly on the startech website rather than have to search at least an hour to fix it. TRIM is important for optimal SSD function. Build quality etc is good but only 3 star for this reason.
Date published: 2018-11-12T00:00:00-05:00
Rated

5

out of

5
by
brandonhro
from
M2 doesn't fit into the port
My M2 ssd from the dell xps 13 doesn't even fit into the enclosure port. This is absolutely ridiculous. Very disappointed with the build quality of this product
Date published: 2017-07-08T00:00:00-04:00
Rated

5

out of

5
by
br13
from
Doesn't work
My SSD boots, but when I try to look at the content with this adapter, my computer calls the adapter a removable disk adapter with no disk.
Date published: 2020-06-26T00:00:00-04:00
Rated

5

out of

5
by
null
from
USB boot from RPi V4
So far so good. I am using this with a RPi v4 to boot from a USB connected SSD. It works without a problem.
Date published: 2020-07-16T08:31:12-04:00
Rated

5

out of

5
by
null
from
Great enclosure
Works great. No complaints. Easy to install the hard drive and it came with all of the required tools.
Date published: 2020-05-29T14:21:08-04:00
Rated

5

out of

5
by
null
from
Couldn't be happier ??
I got scared after I ordered this as I read a few negative reviews... However, I could not be more pleased with this product. Everything that was supposed to be included was there, it is a sturdy, solid product, and now I have an awesome portable drive!
Date published: 2020-05-20T16:22:56-04:00
Rated

5

out of

5
by
null
from
Recovered data off of a hardrive I was told had crashed!
I was told that the data on my hard drive was toast and I was going to spend over $1,000.00 and send the computer to a company to try and recover the data. I purchased the STarTech M.2 SSD and was able to recover the data in a matter of minutes!
Date published: 2020-08-19T19:10:01-04:00
Rated

5

out of

5
by
KCHowler
from
Poor description
This adapter will not work with most M.2 PCIe SSD's used by new Dell computers. Newer M.2 SSD's use the M key format, this adapter only works with B keyed SSD's.
Date published: 2017-03-21T00:00:00-04:00
Rated

5

out of

5
by
Tfleming
from
M.2 2280 Form Factor - Does NOT Fit
We bought this because we needed a way to adapt the M.2 SSD that come with our laptops into USB's for ease of data recovery... The M.2 does not fit into the socket. I am also unhappy with having to unscrew the thing everytime we want to change a SSD inside. Annoying
Date published: 2018-03-12T00:00:00-04:00
Rated

5

out of

5
by
StartechVictim
from
Poor documentation and misleading product description
I bought this mistake on CDW. All over CDW it is stated to use your M2 drive. I have one. It doesn't work. Only after owning the "product" do you learn of the B-key requirement. From the instructions. So no, the statement of wide M2 SSD compatibility is false. I notice no where do star tech themselves ever state any compatible model numbers. Do a search for M2 SSD with B key. Tons of useless adapters. No drives. Go ahead startech, list some models from major manufacturers that function with SM2NGFFMBU33. We will all wait here. Tons of bad reviews from people like me that bought this "adapter" that claims "wide compatibility with all of the common M.2 solid state drives. Yup another samsung owner. samsung. common. very common. Yup the samsung works in everything that is not this adapter.
Date published: 2018-10-23T00:00:00-04:00
Rated

5

out of

5
by
null
from
It was a perfect fit and worked well to protect the drive
Date published: 2021-04-14T16:10:13-04:00
Rated

5

out of

5
by
null
from
Very good product and easy to use. Another good product from StarTech.
Date published: 2021-04-07T16:12:42-04:00
Rated

5

out of

5
by
Darren
from
Decent Enclosure
I bought this enclosure (SM2NGFFMBU33) two months ago to transfer files from a PC with a dead motherboard. The enclosure worked fine and did exactly what I needed. I did check and double-check the M.2 SSD connector BEFORE I ordered it to make sure it would fit properly. My SSD was pulled from an older PC and I did see enclosures on the market where it would not fit the connector. Apparently all M.2 connectors are not the same or have changed slightly over time despite an assumed standard. Pros: Aluminum construction for durability, good build quality - solid and everything fits together the way it was designed, no external power required, all parts were included in my kit, file transfer speeds were fast Cons: the screws are tiny and really hard to work with, the SSD mounting screw causes a slight bend in the SSD board, and the SSD mounting screw comes loose and requires retightening periodically Subject to the cons described above I would both recommend this product and purchase it again.
Date published: 2021-04-24T00:00:00-04:00
Rated

5

out of

5
by
taraL
from
Missing parts
Opened up box and missing the SSD mounting screw and standoff as well as the end plate. Very disappointing as it is not functional with missing parts :(
Date published: 2021-04-21T00:00:00-04:00