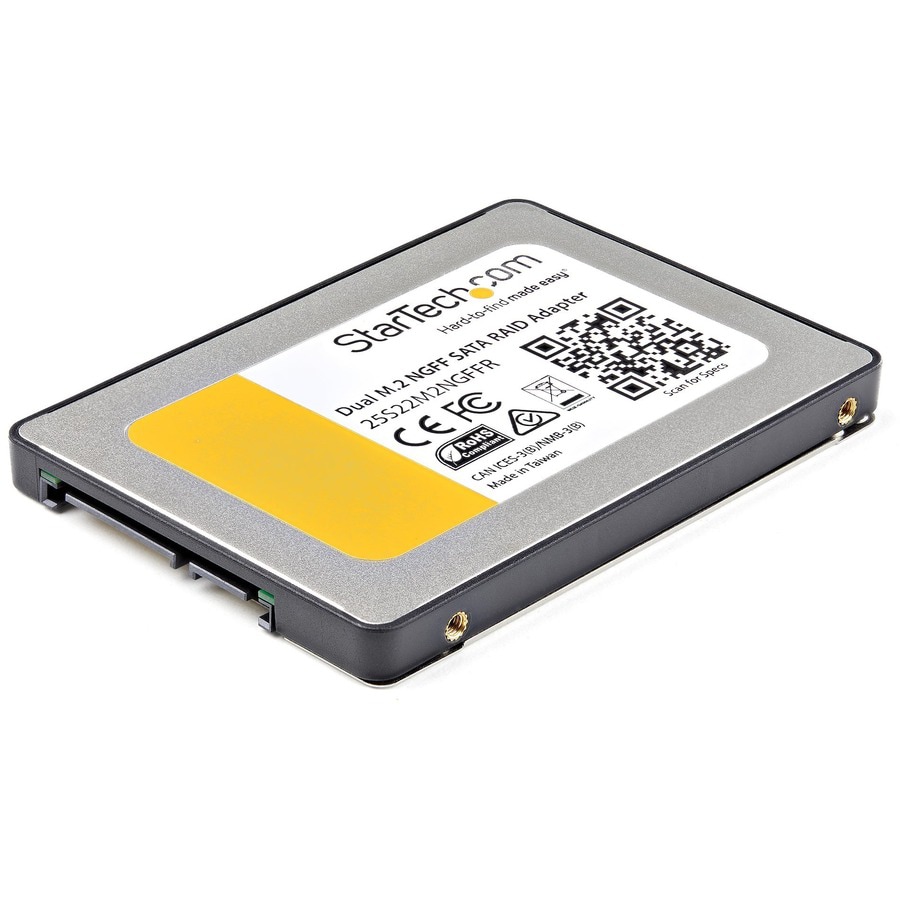 Quick tech specs
performance storage with configurable RAID
2x M.2 SSDs to 2.5in SATA (6Gbps) RAID adapter converter with TRIM support
Supports SATA I/II/III (up to 6Gbps)
Protects your M.2 (NGFF) SSDs in any 2.5in application with enclosed housing
Dual M.2 NGFF SATA adapter with RAID
Dual M.2 SSD adapter enclsoure with RAID 0 and RAID 1 plus Spanning and JBOD
2.5in SATA form factor housing
View All
Know your gear
Install two M.2 NGFF SSDs into a 2.5" bay to create high-performance storage with configurable RAID. Boost your system performance by enhancing the capacity, speed and security of your data storage. This two-drive M.2 to SATA adapter lets you install two M.2 solid-state drives in a single 2.5" drive bay and configure a powerful RAID array.

The dual M.2 to SATA adapter supports multiple RAID modes (RAID 0, 1, BIG) helping you to achieve greater SSD capacity or data redundancy, depending on your selected RAID mode. The SSD adapter also supports non-RAID operation (JBOD) when paired with a port-multiplying SATA controller, so both drives can be used independent of one another.

The dual SSD adapter lets you utilize the full potential of your SATA III controller. Using M.2 SSDs in place of a platter drive reduces your data transfer bottlenecks and gives you file transfer speeds of up to 6 Gbps. M.2 SSDs also save you money by reducing your power consumption over regular platter drives.

The M.2 NGFF SATA RAID adapter also provides TRIM support to enhance the stability and performance of your M.2 NGFF SSDs.

The M.2 to SATA adapter features an enclosed housing that helps protect your NGFF (Next Generation Form Factor) SSD. The added protection gives you peace of mind when you are using your M.2 drives in applications that require an added level of durability such as hot-swap drive bays, or external SATA docking stations.


StarTech.com Dual M2 to SATA Adapter with RAID - 2x M.2 SSDs to 2.5in SATA
is rated
3.60
out of
5
by
9
.
Rated

5

out of

5
by
Julio2r
from
Seems like a good idea
I bought this adapter in hopes to utilize the sata m.2 drives that I had ordered instead of the pcie version. The idea seems like a good one, other than the fact you RAID 0 (2) M.2 drives capable of speeds of up to 540 MB/s and sequential write speeds of up to 500 MB/s to be bottle necked into a 600 MB/s interface? Why RAID for that sliver of performance? The drive seems extremely unstable in my laptop, not sure if it is jostling of being transported about or what ,but I'm having issues maintaining my data on it. I've had the laptop refuse to boot on 2 separate occasions do to "hardware issues", i.e. the drives moving around in their allotted slots or dropping of the partitions all together. Finding it difficult to justify this very expensive set up.
Date published: 2016-07-25T00:00:00-04:00
Rated

5

out of

5
by
Macphoto
from
Good adapter - Nice option for older system
Used this adapter in a fairly new Lenovo computer and found that the speed gains were impressive. This adapter is easy to use. This is partially because it is hard to mess us M.2 installs as they only fit one way. I set the jumpers to span as for this purpose I just wanted one big drive out of the 2 I installed. Everything went without a problem and I was running very quickly. Overall this is a good adapter
Date published: 2017-07-13T00:00:00-04:00
Rated

5

out of

5
by
Andrew11
from
Great for M.2 Upgrades
I always thought that upgrading a laptop with an M.2 drive would be a long way off, but it seems like you blink and it's time! Now I don't have to worry about what to do with that smaller drive, I can hand-me-down to another machine with a standard SATA bay. The adapter itself is very well designed and equipped; you can put any physical size 'drive' into either of the 2 slots, and it feels very sturdy and secure. I didn't bother with the RAID ability since 2 drives suit me just fine, but it's good to know it's there available down the road! I received this product in exchange for an unbiased review
Date published: 2017-07-14T00:00:00-04:00
Rated

5

out of

5
by
Pablomep
from
JBOD mode just doesn't work
I was so interested in using two different size, different manufacturer M.2 SSD's in my one SSD slot laptop. I thought it was just plug-and-play, but the second SSD never appeared listed in a windows installation session, even using DISKPART. So I thought it was a configure-first issue, and bought a SATA to USB adapter. Only a waste of money. The device can be configured and seen as SPAN (one large drive made of the sum of the two physical drives) or as individual drives if they're alone in any of the slots, but as soon as they're put together and configured in JBOD mode, only the drive connected in the slot #1 is viewed by the OS. Such dissapointing and a waste of time and money. Bought some time ago, I don't think I can return it
Date published: 2018-11-15T00:00:00-05:00
Rated

5

out of

5
by
RootAlex
from
Good for Linux and Windows
This device is good for Windows or Linux computers but for Macintosh it is awful, I bought one and did the raid 0 on two Toshiba 128 gb with APFS and got and average sequential read speed of 8~9mb and 234mb write. But on my Windows I did get read speed of 1400mb and write 240mb.
Date published: 2019-01-08T00:00:00-05:00
Rated

5

out of

5
by
1nivek1
from
Excellent
This is an excellent device that was easy to setup. It even came with a small screw driver. I replaced my hard drive in my laptop with it and immediately noticed a significant increase in speeds.
Date published: 2017-07-18T00:00:00-04:00
Rated

5

out of

5
by
Henmarty
from
Could of been great
I bought this for the sole purpose of running in an external caddy to be ran in jbod mode thinking that i could run drive 1 as an enterprise windows to go drive and to have drive 2 configured with microsoft deployment toolkit with other winpe based tools such a shame this is not possible as this would of been an otherwise excellent product such a shame
Date published: 2019-06-19T00:00:00-04:00
Rated

5

out of

5
by
Lycan
from
Nice RAIDZ and 1 copies!
I already have 2. They're functional. Haven't put them under significant load yet. I've got two each with two 256GB SATA m.2 drives, and two additional 500GB SATA SSDs, in a RAIDZ About what you'd expect. 500MB/sec per link. I had to put them into RAID0 mode, because SAS doesn't support SATA PMP. So they wouldn't work as JBODs.
Date published: 2021-09-28T00:00:00-04:00
Rated

5

out of

5
by
JohnE2
from
Found monitoring s/w
I have found that the Windows monitoring software for RAIDON GR3380-SB3 also works for this drive. So that solves my problem and I can now give 5 stars.
Date published: 2021-05-07T00:00:00-04:00