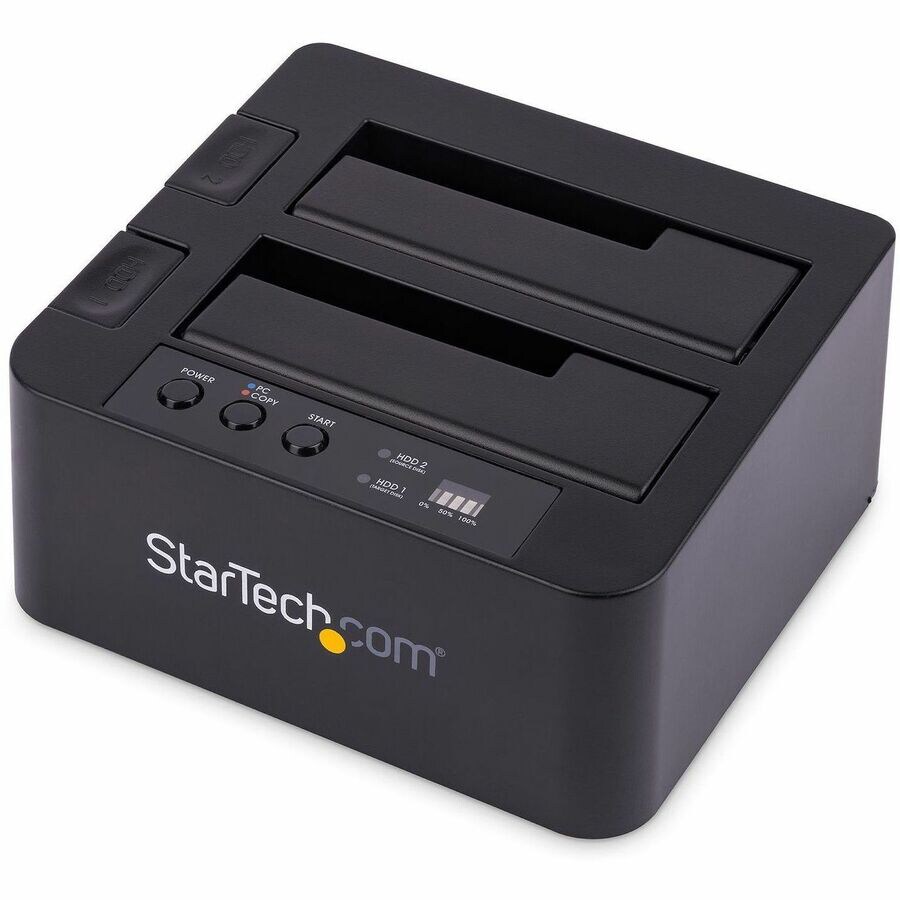 Quick tech specs
Dual bay external hard drive duplicator works as standalone drive cloner / copier (no PC required) or docking station
Sector-by-sector SSD / HDD duplication for whole disk copy up to 28 GB/min
SATA III (6Gbps) w/TRIM| 4Kn | All File Formats | No device capacity limit | USB 3.2 Gen 2 (10Gbps) | OS Independent
File transfer / Drive mount / Backup / Recovery / cloning tool for 2,5" / 3,5" SATA drives
Top loading with disk eject
Hardware includes USB-C/A Cables and Universal Power Adapter
View All
Know your gear
Duplicating and imaging a hard drive or solid-state drive are effective ways to migrate your operating system and data from one drive to another or create an exact copy for safeguarding your important data. This hard drive duplicator dock lets you create a sector-by-sector clone of your drive, including partitions and boot sector information, to ensure data integrity and consistency for sensitive operations such as data recovery.
Clone Your Drives at High Speed
This disk duplicator dock saves you valuable time with SSD duplication speeds of up to 28GB per minute. You can duplicate a 2.5" or 3.5" SATA SSD or HDD easily, without having to connect the duplicator to a host computer.
This hard drive cloner also provides an external storage solution, letting you dock your drives through USB 3.1 Gen 2 with UASP support, enabling fast data transfer rates of up to 10Gbps.
Designed for Easy Use
This copier dock features a top-loading, toaster-style design that makes it easy to insert your drives. It also features drive doors to help stabilize drives that are inserted into the slot and prevent foreign objects from getting into the drive slots.
Both tool-less and tray-less, the duplicator helps to ensure quick and hassle-free drive insertions. LED indicators let you know, at a glance, the current state of the duplication process, including the specific duplication mode, the HDD status and clone progress. The HDD ejection button enables fast and simple drive removal.
SDOCK2U313R is backed by a StarTech.com 2-year warranty and free lifetime technical support.
StarTech.com Dual-Bay Hard Drive Duplicator Dock, HDD / SSD Cloner Copier
is rated
3.80
out of
5
by
10
.
Rated

5

out of

5
by
Theis
from
20 harddrives duplicated, 20 to go.
Easy and fast harddrive duplication. Install harddrives, press power, press copy and press start. It can't be any easier. 320GB harddrive takes around 1hour to 1½hour. Support is great too, took about 14hours to answer. Despite the diffrence in time between US and EU.
Date published: 2018-06-26T00:00:00-04:00
Rated

5

out of

5
by
dcgo409
from
Cannot Duplicate To 1TB SSD
I bought this dock to duplicate laptop hard drives. It worked fine for 250GB hhd to 500GB ssd but now it will not recognize a 1TB ssd when in copy mode.
Date published: 2019-06-08T00:00:00-04:00
Rated

5

out of

5
by
Niall_D
from
null
I have tis unit now and its predessor a few years. Gets the job done quickly, Buttons a bit frail, handle with care and you will have a great product that will get all your clone drives backups ready in case of HDD Failure. Great dockinf station also.
Date published: 2018-06-20T00:00:00-04:00
Rated

5

out of

5
by
T hor S tang
from
Good , but no rooms for a SSD Caddy ...
I bought this today(March 2020) and it seems to work fine, except one thing.. I use it with a SSD Caddy(Thin plastic Cover around it to the Atomos Ninja V (Video-recorder), so I have to remove the Caddy everytime I take a Backup. I think a SSD-Caddy is very common used for videorecorders, is there a trick to fix this problem..?
Date published: 2020-03-30T00:00:00-04:00
Rated

5

out of

5
by
Bodycount
from
Really fast cloning!
Using this to clone SSD's. It's really fast. There is one feature I wish they added. I wish there was an audio beep sound after the cloning process was done so I know to insert the next drive. Have to keep looking at it every so often to see if it's done.
Date published: 2021-05-06T00:00:00-04:00
Rated

5

out of

5
by
NASA_System_Admin
from
Satisfied
At my federal agency, I support a number of users who each have these drive docks, and who use them heavily every day, writing or reading terabytes of data. With these docks, our users can share data faster than transferring files across a network. My users do not often use the duplication feature, but I use it regularly. We have seen two of these units fail, but in once case, that was definitely as a result of the user connecting an improper power supply to the unit. While this is obviously not StarTech's responsibility, it would be helpful if the power supplies for these units came with a clearly visble StarTech sticker or label with the bay's name and model on that label. Other drive bay and power supply manufacturers should do the same. StarTech promptly replaced the second bay that failed. The plastic covers over the ports on the drive bays are a little fragile; many of our docks are missing one or both. We would like to see a side-mounted, quiet cooling fan that would cool both drives when in heavy use. We will continue to buy these products, and we are hopeful that StarTech will release a cooled dual disk Thunderbolt drive bay in the near future; we need better performance than we can get from just USB-C. We would also like to see a cooled bay to duplicate PCIe NVMe drives.
Date published: 2020-04-24T00:00:00-04:00
Rated

5

out of

5
by
brian163
from
So far, so good but NOT HOT SWAPPABLE
I've only used this a few days and it immediately addressed the issue I was having with a less expensive USB dock that would dismount a drive randomly. However, the technical specs are wrong. This unit does not support hot swap. If you dismount and physically remove one disk, the other one will disconnect briefly. This is confirmed in the user guide and should be corrected on this page so as not to misinform customers.
Date published: 2020-07-07T00:00:00-04:00
Rated

5

out of

5
by
Biff
from
Stopped working after three months.
No longer communicates with my PC. The WavLink version is going strong after the same amount of time. Glad I got a WavLink since StarTech version just quit for no reason.
Date published: 2021-05-09T00:00:00-04:00
Rated

5

out of

5
by
PKTexas
from
Clone a Directv DVR External Hard
This is an awesome standalone Duplicator. I was able to clone my Directv External Hard Drive and it worked great. It only took a few hours. Im happy because I now have a backup of all my programs. Piece of mind having a backup of the Directv HD. Awesome..... It still doesn't fix the issue if you put it on another receiver but happy I have a backup incase the HD dies and I loose all my shows.. Thank You Statech... Great products y'all make.
Date published: 2023-02-12T00:00:00-05:00
Rated

5

out of

5
by
PKTexas
from
Great and Fast standalone duplicator
it worked great and very impressed with all of Startech products and The Tech support is Awesome. They are always very helpful..
Date published: 2023-02-11T00:00:00-05:00