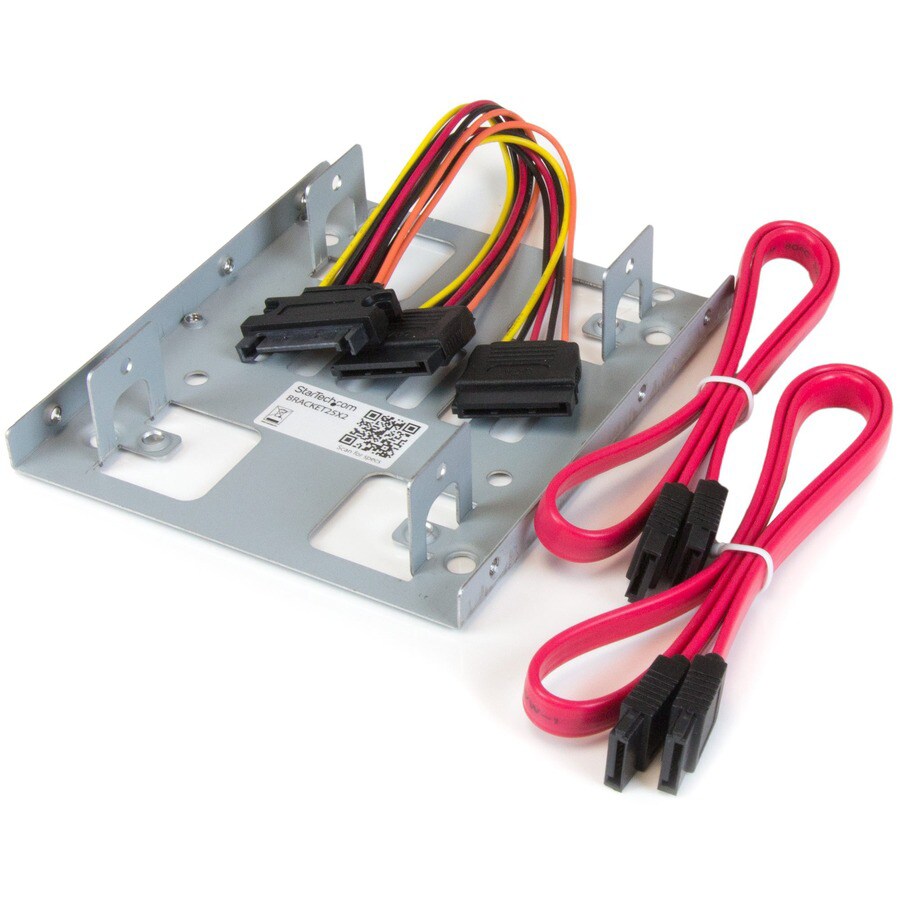 Quick tech specs
Mount two 2.5in SATA SSDs/HDDs into a single 3.5in drive bay
Hard Drive Mounting Bracket/2.5 to 3.5 Hard Drive Adapter/2.5 to 3.5 Bracket/SSD Mounting Bracket/Hard Drive Mounting Brackets/Hard Drive Mounting Kit/SSD Mounting Kit
Compatible with desktop computers with an available 3.5in mounting bay and 2.5in hard drives and solid state drive such as Samsung 840 EVO series and Crucial MX 100 series
Add the performance of 2.5in solid state drives to your desktop computer
View All
Know your gear
Mount two 2.5in SATA SSDs/HDDs into a single 3.5in drive bay. The BRACKET25X2 Dual hard drive mounting bracket kit lets you install two 2.5in SATA hard drives (HDD) or solid state drives (SSD) into a single 3.5in mounting bay - enabling you to significantly increase the performance of your desktop by adding the speed of a 2.5in SSD.

Maximize the internal mounting space of your computer, by installing two 2.5in hard drives in the same 3.5in bay. The bracket can be used with SATA hard drives and solid states.

For a hassle-free installation, the hard drive mounting kit includes all required data and power cabling for both SATA drives. Plus, the bracket can support IDE drives when using our 2.5in to 3.5in IDE Hard Drive cable adapter (IDE4044).

The BRACKET25X2 features solid steel construction.


StarTech.com Dual 2.5" to 3.5" SATA HDD / SSD Mounting Bracket
is rated
4.60
out of
5
by
10
.
Rated

5

out of

5
by
charlie1939
from
Fits the bill-works well
Just installed my first SSD, 250GB Crucial BX100, using this adapter, part no. BRACKET25X2, which included 2 SATA cables and a SATA "Y" power cable for two drives as well as the 3.5 inch to 2.5 inch adapter. The part is not only well designed, fitting the SSD perfectly, but included all the hardware to mount two 2.5 inch SATA drives in the 3.5 inch "floppy drive" slot on my old Dell Optiplex 755. Only issue was the four fiber washers that would not fit: being concerned that they were necessary, I called Tech Support and wonder of wonders at 3:30PM EDT an agent picked up the call after about a 1 minute wait! All I can say is that I will not hesitate to buy more StarTech products if this one is typical of the rest of their product line.
Date published: 2015-07-13T00:00:00-04:00
Rated

5

out of

5
by
QuPe
from
Perfect Fit
Works great! Fits fine in pretty much any machine we've used it in.
Date published: 2016-04-27T00:00:00-04:00
Rated

5

out of

5
by
DMike
from
These will not fit Dell standard desktop computers
Our Dell computers use 4" hole spacing on the outer holes. The StarTech Part # BRACKET25X2 have a 3 9/16" hole spacing so they do not work. I returned them.
Date published: 2014-02-20T00:00:00-05:00
Rated

5

out of

5
by
bricks
from
Good bracket for mounting your Solid State Drives
Just got this from a retailer to mount 2 SSD SATA 2.5 inch drives in my desk computer. I didn't need the SATA cables this time (they were replacement drives) but the split power cable was useful. I didn't know what to do with the fibre washers in the bag of screws so went on line to the tech support chat and quickly sorted it out (basically use them if needed). Excellent product. I have been using Star Tech products for quite a few years.
Date published: 2020-10-21T00:00:00-04:00
Rated

5

out of

5
by
RBrown
from
This is the one to buy.
I was skeptical if this bracket was going to work in my small form factor Dell Optiplex 9020 but it worked perfectly. It came with all of the mounting hardware and the cables for both drives, my two new 2.5" drives mounted easily and the bracket fit into the existing carrier that held the old hard drive. I will definitely buy this again.
Date published: 2021-07-14T00:00:00-04:00
Rated

5

out of

5
by
BookerT
from
SSD Drives for Laptop and PC
Excellent purchase of both SSDs. I see the difference and improvement in the performance of my laptop and PC.
Date published: 2021-03-06T00:00:00-05:00
Rated

5

out of

5
by
JJ
from
Works Great for One or Two 2.5" !
Fits perfectly, comes with power cable splitter but be mindful if you have an L-shaped SATA cable, you may need a straight one. Perfect for fitting an extra 2.5" drive into your computer or if you just need to get a single 2.5" drive into a 3.5" bay! Even if you only have one drive to install, this gives you ability to add another later on! (Assuming MOBO has enough SATA ports)
Date published: 2020-08-08T00:00:00-04:00
Rated

5

out of

5
by
P
from
As Promissed
Arrived early and works as it should, and the quality is great.
Date published: 2020-04-20T00:00:00-04:00
Rated

5

out of

5
by
john
from
mounting bracket for a hard drive
easy to install, works great
Date published: 2021-04-01T00:00:00-04:00
Rated

5

out of

5
by
Old DOS Guy
from
Worked like a Charm
This is exactly what I needed to install my new 2.5" SSD!
Date published: 2020-11-12T00:00:00-05:00