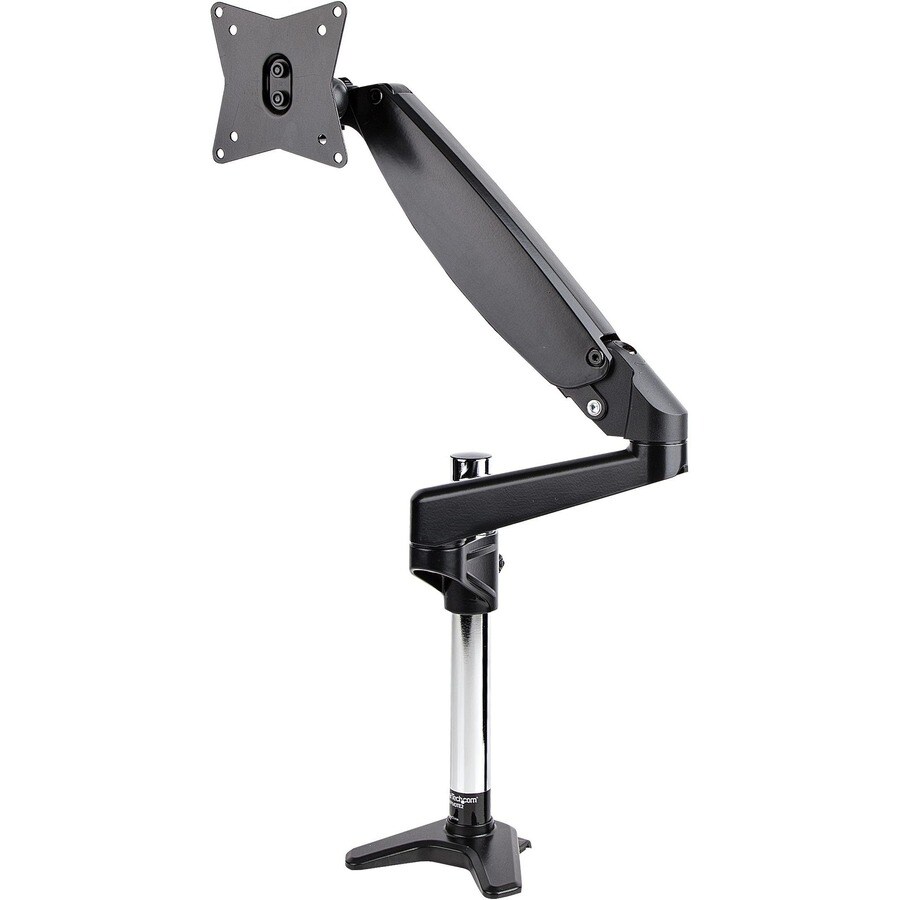 Quick tech specs
VESA 75X75/100x100mm compatible monitor arm for single 17.6lb/8kg display up to 32" or up to 49" ultrawide (32:9)
Gas spring assisted arm w/ one-touch height adjustability of up to 24" (610mm) from the desk; Extends up to 23.2" (590mm) from the pole
Detachable VESA plate w/ quick release
Full motion articulation w/ +90/-90anddeg; swivel +90/-85anddeg; tilt 360anddeg; rotate (portrait/landscape)
C-Clamp (up to 85mm) or grommet mount (up to 70mm); Incl. adjustment tools
Cable management
View All
Know your gear
This desk mount monitor arm enables you to mount and raise a monitor with a maximum screen size of 32"" (16:9) or 49"" (32:9) ultrawide. Its solid steel construction allows this monitor arm to support up to 17.6lb (8kg) with two mounting options (C-Clamp or Grommet mount) to securely attach your monitor to your desk.
Full Motion Articulation
Setup an ergonomic work environment and reclaim valuable workspace on your desk. The adjustable monitor mount lets you extend the arm a full 23.2"" (590mm) from the pole. The full motion arm moves freely provides a wide range of motion across multiple axes. You can tilt the monitor +90/-85 degrees, swivel +90/-90 degrees, and even rotate 360 degrees, to find the ideal viewing angle. Switch back and forth from landscape to portrait orientation at any time. Featuring spring-assisted height adjustment, the display mount lets you raise or lower your monitor up to 13.4"" (341mm) with smooth, and effortless positioning by hand. Additional adjustments with the included tools allow you to raise the monitor arm along the pole for a maximum height of 24"" (610 mm) from the mounting surface.
Organized Workspace
This single desk monitor arm enables you to free up space by letting you mount your monitor to your desk, table, or countertop. In addition, it features integrated cable management channels along the arm, and cable management clips to route your cables and maintain an organized and professional look on your workstation.
Easy Installation
With the detachable VESA plates with quick-release clips, you can mount your display to the mount with ease. Either clamp the mount to the side of a desk up to 85mm thick, table or mount it through a grommet hole on desks up to 70mm thick.
ARMPIVOTE2 is backed by a StarTech.com 5-year warranty and free, lifetime technical support.