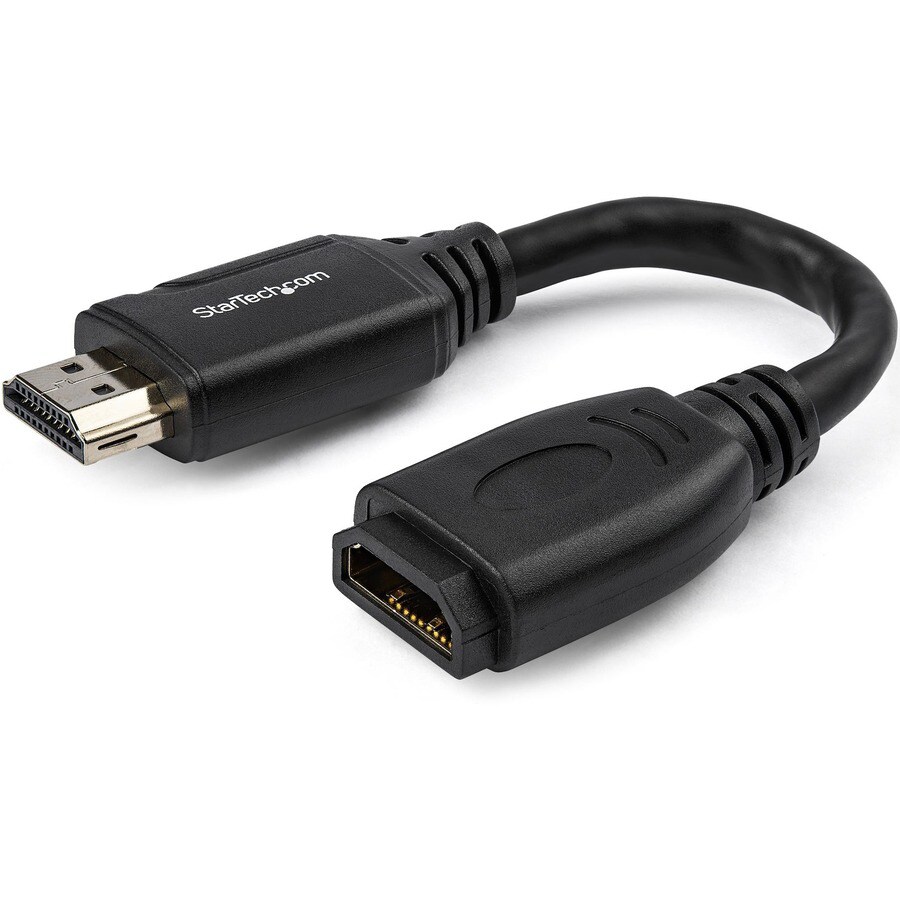 Quick tech specs
6" (15cm) High speed HDMI 2.0 extension cable with Ethernet | 4K 60Hz (up to 4096x2160p)/18Gbps bandwidth/HDR10/Ultra wide aspect ratio/32 Ch multi-stream audio (5.1/7.1/Dolby TrueHD/Atmos)
Short HDMI extender cable/cord (male to female adapter) to protect/extend HDMI port of computer/laptop to TV/monitor/display; Samsung/Sony/Apple TV
Ultra HD 30AWG HDMI port saver cable/Al-Mylar foil w/braid; Nylon 6/6 connector prevents wear when connecting to HDMI port
StarTech.com Lifetime Warranty
View All
Know your gear
This High Speed HDMI port saver cable prevents wear and tear on the HDMI port on your monitor or other devices, by extending it away from the device for a more flexible connection. The port extender cable supports all HDMI 2.0 specifications, including resolutions up to 4K (60Hz), and bandwidth up to 18Gbps.
Secure Port Connection
To prevent accidental disconnections and signal loss, the extender features a high-retention HDMI male connector. The connector automatically latches to the inside of the port, creating contact pressure that prevents it from loosening over time due to movement or vibrations.
Full HDMI Capability
This short male-to-female extension cable supports all HDMI 2.0 specifications:


Resolutions up to 4K 60Hz


High speeds with a bandwidth of up to 18Gbps


High Dynamic Range for higher contrast ratio and vivid colors


Crystal-clear sound with up to 32 uncompressed digital audio channels


Supports 21:9 cinema aspect ratio and 3D video


Backward compatible with earlier versions of HDMI


Supports Consumer Electronics Control (CEC) functions


Enjoy Astonishing Picture Quality 
Fully compatible with your HDMI 2.0 equipment, this port saver cable supports resolutions up to 4K 60Hz and bandwidths up to 18Gbps. It's also backward compatible with earlier versions of HDMI and will work with all of your existing HDMI devices.
HD2MF6INL is backed by a StarTech.com lifetime warranty and free lifetime technical support