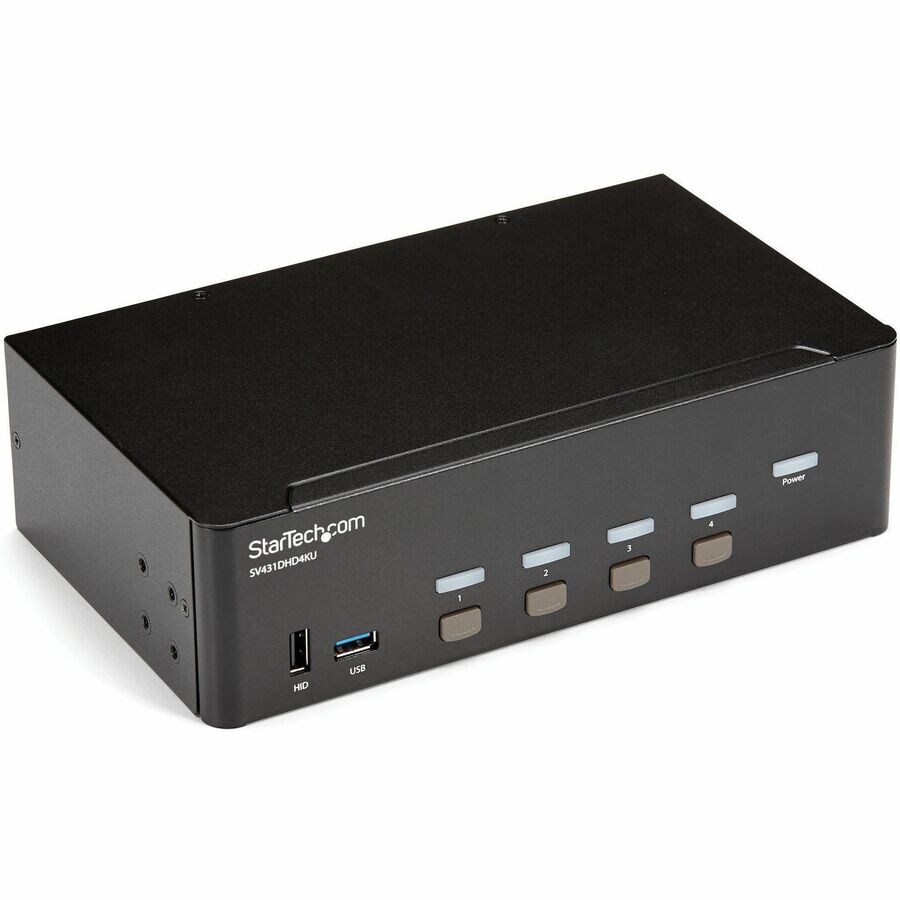 Quick tech specs
This 4K HDMI KVM with dual monitor support lets you control four HDMI computers with a single mouse,keyboard and dual monitors up to 4K 30Hz
Separate 3.5 mm auxiliary support
No software or drivers required
Support for dual 4K 30Hz displays
Built-in USB 3.0 port plus independent HID keyboard/mouse ports
4 port HDMI KVM switch/4 port KVM switch/4K KVM Switch/dual display KVM/dual monitor KVM switch/Dual screen KVM/KVM switch with HDMI/KVM switch HDMI dual monitor
View All
Know your gear
This 4-port HDMI KVM switch lets you control four HDMI computers with a single mouse, keyboard and monitor up to 4K 30 Hz. The KVM also features 3.5 mm audio and a built-in 2-port USB 3.0 hub.
4K at 30 Hz UHD dual display
With support for ultra-high-definition 4K 30 Hz resolutions, this 4-port KVM switch can drive dual HDMI displays with crystal clarity, making it ideal for graphical applications that require UHD capability.
Convenient and cost-effective USB 3.0 peripheral sharing
This 4-port KVM switch offers two USB 3.0 ports, as well as four HID keyboard and mouse ports, so you can share peripheral devices between each computer and avoid the cost of separate equipment. The USB 3.0 hub automatically switches your connected devices to the selected computer, saving you the hassle of disconnecting and reconnecting peripherals.
Complete multimedia capability
Along with dual UHD video capability, this KVM switch features auxiliary 3.5 mm dual-channel, bi-directional audio ports. This independent analog audio lets you share your analog audio devices such as speakers or a microphone between each of your connected computers, giving you complete multimedia control of your systems.