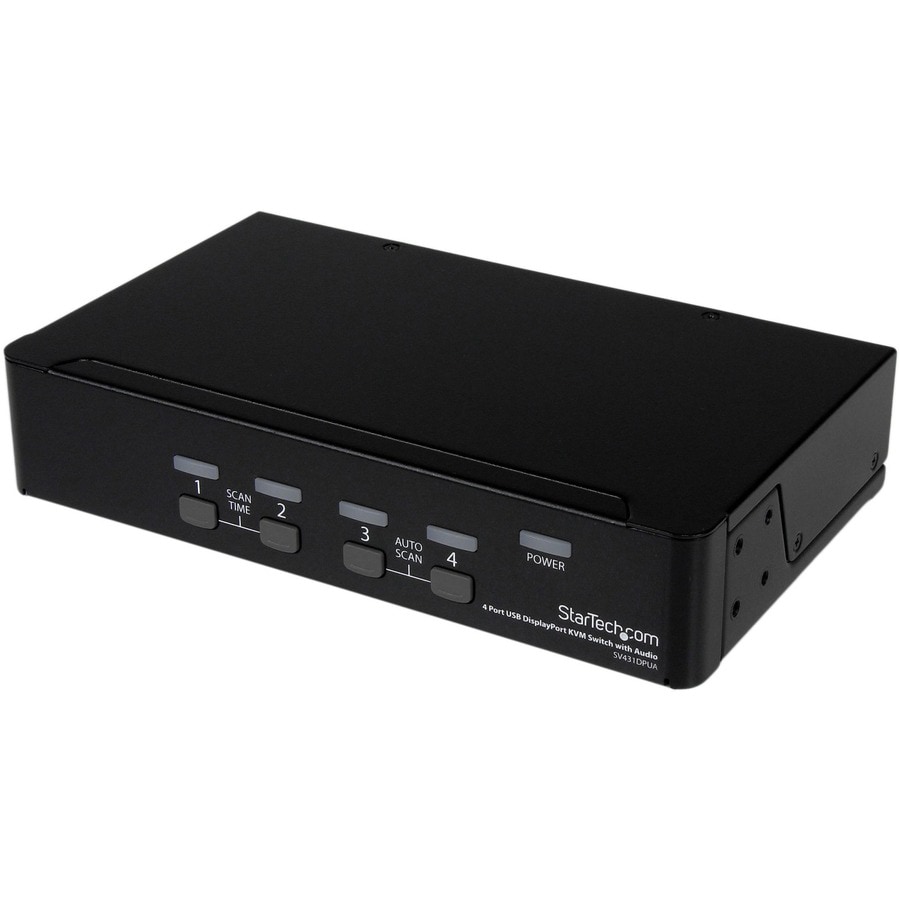 Quick tech specs
Share keyboard mouse and DisplayPort display between four HD multimedia systems
DP KVM Switch/4 Port USB DisplayPort KVM Switch with Audio/4Port KVM Switch
USB peripheral sharing using the integrated hub eliminates the expense of duplicate devices
Hotkey and push-button switching
4 Port DisplayPort KVM
Supports digital DisplayPort 7.1 HD audio or separate 3.5mm analog audio connections
Compatible with Mini DisplayPort adapters for Apple MacBook connectivity
View All
Know your gear
Share keyboard, mouse, and DisplayPort display between four HD multimedia systems. The SV431DPUA 4 Port USB DisplayPort KVM Switch with Audio combines next generation display standards with seamless KVM control of up to 4 connected PC or Mac computers.

Featuring DisplayPort resolutions of 2560x1600 @60Hz, as well as offering both 7.1 HD digital audio (with supporting displays and sources) and separate 3.5mm stereo audio support. An integrated USB 2.0 hub allows you to share 2 additional peripherals among attached computers as if they were directly connected.

Suitable for high quality static imaging applications such as health care (MRI, X-ray diagnostics, etc.), a maximum resolution of 3840x2400 is supported at reduced refresh rates.

A simple yet comprehensive solution, the 4-port KVM features both front-panel push-button and hotkey switching, and offers a small form factor with rear connection ports, to minimize workspace disruptions.

If you'd like to mount this KVM switch to your server rack, StarTech.com offers a 1U Rackmount Bracket (sold separately) that turns this KVM into a rackmountable KVM.


StarTech.com 4 Port USB DisplayPort KVM Switch with Audio and USB 2.0 Hub
is rated
2.80
out of
5
by
5
.
Rated

5

out of

5
by
KenRogrsRoasted
from
Flashes on 3 different HP monitors
I bought 2 to do multiple setups for Deployment. Both have issues: flashing the screen (mostly off) and not catching a signal on start up so never seeing a screen. Lastly one of the two only works with two or less of the ports connected. I cannot find a firmware update or support for these issues.
Date published: 2018-08-30T00:00:00-04:00
Rated

5

out of

5
by
Bob Rysome
from
Good KVM but no 4K @60Hz
Bought this item awhile ago as part of a general system swap to use DisplayPort. It has been working fine with a series of 1k and 2k panels without trouble at max res. and frequency. As per usual - StarTech make reliable kit that is well made. Anyway, just got a new 4K panel and thought I would connect it up. It seems that the unit is only DisplayPort 1.1 compliant. This means that it will not do 4k @60Hz. It will only do a max of 4k @ 30Hz. Therefore, looking for an alternative solution to it at the moment. Unfortunately the 4k market for KVMs is a little stale at the moment in regards to DisplayPort. Would wish that StarTech would come out with one that supports 4 ports and DisplayPort 1.2 (at the very least - the standard has been around since 2009).
Date published: 2016-03-05T00:00:00-05:00
Rated

5

out of

5
by
Mike B
from
Does what I need it to without issue.
Two weeks in and it is working flawlessly. No software setup, just plug in the two laptops and use it. I'm not using audio and not worried about 4K. Just using the basic keyboard, video and mouse. One difference is that my keyboard has the old PS/2 connection. Using a PS/2 to USB converter does not cause any issues with the KVM as I've seen on others in the past. A number of KVMs have issues with certain versions of Windows O/S. I have one laptop at Win 7 and the other at Win 8. No issues whatsoever. Will eventually put a third laptop (Win 10) and a desktop (Ubuntu 16) on the KVM as well.
Date published: 2017-05-31T00:00:00-04:00
Rated

5

out of

5
by
BrandonG777
from
Fails to do 1080p
Failed to output 1080p switching back and forth between sources. I can switch the refresh rate and the KVM will work but as soon as I switch inputs and back again it stops working until I change the refresh rate agian. I've used StarTech KVMs without too many issues, from VGA to DVI flavors and this is the first to not work consistently.
Date published: 2018-08-14T00:00:00-04:00
Rated

5

out of

5
by
rdghickman
from
Works well with a multitude of devices
Using with a desktop PC, a laptop PC, and an MS Surface Pro. Monitor switch works perfectly even with the Surface Pro using an external 1920x1200 monitor. Seems to work with all USB devices so far, even an external soundcard. It is worth noting that using this device uncovered a firmware fault on the desktop graphics card which required a firmware update (not just drivers) from NVIDIA to rectify successful detection of the DisplayPort monitor, so it is worth checking that if you are having issues. Not the cheapest piece of equipment on the market but has done a great job for me so far and stops me from continuously breaking cables and cracking my head on the underside of my desk recabling everything all the time...
Date published: 2020-12-30T00:00:00-05:00