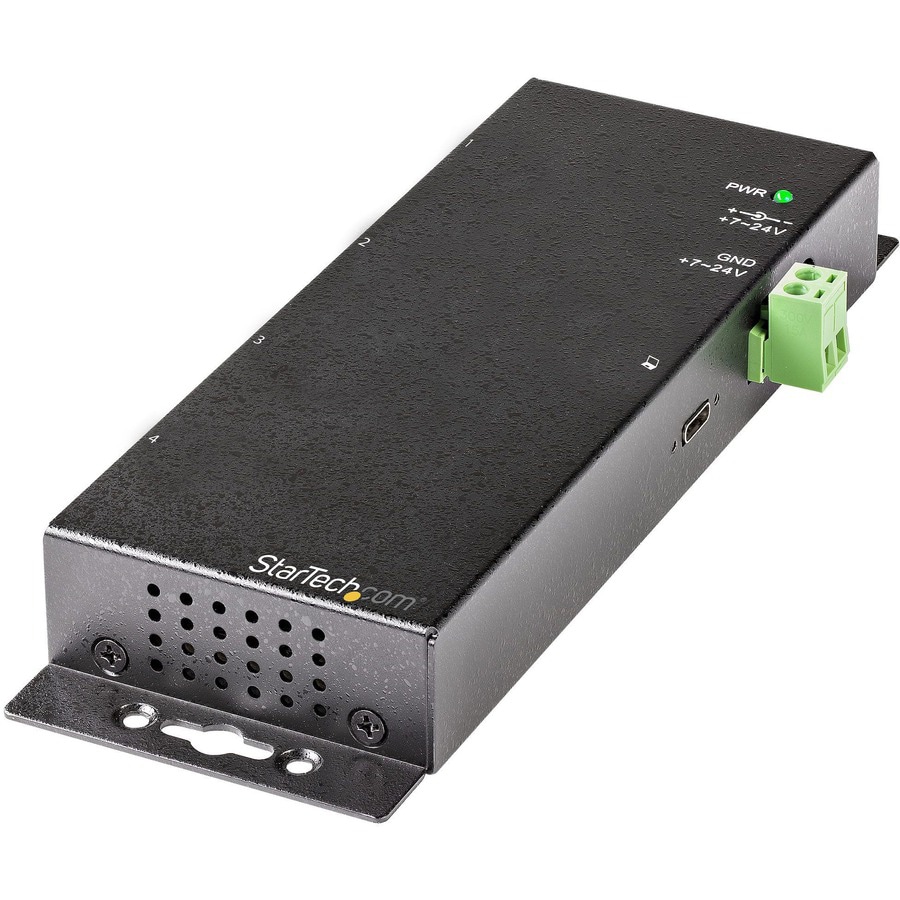 Quick tech specs
Industrial 4-Port USB-C hub w/ SuperSpeed 10Gbps (USB 3.1 Gen 2) | 2x USB-A/2x USB-C
Charging w/BC 1.2 for 30W total across all ports
Wall mountable | Rugged self-powered hub w/ 36W power adapter/terminal block connector (7-24V DC input)
Metal USB Type-C hub with ESD Surge Protection 15kV Air/8kV Contact
All USB screw-lock ports prevent accidental removal | 3.3 ft USB-C and USB-A screw-lock host cables incl
Compatible with USB 3.0/2.0 | MTT for max bandwidth with mixed-speed devices
View All
Know your gear
This 4-Port industrial USB hub enables you to connect four SuperSpeed USB 3.2 Gen 2 (10 Gbps) peripherals to your USB-A or USB-C computer. The hub features two USB-A and two USB-C peripheral ports, each with a screw-lock connector, and a metal industrial housing ideal for harsh, industrial environments.
Expands the Connectivity of Your Computer for Industrial Applications
With this USB-C hub you can connect two USB-A devices, and two USB-C devices, to a single USB-C or USB-A port on your host device. The hub supports USB 3.2 Gen 2 (10 Gbps), and is backward compatible with USB 3.2 Gen 1 (5 Gbps) and USB 2.0 (480 Mbps).
Note: USB 3.2 Gen 2 (10 Gbps) is also known as USB 3.1 Gen 2 (10 Gbps), USB 3.2 Gen 1 (5 Gbps) is also know as USB 3.1 Gen 1 (5 Gbps), and USB 3.0 (5 Gbps).
Powers and Charges Your Connected Devices
The USB hub is self powered using either the included 36W (12V/3A) AC to DC power adapter, or the built-in terminal block connector that supports a 7-24V DC input. The hub shares up to 30W of power between connected devices and each port supports BC 1.2 providing 12W (2.4A) of power on all ports up to a 30W draw.
Ideal for Use in Industrial Environments
This USB hub has a rugged-metal enclosure with built-in mounting ears that enable you to mount it to any wall or surface. The hub features 15kV Air and 8kV Contact electrostatic discharge (ESD) protection. Each port on the Hub has a screw lock, avoiding the possibility of accidental cable disconnection, and a 3.3 ft. (1m) USB-C host cable, and a 3.3 ft. (1 m) USB-A host cable is included that features a locking screw.
Wide Device Compatibility
The USB hub is OS independent ensuring support on a wide range of platforms including Windows, macOS, Linux, iPadOS, Chrome OS and Android.
HB31C2A2CME is backed by a StarTech.com 2-year warranty and free lifetime 24/5 multi-lingual North American based technical support. StarTech.com has been the IT professionals' choice for over 30 years.