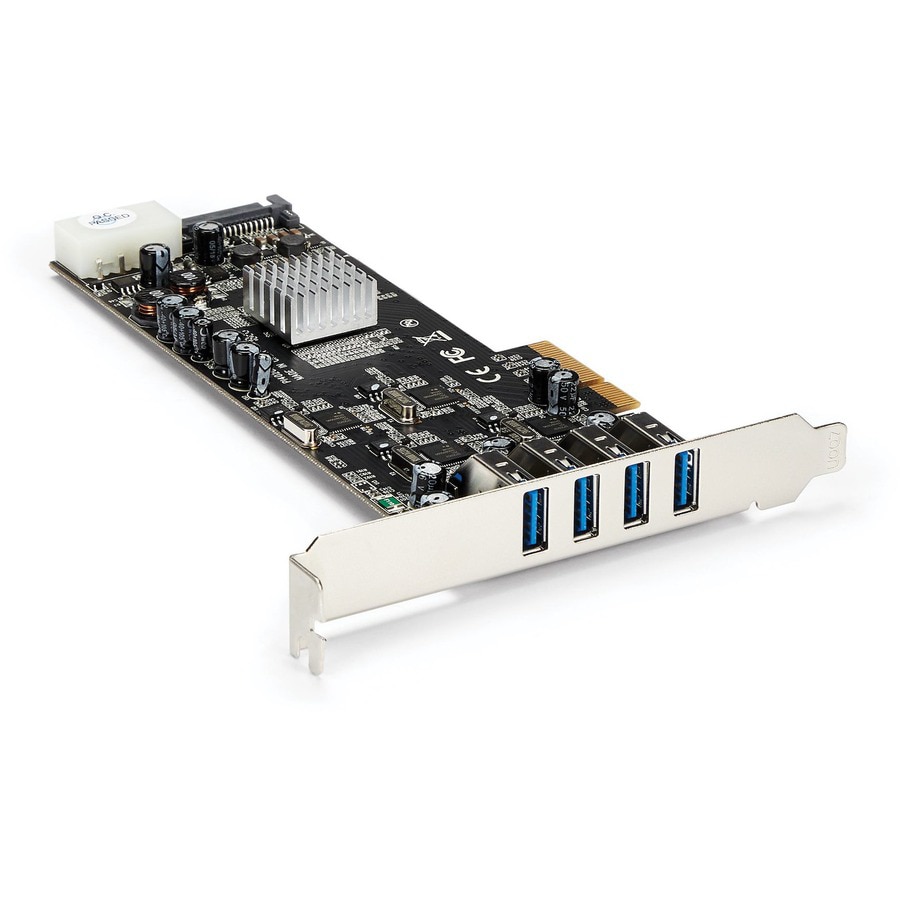 Quick tech specs
Add four USB 3.0 ports with four independent channels LP/SATA power and charging support to your PC through a PCI Express slot
4 Port PCIe USB 3.0 Card w/ 4 Dedicated 5Gbps Channels/USB 3.0 UASP Card
4 Independent Port USB 3.0 Expansion Card w/ UASP/SATA Powered USB 3.0 Adapter Card w/ up to 20 Gbps total bandwidth
Compatible with HP Pro 3500/Lenovo ThinkCentre M93p
PCIe USB 3.0 Controller
USB 3.0 PCIe Card w/ USB Battery Charging Specification 1.2 (Apple Mode device charging only)
View All
Know your gear
Add four USB 3.0 ports with four independent channels, LP/SATA power, and charging support to your PC through a PCI Express slot. The PEXUSB3S44V 4-Port PCI Express USB 3.0 Card lets you add four, dedicated 5 Gbps USB 3.0 ports to your PCIe x4-enabled PC. This independent port architecture improves USB 3.0 performance by transferring data on four individual channels to your computer, giving you faster file transfers.

When multiple devices are connected, traditional single bus USB 3.0 cards share your maximum bandwidth between all ports. By employing four host controller chipsets, each port operates on a separate independent transmission channel. Dedicating up to 5 Gbps to each USB port reduces performance bottlenecks, and effectively quadruples your total available to bandwidth to 20 Gbps.

Enhanced with UASP support (USB Attached SCSI Protocol), this USB 3.0 controller performs up to 70% faster than conventional USB 3.0 when paired with a UASP supported enclosure (Note: UASP requires a compatible operating system). Using a more efficient protocol than the traditional USB BOT (Bulk-Only Transport), UASP technology optimizes transfers by allowing multiple commands to be processed simultaneously, significantly increasing transfer speeds for less wait time on data transfers.

For high-power USB devices, this PCIe USB 3.0 card includes an optional SATA or LP4 power connector to connect to your system power supply and deliver up to 900mA of power per port to USB 3.0 bus-powered devices (500mA for USB 2.0). The USB 3.0 card also supports USB Battery Charging Specification 1.2 (Apple Mode only), letting you charge compatible Apple devices (iPhones and iPads) faster than a standard USB 3.0 port.

The controller card is compliant with USB 3.0 standards while offering backward compatibility with existing USB 2.0 / 1.1 devices. For added versatility, the USB 3.0 PCIe card is equipped with a standard profile bracket and includes a low-profile/half-height bracket for installation in small form-factor computers.

UASP is supported in Windows 8, 8.1, Server 2012 and Linux kernel 2.6.37 or later. In testing UASP performed with up to a 70% faster read / 40% faster write speed over traditional USB 3.0 at peak performance.

At the same peak in testing, UASP also showed up to an 80% reduction in required processor resources.

Test results were obtained using an Intel Ivy Bridge system, StarTech.com add-on USB 3.0 cards, a UASP-enabled StarTech.com enclosure, and a SATA III solid state drive.


StarTech.com 4 Port USB 3.0 PCIe Card w/ 4 Dedicated Channels - UASP
is rated
3.70
out of
5
by
9
.
Rated

5

out of

5
by
Lee J
from
Works Amazing for oculus rift
Recently bought this to solve my usb issues as the rift is a bit of a bandwidth hog and wow :o after installing this everything is just perfect. runs so well no issues what so ever with windows 10, the drivers install perfectly using for just over a week now and my vr experiance is so much better. its worth the price tag! :3.
Date published: 2018-05-27T00:00:00-04:00
Rated

5

out of

5
by
Spenny
from
Perfect for the Oculus
The dedicated channels are a must for any VR device owner, or those looking to insure USB storage is performing at it's absolute best. Plug and play in Windows 10. It has been flawless.
Date published: 2018-03-02T00:00:00-05:00
Rated

5

out of

5
by
ManglerX
from
Great card but StarTech needs to update drivers
I have purchased 2 of these now. They work awesome BUT after a system upgrade to Ryzen 7 CPU and a ASRock mobo that has PCIE 3.0 and 2.0 ports the card will only function on the 3.0 slot. my last PC 2.0 slot was not an issue. The drivers have not been updated since 2012 and Windows default driver is no good... it sees the card but says it cant start... HELP!
Date published: 2018-12-05T00:00:00-05:00
Rated

5

out of

5
by
virgopunk
from
To big for teh backplate!
Great card in terfms of specs, however, I've found that having the USB ports verticle rather than horizontal makes it impossible to actually plus a USB device in. The back plate of my PC is too narrow. Now I'm guessing the gap is industry standard so I have no idea how Startech managed to get this product out there. In order to make this work I'm going to need to physically file the back port to make the gap wider.
Date published: 2019-04-20T00:00:00-04:00
Rated

5

out of

5
by
syn111
from
Great card, wrong port orientation
I bought this to allow additional peripherals. While the card is the best I found in terms of quality and speed, the USB port placement is terrible and it is impossible to plug anything into them unless I cut my case. An horizontal place would have been way more appropriate.
Date published: 2018-09-08T00:00:00-04:00
Rated

5

out of

5
by
The Starglider
from
Finally, a card that my Oculus Rift S likes!
So for a while now I have struggled with my Oculus Rift S. Not with actually playing games with it. No, but with ROBOT VOICE when using the built in Mic. It would appear that it's not enough that you have to use a USB3 connection that Oculus approves of, but if you want the best functionality, you need a port up to the task. I have tried 4 different expansion cards but this is the first one ever that actually does the job! If you're a Windows 10 user, just pop the card in and let Microsoft do the rest - the official drivers aren't up to the task.
Date published: 2020-09-03T00:00:00-04:00
Rated

5

out of

5
by
Peter Ando
from
UNRAID Passthrough
This card is perfect for Unraid and VM's. The 4 separate controllers show up in Unraid in their own IOMMU groups allowing me to pass 1 port to each of my 4 VM's. You need to use the later version though, apparently the earlier cards don't do this. I'm using a Fracal Design 7 case and haven't had the same issues others have had with the ports being obstructed. I actually prefer the vertical ports as they appear to be tidier and easier for cable management when using all 4 ports. Suggestion: An 8 port model would be nice. 2 ports per controller. And support for qualcomm fast charging.
Date published: 2021-02-24T00:00:00-05:00
Rated

5

out of

5
by
razxx
from
fried all my devices
fried my bluetooth dongle, fried my z3x box,fried my speaker about 500 dollars not sure if it mess up my pci hope not very messed up oh yeah fried itself. i definitely dont recommend
Date published: 2022-08-26T00:00:00-04:00
Rated

5

out of

5
by
TexasMyers
from
Not for High Power Devices
I bought this to handle four USB Microscope Cameras which prefer to have their own channels, and cannot be placed more than two to a channel. This device does NOT deliver enough power through the USB port to run even one camera, even with the SATA power connected. I can also echo the frustration of other users with the horizontal USB Ports being wider that the card bay slots so that a standard USB-A cannot be fully inserted.
Date published: 2021-04-22T00:00:00-04:00