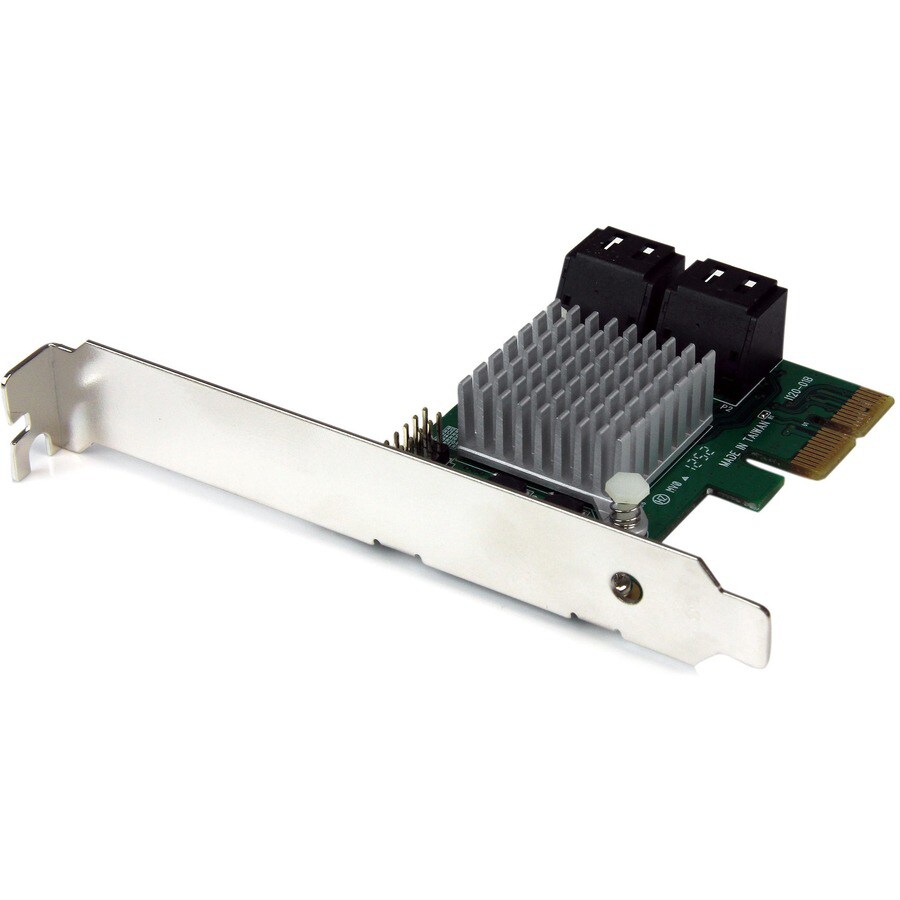 Quick tech specs
Add 4 Internal SATA III (6Gbps) Ports to a computer through a PCI Express x2 slot
4 Port PCI Express SATA III 6Gb
PCIe SATA 6G
Full/Low profile Bracket
PCI Express 2.0 SATA Controller with HyperDuo SSD Tiering
PCI Express SATA RAID Card
Storage Controller (RAID)
View All
Know your gear
Add 4 Internal SATA III (6Gbps) ports to a computer through a PCI Express x2 slot. The PEXSAT34RH 4-Port PCI Express 2.0 SATA Controller Card with HyperDuo adds 4 AHCI SATA III ports to a computer through a PCIe slot (x2), delivering multiple internal 6Gbps connections for high-performance hard drives and Solid State Drives (SSDs).
Featuring HyperDuo technology, the SATA card offers SSD auto-tiering which lets you balance the performance advantages of SSD storage with the cost-effectiveness and large capacity of standard hard drives. By combining SSD and HDD drives into a single volume (up to 3 SSD + 1 HDD), HyperDuo discreetly works in the background to identify and move frequently accessed files to the faster SSD drive(s) for improved data throughput - up to 80% of SSD performance! (The HyperDuo automatic storage tiering feature is compatible with Windows XP, Vista, 7 and 8 only).
The PCIe SATA controller card supports Port Multiplier (PM), enabling multiple SATA drives to be connected to one port over a single cable, for a total of 7 drives (Up to 4 drives through PM on one port, and a single drive to the remaining 3 ports). Plus, the SATA controller card offers an effective hardware RAID solution, with native RAID (0, 1, 1+0) support.

Contact Sales Assistance
(800) 800-4239
,
Monday-Friday 7am-7:30pm CT
StarTech.com 4 Port PCIe SATA III Controller Card w/ HyperDuo SSD Tiering
is rated
2.80
out of
5
by
10
.
Rated

5

out of

5
by
DISCOTHEQUE
from
Great value
Been using it for almost two years now and it's worked consistently good. Used it to connect an internal 4TB drive and my comp case's top HDD docking station, and it does better than expected at both (allows drive hot swapping without issues). Data transfer speeds are just as expected. Totally recommended.
Date published: 2017-03-19T00:00:00-04:00
Rated

5

out of

5
by
Andrey74
from
Unstable work
Disks connected to the card are unstable. Speed first 450 MB / s Then drops to 100 MB / s. Mac OS 10.12.3
Date published: 2017-03-19T00:00:00-04:00
Rated

5

out of

5
by
keke27
from
Missing JBOD
On the Tech Specs tab it states that JBOD is supported. I bought this card solely for this purpose. It took me hours to figure out that JBOD is NOT supported. It seems to be an adequate card in general, but, for me, it was a waste of money and time.
Date published: 2017-02-09T00:00:00-05:00
Rated

5

out of

5
by
ir88ed
from
Missing JBOD
As with a keke27, I too am unable to find a JBOD option using the "card bios" method for installation in a linux rig. Two disks are plugged in, and the only options are Raid1 and Raid0.
Date published: 2018-04-05T00:00:00-04:00
Rated

5

out of

5
by
Nick0422
from
Simple, functional, and fast.
I had to do very little to get this working. Installed in a Linux server, booted into the card BIOS, configured the RAID and done. It presented the drive to the OS as configured, and throughput was better than I expected (first time using a StarTech controller, so I WAS apprehensive) given the list price. The small size makes for it not getting in the way inside the case or obstructing airflow. I received this product in exchange for an unbiased review.
Date published: 2017-03-28T00:00:00-04:00
Rated

5

out of

5
by
1809problem
from
Windows 10x64 Update 1809 problem
Boot under 1809 possible, yet system significant slower than under 1803. Worst: my 4 RAID 10 HDD with the OS on it are shown as "removable drive". No proposals from MS & forums do the fix up-to-date.
Date published: 2019-03-04T00:00:00-05:00
Rated

5

out of

5
by
Adam2329
from
Effective! Fast as! wonderful. Amazing for Gamers.
Hello, recently purchased. Spiceworks poster. Used this recently in a Gaming PC build, 2x 970 evo 512GB with 1x 6TB WD Blue = up to 800mbps throughput from or to NVME System drive. I had initial issues with conflicts but I eventually got the card and my system working. copied my existing HDD to it, launched some games. Games like total War: Warhammer have gone down as much as less then a minute from a fresh boot not to mention No man's Sky which will load in about a minute. HyperDuo is simply, incredible. Needed this card as I had a small case and I really needed more space for games, two of my four sata MB headers were blocked by fans so I saw this card and was keen to try the HyperDuo feature.
Date published: 2018-11-01T00:00:00-04:00
Rated

5

out of

5
by
Barakna
from
Great functioning
Hi! I like the product, but I have a question. How can I disable the hot swat function under windows 10 in single disc mode? I was able to disable it in windows 7 in Device Manager, but in win 10 I can't find this function.
Date published: 2019-01-02T00:00:00-05:00
Rated

5

out of

5
by
mxgirl75
from
I have this card and the computer does not see it
I bought this card hoping to allow me to hook up a couple more SATA devices. The system a Win 7 64 bit does not even see the card
Date published: 2019-06-25T00:00:00-04:00
Rated

5

out of

5
by
Agini
from
UEFI
I was glad to find new UEFI bios for the card, yet my external drive connected does not show anymore. When viewing in MSU Software its seems to be a problem with a SATA 3G/Bit fault in the controller. My 6G/bit drives works fine. Is there a solution to this problem.
Date published: 2020-02-20T00:00:00-05:00