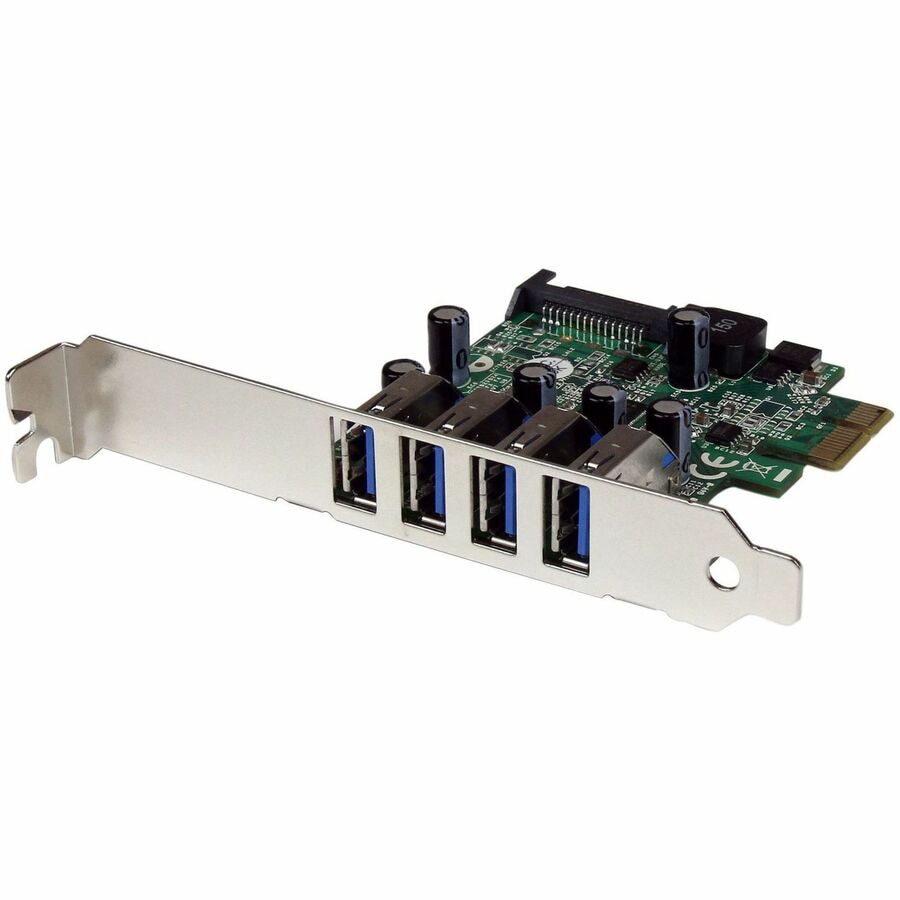 Quick tech specs
Add 4 external USB 3.0 ports to a low profile or standard computer through PCI Express
4 Port PCI Express SuperSpeed USB 3.0 Card Adapter with UASP/4 Port USB 3.0 Controller Card
SATA Powered USB 3.0 PCI Express Card/PCI Express USB 3.0 Expansion Card w/ UASP
USB 3.0 UASP Card includes a Low Profile/half-height bracket
Compatible with Lenovo ThinkCentre M93p/Dell OptiPlex 3010
USB 3 PCIe Card/PCIe USB 3.0 Card
Desktop PCIe USB 3 Expansion Card/Add USB 3.0 Ports to a Desktop
View All
Know your gear
The PEXUSB3S4V PCI Express USB 3.0 Card (with SATA Power) adds 4 external USB 3.0 ports to any PCI Express-enabled computer system with support for data rates up to 5 Gbps, while remaining backward compatible with USB 2.0 / 1.x devices.

Enhanced with UASP support (USB Attached SCSI Protocol), this USB 3.0 controller performs up to 70% faster than conventional USB 3.0 when paired with a UASP supported enclosure (Note: UASP requires a compatible operating system). Using a more efficient protocol than the traditional USB BOT (Bulk-Only Transport), UASP technology optimizes transfers by allowing multiple commands to be processed simultaneously, significantly increasing transfer speeds for less wait time on data transfers. See our UASP test results below for further details.

The card uses a "stacked" port layout that places the ports one on top of the other, enabling all four USB 3.0 ports to be external facing, while still allowing the card to fit into a small form factor/low profile computer system using the included low profile bracket.

Plus, with a built-in SATA power connector, each USB port can provide up to 900mA of power to devices that draw power from a host bus connection (500mA for USB 2.0) by connecting to your computer power supply.

Backed by a StarTech.com 2-year warranty and free lifetime technical support.

Improved Performance with UASP

UASP is supported in Windows® 8 andServer 2012. In testing UASP performed with up to a 70% faster read / 40% faster write speed over traditional USB 3.0 at peak performance.

At the same peak in testing, UASP also showed up to an 80% reduction in required processor resources.

Test results were obtained using an Intel® Ivy Bridge system, StarTech.com add-on USB 3.0 cards, a UASP-enabled StarTech.com enclosure, and a SATA III solid state drive.
StarTech.com 4 Port PCI Express PCIe USB 3.0 Card w/ UASP - SATA Power
is rated
4.00
out of
5
by
9
.
Rated

5

out of

5
by
George
from
Great for updating an older PC
I've been running this card well over a year and beside having to reinstall the drivers once (power failure) this card has been flawless. My machine only has USB 2.0 ports so the speed upgrade was quite dramatic, I don't think you quite get the full 5gbps as advertised but my external USB drives do outperform my internal SATA II hard drives.
Date published: 2018-06-01T00:00:00-04:00
Rated

5

out of

5
by
pandaman
from
great but only works sometimes
I got it a year ago and it didn't work with my hp but I blame the mobo in that. It works on my main rig so it's still functional as extra USB ports.
Date published: 2015-03-03T00:00:00-05:00
Rated

5

out of

5
by
Talwyn
from
Best for VR!
This card works brilliantly for my Oculus Rift (VR). It supports windows 10, but make sure you don't install the old drivers from this website. The new ones are automatically installed by windows 10, and are (at the time of my writing) driverversion 10.0.16299.125, dated 07.12.2017. Make sure your motherboard has enough PCIe-lane bandwidth left for a for x4 card - as well as a x4 slot, of course. Some motherboards downgrade to x1-speed when other slots are taken. Doublecheck your motherboard manual! Also keep in mind to plug in power from your PSU, otherwise the card won't work as well.
Date published: 2017-12-30T00:00:00-05:00
Rated

5

out of

5
by
GrizGrover
from
Half Height - PCI Express Card Adapter
I have been using the USB 3.0 PCIe card adapter for about 6 months and it installed easily and has worked flawlessly. The half height card bracket came with the kit and enabled me to use it in my ASUSPro Series system unit.
Date published: 2015-05-12T00:00:00-04:00
Rated

5

out of

5
by
Brian Knudsen
from
Only runs high-speed (usb2) not super-speed (usb3)
Test the card on server 2016, will not accept the drivers from OS or the cd, make a firmware upgrade, the OS can now find a driver, only run USB 2.0. Try to install the drivers from cd, the system accepted the drivers, but only run usb 2.0 Have try a usb 3 pen and a usb 3 harddrive.
Date published: 2017-03-08T00:00:00-05:00
Rated

5

out of

5
by
PatM
from
Works perfectly with ProFlightSim instr. panels
The price was right, and it is small enough to fit in with my rather large GTX 780Ti graphics card. The Pro Flight Sim instrument panels require USB 3.0 ports; all eight work perfectly with two 4 port StarTech PCIe cards.
Date published: 2014-10-30T00:00:00-04:00
Rated

5

out of

5
by
Keith
from
Startech USB3 PCIe Adapter Card
It was defective out of the box. It did not work. I had Dell L3 folks working with me trying to get it to work. StarTech products are excellent, so this is probably just a random hardware failure.
Date published: 2019-11-21T00:00:00-05:00
Rated

5

out of

5
by
grrbrts
from
Great design!
The four USB 3.O ports are aligned vertically which allows for more ports, than say one with horizontal ports.
Date published: 2020-10-08T00:00:00-04:00
Rated

5

out of

5
by
REMAC
from
Exceeded expectations...
I had purchased another product which I returned due to quality control issues and I am so glad I did. I am impressed with the quality of this product and installation went as it should...
Date published: 2020-10-15T00:00:00-04:00