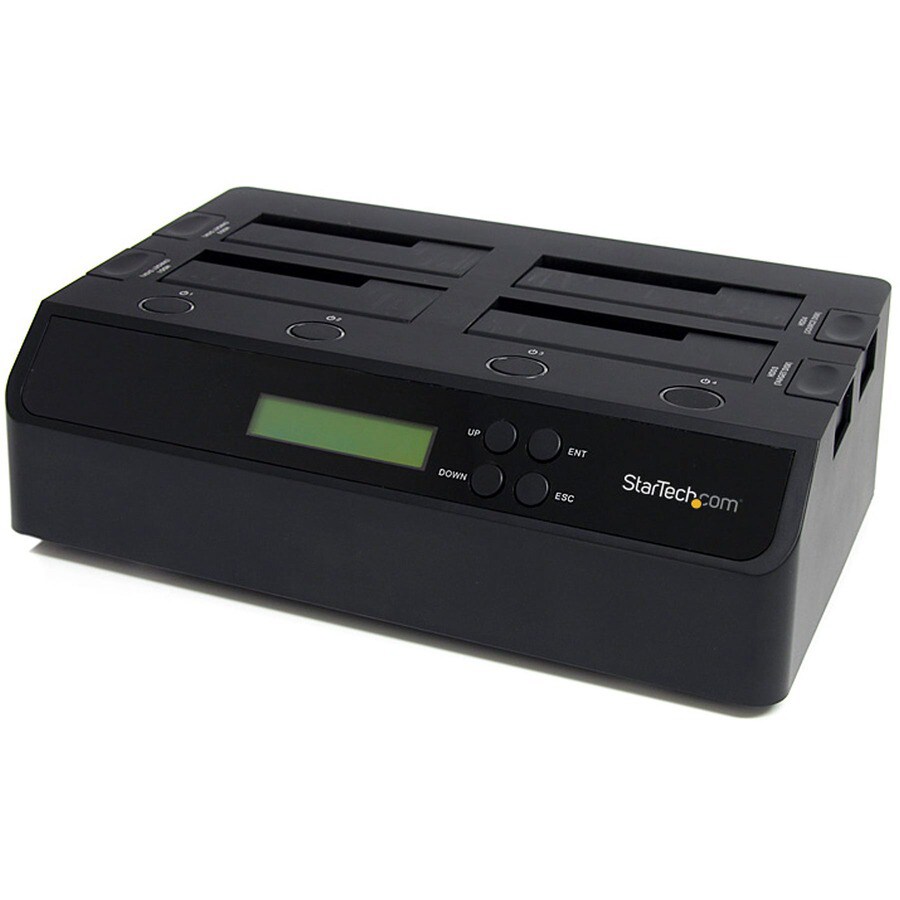 Quick tech specs
Quad-bay hard drive duplicator works as standalone drive cloner and eraser (no PC required) or for file transfer / backup over USB 3.2 Gen1 (5Gbps) or eSATA to 2.5/3.5" SATA drives (HDD/SSD)
Top loading with eject buttons
Includes USB
and eSATA cables
Sector-by-sector cloning up to 4.2 GB/min | Supports Quick Erase and Secure Erase
SATA III | 4Kn | No capacity limit | USB 3.2 Gen 1 (5 Gbps) | OS Independent
SATA
40-pin/3.5in and 44-pin/2.5in IDE cables
View All
Know your gear
The SATDOCK4U3RE USB 3.0 and eSATA 1-to-3 Hard Drive Duplicator docking station enables you to duplicate/clone a single SATA hard drive to up to three other SATA drives simultaneously, as a standalone device. The duplicator can also function as a regular 4-bay hard drive docking station, by connecting to a host computer system.
Able to perform 1:3 sector duplication, including HPA, from a single SATA drive onto three others simultaneously (at a rate of up to 72 MBps), the duplicator/docking station can save you time and effort. As an external HDD dock, it can be connected to your host computer through USB 3.0 or eSATA, providing data transfer speeds up to 5 Gbps or 3Gbps respectively, from the hard drives to your computer system.
Features Quick and Secure Erase functions and support for IDE hard drives using the included SATA to IDE hard drive adapter (SAT2IDEADP).