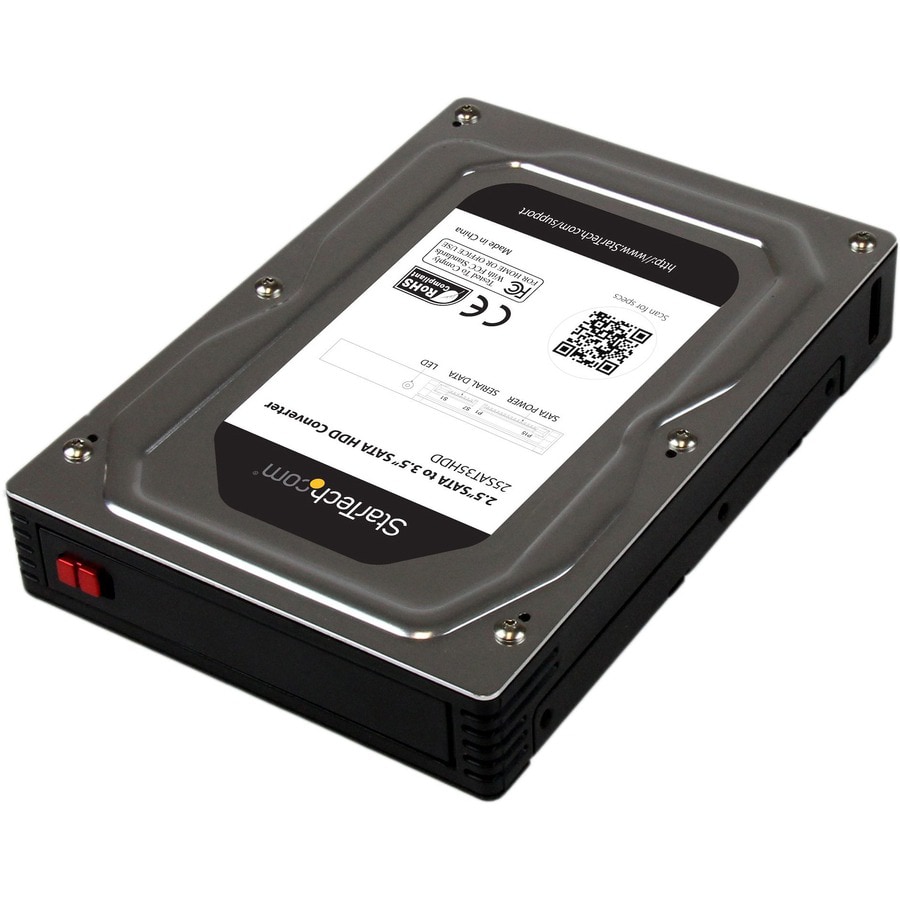 Quick tech specs
2.5 to 3.5 HDD adapter supports 2.5" SSD/HDD up to 12.5mm in height
Use a 2.5" SATA HDD / SSD in a 3.5in SATA HDD application such as a desktop chassis or backplane or docking station
Supports SATA I/II/III
Compatible with virtually any 2.5" SATA hard drive or solid state drive
2.5in HDD converter
2.5 to 3.5 SATA Adapter with standard 3.5" HDD mounting points
SATA Hard Drive converter enclosure with tool-less installation
View All
Know your gear
Turn a 2.5" SATA HDD/SSD into a 3.5" SATA Drive. The 25SAT35HDD 2.5" to 3.5" hard drive adapter enclosure turns a 2.5" SATA hard drive (HDD) or solid state drive (SSD) into a 3.5" drive.

The adapter enclosure lets you substitute a 3.5" hard drive for a 2.5" SSD/HDD in any application that would typically require a 3.5" drive, such as desktop chassis, backplane, or docking station. The enclosure has the same dimensions as a standard 3.5" hard drive, including mounting points, and SATA connector locations.

With support for drives up to 12.5mm in height, and high-capacity SATA I/II/III drives (tested up to 1TB) this HDD adapter ensures compatibility with virtually any 2.5" SATA hard drive or solid state drive.


StarTech.com 2.5" to 3.5" SATA Hard Drive Adapter Enclosure with SSD / HDD
is rated
3.60
out of
5
by
7
.
Rated

5

out of

5
by
dbdors
from
Works great makes SSD install very neat.
Works as expected and very easy to use and install. I decided to get a second unit for another drive, bought from Amazon, returned two units as both were DOA. Ended up ordering the the second from CDW and again, worked right out of the box, no issues
Date published: 2019-01-28T00:00:00-05:00
Rated

5

out of

5
by
Macphoto
from
Nice product- well built
This is a fantastic item for anyone who needs to use a 2.5" drive in a 3.5" bay. I used this item using an 512GB SSD. The 2.5" drive slides in effortlessly and makes connection with ease. I tried to remove the drive using the release and it had no issues ejecting the 2.5" drive from the case. I took the drive and placed it into my iMac which requires a 3.5" drive and it worked perfectly. This is great for these older legacy Macs without having to use fancy specialized adapters. The product build is excellent and I look forward to a speedier iMac. I received this product in exchange for an unbiased review
Date published: 2017-01-30T00:00:00-05:00
Rated

5

out of

5
by
Cherokee
from
doesn't work!
I bought two of these today from Memory Express in Calgary. They will be back there tomorrow! My wife has a HP Pavilion (I know.... not even mediocre!) with a M2N68-LA "Pegatron" Mother Board. In the caddy (adapter Enclosure!) the PC won't start and tells me there is a problem and I need to repair my system... I connect the SSD directly i.e. no longer in the caddy... and all is well ... boots up as normal. I tried the other Adapter Enclosure that I bought... same thing! Neither works with HP or this particular board. I just hope I get my money back from Memory Express!
Date published: 2019-05-02T00:00:00-04:00
Rated

5

out of

5
by
NickD_CA5
from
Great solution
I have been using this device from time to time over the past few weeks. I have tested this with multiple 2.5" drives and in different computers and drive duplicators. This product comes in a nice little box, just slightly bigger than the enclosure itself. It has instructions which I don't think are necessary (very self explanatory) as well as screws for permanent mounting in a computer or drive tray. The enclosure is very light and I almost thought that the shipping box was empty until I shook it. There are many ventilation holes along the bottom to allow air/heat to circulate. When a drive is inserted in the enclosure, it does not actually make a connection until the door is closed and the 2.5" drive is pressed into place. When the door is opened, it ejects the drive and lifts it out of the enclosure. This is very well designed and works smoothly. I am able to even remove and add disk into the enclosure while connect to a computer and the drives are automatically detected. The enclosure is the same size as a 3.5" drive and has the same screw holes so it can be secured anywhere any 3.5" drive can be secured. It looks like it just passes through the SATA port, so I don't think I will see any compatibility issues with any disk/computer. What a great product, another StarTech "must-have IT gem". I received this product in exchange for an unbiased review.
Date published: 2017-02-05T00:00:00-05:00
Rated

5

out of

5
by
nvgoldendog
from
Seems not to work in Dell Dimension Desktops
When I install this into a Dell Dimension Desktop with a Crucial MX 300 275GB SSD, the computer will lock up. If I plug directly into the drive without this device it seems to work fine.
Date published: 2016-12-06T00:00:00-05:00
Rated

5

out of

5
by
ShaunOntario
from
Totally Useful Drive Adapter
I got this a few weeks ago to solve a form factor problem. My desktop had the rails for a 3.5" drive only, and I have a higher quality/high capacity 2.5" that I wanted to use and this solved the issue. It's size is that of a standard 3.5" drive in which a 2.5" fits. You slide the red button to the side and the spring loaded door opens. Once a 2.5" drive is placed inside, the door guides it in. The product came with suitable instructions and small screws to attach it to the computer's rails. I think a small 'hint' printed on the door that opens would be useful for those of us that rarely read instructions.
Date published: 2017-02-16T00:00:00-05:00
Rated

5

out of

5
by
David CA
from
Great for MacPro upgrades
I used this adapter to upgrade the system drive in an old aluminum MacPro to an SSD. Very easy to install and it works great. One caveat: the mounting threads are simply cut into the sheet metal of the base and they are easy to strip, so be gentle with your screwdriver!
Date published: 2018-06-11T00:00:00-04:00