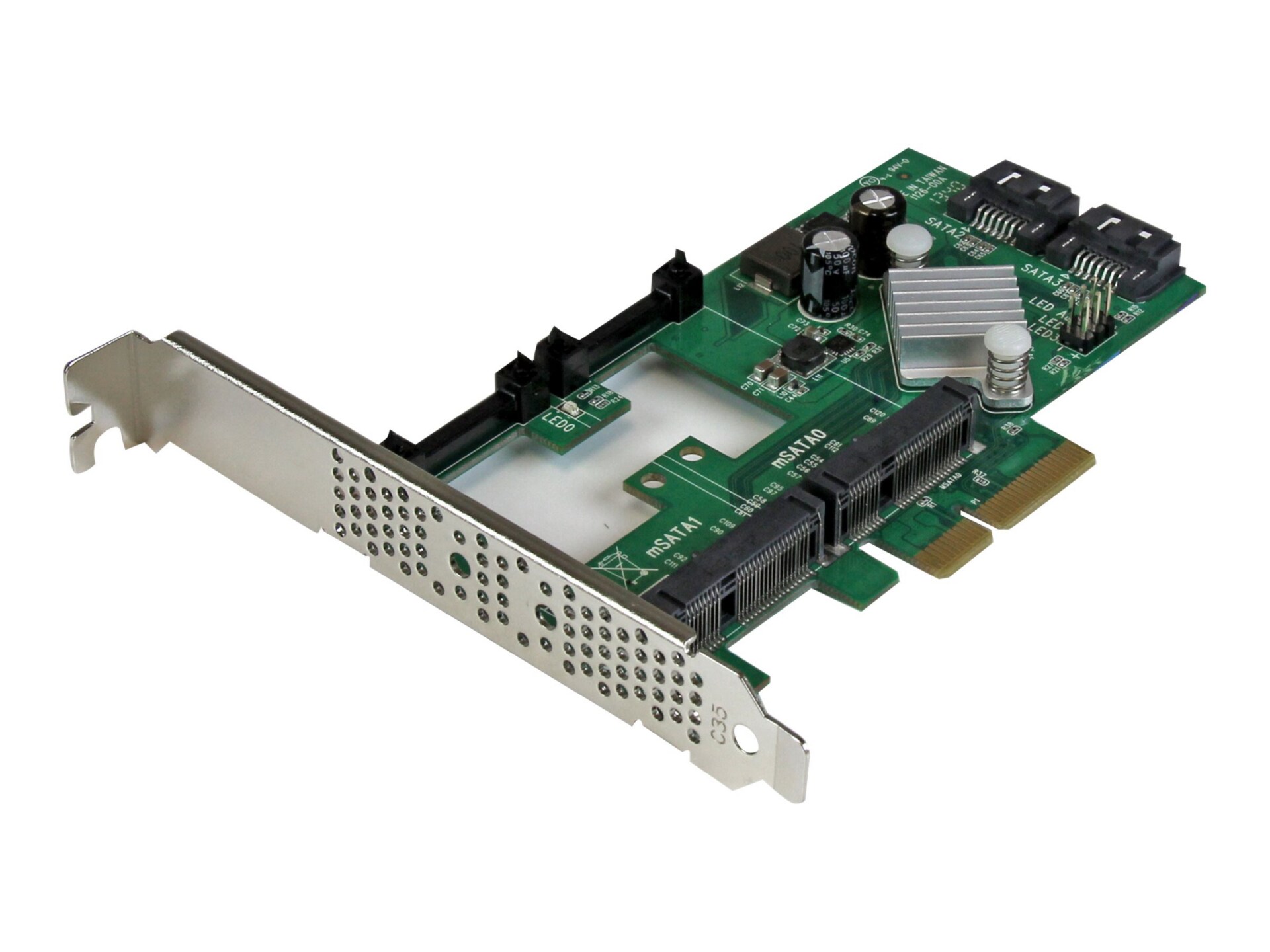 Quick tech specs
Combine SSD performance w/ HDD capacity and create a HyperDuo array with 2 mSATA + 2 SATA drives through your computers PCIe slot
PCIe SATA 3 Controller
RAID Card
HyperDuo SSD Auto-Tiering
Optimize your system for I/O intensive applications
2 Port PCI Express 2.0 SATA III 6Gbps RAID Controller Card w/ 2 mSATA Slots and HyperDuo SSD Tiering / mSATA Adapter
SATA Adapter Card
mSATA Hyperduo Controller Adapter / Two internal mSATA SSD Slots
Supports Port Multiplier and SSD TRIM
View All
Know your gear
The PEXMSATA3422 PCI Express SATA Card helps you improve the overall speed and storage capacity of your computer by giving you multiple 6 Gbps SATA connections for connecting high-performance SSDs (Solid State Drives) and hard drives in a HyperDuo array. Now, you can easily add two mSATA slots and two SATA III ports to your computer through a single PCIe x4 slot.

Featuring HyperDuo technology, the SATA card offers SSD auto-tiering which lets you balance the performance advantages of SSD storage with the cost-effectiveness and large capacity of standard hard drives. By combining SSD and HDD drives into a single volume (up to 3 SSD + 1 HDD), HyperDuo discreetly works in the background to identify and move frequently accessed files to the faster SSD drive(s) for improved data throughput - up to 80% of SSD performance! (Note: The HyperDuo automatic storage tiering feature is compatible with computers that use a BIOS.)

This versatile RAID controller card helps to relieve the internal space constraints often associated with multi-drive configurations by letting you install two mSATA SSDs directly to the card via convenient, latching slots. With dual mSATA slots, as well as two internal SATA ports, the card offers an effective hardware RAID solution, with native RAID (0, 1) support.

The PCIe SATA controller also offers Port Multiplier (PM) support, so you can connect multiple SATA drives to just one port, for a total of 7 drives (up to 4 drives through PM on one port, plus a single drive to the other SATA port and two mSATA slots).

For added versatility, the controller card is equipped with a standard profile bracket and includes a low-profile/half-height bracket for installation in small form-factor computers.


Throughput Benchmark




Drive configuration
Throughput
Drive size


1 x HDD
112.81 MB/s
2 TB


1 x SSD
490.28 MB/S
120 GB


1 x HDD + 1 x SSD HyperDuo (Safe Mode)
489.28 MB/s
2 TB


1 x HDD + 2 x SSD HyperDuo (Safe Mode)
715.13 MB/s
2 TB


Drives Used:
SSD: OCZ Vertex 3 Series 2.5" 120 GB (VTX3-25SAT3-120G)
HDD: Western Digital Caviar Green 3.5" 2 TB (WD20EARS)

Software Used:
IO Meter, 256KB Sequential Read, queue depth = 10




Backed by a StarTech.com 2-year warranty and free lifetime technical support.
Contact Sales Assistance
(800) 800-4239
,
Monday-Friday 7am-7:30pm CT
StarTech.com 2 Port PCI Express SATA III 6Gbps RAID Card w/ 2 mSATA Slots
is rated
3.50
out of
5
by
4
.
Rated

5

out of

5
by
Eric of Digitronix
from
Lots of tricks to use
1st installed and system(s) just came up with black screen: no system BIOS, errors or "Control-M" messages. BIOS MUST be set to PCIe Gen2 and legacy boot to get anywhere and then I still did not get a card BIOS setup message (Control-M for card setup). Accidentally accessed by hitting the keys during startup.
Date published: 2018-12-21T00:00:00-05:00
Rated

5

out of

5
by
JohnAMD
from
PEXMSATA3422 is an asset.
With the exception of HyperDuo (which doesn't work due to Linux Mint's file permissions), the PEXMSATA3422 has proven to be an asset in the following desktop PC configuration: linuxmint-17.3-mate-64bit, 4.2.0-42-lowlatency | SABERTOOTH 990FX R2.0 (UEFI 2901, 2016/08/05), CSM, no 'Secure' Boot or HPET | IOMMU Disabled (when Enabled it causes random WiFi failure after resume from S3) | FX-8370 (stock) | CLP0587 + 1 x Venturi HP-14 PWM | KVR16E11K4/32 | STRIX-GTX960-DC2OC-4GD5 (nVidia 384.59). Resume from S3 works correctly in all regards. Hibernate does not. | GL2450HM, DVIDDMM10, ARMUNONB | 220-G2-0850-XR | GH22LP20 (LightScribe), IDE100RND36, PEX2IDE | PEXMSATA3422 (Firmware: 2.3.0.1065 updated via Rufus) + 2 x SMS200S3/120G in RAID 0 + 2 x ST3000DM001 in RAID 0 | 1 x ST6000DM001 (SB950) + 1 x ST6000DM001 (ASM1062) | S252BU33R, JU-P40511-S1 (uPD720201), JU-H40711-S1 (VIA VL811+) | CM 690 II Advanced, HP-12 PWMs, HP-14 PWMs, FAN7X10TX3 | ST0026Z | PEX300WN2X2 | Y-BF37, SM50F76959
Date published: 2017-08-04T00:00:00-04:00
Rated

5

out of

5
by
jimalimadingdong
from
Nice add-in card for extra fast storage
I've had one of these installed in my PC for over three years and it had s been great. I use WD red Sata drives which are slow but reliable, but pairing them with 256GB mSATA SSDs in a hyperduo mode gives them quasi-SSD speed.
Date published: 2021-12-02T00:00:00-05:00
Rated

5

out of

5
by
jimmylimy
from
Excellent hyperduo and RAID controller
I've bought two of these for storage of video. I run them both as RAID1/hyperduo and get very quick file reads and writes. One runs in a Supermicro X10slq and one in an ASUS Q270. Getting into the rom setup is easy in the supermicro, but a pain on the ASUS (as mentioned in another post). I definitely think it is worth getting to use as a large quick raid especially if you don't have the sata slots.
Date published: 2021-07-12T00:00:00-04:00