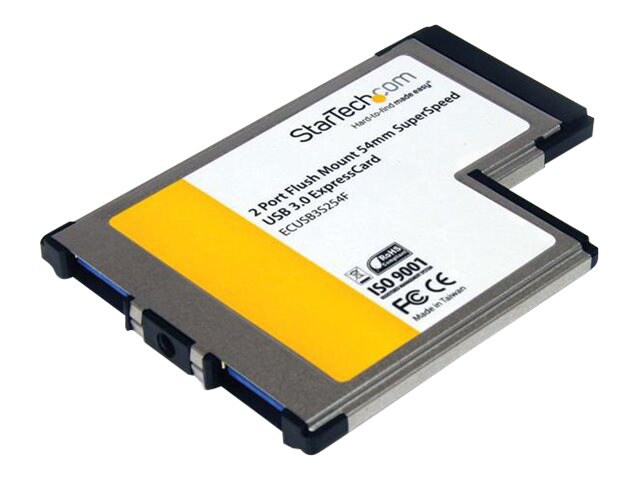 Quick tech specs
Add two flushmount USB 3.0 ports to your ExpressCard-enabled laptop
2 Port Flush Mount 54mm ExpressCard USB 3.0 Card Adapter with UASP Support
2Port USB 3.0 Adapter Card 54mm USB3 Card/EC USB 3.0 Card with UASP
Expand laptop expansion capabilities with additional USB ports
Compatible with Dell Latitude E5530
ExpressCard USB 3 Controller/5 Gbps USB 3.0 Expresscard/Expresscard Laptop Card
2 Port Notebook USB 3.0 Express Card with optional built-in external DC power connector
View All
Know your gear
Add two flushmount USB 3.0 ports to your ExpressCard-enabled laptop. The ECUSB3S254F 2-Port Flush Mount USB 3.0 ExpressCard Adapter uses a unique form factor design that allows it to sit fully in a standard 54mm laptop ExpressCard slot without sticking out.
When inserted, the USB 3.0 ports provided by the ExpressCard adapter sit flush with the sides of the laptop, creating a seamless add-on that can be left installed even while on the move, without having to worry about impact damage to either the card or the ExpressCard slot.
The SuperSpeed USB 3.0 Card supports data transfer rates of up to 5Gbps, and is backward compatible with USB 2.0 (at up to 480Mbps), or USB 1.1/1.0 at up to 12/1.5 Mbps respectively - the perfect laptop accessory for users to connect USB devices, both new and old.

StarTech.com 2 Port Flush Mount ExpressCard USB 3.0 Card Adapter with UASP
is rated
3.90
out of
5
by
7
.
Rated

5

out of

5
by
sinabhuile
from
Brilliant Product
Arrived today!! StarTech 2 Port Flush Mount ExpressCard 54mm SuperSpeed USB 3.0 Card Adapter Up and running within seconds. The answer to all my USB problems. My lady needed to do an important report and needed to use a USB key. No problem, StarTech worked like a dream.
Date published: 2015-02-20T00:00:00-05:00
Rated

5

out of

5
by
Lizard_king
from
Good add on for an older laptop
I just received this earlier and it installed without issues using the drivers i took down from Startech. The speed is noticeably faster than the USB 2.0 ports and makes using this card a good choice.
Date published: 2015-10-14T00:00:00-04:00
Rated

5

out of

5
by
Aleksandr
from
Very slow!
This card's USB 3.0 port transmits data slower than PC's USB 2.0 port.
Date published: 2016-10-08T00:00:00-04:00
Rated

5

out of

5
by
BobtheEngineer
from
Works, but has issues.
Driver installation was difficult. If you purchase more than one of these cards, interchanging them across different PCs wont work. Each card comes with an accompanying CD and you MUST install it's paired CD on your computer to use it. This seems to be a very sloppy method to install product drivers. The unit once installed properly does function as a set of two USB 3.0 ports. I use it to interact with a USB monitor adapter and have not had any issues for 2+ years running. The external jack seems to be broken as I was trying to run a USB3 vision camera with this card and did not have any luck. This was when I wired the external power cable to a phone charger for power. External jack is broken? All in all this product works, but it has its hiccups.
Date published: 2018-09-13T00:00:00-04:00
Rated

5

out of

5
by
mrtflop
from
very good support service!
My unity doesn't works at all and driver never could be installed. After a very poor review , the support service contacted me and in a brief chat by e-mail they fixed the problem, so my unit now work at the best . Thank you! 4 stars because the driver not installs automatically on dell 640M with xp sp3 (italian releasing). For the support 5 (FIVE!!!!!) stars!!!!
Date published: 2017-02-12T00:00:00-05:00
Rated

5

out of

5
by
William G
from
Excellent Quality! Works Very Well and Quickly!
I bought this for my old Dell Latitude E6400 laptop to transfer a lot of files to a portable drive, and it preformed awesome just as Startech said it would. I was very impressed with the USB 3.0 speed. It was very easy to install, and it even came with a CD that had the needed drivers, so it only took a few minutes until I was transferring all those files at lightning speed. Before buying it, all my questions were expertly answered by a representative with Startech's chat service. Thank you for such a great product! : )
Date published: 2020-05-31T00:00:00-04:00
Rated

5

out of

5
by
PeterThePlumber
from
Plug n Play On Linux
I use this to add usb ports to a Toughbook CF-19 Mk7 that I use in my cobbled together home office. I plugged it in to the Expresscard slot and it worked out of the box. I did not use the driver CD because I used Linux and those would be of no use to me. And yes, the cover closes and seals with the adapter in place. I can't speak to transfer speeds, because I'm using it to connect external keyboard, webcam, mouse, etc. For my use it works flawlessly.
Date published: 2020-07-26T00:00:00-04:00