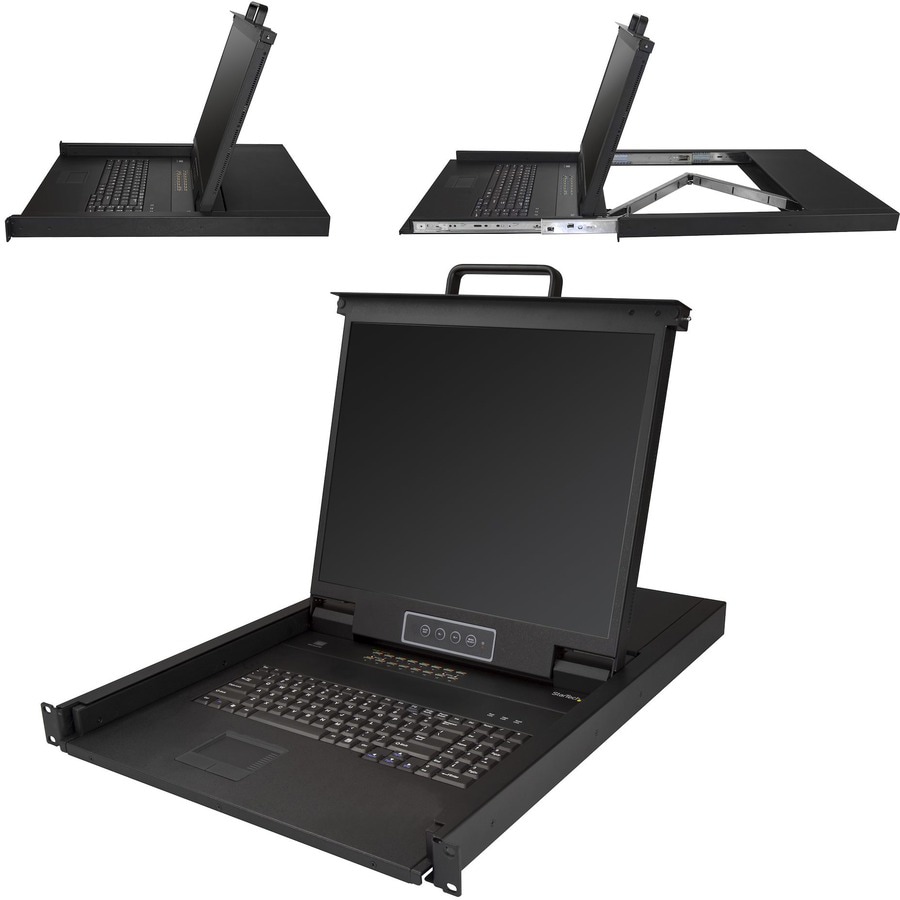 Quick tech specs
Rackmount KVM Console w/19" Active Matrix TFT LCD Monitor/1280 x 1024/16 Port VGA KVM Switch/Full Keyboard + Keypad/Trackpad/Integrat- ed Power Supply/OS Independent/USB 2.0
Customizable Hot-Keys/On-Screen Display (OSD)/Admin + User Level Security and Auto Scan
35' [89 cm]
StarTech.com 2-year warranty
Incl. 6' Cables/Mounting Hardware/Universal Compatibility
Integrated KVM + console in 1U rack space w/mounting depth 23.8' [60.5 cm]
Heavy duty LCD KVM Drawer with rails
View All
Know your gear
This 1U 16-port KVM console provides complete keyboard, monitor and mouse control for 16 computers. The rack-mount console installs into 1U of rack space, offering a space-efficient solution for complete console control.
Maximize your IT budget, minimize your hassle
This 16-port KVM switch provides all the essential controls you'll need to manage your server room at a low cost. The console features a built-in touchpad, keyboard for intuitive control and an LCD display that supports resolutions up to 1280x1024.
Maximize your screen space
This versatile rack-mount LCD console has a 19-inch screen. The increased screen space enables you to run multiple applications on the same screen, maximizing your productivity.
Clutter-free monitoring
The console slides out from 1U of rack space, enabling you to easily monitor and control 16 servers, and even more if connecting through a KVM switch. The rack-mount VGA console features a handle for easy sliding in and out of the server rack, keeping your area organized and clutter-free.
Hassle-free system integration
The rackmount LCD features a 16-port KVM module, allowing you to connect it directly to 16 servers. You can also connect to additional servers by connecting to KVM switches in a cascaded (daisy-chained) configuration. The KVM module offers the flexibility you need to easily integrate the console into your existing server infrastructure.