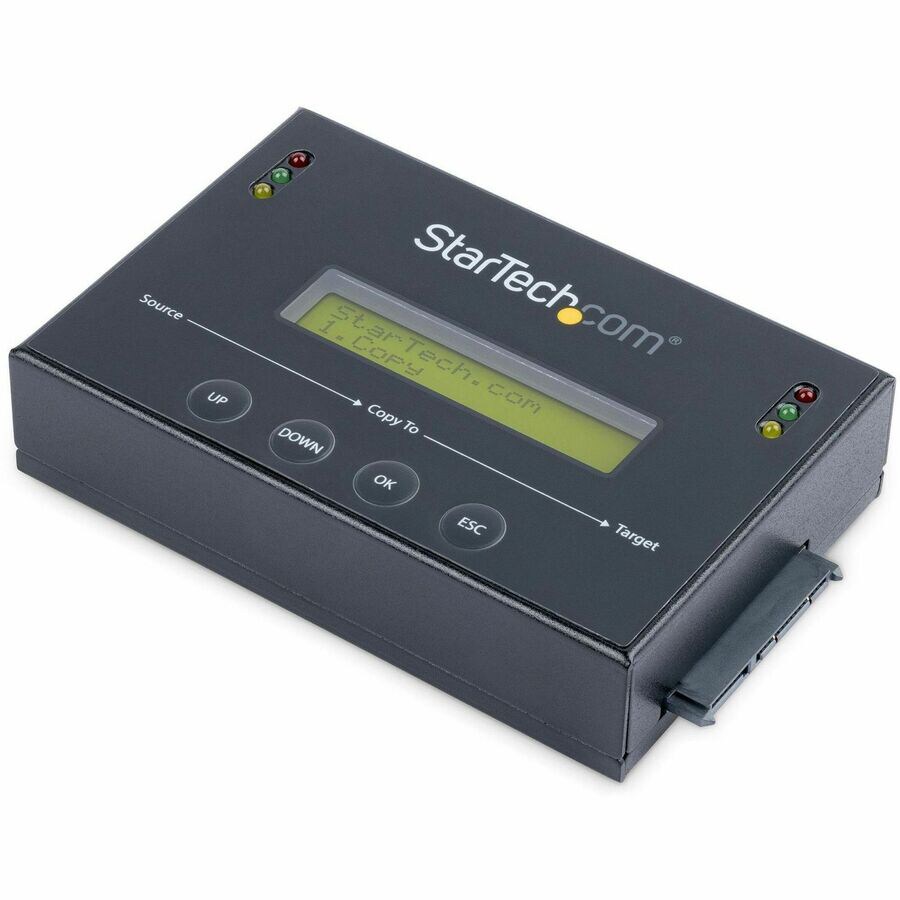 Quick tech specs
Create and manage a hard drive image library for backup / restore / recovery with several host drive images on a single SATA drive or clone a HDD/SSD without PC
4 Duplication Modes: System and File | All Partitions | Sector-by-Sector | Percentage Copy | Up to 6 GB/min
Hardware kit includes pads and 4"/20" SATA Cables | TAA
Backup host disk to image library | Restore image from library | Source to target duplication
External cloner / copier works with SATA I/II/III | LCD Menu | LEDs
View All
Know your gear
The SATDUP11IMG standalone SATA hard drive duplicator,lets you create an exact duplicate of a SATA hard drive (HDD) /solid state drive (SSD),or create a single backup library drivecontaining multiple images you can copy to additionaldrives at any time.

Fast, Simple Drive Duplication

Reduce clutter with the SATDUP11IMG eliminatingthe number of drives required when creating backups ofmultiple unique drive images. Using a single backup library drive, you canstore several unique drive images on a single SSD / HDD,ensuring fast duplication at 6 GBpmand minimal clutter. This is an ideal solution if you frequently re-image different computer systems, because it means you'll only have to carry a single backup library drive to restore multiple drive images onto different systems.

Hassle-free Performance

Theversatile duplicator also offers standard one-to-onedrive duplication in three differentmodes: file and system copy, all partitions copyandwhole copy. This is ideal for one-time drive duplication, eliminating the hassle of creating adrive image for a one-time project.

Intuitive Operation

With an easy-to-read LCD display and intuitive four-button menu operation, the SATDUP11IMGensures hassle-free setup and control. The menu gives you push-button access to many value-added features that ensure simple task management such as: drive to drive duplication, drive to Image library backup and restore, and many more. It also provides numerous advanced setup options for experienced users.

For added compatibility with different drive typesinduplication, the SATDUP11IMG supports the use of various drive adapters. The below list of StarTech.com adapters have been specifically tested, to ensure compatibility with this drive duplicator:

2.5/3.5in IDE drives - SAT2IDEADP
mSATA drives - SAT2MSAT25
M.2 (NGFF) drives- SAT32M225

The SATDUP11IMGis TAA compliant and backed by a 2-year StarTech.com warranty and lifetime technical support.