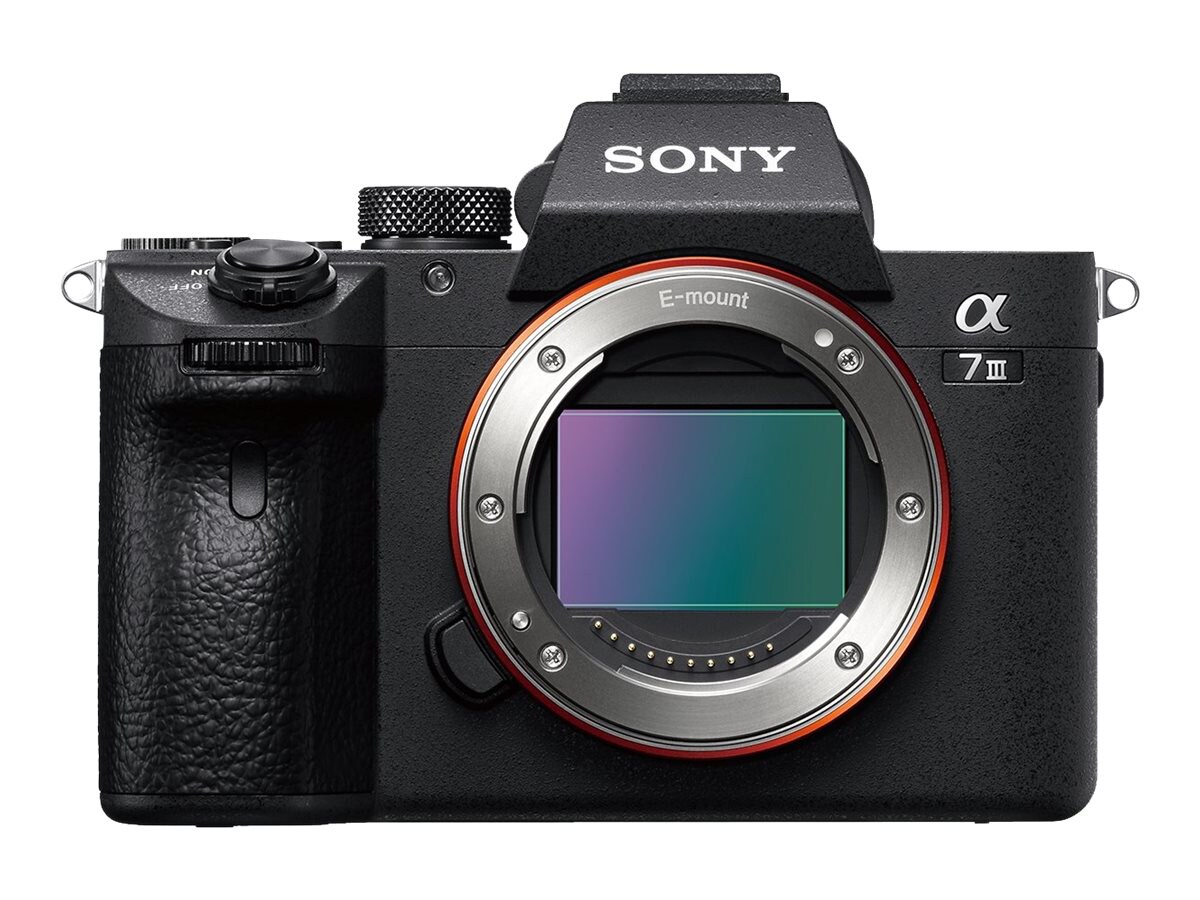 Quick tech specs
7M3
mirrorless
Full Frame
body only
NFC
Digital camera
24.2 MP
4K / 30 fps
Wi-Fi
Bluetooth
View All
Know your gear
An entirely renewed image sensor and image processing system further enhance image quality. Improved overall AF performance, high-speed continuous shooting of up to 10fps, 4K movie recording capability, and operability that has been dramatically upgraded from the a7 II allow you to capture more decisive moments.
Sony a7 III ILCE-7M3 - digital camera - body only
is rated
4.50
out of
5
by
60
.
Rated

5

out of

5
by
brianford42
from
Great Features
Bought it this month and learning to use. Great test photos
Date published: 2022-03-02T00:00:00-05:00
Rated

5

out of

5
by
Rinosh
from
Great quality
It was my dream camera when i was in high-school, i bought that camera last year! Really great camera
Date published: 2022-09-13T00:00:00-04:00
Rated

5

out of

5
by
Daniel2021
from
Firmware Updates!
Love the camera but firmware updates are never in synch with the current version of Mac OS, so I can never update the firmware.
Date published: 2021-03-25T00:00:00-04:00
Rated

5

out of

5
by
Mike8899
from
Great for only 3 months!
I am new to Photography and just purchased a brand new A7M3 from legit Sony Dealer B&H on 11/29/2020. Purchased a 24-105mm f/4 Sony lens with it as well and the combination produced some great pictures. However, today 3/14/21 only a little over 3 months after purchasing a brand new camera I got the dreaded "Camera Error, please turn off then on." Unable to fix the issue even with taking battery out and replacing after 1 minute. Took off the lens and saw a stuck shutter!!! I've never dropped the camera and have taken super good care of it. Super frustrating that I will have to send it in for repair after only 3 months of use! Disappointed.
Date published: 2021-03-14T00:00:00-05:00
Rated

5

out of

5
by
Frank
from
Great camera
This is my first full frame camera and it is great. Just so happens to be this year's camera of the year!
Date published: 2019-01-03T00:00:00-05:00
Rated

5

out of

5
by
Rich n Lukang
from
Needs dial locks!
I've had my a7III for almost a year. I like using it. I like the quality of the images it produces. However, there is one huge error in the design. No locks on the dials. The exposure compensation dial always seems to want to wander. I usually don't have any problems with the mode setting dial moving, but it has moved a couple of times. Sony must have had tripod shooters in mind when they designed this camera and not people who hand carry their cameras 99% of the time. Is it an oversight by Sony to not include locks in the design? Yes. Is it a deal breaker on me recommending this camera? On to other things. This is an easy camera to use right out of the box, but a hard camera to learn. While there is always auto mode (why would you by an expensive camera to use auto mode?) you can easily learn to use aperture and shutter modes to get you out and taking pictures. Then, I highly recommend you watch a few tutorials on the internet to learn to use all the other features this camera has to offer. It's been a year, and I'm still learning. A touch screen menu would be helpful here. I still find myself fumbling with buttons and dials to change settings. While not a deal breaker, a touch screen would be so nice... Sony! Are you listening?
Date published: 2020-06-06T00:00:00-04:00
Rated

5

out of

5
by
david1956
from
very good!
I took these photos in January of the eclipse and my hometown
Date published: 2019-03-27T00:00:00-04:00
Rated

5

out of

5
by
d34n
from
video
sony a7m3, for me is a well rounded camera, coming from a dslr to a mirrorless, a7m3 gave me the ease and gave me more than i needed
Date published: 2019-04-21T00:00:00-04:00
Rated

5

out of

5
by
SamIAm7932
from
Memory card problems
Bought new A7III from Amazon. Purchased a SanDisk Extreme Plus card 64GB Speed 170 MB/s. Once loaded the camera could not find it. Tried slot 2...same thing happened. Tried everything. Search Google; found many people with the same problem. Only work around was to download new firmware. Went to Sony site to download firmware but keep getting a "Woops" type error. Plus, I don't want to download firmware on a new camera. So, I guess I wasted $27 on the SanDisk. Bought a PNY disk with low speed and 16GB. It worked fine, except I can't capture video on it. Frustrated, I searched for a Sony SD. All Best Buy store in town (>30) could only order them...none in stock. Same thing for Walmart and Target. If Sony is not going to support third party SD's, they should so state.
Date published: 2019-04-30T00:00:00-04:00
Rated

5

out of

5
by
SLEEK
from
Amazing
Big jump from the a6300 camera. You notice the amazing quality right away.
Date published: 2020-11-05T00:00:00-05:00
Rated

5

out of

5
by
Kap_man
from
All around great camera
I bought this camera in December 2019 and since then it has worked wonderfully even with 3rd party lenses. It even performed well in temperatures below freezing. I only gave it 4 stars because it still gets dust on the sensor very easy. I know it's not a big deal but I try my best to have the camera in a way that keeps the dust away from the sensor and I had the same issue on my a7r ii. I keep cleaning it but I have to clean after every shooting outing.
Date published: 2020-02-21T00:00:00-05:00
Rated

5

out of

5
by
Ell Dawg
from
Loving my SONY a7iii
I've shot exclusively film and cellphone photographs up until recently. The compact, lightweight design of the a7iii is an excellent transition from the Hasselblad 500CM I am used to shooting which is a beast. The eyeAF may be my favorite feature, simply incredible
Date published: 2020-08-16T00:00:00-04:00
Rated

5

out of

5
by
Bernard R
from
Full frame Pro qaulity
Recently purchased A7 III kit for photo and school sports events to replace a canon system. Silent shooting, comp. wheel, E.viewfinder, great grip and excellent test (rental) results were the primary reasons for the change. I carry a Sony A6000 as a walk-around, so the new menu was too not difficult. Cost of lenses was not an issue as I rent the zooms or WA if I need extra reach. Sadly, only one UHS II slot. ( I use the Sony T.cards v 90). The cost of two extra batteries was expensive and a cheap charging box and cable was not up to Sony standard. Should the next field trail prove positive, an extra body and zoom will be added.
Date published: 2019-06-25T00:00:00-04:00
Rated

5

out of

5
by
rykster
from
Amazing!!!!
Wow , wow , wow, wow, wow, wow, wow, wow, wow, wow!!!!!!!!!
Date published: 2018-04-20T00:00:00-04:00
Rated

5

out of

5
by
magbaez73
from
THANK GOD I HAVE MY DREAM CAMERA
WRITING A REVIEW WOULD NOT BE ENOUGH FOR ME..ALL I CAN SAY IS : THANK YOU LORD I ALREADY HAVE MY A7III, NOW LET DO GREAT IMAGES WITH IT...!!
Date published: 2019-09-18T00:00:00-04:00
Rated

5

out of

5
by
joonguitar
from
Great!!
perfect camera awesome video great still shot light weight
Date published: 2019-08-03T00:00:00-04:00
Rated

5

out of

5
by
Breesunset
from
Worth the price
i recently bought this and i just can't get enough!
Date published: 2020-09-24T00:00:00-04:00
Rated

5

out of

5
by
Bullupsy
from
Awesome package.
I bought my Sony a7iii January 1st 2021. Everything about it is simply magnificent as expected.
Date published: 2021-01-06T00:00:00-05:00
Rated

5

out of

5
by
PapaB
from
Great Camera in the Lab and at Home
Some of my engineering work involves RGB images under hostile conditions. We especially need low noise, high sensitivity, and consistent performance from several simultaneous shots. The Sony a7-III is the best camera we have used to date. We also use it more conventionally, where it is also a standout camera. Thanks for the back-side lighting and the design without a mirror - both are exactly what we needed.
Date published: 2019-01-03T00:00:00-05:00
Rated

5

out of

5
by
Squidnuke
from
Great features without durability
Feature are amazing but the random red spots that randomly appear on some photos only after a month of owning and all the complaints online about failing shutters and broken shutter leafs has me worried. i love this camera but i fear for its longitivity
Date published: 2019-01-23T00:00:00-05:00
Rated

5

out of

5
by
Mo chan
from
Amazing camera
I was an original a7 user and I did enjoy using it even with the many flaws, but moving to the a7iii has been such a welcomed up grade. I will be using and exploring this camera for as a pro shooter and as well as my hobbies. I've done weddings with the zeiss 35mm 1.4 and the zeiss 85mm 1.8 and incredibly wonderful images. Low light was amazing and cropping wasn't any issue. I just wish the banding with silent shutter was not so bad. But non the less homerun Sony.
Date published: 2019-03-30T00:00:00-04:00
Rated

5

out of

5
by
FattyS
from
Pretty Awesome Camera-- Drop the $2K If You Can
After hours of researching various full frame cameras and coming from 2 entry level DSLRs (Nikon & Canon 70D), a mirrorless Fuji X100T (which I still love), I'll share my thoughts/comparisons with the A7iii. My background: I took a photography class in high school, appreciate the ability to focus on objects I choose, and am a self-proclaimed entry-level/pro-sumer "nerd." I like to take pictures of people/objects for fun. Please read no further if you're looking for a "professional" review! MY SHOOTING EXPERIENCE- Limited to Entry Level DSLRs First, I started with the Nikon D60 (maybe 70) DSLR about 20 years ago. It felt like a huge upgrade from the previous point/shoot cameras I'd used. About 7 years after that, I switched it up to a Canon 70D. It felt like switching from PC to Mac-- the Canon being more intuitive, user friendly. I got the Sigma 35 ART lens and loved the images it captured. It was by far the most expensive lens I'd invested in at that time. Then, about 4 years ago, I picked up the Fuji X100T. The reviews were amazing, it was more compact that a DSLR. (I'd found myself enjoying & using my Canon most with a pancake lens. I LOVE(d) my x100T. I learned to navigate a "foreign" menu system pretty quickly. The pictures are nice. Honestly, after using the 70D, it felt "faster" and more responsive in terms of autofocus and shooting. But the size and mobility resulted in me using it more. I actually didn't mind throwing it in my purse. I started researching Full Frame cameras years ago. The Canon 5D was on the top of my list. But the size and price point were a deterrent. Given my collection of lenses, it seemed logical to stay within the Canon family. But the reviews for the Sony A7iii caught my attention...made me question whether lenses were a reason to stay? (I had about 4 mid range prime lenses, the sigma 35 being the most expensive and fasted.) The Sony A7iii: A Compact Beast When Sony released the A7iii it seemed like the perfect upgrade from my entry level DSLRs to mirrorless full frame. I love the A7iii. I've purchased the 35mm2.8 lens for it and the 55mm1.8. The AF speed and shutter speed is infinitely better than any camera I'd ever used. The images are clear. The built in steady stability is extremely useful. It works great in low light settings. The relative size/weight compared to its output (depending on the lens) doesn't bother me given its superior abilities to capture images. It is a pleasure to use. Being "tech savvy" I figured out the somewhat convoluted menu system-- online tutorials from other users helped me quickly identify and address "issues" before getting frustrated. My biggest annoyance was the auto viewfinder proximity sensor resulting in unintended EVF views. Now that's fixed to a dedicated custom button setting. This camera can get expensive with lenses, etc. But, if you like clear pictures, want to capture rapid movement, like quick (I mean quick) AF, continuous focus, this is the camera. Today, I tried to use my Canon with the sigma lens, only to find myself so frustrated by its speed. I didn't remember it being, literally, "as slow as a snail"--but it was. It made me appreciate my investment in the A7iii all that much more. After all the research and wait for availability, I'm glad I got it. Features I Love/Appreciate The 600+ AF point selection is amazing. The continuance shooting abilities. The dual SD card slots. I love the USB-C! It makes linking to my MacBook really easy. I love being able to charge through that cable, too. The ability to customize each button/wheel. The tilt screen. The Face Detection is superb! If you have kids, this is great to insure quality/sharp memories for the future. My Thoughts on "Lacking" Features TOUCHSCREEN: Initially, I missed Canon's touchscreen shutter release. Now, I don't mind it as much since it focuses on that touch point so fast, and you can lock it with the shutter. I wouldn't care if Sony ever switched to touch shutter. Also, I personally don't mind that the menu is not touch accessible. The dial is responsive, the Fn key allows you to jump from various submenus quickly. The screen stays cleaner and you don't have to worry about incorrectly accessing the wrong folder. I've had some issues connecting to my smartphone. I've had these issues with Canon and Fuji, too. The Sony App isn't as developed/user friendly as Canon or Fuji. SCREEN: People complain the screen doesn't flip out all the way for selfies. I don't think this camera is supposed to be used for selfies! It's ability to tilt for viewing shooting angles, hip shots, etc., is perfect. CONCLUSION If you're interested in experiencing full frame photography and have $2000 to invest, plus $300+ for lenses, do it now! Can you take great pictures with a cheaper camera? Of course! But if you appreciate speed, reliability, size, technology, lens selection, this is a great investment. This camera makes me want to take it with me, pull out and use! It's just such an incredible upgrade from all the previous models I'd experienced. Sometimes I'd find myself leaving the DSLR at home thinking my iPhone would be sufficient. This puts the iPhone camera to shame. It's night and day. That difference itself makes me want to experience photography with this tool. I will be happy for shooting predominantly with Sony for the years to come.
Date published: 2019-05-23T00:00:00-04:00
Rated

5

out of

5
by
Sheila P
from
Eye AF is a game changer, ISO is amazing
Have been very happy with it overall, so far. The A7III is my primary wedding camera, with an A6300 as my back up. (Also have a second A6300 converted to infrared.) The main reason for updating my camera equipment was the Eye AF. My previous equipment had a marked tendency to lock autofocus on a high contrast background, rather than on people's faces. Obviously, for a portrait and wedding photographer, this was problematic at times, and potentially disastrous. Having Sony's eye tracking AF is an amazing improvement, to be sure. I do wish the A7III did not require the extra pushing of a button to engage the feature. That is one thing that is a bit of a disappointment, and actually the ONLY fault I have with this terrific camera. The focus is SO FAST, and the high ISO capability is nothing short of amazing. The compact body is still substantial, feels solid in the hand, but not bulky. I love the tilt screen and have used it multiple times to shoot a group of people on the dance floor from overhead. For sports shooters, the high ISO capability allows you to use faster shutter speeds to get the fast action shots, and the subject tracking does very well there, too. The menus can be a bit intimidating as they are so in-depth, but necessary in order for the camera to have such immense capability for customization. Perhaps Sony will do a software update at some point, so that the Eye AF can be engaged all the time? We can hope! And then this camera would be absolutely PERFECT. It's pretty close now!
Date published: 2019-02-07T00:00:00-05:00
Rated

5

out of

5
by
gadhvi1987
from
Best value for money!
I bought a7 iii about two months ago and I've been loving it since then. I had been using the Canon DSLR, crop sensor, and was thinking to upgrade to the full frame sensor. The dynamic range of Canon cameras are awful and I felt that even modern phone cameras have better colors than some of the Canon's entry-level to semi-pro DSLRs. My main reasons for choosing the a7 iii are IBIS, 10 fps, best in class eye-AF, amazing dynamic range (very close to that of Nikon D850), good bettery life and and excellent ISO range for low light shooting. All of these at a good price point made me buy this camera. However, a few downsides of choosing this camera are (i) You will have to buy very expensive Sony lenses now, (ii) Body grip isn't deep enought to hold it as comfortably as you could hold Nikon Z6 or Canon EOS R, (iii) Lens mount on the camera has a very low resistance to scratch so please have your lens mounted on the camera all the time if you can, (iv) Doesn't have fully articulated tilting screen with full touch functionality like a Canon's counterpart. Menu system in general is still confusing but you will get used to understand it better in few days. But again considering the price I am quite satisfied with all that a7 iii has offered.
Date published: 2019-03-04T00:00:00-05:00
Rated

5

out of

5
by
NitroBandit
from
Upgrade from A6400
Needed full sensor camera as the cropped A6400 limited wide angle interior photos. The 6400 is a brilliant camera and the A7iii is a great improvement. Videos are almost identical but the A7 can film at 120. So far so good, the kit lens is ok but full frame prime lenses are the best for this. Pics and 4k vids look great on my sony 65inch 4k tv.
Date published: 2021-02-15T00:00:00-05:00
Rated

5

out of

5
by
NsearchOFsunrise
from
Truly Amazing
I bought this camera recently after getting to use one from a local camera shop. I think its truly amazing. Sony did such an excellent job tossing in every feature you could want in a camera. Love all customization that can be programmed and the size along with solid build quality. Sony priced it perfectly to allow beginners to pros to be able to get a great piece of tech.
Date published: 2019-06-25T00:00:00-04:00
Rated

5

out of

5
by
ShotByDan
from
BEAST is an understatement
I've been shooting with Sony for a while. I was shooting with eh a7sii and it was amazing autofocus was not the best but I shot some killer shoots on it like Post Malone, Newsboys, corporate videos and many weddings but the A7III is awesome no crop in 120 frames amazing battery life (killed 2 batteries on a full day of shooting a conference) color science has gotten way better the shutter sounds really good and the 24mp is beautiful. Love this camera. the price is also one of the best parts!
Date published: 2019-01-06T00:00:00-05:00
Rated

5

out of

5
by
omid7466
from
The Dark Knight
i migrate from other brand and half frame sensor size and its a really wonderful decision ! i
Date published: 2019-12-24T00:00:00-05:00
Rated

5

out of

5
by
Ramin R
from
Awesome camera
I bought this camera several months ago and I'm super happy with it. Highly recommended.
Date published: 2019-04-11T00:00:00-04:00
Rated

5

out of

5
by
DrewIndy101
from
Holy %$#%!$*#! - What a camera!!
Avid Canon shooter for the last 10 years... this a7 is amazing.. Paired with a Sigma MS-11 and my Canon Glass ... perfect combination!
Date published: 2018-04-17T00:00:00-04:00
Rated

5

out of

5
by
Alisa12
from
The Quality
I had been wanting a Sony ever since I used my friends briefly. It made me realize it was time to upgrade. I saved for almost a year to purchase it and I love it! The digital viewfinder is amazing and so helpful when adjusting ISO/F stop/ shutter speed. It shows a live view of what your photo will look like. I love the look of the photos and also the slow shutter speed for night photography!
Date published: 2020-06-23T00:00:00-04:00
Rated

5

out of

5
by
JRA35
from
The a7 III Exceeds My Expectations
Coming from a Canon 5D MIII, and having shot Canon pre-digital, I can't believe how clean the high ISO shots are coming out of this camera. Granted the 5DM3 is more than a few years old now, but in side by side comparisons the Sony blows the Canon away, with the added benefit of rapid focusing and tracking of moving subjects, folding out screen, customizations.... and I'm not forced to part with my Canon "L" glass.
Date published: 2019-04-01T00:00:00-04:00
Rated

5

out of

5
by
Alvi
from
I love this camera
The best system I have ever owned compared to some Canon products I have purchased in the past.
Date published: 2020-04-03T00:00:00-04:00
Rated

5

out of

5
by
chet7
from
Brutal Design, Beautiful Output
I bought this camera about a week ago, the A7iii is a major step up in many ways and step down in others. Still image quality and Autofocus capability are in another league compared to most other cameras I've used. These were the primary reasons I made the switch and I couldn't be happier. The biggest issue with the A7iii is a slight lagginess in physical control responsiveness. It's a nit pick to be sure, but it's lends to a very slight feeling of disconnected-ness from the act of taking a picture. The A7iii functions wonderfully but the physical act of turning the front and rear dials, pressing buttons, or adjusting the EV dial lags in responsiveness to what you see on screen. The concerns about the menu system being overcomplicated are exaggerated in my opinion. The features of this camera are complex and I really appreciate the ability to super customize the camera to my needs. Perhaps, adding some more explanation about what some of the features in the menu are would help. In the end, the quality of the image is all that really matters and the A7iii allows me to create the images I want to create with a higher rate of success than any other camera I've ever owned. Thank you, Sony for putting a camera of this capability within my reach.
Date published: 2019-01-13T00:00:00-05:00
Rated

5

out of

5
by
wil james
from
great camera
happy with every Sony camera started out with the A37 moved onto the A77 then the A77ii and my baby the impressive A99ii and now I just got the A7iii
Date published: 2020-07-06T00:00:00-04:00
Rated

5

out of

5
by
Goofdog
from
Great camera but thee one thing !
I love this camera in every way. The one thing that makes the camera not receive 5 stars, is the fact that the mic jack stopped working before the year. I bought it on 08/07/2018 its 05/05/2019 now and it just stop working out of nowhere and I didnt buy a warranty cause I always take great care of my gear.over all great camera.
Date published: 2019-05-05T00:00:00-04:00
Rated

5

out of

5
by
Kirstur
from
I'm Blown Away!
I was a Canon-fan for the longest time, but even Canon can't compete against the a7III... The alpha has features beyond my wildest expectations and produces a superior product, I love it!
Date published: 2019-06-18T00:00:00-04:00
Rated

5

out of

5
by
Christoephurky
from
The build and quality feel great in my hands!
I bought this camera today and I'ts been an amazing time learning its diverse capabilities
Date published: 2020-09-14T00:00:00-04:00
Rated

5

out of

5
by
Hasan_A
from
Switched from Nikon and never looked back
Last year i purchased my first Sony a7iii and since then I have purchased another two a7iii bodies and lenses to go with my setup. With over 125000 photos taken over last 12 months I must say that I have put this camera through decent test.
Date published: 2020-04-22T00:00:00-04:00
Rated

5

out of

5
by
avp40
from
Sony A7 III Very Good! =)
I have the camera for a month now and it is excelent!
Date published: 2019-11-11T00:00:00-05:00
Rated

5

out of

5
by
Beni23
from
AMAZING
New to Sony a7iii and I love this camera. The images are unrealistically sharp. Right out of the camera, the quality is amazing. The autofocusing is the top-notch.
Date published: 2019-05-12T00:00:00-04:00
Rated

5

out of

5
by
Prag
from
Less features compared to other companies tv
I brought this few years ago and the display stopped working even though back light was on. Did not lasted long as I expected. It also used to frozen time and again...
Date published: 2020-12-02T00:00:00-05:00
Rated

5

out of

5
by
GheeGhee
from
Never Looking Back
I have had this camera since 2018, I I can give an honest and true review. This camera has made my job so much easier as a wedding photographer. I love the WYSIWYG, it is awesome in lowlight. I am now looking at another Sony for a second body and slowly replace my other gear (different maker).
Date published: 2020-11-13T00:00:00-05:00
Rated

5

out of

5
by
sam I am
from
Wifi Tethering with PC
We can connect our laptop to the camera but the software installed on the PC doesn't allow wifi tethering, only USB...why? Software are ancient. Need to hire a product manager.
Date published: 2018-05-06T00:00:00-04:00
Rated

5

out of

5
by
Angels758q
from
Great camera
I bought a few days ago I very like a camera Sony 7a iii great pictures.
Date published: 2019-07-22T00:00:00-04:00
Rated

5

out of

5
by
JT9999
from
great camera
I use this camera for video on a gimbal and the auto-focus is great
Date published: 2021-04-14T00:00:00-04:00
Rated

5

out of

5
by
Sensei84
from
Best All around camera even in 2021
Autofocus accuracy and speed are remarkable and the image quality you get with professional lenses is outstanding.
Date published: 2021-05-25T00:00:00-04:00
Rated

5

out of

5
by
GPanter
from
Still good after almost 3 years.
We bought this camera 3 years ago and have been happy with it. At the time we bought it, nothing compared to it. Now I am confused as to why they don't give it a firmware update for the autofocus so it has the improved autofocus of the less expensive A7C while they share the same sensor and image processor. If they did that simple firmware they would sell so many more of these, but now competitors like Cannon have such better AF that this isn't the value it used be and could be with the improved AF.
Date published: 2021-04-25T00:00:00-04:00
Rated

5

out of

5
by
linsey
from
worked well for a year......
I bought this camera body last February and just last weekend my shutter stuck. You would think something that cost almost $2,000 would work more than one year. I take immaculate care of my gear so I am completely disheartened by this equipment malfunction. I am a full time wedding photographer so now I have to quickly find a replacement for another wedding NEXT weekend. Very disappointed, Sony.
Date published: 2021-06-07T00:00:00-04:00
Rated

5

out of

5
by
ILUVPHOTOS
from
Versatility is unmatched
I can use my M42 screw mounts, to my Nikon, and Leica M mounts! Color rendition are great! Menu takes a bit to get to use to but I love the fav feature!
Date published: 2021-07-04T00:00:00-04:00
Rated

5

out of

5
by
hube2171
from
Great for taking pictures when you travel
This is a great camera to have with Sony a 24-240mm zoom lens. It is lite enough to carry for a while and small enough with the lens to put in a "Sony" a6400 bag. The "Z" battery last a lot longer then a "W" battery and you can still carry it away you would take a full frame camera. Using the same operating program as most Sony cameras you can do a lot of things.
Date published: 2021-07-05T00:00:00-04:00
Rated

5

out of

5
by
aperture inc
from
Love the camera.
Very clear images. Really do love this camera. I use it for my photography business and it's impressed many people.
Date published: 2021-06-26T00:00:00-04:00
Rated

5

out of

5
by
UhEddie
from
By far the greatest camera of all time!
I bought this camera a month ago jumping from Canon and this is by far a game changer! Sony is on a whole different level which makes me even appreciate photography more, I carry my camera wherever I go now and I love how awesome it feels on my hand, this is definitely quality. I am very happy that I got the chance to get myself into Sony without even hesitating, I love my camera and I hope whoever else reads this really gets one because man I love this one so much, it was either this camera or the A7C but this one is awesome especially with the 1.8 50mm it is an absolute beauty.
Date published: 2021-09-02T00:00:00-04:00
Rated

5

out of

5
by
nycsatrio
from
Super great!
I always have a dream having a sony alpha camera and finally I hand it! Thank God and yes this camera beyond my expectations!
Date published: 2021-09-14T00:00:00-04:00
Rated

5

out of

5
by
Michal Samek
from
Shutter failure after 27k
Shutter failed after 27k expositions. Would avoid this lottery at all costs.
Date published: 2021-11-15T00:00:00-05:00
Rated

5

out of

5
by
PK0918
from
Great Camera wit amazing quality!!
I upgraded from my starter camera to this and it has been life changing!
Date published: 2022-04-25T00:00:00-04:00
Rated

5

out of

5
by
JaffrinSetsu
from
Great Camera with good features
I have been using my Sony A7III for about a 18 months and it does everything I ask it to except Realtime tracking and 10bit 4:2:2 recording. The full frame sensor and IBIS prove their worth is low light and run and gun shooting. Paired with modern auto focus lenses, it is hard to miss your shot. Paired with an almost limitless number of vintage lenses through adapters, this beast is full of endless combinations and possibilities. The A7III could benefit with the upgraded menu system seen in newer models. My unit decided to stop outputting to HDMI roughly 1 month after the warranty lapsed and is likely to cost 1/3 of the camera cost to repair it! Luckily I do not often use an external monitor since it disables subject tracking. Overall I love the A7III and would recommend it to anyone looking for a new camera.
Date published: 2022-06-02T00:00:00-04:00
Rated

5

out of

5
by
SuperMario33180
from
GREAT FEATURES
BEAUTIFUL camera with good features, light camera and very easy to use
Date published: 2022-08-16T00:00:00-04:00
Rated

5

out of

5
by
Damandeep
from
Image quality
I received it today and its amazing lighting weight with the best picture quality
Date published: 2022-12-23T00:00:00-05:00
Rated

5

out of

5
by
Manpreet
from
Perfect camera
Its build quality is great and also i got great output
Date published: 2023-01-05T00:00:00-05:00