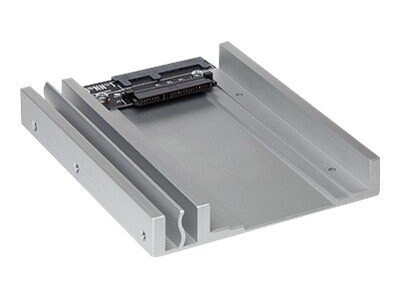 Quick tech specs
View All
Know your gear
Looking to add 2.5" SSDs (Solid State Drives) to your storage pool? The problem is that if you want to install them in your desktop computer or multi-drive storage system, you can't use them out of the box - they're too small. Sonnet's Transposer is the solution you need - it adapts any 2.5" form factor SATA SSD to any 3.5" form factor drive tray, without cables or hassles. Transposer enables you to readily add SSDs to your system.

How does it work? Simply plug in the smaller drive to the Transposer's mating connector, secure the drive with the provided screws, and then install the Transposer/drive assembly like you would any 3.5" drive. Offering a tailor-made fit, this Sonnet adapter secures the 2.5" drive from the bottom, making Transposer compatible with drives from 7 mm to 15 mm tall. Standard position mounting holes on Transposer's bottom and sides, equivalent to those found on a 3.5" hard drive, give you the flexibility to mount it anywhere a 3.5" drive is used.

Transposer provides a rigid base to secure your SSD or hard drive. Its specially-engineered open-frame aluminum heatsink design delivers effective heat dissipation, especially important to maintain the long-term reliability of high-performance SSDs and hard drives. Transposer's fixed mount connectors are attached to a simple circuit board, assuring solid connections betweeen devices, and the outside connector is positioned to plug into a backplane as the tray is inserted. Other advantages of this simple design include great compatibility and undiminished speed - Transposer is compatible with 3 Gb/s and 6 Gb/s SATA SSDs and hard disk drives. Because no bridge chip is used, Transposer does not cause any loss in data transfer speeds. Transposer takes the guesswork out of securely adapting a 2.5" SSD for use in 3.5" drive tray - it just works!
Contact Sales Assistance
(800) 800-4239
,
Monday-Friday 7am-7:30pm CT