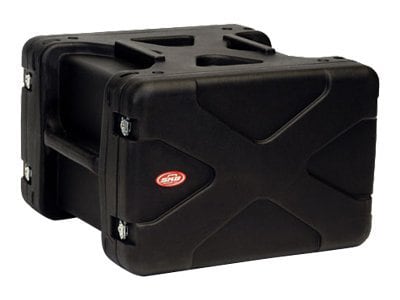 Know your gear

SKB's 1SKB-R9 series 20" deep shock rack cases provide unequalled protection for your valuable rack mount components. This case series is manufactured from LLDPE polyethylene resin, which has been "hot melt" compounded to insure consistent color throughout the case, and cannot be scratched or peeled off. SKB's case material is resistant to acids, solvents, UV, corrosion, and fungus so you need not worry about the environment. Rotational molding allows them to manufacture cases without molded in stress, which you will get with other manufacturing technologies. Rotational molding also allows us to form a part with 15 to 20% thicker walls in the areas that are subject to the greatest external stress, such as the corners. This technology allows SKB to build a case that is capable of lasting forever in the most challenging and demanding environments.

Heavy duty recessed twist latches provide positive closure and allow these cases to meet most ATA and military specification. Stacking lugs, rubber non skid feet, and comfortable molded in handles are some of these cases other standard features.

SKB's inner rack is threaded steel rack rails and aluminum cross components in an "H" shaped rigid configuration. The inner rack is fully supported by eight standard (16 optional on 10U and larger) elastomeric, high dampening, wide temperature range shock mounts that are attached into molded in inserts.

These cases, along with all SKB's cases comes with the "Million Mile Warranty" - you break it…SKB replaces it, for free, for life.

Interior Dimensions – This case is 6U and is 19" rackable x 20" deep x 10.5" high.
Exterior Dimensions – 29" L x 27.5" W x 19/5" H.