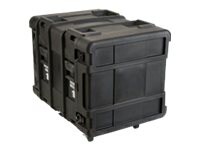 Know your gear


SKB™s 3SKB-R9 series 24 deep shock rack cases provide unequalled protection for your valuable rack mount components. This case series is rotationally molded using LLDPE polyethylene resin, which has been œhot melt compounded to insure consistent color throughout the case, and cannot be scratched or peeled off. Their case material is resistant to acids, solvents, UV, corrosion, and fungus so you need not worry about the environment. Rotational molding allows SKB to manufacture cases without molded in stress, which you will get with other manufacturing technologies. Rotational molding also allows them to form a part with 15 to 20% thicker walls in the areas that are subject to the greatest external stress, such as the corners. This technology allows SKB to build a case that is capable of lasting forever in the most challenging and demanding environments.



SKB™s patent pending Compound Hinge System allows their lids (doors) to be easily opened and closed while stacked swinging 270 degrees open to rest along side the case, and quickly removed and re-attached effortlessly if desired. The unique œplug style doors penetrate the body with an approximate 1 molded in protrusion that provides outstanding sealing and anti-shear properties. The front and rear doors are gasketed to make these cases weather resistant and a standard equipment pressure relieve valve allows the case to normalize pressure buildup with altitude or temperature changes. Heavy duty recessed black powder coated stainless steel latches provide positive closure and allow these cases to meet most ATA and military specification. One latch on each door is also key lockable so that you can secure your expensive cargo if needed.



SKB™s inner rack is threaded steel rack rails and aluminum cross components in an œH shaped rigid configuration. The inner rack is fully supported by eight standard (16 optional) elastomeric, high dampening, wide temperature range shock mounts that are attached into molded in inserts.



These cases come standard with easily removable (push button) high quality 4 lockable casters that make moving your racked systems as easy as possible.



These cases, along with all SKB™s cases comes with the œMillion Mile Warranty - you break it¦SKB replaces it, for free, for life.



Interior Dimensions - This case is 10U and is 19 rackable x 24 deep x 17.75 high.

Exterior Dimensions " 27.5 L x 36.75 W x 27.5 H.

Contact Sales Assistance
(800) 800-4239
,
Monday-Friday 7am-7:30pm CT