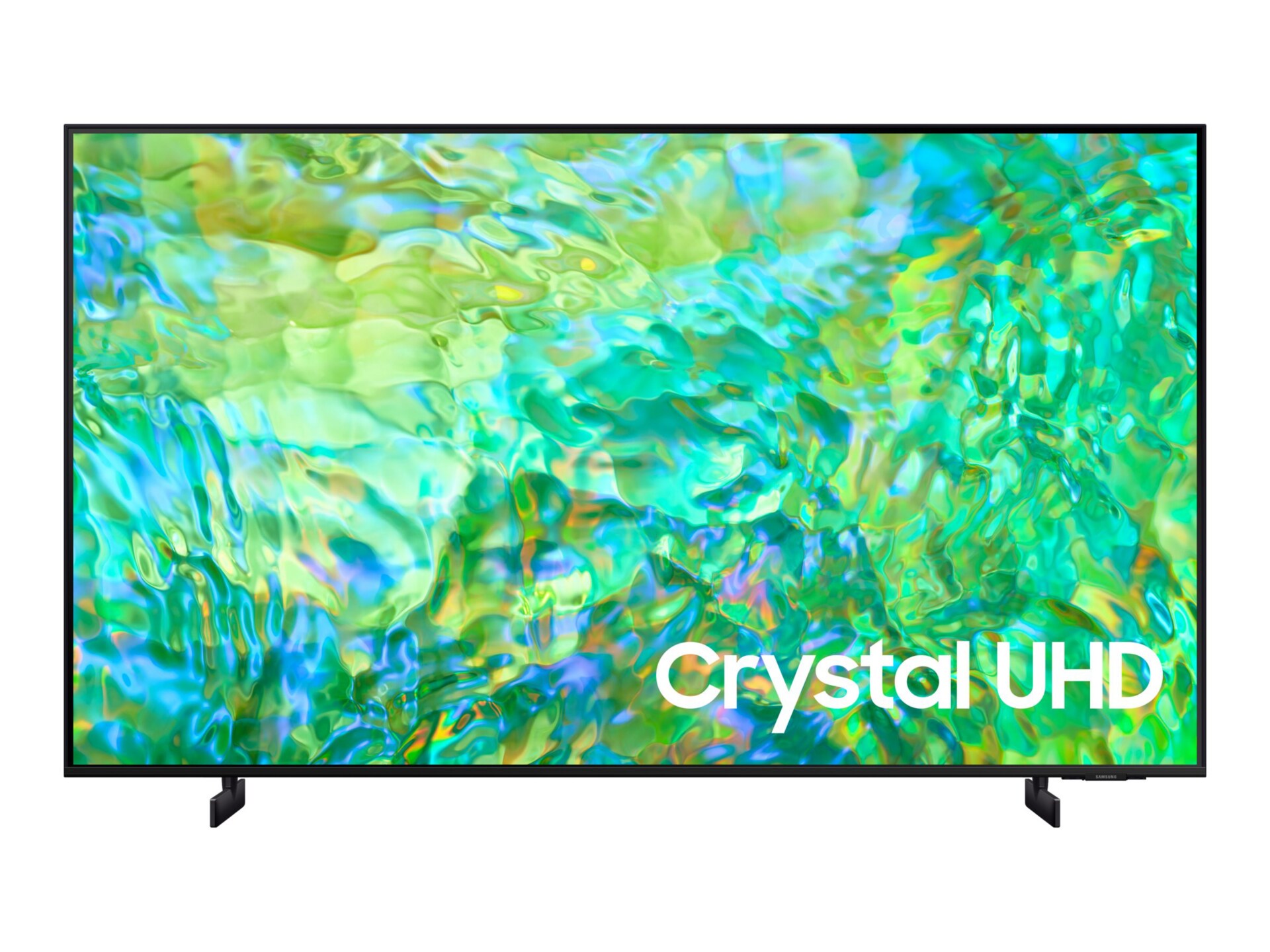 Quick tech specs
75" Diagonal Class (74.5" viewable)
Crystal UHD
Tizen OS
HDR
CU8000 Series LED-backlit LCD TV
Smart TV
4K UHD (2160p) 3840 x 2160
black
View All
Know your gear
Can you count to a billion? That's how many shades of color pop into view when you turn on this TV with Dynamic Crystal Color.

•Go from good to great. Watch the content you love upgraded to dazzling 4K resolution with Crystal Processor.

•Now you see it-now you don't. You'll hardly have a chance to admire the AirSlim Design-so thin it practically blends into your wall.
Samsung UN75CU8000F CU8000 Series - 75" Class (74.5" viewable) LED-backlit
is rated
4.30
out of
5
by
15
.
Rated

5

out of

5
by
Bostonone1
from
Great product
I use my tv for movies and gaming. The definition is amazing. And the colors are awesome. Would like the legs to be a bit longer is my only possible upgrade. Other then that the quality is absolutely gorgeous.
Date published: 2023-08-02T00:00:00-04:00
Rated

5

out of

5
by
Jason
from
Black dot on screen
Just purchase this tv and a little disappointed that there's a black dot in the middle of the screen. It's not awful, just annoying, wish I would've went with the LG.
Date published: 2023-08-14T00:00:00-04:00
Rated

5

out of

5
by
Raymond
from
Very Disappointed
I received this TV 6/6/23. Early Fathers Day present. After watching for a couple of hours, the screen went blank. Unable to turn on. Tried reset and everything else. Called service. They didn't pick up the TV til 6/12/23. I got the TV back 6/21, after Fathers Day. Very upset !!! They had to change main pcb and the LED bar. This is unacceptable for a brand new TV, only 3-4 hours old. Not even a day old !!!
Date published: 2023-06-23T00:00:00-04:00
Rated

5

out of

5
by
Daemonx
from
Great theater TV
The picture quality of the Samsung 8000 Series is nothing short of breathtaking. The 4K UHD resolution ensures crystal-clear details and vibrant colors, bringing every scene to life. Whether I'm watching movies, sports, or playing video games, the clarity and realism of the visuals make the viewing experience truly immersive. The size of the 75" screen is truly impressive, creating a cinematic experience right in my living room. The expansive display allows me to see every intricate detail, making me feel like I'm part of the action. The high dynamic range (HDR) technology further enhances the contrast and color accuracy, resulting in stunning visuals with deep blacks and bright highlights.
Date published: 2023-07-06T00:00:00-04:00
Rated

5

out of

5
by
HomeMovieBuf
from
Great TV, but the remote is awful
I just got the TV mounted above my mantel with a pull down mount. It great, the picture quality is amazing. It connected seemlessly with my soundbar. The problem is the remote. It looks nice and simple. The big problem is that the levers to control the sound and channel have very sharp edges that dig into my fingers. It seems to be a extremely poor choice in the design of the remote. I see myself buying some generic remote to replace it.
Date published: 2023-07-06T00:00:00-04:00
Rated

5

out of

5
by
TanCoop
from
Great TV. Maintenance free and easy to use.
Stream movies and watch sports mostly. Connected to Dennon Surround sound system. Works great. I have three Samsung televisions and I love all three of them.
Date published: 2023-05-11T00:00:00-04:00
Rated

5

out of

5
by
ForTheLoveOfSamsung
from
Best TV for the price
I've had the TV for about a month now and absolutely love it! Connects to all my devices and has the most up to date apps too. Well worth it. Found mine at a great price too and couldn't be happier.
Date published: 2023-05-31T00:00:00-04:00
Rated

5

out of

5
by
Mrmhehprease
from
Ultimate Realitly Escape pa pa pop !
I am so pleased with my Samsung high def, Its always connected to my galaxy and whenever i have company not to be rude i just stream my phone w/ da Smartshare tab, and whoolla, everyone can see my strategy, while i try and rake the casino a cold one! Ya? Im still waitin ... also stream music and you tube all day youngavevme control on whatvthe kidds watch so as im doin thangs round the house ,an notice the kids are watching something inappropriate, find something that is and handle that real quick, bet u didnt kno u would be helping raise these lil .. angels ther great kids im messin, even if i don win ty because you really did change the dynamic and give me a eaiser angele to handle stuff in the media dept Ty again great tv an apps and my s22 is so cool i added my wizife to my plan w/ a 23 !
Date published: 2023-05-18T00:00:00-04:00
Rated

5

out of

5
by
Livingroomtv
from
Perfect clear resolution with picture, great sound
Everything, music, tv show, movies video games. I host party's and events that friends and family come over for. There's no more to be said it's the top of the notch TV's in this world. It's one of the best buys I have ever had in my life and my second TV I've ever bought.
Date published: 2023-05-01T00:00:00-04:00
Rated

5

out of

5
by
BMan200
from
Great... Love it
I use it with my Alexa app and the remote works all services.... Including the Amazon fire stick tv. I put lights around it and added a sound system to it..... Looks great, sound great and never disappoint
Date published: 2023-05-31T00:00:00-04:00
Rated

5

out of

5
by
SamsungJam
from
Love the picture!
I love the picture in this set. Ease of use with apps and directv is also great. What I dont like it that it spontaneously will disconnect from my internet from time to time. It also will disconnect from my Sonos sound bar without warning. This is frustrating.
Date published: 2023-05-31T00:00:00-04:00
Rated

5

out of

5
by
PedroLion
from
No complaints at all
The quality of this TV is insane. I bought it to binge watch Hell's Kitchen, and the picture quality is so good I can also see Gordon Ramsay's spit as he screams at people. I have zero complaints, and I get compliments from every person who comes over. The sound, picture and overall build of the tv is perfect. I can't recommend this enough!
Date published: 2023-09-14T00:00:00-04:00
Rated

5

out of

5
by
wicqy88
from
Great and recommend big size TV
The visual experience provided by the video is of exceptional clarity, offering a sharp and vivid display. The audio quality is equally impressive, enveloping the viewer in a truly immersive sound. Notably, throughout the entire usage, there is an absence of any disruptive background noise, allowing for seamless and enjoyable experience.
Date published: 2023-09-13T00:00:00-04:00
Rated

5

out of

5
by
FLAWLESS
from
AMAZING! I recommend 100%
I have always dreamed of having a high end television. When I was finally in a position to purchase, I discovered Samsung. I immediately fell in love with the BRIGHTNESS and INTENSE COLOR and CLARITY. It has been worth every penny! As a homebody, movie binger, and sports enthusiast, this television has added quality to my life…I thoroughly enjoy the viewing experience. I've had zero technical issues. 100% recommend. You won't be disappointed.
Date published: 2023-09-14T00:00:00-04:00
Rated

5

out of

5
by
ShoppingQueen
from
Vibrant Colors!
I wanted this TV to watch football and basket ball games. The picture color is great! However, the volume does not get as loud when using my cable box. It's louder when using Prime Video, Tubi, Apple TV Plus, and other apps. Maybe it's my cable box settings. The added Samsung TV Plus is a great bonus. I love it. The TV was easy to connect to the Internet. I just had an issue setting up my Alexa because I had to call tech support to walk me through reprogramming the remote that came with the TV. One more thing is that I can't seem to find where I turn the TV on without using the remote. Overall, the TV is a great TV and the price was reasonable. I recommend this TV.
Date published: 2023-09-15T00:00:00-04:00