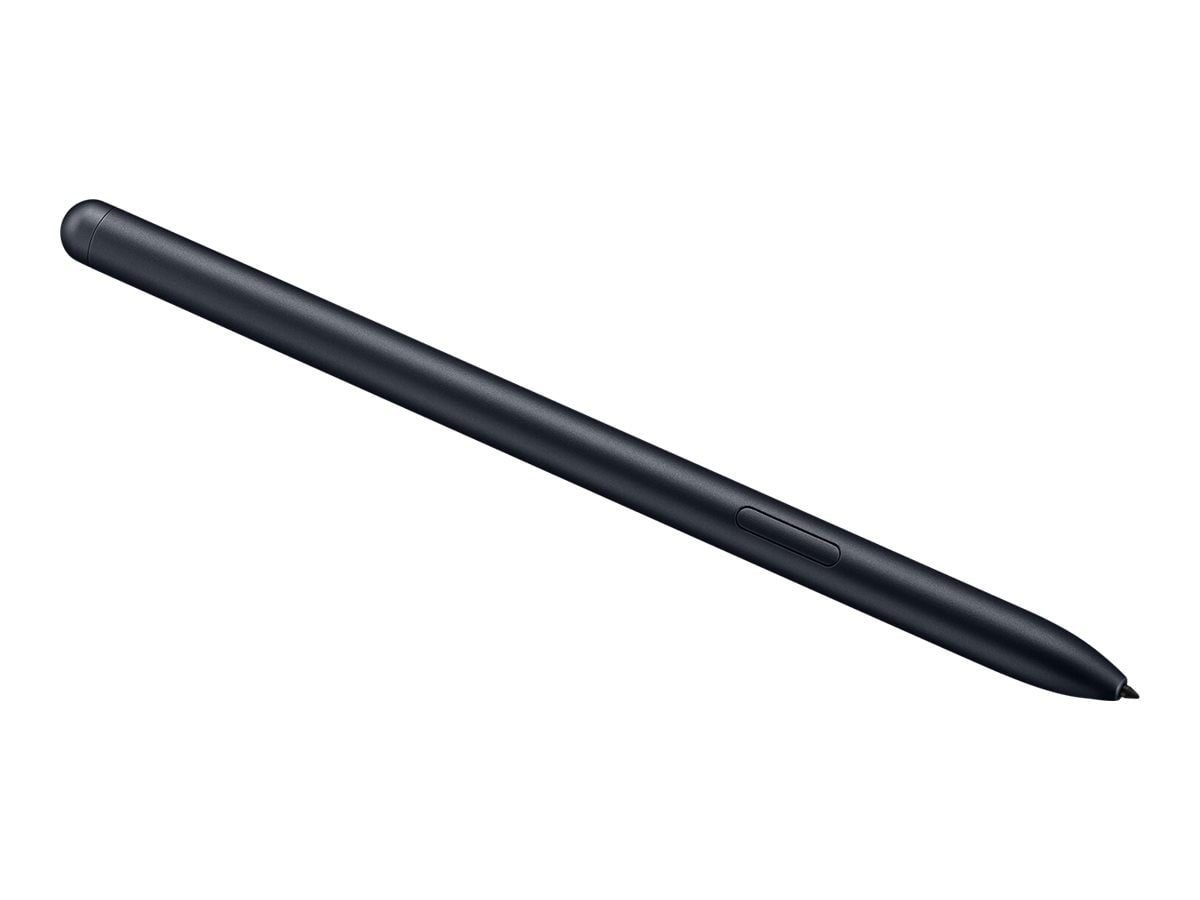 Quick tech specs
Stylus for tablet
for Galaxy Tab S8
Tab S8+
View All
Know your gear
Inspire your imagination with our fastest S Pen yet, now with near-zero latency to feel even more like a real pen.
Samsung S Pen - stylus for tablet
is rated
2.60
out of
5
by
16
.
Rated

5

out of

5
by
VetSyd
from
I've only had this for 4 days
i love my tablet and also the spen--at first. i've literally only been using it for 4 days, and the nib is already worn off. i'm a college student and need to take notes. basically, don't get this for school because you'll have to replace the nibs every week. it's also very difficult to hold without accidentally pressing the button, so this causes you to write a specific way, wearing the nib down even more. it's a really nice concept but is not made to last. i've had a wacom tablet since 2010 and the nib still lasts longer than this one.
Date published: 2022-09-17T00:00:00-04:00
Rated

5

out of

5
by
Boom
from
One negative
the features for the s pen that work really well for the s8 uktra, my issue is that how small the tip is i recived my new tablet and within couple hours the tip snapped off id like to see the tip longer or bigger like the ipad pen is
Date published: 2022-04-19T00:00:00-04:00
Rated

5

out of

5
by
Brad
from
1000 dollar tablet, stylus broke after 2 weeks
got this for my wife for mother's day. she's had it for all of 2 weeks and the stylus already broke. tip of it fell right off.
Date published: 2022-05-21T00:00:00-04:00
Rated

5

out of

5
by
Matt
from
Total Junk!
this thing is total junk. according to samsung, the s pen only lasts 10 hours in standby. so if you keep it secured in the keyboard case holder slot designed for it, and pull it out to use it when you need it, it's going to be dead pretty much always. how on earth did samsung make a pen that lasts 10 hours doing nothing? apple's lasts for weeks. microsoft surface pen lasts for over a year of constant use. 10 hours??? really? and for a flagship product? junk!!!
Date published: 2022-05-14T00:00:00-04:00
Rated

5

out of

5
by
Kitsap Consumer
from
Great pen, but please any color but black
i've had my tab s8 and pen for 8 weeks and i love this pen but i've already lost the pen 3 times, once for 3 days. small parts, especially in black are not a good design color and replacements are only in black (the s7 came in other colors). because the pen magnetically attaches to the back you can't wrap the pen with color tape as then it will not attach properly. i bought a 3rd party fold-over case with a pen loop which helps, but a colored pen would be much more visible. the button is also very hard to see and even just using a contrasting color button would have been helpful. temporarily losing the pen is aggravating, particularly as making colored pens available could easily make a big difference in user experiences with such a small but important accessory.
Date published: 2022-06-05T00:00:00-04:00
Rated

5

out of

5
by
KEITH
from
Great capabilities, but where is the button?
i love using my s pen most of the time to keep my greasy fingers of the screen. it works well and i hear that palm rejection has been improved, definetely a big plus. my biggest issue is the button, where is it, at night i literally have to feel around to press it to use it for anything, a simple cheap solution would be to add some texture, dots, lines on to the button surface to make it easy to feel around for with my fingers. how could samsung continue to make these pens like this without more thought put into refining it's products is frustrating.
Date published: 2022-04-04T00:00:00-04:00
Rated

5

out of

5
by
Eddie
from
Locate buton by hand
cant locatethe button by feel. wish i could get a pocket clip for it.
Date published: 2022-04-30T00:00:00-04:00
Rated

5

out of

5
by
JimB
from
Excellent writing experience
writing on the s8 ultra with the provided pen is far superior to what i have experienced on my ipad. i use a matte screen protetor that has a paper like feel that i bought on amazon. that makes it so much easier to write compared to the ipad with a paperlike brand protector. yes, you will wear down the nibs, but i found nice replacements on amazon (12 for $7) that fit and work great. i don't understand why so many people complain they can't find them. i have been through 1 over the course of two weeks. this has been what i have been waiting for in a tablet with a stylus for years.
Date published: 2022-04-26T00:00:00-04:00
Rated

5

out of

5
by
Chiyopet
from
Worth it every time I use it
Came with my tab8 ultra and tab7 best pen by far I've used with a tablet
Date published: 2022-10-22T00:00:00-04:00
Rated

5

out of

5
by
Christopher
from
No Extra Tips and NOT DURABLE AT ALL
Like others, I have not had my tablet for an entire month, and the S-pen tip is wornout already. I'm a seminary student, so I take a ton of notes. I love my Tab S8 Ultra, but between the durability of the tip, the lack of extra replacement tips and the tool, and the terrible durability of the "Note View" cover...I'm disappointed in the accessories for my S8 Ultra, especially this pen.
Date published: 2022-10-11T00:00:00-04:00
Rated

5

out of

5
by
Ben R
from
Great Performance before Malfunction
With one week of use the tip is now broken. I was takng notes in my Probability and Statistics course and the S Pen snapped. Everything is still there but it does not function as it did. What are the chances?
Date published: 2022-10-19T00:00:00-04:00
Rated

5

out of

5
by
Kalginage
from
Great pen, terrible durability
The pen itself works great, but the pen tip isn't durable and not covered under warranty, meaning it's expensive to replace when the tip breaks after only 3 months of use. Replacement tips also last only a few weeks each.
Date published: 2022-11-07T00:00:00-05:00
Rated

5

out of

5
by
Nxive
from
Great versatility, cool features. Bad pen nib
I love the pen so much! Besides the tib bending. Ive always been happy with samsung products. My advice would be to put some more support in the tip, or a screw off to easily replace it. Other that great product. My favorite feature has to be the hover translate I wonder if your able to select how much of the text to translate or... a feature where it translates what's on the screen.
Date published: 2022-12-05T00:00:00-05:00
Rated

5

out of

5
by
S pen Sadness
from
Frustrating - Fix the NUB
i like my samsung tablet and was happy to add it to my workforce, but the s pen does not match the quality of their other products. the pen seemed cool at first. unfortuneatly, after a few weeks of light duty use it stopped working properly. the nub had broken and there is no way to replace this component on its own. one must buy a new pen, which is too pricey if it is not going to last or work properly. sadly this limits the capabilities of the tablet, as drawing and other apps will not work without it.
Date published: 2023-01-03T00:00:00-05:00
Rated

5

out of

5
by
Marc
from
Bad tips
Decent pen but where can we get replacement nibs/tips? The tip wears out so quickly on this pen! I had a note s pen that lasted 5 years! This pen lasted days of use before the tip was destroyed.
Date published: 2023-01-19T00:00:00-05:00
Rated

5

out of

5
by
MrArmagedon
from
Excellent Pen, nib wears down fast
i love the ability to take notes on my devices and have been using the note line since the note 2 "phablet" days. i have also owned multiple samsung tablets, and although i love this current one, the longevity of the spen nib/tip is lacking. mine has completely worn down, and unlike past versions, they don't ship any replacements in the box. it is a fairly expensive accessory, and to have it wear down this fast and not provide a way to change them out is unacceptable.
Date published: 2023-01-13T00:00:00-05:00