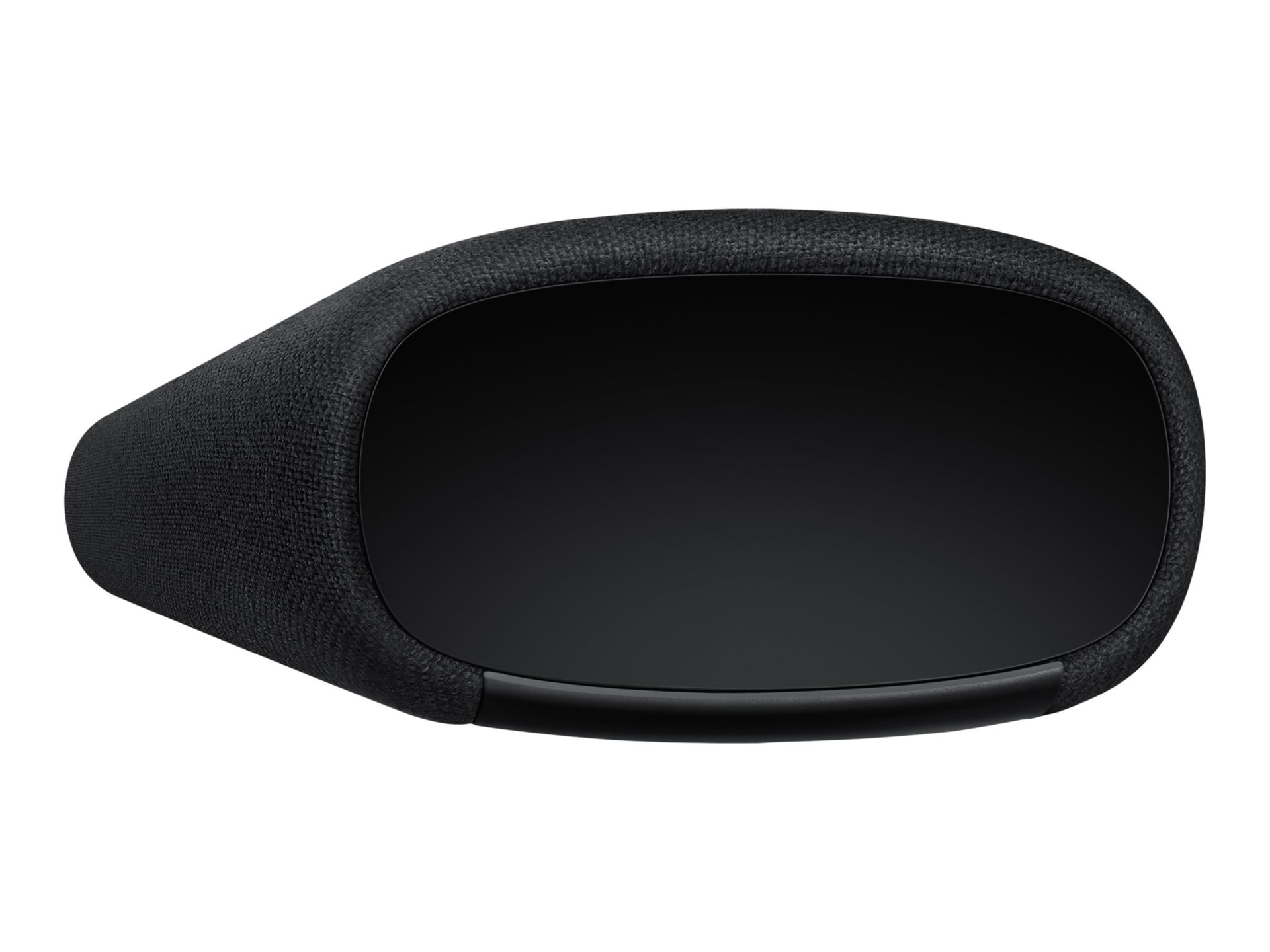 Quick tech specs
S40T
2.0-channel
Bluetooth
black
Sound bar
wireless
100 Watt
View All
Know your gear
Complete sound experience with Dolby Audio and DTS 2.0 Channel. All-in-one soundbar designed to complement any space.
Samsung HW-S40T - sound bar - wireless
is rated
3.00
out of
5
by
18
.
Rated

5

out of

5
by
Bah1004
from
Do not buy this product
my soundbar keeps saying digital audio in. can not get it to stop. on phone with customer service. they could not help me. said to download firmware. i am not able to do this on my apple computer. i asked for my money back or to please let me return and send me replacement. i elevated my issue to a supervisor . he would not help me. i told him ever since i got this product in december 2020 it has been a problem. he said i would have to send it in for repair and if they find no defects that i will be charged. so the solution is to send in my defective product and have to sink more money into something that never worked right to begin with. i eventually had to hang up. company won't stand behind their product and wants me to send back pay more and not replace my defective product.
Date published: 2021-05-22T00:00:00-04:00
Rated

5

out of

5
by
Peter B
from
Great Clarity for News
my 43" class mu6300 is mounted in a cabinet, the tv's speakers are facing the back. before the sondbar was installed, it sounded like i was listening to the news in a tunnel. this sound bar brought the sound forward & eliminated the echo. the clarity is much improved. also, the set up was very easy, i just plugged in the power & optical cable, the sound bar worked like magic. plus a bonus: 3 items all work with one remote, the tv, soundbar and the spectrum cable box. i am very pleased & so is my wife.
Date published: 2020-10-14T00:00:00-04:00
Rated

5

out of

5
by
AButler
from
Great Puechase
i purchased this soundbar to go with the samsung tv i bought earlier this year. it is perfect for use in my small living room. amazing sound and so easy to pair via bluetooth with my tv. love, love, love it!!
Date published: 2020-12-16T00:00:00-05:00
Rated

5

out of

5
by
SusanH
from
Horrible Product
the soundbar has always been problematic since it was purchased and several calls have been made to samsung because the unit does not always power on. we purchased the inexpensive unit for a guess bedroom that is rarely used and we had no idea how long the unit had not work until thanksgiving holiday weekend. the unit was delivered on august 9,2020 so unit is only 3 months old. i called samsung your company response is that only option is to send the unit for repair, the unit was defective from the beginning.
Date published: 2020-12-02T00:00:00-05:00
Rated

5

out of

5
by
Mike G
from
Great
absolutely love our sound bar. full, rich sound! the speakers with the t.v. just don't cut it.
Date published: 2020-08-02T00:00:00-04:00
Rated

5

out of

5
by
moun10climbr
from
Not sure I'm sold yet
i have a newish (~ 1.5 year old) 65" samsung tv, and with the speakers being in the back the sound quality isn't amazing. i found a deal on this soundbar during black friday and decided to give it a shot. i'm not sold yet... while i do hear the sound coming from the soundbar that's located in front of the tv rather than the built-in speakers, the sound quality isn't that great like 95% of the time (the other 5% of the time it is working as intended... not sure what i'm doing different). i'm going to unhook and then rehook up all the cables today and see if that makes a difference, but if not, this is going back.
Date published: 2020-12-01T00:00:00-05:00
Rated

5

out of

5
by
Dario
from
Great sound, poor user experience
on oct 2020 a new firmware has been released. evene if i register my product, there is no heads up on the new release... so i should check it regularly... once i found the new firmware, there are not release notes... so i dont have the slightest clue of what has changed... digging thorugh the reviews, it seems that a new function to disable power-on voice has been added (which i was expecting for a long time)... is there anything else that has been improved?
Date published: 2021-01-15T00:00:00-05:00
Rated

5

out of

5
by
Eliyah
from
SUBWOOFER withdraw
the soundbar was a nearly perfect match to my samsung tv. the only drawback is there is no optional support for a subwoofer. the sound experience would be so much more enjoyable if the device supported this option.
Date published: 2021-02-18T00:00:00-05:00
Rated

5

out of

5
by
Yenn
from
BT Sync with Movies is Not Good
i've been using this soundbar for the last week and i'm pretty disappointed. when i watch a movie from my laptop, the soundbar isn't synced up well. there is lag between the people talking and the words coming out of the soundbar. this makes for a terrible movie-watching experience. i've noticed this while watching netflix shows as well. since there is only an optical i/o, i can't even hook up an audio cable to my laptop to get precision sound+visual. i'm ready to pack it back up and return it.
Date published: 2020-12-09T00:00:00-05:00
Rated

5

out of

5
by
rpddsmith
from
good sound but annoying flaw
the sound from this unit is pretty good and i would have rated it at five stars if not for one annoying thing it does. randomly and without warning it blurts out "digital audio in" at full volume. i have tried resetting it, updating the firmware, still no solution. samsung tech's only answer is to send it back for inspection. i have read many reviews from people who are having the same issue so i'm sure it's not something wrong with just my unit. i want to stick with a samsung sound bar since my tv is also samsung.
Date published: 2020-12-06T00:00:00-05:00
Rated

5

out of

5
by
Amanda
from
Randomly turns on
randomly says digital audio on, full blast, all throughout the day. i've contacted tech support and they had us just turn the thing on and off for 20 minutes, not solving any issues whatsoever. i've tried updating, hard reseting, everything. nothing works. earns a star for sounding good.
Date published: 2021-02-21T00:00:00-05:00
Rated

5

out of

5
by
Aaron
from
Sound quality
the sound of the sound bar is amazing. however the sound bar has a voice that tells you when ot turns on the input setting and other things, that supper annoying. it also never goes off so every hour and a half i hear the voice yelling what input its on. i have had to unplug it when i sleep because it can wake me up.
Date published: 2021-01-07T00:00:00-05:00
Rated

5

out of

5
by
Ssmith
from
Not the sound bar for me
Very in happy constantly turns on and off through out the night no help from manufacturer or from seller.
Date published: 2021-03-01T00:00:00-05:00
Rated

5

out of

5
by
Kevinb
from
Good Quality
This is a good, high Quality small soundbar for use on a desktop computer setup or a small TV.
Date published: 2021-12-08T00:00:00-05:00
Rated

5

out of

5
by
Jp
from
Dissapointed.
It won't turn on when tv is on. Have to manually go to it. It doesn't sound any difference than just tv sound. Terribly disappointed.
Date published: 2022-05-05T00:00:00-04:00
Rated

5

out of

5
by
Fred
from
Sound bar works
Works very well with the Samsung TV. Only issue is that it is very loud when starting, to tell you that the sound bar is operational.
Date published: 2021-12-14T00:00:00-05:00
Rated

5

out of

5
by
MoHertz
from
Nice Sound Bar
Sound is very crisp and clear. Nice bass. My only issue is that I could not connect it to my TV via wifi. I had no choice but to connect it with the optical cord.
Date published: 2022-01-18T00:00:00-05:00
Rated

5

out of

5
by
Mike
from
Good stuff
The only issue I have with this product is that there is no bisual indicator, once you mount it to the wall, of volume/mode and input.
Date published: 2021-08-08T00:00:00-04:00