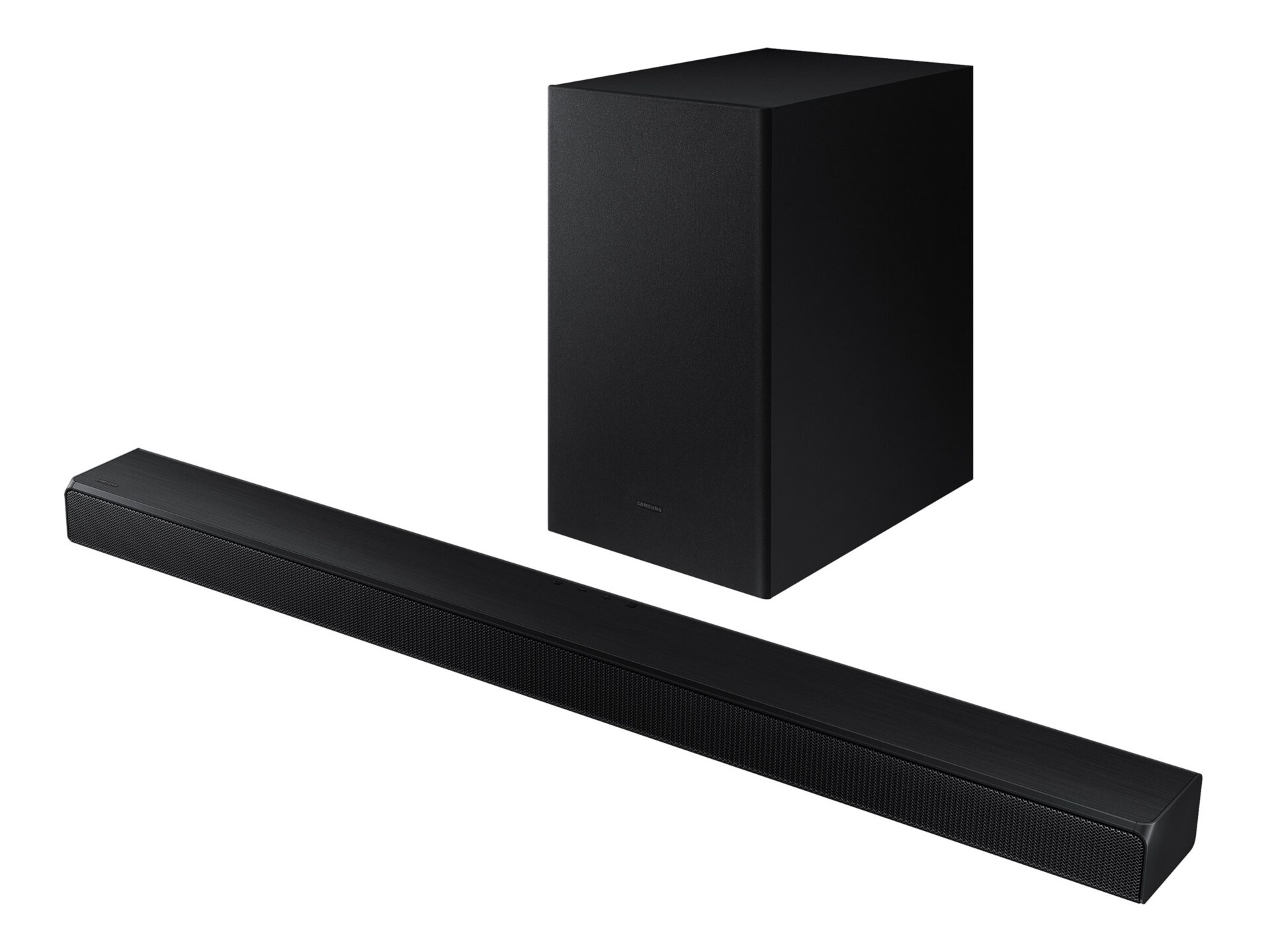 Quick tech specs
A550
2.1-channel
Bluetooth
black
Sound bar system
wireless
410 Watt (total)
View All
Know your gear
Immersive virtual 3D audio provided by DTS Virtual:X and Dolby 5.1.

• Adaptive Sound Lite optimizes audio for your favorite content, delivering an enhanced home theater experience.

• Wireless subwoofer is included so you can enjoy deep bass right out of the box.
Samsung HW-A550 - sound bar system - wireless
is rated
4.60
out of
5
by
20
.
Rated

5

out of

5
by
Aaron
from
Excellent
The sound quality for such a low profile device is great. Especially at this price point. While you can easily turn up the subwoofer to make its location noticeable the depth of lows coming from the bar makes the whole experience blend and immersive. While I do not need the companion theater set now because the room where this device is does not need it. I look forward to getting the rear speakers one day to have a complete theater like experience.
Date published: 2022-02-22T00:00:00-05:00
Rated

5

out of

5
by
JB
from
Great soundbar
Great sound and works great with music. The only reason I removed a star is because while watching any streaming service the soundbar disconnects once the app goes into a sleep mode. For example while watching a show on netflix if you pause for 20 mins netflix begins a slideshow of other shows. At this point, the soundbar disconnects even though I'm still in the app.
Date published: 2022-01-04T00:00:00-05:00
Rated

5

out of

5
by
David
from
Not worth the money
At this price point, this sound bar doesn't sound any better than generic ones that are hundred(s) less.
Date published: 2022-03-07T00:00:00-05:00
Rated

5

out of

5
by
Sarah C
from
Samsung soundbar
I love samsung I really love the sounds on soundbar & subwoofer 5 stars fr me
Date published: 2022-02-09T00:00:00-05:00
Rated

5

out of

5
by
Sir
from
Great
Easy plug in and great product
Date published: 2022-03-05T00:00:00-05:00
Rated

5

out of

5
by
Paralgldenise
from
Easy to install, excellent sound! Get this!!
We had a samsung soundbar that needed replacing . When I read the features of this Samsung A550 I had to get it. I am electronically challenged so I had my son come help me once it arrived.. Well it was so easy to hook up I really didnt need my son to help! My old samsung was not as easy. In addition we usually had the volume up to almost as loud as it would go on the old one. With this A550 we only had the volume to 4 or 5 and we had great sound. Then a soda commercial comes on; one we had seen many times. The sound was amazing! I heard things I didnt know were there! The pop of the can, the sizzle of the carbonation! It was crystal clear! It was like we were right there! We hooked up our phone to the bluetooth! You got to try the Cars! The subwoofer is amazing! Wow does the bass is awesome! We havent yet figured out how to hook this up to Netflix since we have a smart TV. It still comes from the TV speakers even after changing the settings. If anyone knows how to change this, please let me know. I highly recommend this product. Samsung you did yourself proud! I cant wait to watch a movie!
Date published: 2021-07-09T00:00:00-04:00
Rated

5

out of

5
by
cgbucs54
from
Amazing!!!
We are in the midst of remodeling and decided to move our TV and no longer use our built-in speakers. This provides amazing sound in such a small package. We are able to place the soundbar under the TV and it takes up little space, yet the sound is outstanding! The whole setup was quick and easy to install and we were watching movies in no time at all! Now on to the details, I love that we are able to connect all of our devices via Bluetooth easily. Our soundbar is used mostly for watching television and gaming. It provides a crisp, clear surround sound. The subwoofer is a great addition. Its wireless feature allows us to place where it is needed anywhere in the room. All in all very pleased with this product!
Date published: 2021-07-09T00:00:00-04:00
Rated

5

out of

5
by
Ahmed1390
from
All About That Bass
I really like playing music with this sound bar. I tried a few different songs from different genres and they all sounded very good. No matter what area of the living room i stood, the surround sound was clear, equal, and rich. My favorite feature with this sound bar is the Bass Boost. The boost adds smooth knocks to every song i played. Compared to my previous Samsung Soundbar M360, this one is much better. It has a better sleek design and wider subwoofer. The soundbar it self is about 3 inches shorter in length and about1/2 inch wider in width. I expected the remote to be different, not much has changed. Another difference I noticed, is that the LED lights on the A550 doesn't stay on while the device is on and active. Giving it a solid black soundbar through out. The volume on A550 is much louder than M360. Overall very happy with this purchase.
Date published: 2021-06-19T00:00:00-04:00
Rated

5

out of

5
by
dlubsindy1
from
I can finally hear the difference!
What a difference...we had a great setup and thought the tv speakers were enough...wrong! The sound is so clear and the addition of the subwoofer is something I will always have to have now!! The manual and setup was very clear and easy to do, took less than 15 minutes to get up and running! Great settings like game mode and being able to have multiple device connected via bt makes this sound bar really take it up another step!
Date published: 2021-07-01T00:00:00-04:00
Rated

5

out of

5
by
Umerkhan
from
Samsung HW-A550 2.1ch Soundbar w/ Dolby 5.1 / DTS
Samsung soundbar A550 is amazing and works really well with my TV. I would like highly recommend this product. It has got messmerizing affect which got me immersed into the music i was listening onto it. Manual provided with Samsung Soundbar is easy to understand and can be followed easily for the installation purpose The size of the soundbar is appropriate and looks really nice Wireless subWoofer is a great addition which really makes the combination perfect with the bass.
Date published: 2021-06-23T00:00:00-04:00
Rated

5

out of

5
by
Lunalora
from
It's a must have for home theater
Totally changed my home movie experience! The Samsung HW-A550 sound bar and bass brings true sound into our family room. The sound quality and clarity are great no matter what mode you use. Plus it looks very sleek and modern and not bulky. It's so easy to set up, I just plugged it in and it automatically connects through Bluetooth. Infact that you don't have to fumble with anything or have extra cords hanging is the best.
Date published: 2021-07-06T00:00:00-04:00
Rated

5

out of

5
by
ckjnbrown
from
Great sound and easy to install!
I really like this sound bar and subwoofer! It took my husband about an hour to install and mount below our tv. The bar looks FANTASTIC and hardly takes up any space at all! The Bluetooth is cool but I haven't been able to connect to my Alexa just yet. The sound is awesome and my teen boys thought there was a thunder storm when we were watching Jurassic Park the other night! I love not having to strain or tell everybody in the house to be quiet just to hear a show. I really like this sound at and I would highly recommend it to others! The remote is small and the subwoofer will look great on our bookshelves, disguised in some books so it's not even noticeable. It really adds to the sound quality of my already great TV!
Date published: 2021-07-03T00:00:00-04:00
Rated

5

out of

5
by
Lola5875
from
Very Impressive
I use the sound bar in my main family room and I was very impressed with the ease of the plug and play set up, but I was amazed when I turned it on. Wow! Excellent sound quality with movies, sports and music! Very clear and I love that with only this sound bar, there is surround quality sound. The subwoofer also provides the right amount of bass for enhancement. My favorite feature is the dual Bluetooth connection option so that both my husband and I can connect our phones without signing in/out. It was very easy to connect to the TV via WiFi. It picked up our network immediately. Using the app also provides a convenient way to adjust volume and switch play lists or channels. And, being able to use Amazon Echo to control volume and changing channels is a very convenient option as well. I have been very pleased with this soundbar and it is a must have to upgrade your home theater. I plan to purchase another one to upgrade in my bedroom as well!
Date published: 2021-07-06T00:00:00-04:00
Rated

5

out of

5
by
Cgaither78
from
Movie night!
Our family has movie night every Friday! We make s'mores order pizza and watch a movie. This sound bar has stepped our movie night up 100%. We use our Soundbar for movies and shows with action, and sports. Set up was really easy! We watched 10 minutes of one of our favorite movies and we are in love! We initially setup with the HDMI chord, but then decided to try Blue Tooth. Blue tooth set up was super easy! We were able to follow the directions and connected it both ways. We also paired it with our Amazon Echo which was super easy to do. We were able to navigate from the Amazon Echo with ease opening the app for the Soundbar, etc. I was so excited I turned on Spotify and my music sounds amazing! Samsung has a hit with the A550!! The sound quality is amazing. If you are a movie lover or just love listening to music, the sound is exceptional. The bass is great for movie watching or listening to your favorite playlist. We haven't owned a sound bar in awhile due to price and not having good experiences. This was definitely a different experience. We were more than pleasantly surprised.
Date published: 2021-06-23T00:00:00-04:00
Rated

5

out of

5
by
waywardt
from
Samsung HW-A550 is a great soundbar
Wow, Everything arrived in perfect condition, all included items were packaged very well and it was easy to figure out what everything was for. Setup was easy, plug it in, plug in the woofer and it paired together instantly without any work needed from me. The included manual was a little lacking, no mention of the different sound modes, etc. I switched it over to DTS and immediately noticed how much better the sound was. The range seems so much better than the previous bars used at this price point. The remote is very easy to use, and isn't overwhelming with buttons, etc. And the volume range is very large, I listen to many different sources ranging from a media server, to streaming online to live and recorded media. And it's nice to b able to adjust it very easily. Having separate volume controls for the subwoofer directly on the remote is a nice touch as well. It fits in the curve of your hand very well and it comfortable to use. Adding the controls to my universal remote system was easy as Samsung uses the same basic commands for most of its remotes. It doesn't matter if you are listening to music, watching the news, or watching a movie, this soundbar really fills the bill. It adds a great amount of depth and sound without a need for a bigger audio system or a bunch of wires. Also, the soundbar sits very low, so it doesn't block the bottom of most screens. It's all black and the display, while bright and easy to read automatically dims and turns off so there is no visual distraction unlink other bars I have used in the past. The subwoofer is a nice size, easy to place and it looks very nice in the room. It is also all black with no color accents so it just blends in with the rest of the room. The amount of bass it puts out, even at lower settings is pretty surprising. But being able to easily adjust the amount of bass with the remote is a vast improvement to having to physically adjust it on the speaker itself. It also includes a nice pair of mounting brackets to mount this to the wall, but I didn't need them for my application, but they are very solid and would easily support the speaker. This replaced an existing soundbar, and the difference was night and day. Between the appearance, features, and sound fidelity this soundbar offers, I couldn't be happier.
Date published: 2021-06-23T00:00:00-04:00
Rated

5

out of

5
by
brandisweet
from
Great Sound
My husband and I received this Sound bar. Like 2 big kids at Christmas, we couldn't wait to try it out. I am hard of hearing, so I find sound bars help me hear better when watching TV. I have to say we have tried 3 different sound bars so far, and this one is the best! I can hear so much better, even when they are whispering. The clarity it brings to watching TV is amazing. I hear the background noise in the movies and everything. No more asking "what did they say?" The volume does not have to be higher than a 12 for me, usually on other sound bars I was on 22 to hear. It looks sleek and goes well with our décor. Truly, for the price, this is the sound bar I recommend to all my friends and family. The remote that comes with is very User friendly, small, sleek and so easy to command. No extra buttons for God knows what like some other remotes I have received. We personally just use 1 master remote, and we found that the sound bar integrated easily to the Master Remote. Set up was a breeze, easy to read manual, great customer service if you need further help. there is not enough ways for me to say how much we love this sound bar. We will be replacing the other 2 sound bars in the bedrooms with this model. Hooks up easily to WIFI and Bluetooth. Such a User Friendly product. After having a few more days to play with our sound bar, I am still over the moon, on how well it makes me feel like I am using surround sound without having to engage the other speakers. Watching horror movies, really makes you feel that you are right there. I tried gaming on the TV with our XBox and found the sound to be perfect! My husband posted pics on his review. We both found this model to be so good that we are both writing reviews. That way you can get different aspects and views. Mine from a person that has hearing issues, and sensitive to overly loud. My husband comes from an IT professional, and super into new tech. Even just using the TV for music, is such a better quality than our previous sound bar. Our friends and family depend on our knowledge when buying any new Tech, appliance etc. That is because we keep up on what is new and worth the money. Samsung is quickly becoming a favorite brand in our household. I think Samsung is just getting better, with every new product they make. I can't wait to see what they make next!
Date published: 2021-07-12T00:00:00-04:00
Rated

5

out of

5
by
Dragracinprincess
from
Amazing sound
The Soundbar and subwoofer is completely awesome. I upgraded my old Samsung soundbar and the difference between the two is astonishing. The connectivity can be connected to the TV many ways it can be connected via Bluetooth if you have that option it can be connected infared connection, aux cables or even HDMI. The sound that comes out of this is definitely scared or quality. Connect your phone via Bluetooth. It says that you can connect your Echo dot but my Alexa Echo Dot cannot find my soundbar so I'm unsure how to do that I'll have to read into that a little bit more. I highly recommend this product. My neighbor here's my base and he says he needs to get a soundbar just like this.
Date published: 2021-07-12T00:00:00-04:00
Rated

5

out of

5
by
kanderson1977
from
Amazing sound!
I was a little wary about what the quality might be when it was set up in 3 minutes flat, but I was so wrong!! Around 2 1/2 feet long, it packs a punch! The set up was SO easy and it hooked up to our WiFi and Bluetooth with zero issues. This has made movie night a thousand times better! We feel like we are in a movie theater right in our living room!! The sound is clear, crisp and astonishing! The subwoofer gives that boom that you feel in your chest at a movie theater. I am thoroughly amazed and extremely happy with the ease of this product.
Date published: 2021-07-08T00:00:00-04:00
Rated

5

out of

5
by
t-totallin
from
Worth the money!
This system has good treble, mid-range, and bass sounds. There is a decent amount of adjustment to help you fine tune the sound. Hook up was simple. The system powers up when the television is turned on. This is a good system.
Date published: 2022-10-20T00:00:00-04:00
Rated

5

out of

5
by
Geoff
from
failed out of the box
Hard to support a product that fails in its first use.
Date published: 2022-06-21T00:00:00-04:00