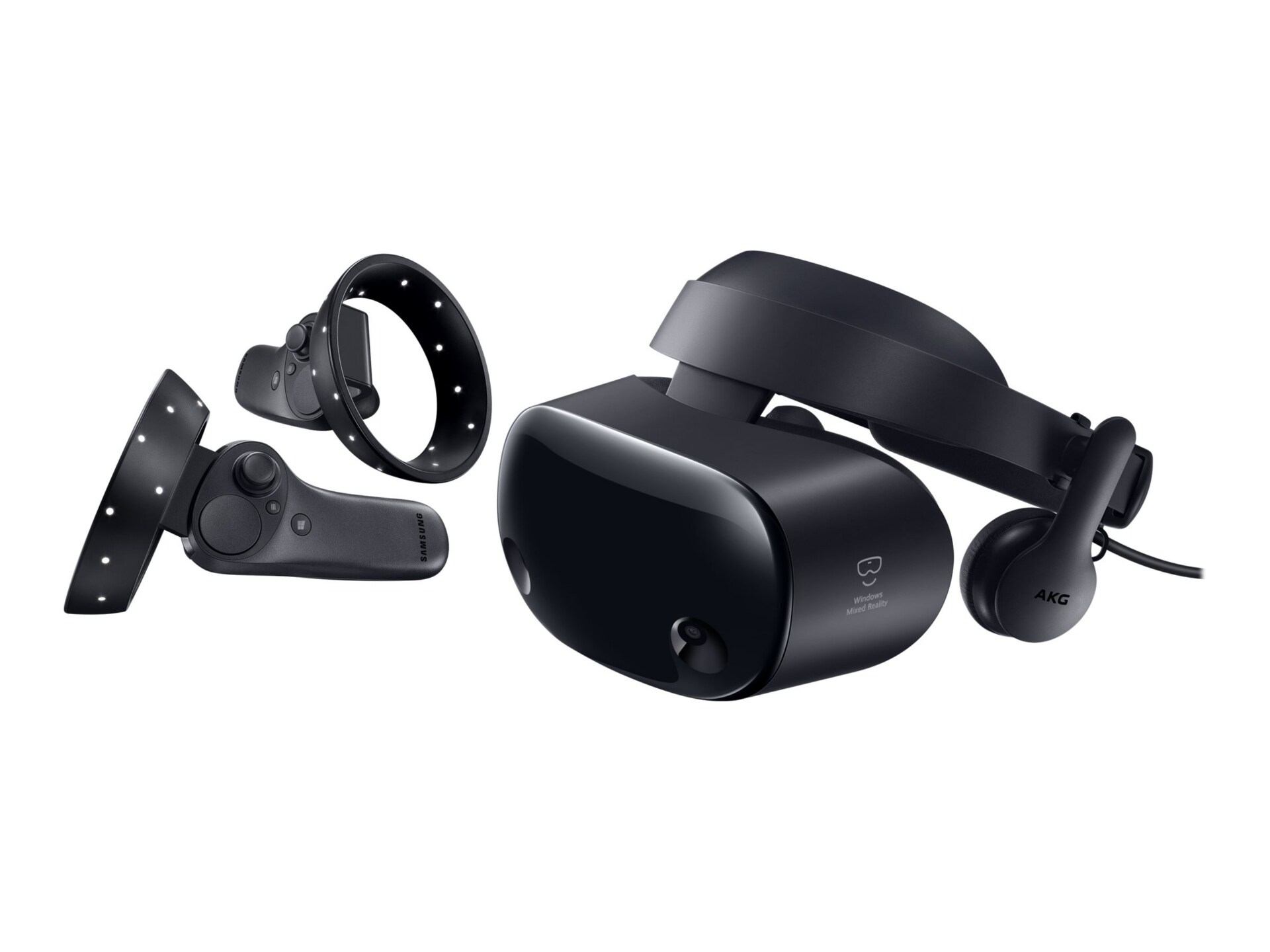 Quick tech specs
Virtual reality system
2880 x 1600
headphone
portable
HDMI
for Notebook Odyssey NP850XBC
View All
Know your gear
Immerse yourself in the stunningly crisp detail of a dual-AMOLED display, perfectly complemented by rich and dynamic AKG 360° Spatial Sound. Just plug it in and go - it's lightweight and easy to set up in minutes.
Contact Sales Assistance
(800) 800-4239
,
Monday-Friday 7am-7:30pm CT
Samsung HMD Odyssey + - virtual reality headset
is rated
4.33
out of
5
by
9
.
Rated

5

out of

5
by
KonradDE
from
Simply WONDERFUL
Fantastic device, screen-door effect practically eliminated. Beautiful OLED screen with deep blacks, great colors. Get Odyssey+ and get "Apollo 11 HD" Moon landing on Steam. You will be amazed like never before in your life with Odyssey+ and Apollo 11 HD experience.
Date published: 2018-12-09T00:00:00-05:00
Rated

5

out of

5
by
JayyTKO
from
Great Features!
I bought this a month ago and I'm so happy I did...
Date published: 2019-04-01T00:00:00-04:00
Rated

5

out of

5
by
pinoepel
from
Best Display so far
Ordered the o, and now o+ and Im really impressed. Now we have it all, but we just have to unify the technique. The lenses and IPD adjustment of StarVR, the case a mix of Oculus / Sony, please with modular cushions. The Knuckles controllers from Valve, as well as the tracking. Software SteamVR, but with neat virtual desktop. Or WMR with native VR 3D desktop for better and faster working in VR. And of course the ingenious anti-SDE displays from Samsung, but again a little more resolution. Eyetracking and modular Leap Motion, wireless module from TPCast. Samsung, I think you can do it. You can have a great future in the VR market (Europe too!). Let it cost you something! Best time is now!
Date published: 2019-02-11T00:00:00-05:00
Rated

5

out of

5
by
tr3yj640
from
Horrible Product
I received this product one day ago, and upon trying to use it, it required a firmware update. The firmware failed and the headset is now bricked. unusable, through no fault of my own. After 1-2 hours on support with Samsung getting transfered multiple times they said I have to send it in for repair which would take 10 days. I can only assume the headset is like the support, JUNK.
Date published: 2019-06-19T00:00:00-04:00
Rated

5

out of

5
by
sos710m
from
We are having so much fun!
This headset has been a blast. The games play without giving my eyes fatigue, though I still get motion sick in the Windows MR home area. The controllers desperately need locks on the wrist straps to make them more secure and the foam padding is stiff enough to be uncomfortable if the headset isn't sitting just right on my face.
Date published: 2018-12-29T00:00:00-05:00
Rated

5

out of

5
by
Neznayka
from
Amazing home intertainment
I'm using it more and more as a home intertainment replacement rather than playing games. I use it to watch youtube and movies, and actually some coding in windows mix reality. Awesome product. It got a lot better to previous head sets. I can only imagine what more to come. I'd say the most import feature of it is resolution improvement and beautful colors. I have OLED TV and I often use this instead to watch my movies. Only one thing that I hope will get improved in future is field of view and obviously higher resolution, would make experience even more immerse.
Date published: 2019-03-18T00:00:00-04:00
Rated

5

out of

5
by
EJPIII
from
Works OK, until it doesn't
Has worked OK for about a year and all of the sudden the controllers are no longer recognized. No matter what troubleshooting performed, no success getting them recognized. They show up in the systemn as paired. Uninstalled drivers, hardware, software and reinstalled. Now I have a headset and no controllers. BUYER BEWARE
Date published: 2019-03-02T00:00:00-05:00
Rated

5

out of

5
by
dmacell
from
great screen! looks fantastic!
Too bad it did not fit my face and the light bleed was terrible. required velcro straps to improve the design to make it work. Also the cables are short and good luck finding extensions that work with it. Expect to spend another 50-75$ making it usable for real games
Date published: 2018-11-30T00:00:00-05:00
Rated

5

out of

5
by
SLK666
from
Great Headset!
Upgraded from Rift. No SDE, nice visuals and good hardware. The issue is in the software. WMR requires tinkering. I had blackouts, no display in HMD after using for 15-20 mins. Had to go to Windows Mixed Reality troubleshooting guide to fix the issues. Now its rock solid. Highly recommended but be prepared to troubleshoot software issues initially.
Date published: 2019-05-02T00:00:00-04:00
Rated

5

out of

5
by
JMPW
from
It's just about exactly as good as I expected
The very first thing I did with this headset, before even plugging it in, was test the fit for comfort and light bleed. On my head, the unit is comfortable, but I had a bit of light bleeding in from the sides and nose. Since the padding is just attached by velcro, I took it off and adjusted the pad so that the bottom edges just met the nose flaps. Doing this one simple thing eliminated all light leak from the bottom and sides. I put on the headset (still not plugged in,) and I was in complete darkness. It was perfect.Then I proceeded to plug it in. I had an Acer unit before, so I just switched out the connectors and put my other headset in my closet for safe keeping. I turned on the controllers and my system did a small configuration update and then I was ready to go. I didn't have to change any settings, I didn't have to go through room setup or anything. All of my settings transferred to the new headset and I was in-game with the click of a button.As far as picture goes, the anti-SDE filter greatly reduces SDE, but does not entirely eliminate it. Another thing I noticed is that the pentile OLED matrix is more visible when viewing horizontal lines than the RGB stripe matrix used in the Acer's LCD screens. Basically, when looking at horizontal lines, you will see a slight bit of pixelation. With that said, the colors and blacks are much deeper and more vivid, to the point that it negates any slight pixelation you may see. Text and fine lines are a bit more blurry due to the anti-SDE filter, but once you get used to it, it's not much of an issue.I know it sounds like I'm bashing the headset, but I truly do believe the upgrade is worth the money. I paid 4/5 of retail with a generous financing offer, and I am very happy with my purchase. This is truly the top of the line for current VR tech, and I highly recommend it to enthusiasts and casual users alike.
Date published: 2019-03-21T00:00:00-04:00