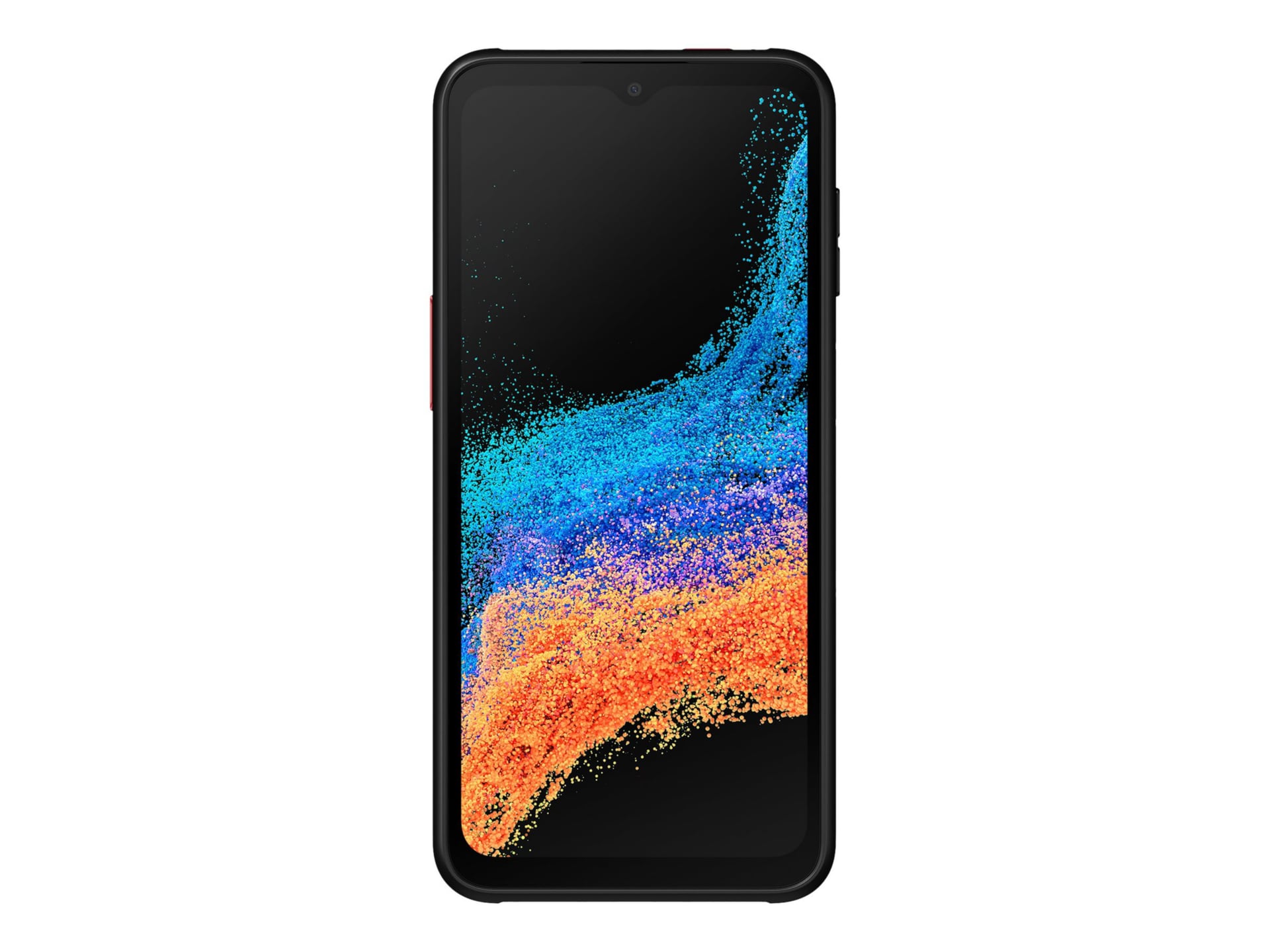 Quick tech specs
5G smartphone
RAM 6 GB / Internal Memory 128 GB
LCD display
2408 x 1080 pixels (60 Hz)
8 MP
black
dual-SIM
microSD slot
6.6"
2x rear cameras 50 MP
front camera 13 MP
View All
Know your gear
Built to be durable, secure, and productive, Galaxy XCover6 Pro gives pros the confidence to do more in the field and beyond.

Galaxy Xcover6 Pro combines Octa-core processing power with 6 GB of RAM for fast and efficient performance for the task at hand.

The XCover6 Pro will keep you ahead. Out in the field or inside the office, the XCover6 Pro supports 5G as well as Wi-Fi 6E for hyper-fast connection anywhere, anytime.
Samsung Galaxy Xcover 6 Pro - black - 5G smartphone - 128 GB - GSM
is rated
3.20
out of
5
by
10
.
Rated

5

out of

5
by
JonR
from
Disappointing
Bought one when it became available in the US hoping for a high-end phone that would last a decade. Finally got around to setting it up and using it. The overall experience is about average for an expensive phone: it's fast, the fingerprint scanner works well, screen colors and clarity are just fine. Unfortunately, there are a few deal breakers that are unacceptable for a phone at this price point that have pushed me toward buying a different phone and eating the cost of this one: - The battery life is sub-par. Sure, I could carry around an extra battery and swap it out, but the point of shelling out for a removable battery was to be able to replace it every 2-3 years. What's the point if the default battery life is about the same as a 2-year-old non-replaceable battery? - The Eye Comfort Shield acts more like an Extra Eye Strain Mode that throws a hazy, washed-out, yellow overlay on everything. I sit in front of screens all day and have relied on my old phone's blue light reduction for years. After some digging, it looks like this is a software issue with non-OLED screens that Samsung doesn't think is worth addressing. - It uses some convoluted "Sleep Mode" that packages bed-time (with some settings like DND and Eye Comfort) and wakeup alarms, but the wakeup alarm doesn't always sound. I've missed work meetings and have resorted to using my old phone for my wakeup alarm. I was really excited to finally get a high-end phone with a removable battery. Now I'm really disappointed I got this and can't return it.
Date published: 2023-03-10T00:00:00-05:00
Rated

5

out of

5
by
Crash
from
Rugged with replaceable battery and sd storage
I had an s5 for years to take advantage of the battery and added storage. I decided to switch from my s20 ultra to this with the battery going. It seems decent so far. I wonder about how the fewer bands will affect coverage compared to the flagship models. The one major complaint about the phone is the lack of support for it since it is not the flagship s23. I have an issue trying to voice text using Android auto. I posted on a Samsung support forum and got no support at all. I had it working once but something changed. There seems to be a lack of support since I didn't pay a fortune for it. Hopefully that changes.
Date published: 2023-03-18T00:00:00-04:00
Rated

5

out of

5
by
Scram
from
Why only one sim card slot??
Bought unlocked version when it was released to the states. Great phone overall, but why only 1 physical sim card slot??? Online photos of other xcover6's with two. I bought this for international travel and now i have to try to mess with a physical sim and a digital.
Date published: 2022-11-19T00:00:00-05:00
Rated

5

out of

5
by
hokieMark
from
Great features return to phones
Been using the phone for 5 days now. I was super excited for a phone that returned a few of my favorite features, like a replaceable battery, microsd card, headphone jack. So far those features are great. I'm coming from a pixel 6 and like this screen much more, the 120Hz is smooooth. This fingerprint scanner is very fast compared to pixel 6 or my work galaxy 10e. Still waiting for samsung to release the pogo dock shown in the original release video. I love the rugged feeling of the phone really hope this starts a trend for phones, I'm not a fan of all the glass backed phones, too slippery too easy to crack. I do miss wireless charging, i'm just so use to dropping a phone on a wireless charger to top off throughout the day. Overall though really like the phone hoping can keep this one for a long time.
Date published: 2022-11-05T00:00:00-04:00
Rated

5

out of

5
by
HokieMark
from
Great features for a good price
So far have had for a week. Liking so far. Love having the microsd card and headphone jack back in a phone. Coming from a pixel 6, this has a much better screen and better battery life. Is it the fastest phone ever, no, is it the best camera ever, no. But that's not the point of this phone. I love the rugged feel. This is a phone you know isn't going to crack when you drop it.
Date published: 2022-11-05T00:00:00-04:00
Rated

5

out of

5
by
John
from
It has it's plus and minuses
I had the Samsung Galaxy Xcover Pro and I loved it the only thing I did not like about it was slow. The 6pro phone is faster and the photos look better. I don't like the fact that is is hard to hold, it is very slippery feels like plastic and is longer. The older phone felt like rubber and it was easy to grip it. Xcover 6pro screen display has more of a pink tent to the imagines and you cant adjust the color. The 6Pro comes with a data transfer cable witch is nice BUT No USB charging cable and power block. Please Samsung include data transfer cable and charging block!!! Also the notifications and ring tones are very different, I like the old ones better.
Date published: 2022-12-27T00:00:00-05:00
Rated

5

out of

5
by
irritated
from
Typical Phone BS
The phone has a cover of some kind over the SD card slot that is a pain, can't get a micro SD card in the phone, and no informationin the manual about it. Samsung acts like the phone doesn't support additional storage.
Date published: 2022-12-09T00:00:00-05:00
Rated

5

out of

5
by
Peter
from
Almost perfect, need FM radio and InfraRed remote
Almost perfect. This is the list of features I value the most: 1. Swapable battery; 2. uSDXC cards support; 3. JACK audio port; 4. good camera; 5. Gloves friendly; 6. DEX; USB-C 3 (SuperSpeed). But there are a few features I miss: 1. FM radio (present in XCover5, would like also DAB+ support); 2. IrDA (remote emulator (record and transmit) - very useful when you need control AV devices and remote is missing); 3. Would welcome ECG ( sometimes there are emergency situations - integrated something like: AliveCor Kardia Mobile 6L) with pulse oximetry (I need it to be used on others so no, watch is not an option); 4. Support for Gear360 (2016) - as I still use them (I have six and are still very useful) - there is cracked version of app (smartphone independent) it can only control device but does not stitch; 5. Qi charging also saves the USB-C port, so would welcome it; 6. as in Galaxy Tab Active4 Pro I would love it to work without battery - just plugged to charger.
Date published: 2023-04-28T00:00:00-04:00
Rated

5

out of

5
by
Ricki
from
Excellent. Another Successful For Samsung
Being a tech specialist I have the opportunity to work on several kinds of devices. As I'm researching or just watching learn to videos on YouTube, you need a device that can process information as fast as the individual. Great Job
Date published: 2022-12-31T00:00:00-05:00
Rated

5

out of

5
by
Roswell
from
Not rugged at all stay away!
Great phone but not rugged at all! T back cover comes lose very easily leaving the phone vulnerable! I discovered this when my grandson sprayed me with the hose and just enough water got on to kill the phone! If you have one of these get a case that will keep the back secured! What a waste of $600 my non rugged phones could handle more water than this one.
Date published: 2023-05-10T00:00:00-04:00