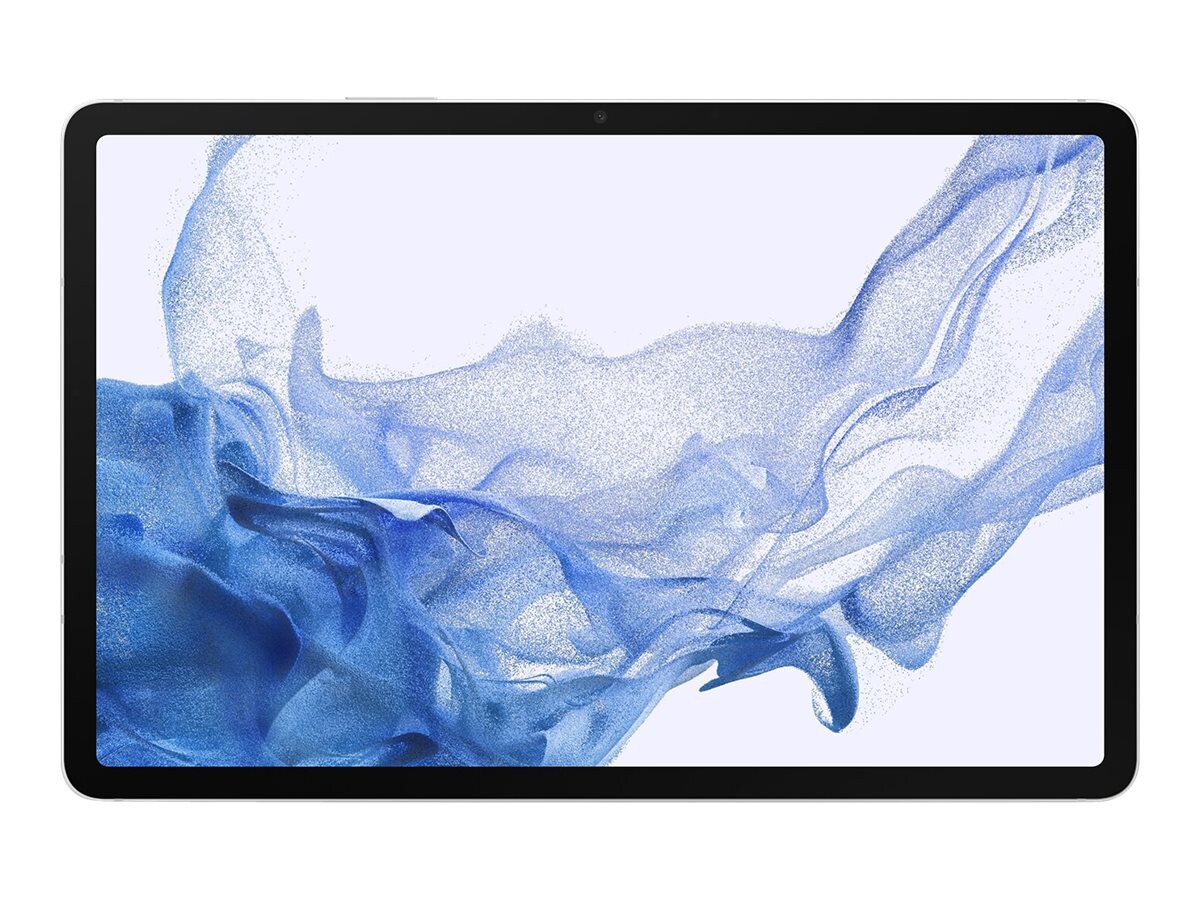 Quick tech specs
Tablet
256 GB
microSD slot
Android
12.4" Super AMOLED (2800 x 1752)
silver
View All
Know your gear
That plus on the Galaxy Tab S8+ really adds up to something. You get everything on the Galaxy Tab S8, plus a bigger 12.4" sAMOLED screen. A bigger battery. And an on-screen fingerprint scanner. Built to take fun on the go.
Samsung Galaxy Tab S8+ - tablet - Android - 256 GB - 12.4"
is rated
4.50
out of
5
by
10
.
Rated

5

out of

5
by
oldyeler59
from
A great product, from a snake of a company
Great tablet that is really good at what it does. A shame it's put out by a company that doesn't believe in values and honor warranties when something is actually their fault. So far it's the only Samsung product I have that hasn't failed yet. And I pray that it doesn't go out, with the way their warranties are written to make everything the customers fault.
Date published: 2022-11-09T00:00:00-05:00
Rated

5

out of

5
by
Taylor
from
Great features!
I bought this to use for school and I do not regret the decision. I use it for everything from taking notes to editing CAD files and it has not disappointed!
Date published: 2022-04-11T00:00:00-04:00
Rated

5

out of

5
by
Marc
from
Good Hardware, hoping for better software
Samsung makes some of if not the outright best tablet hardware. The screen is perfect, and the weight distribution makes what could be an unwieldy device easy to carry. I find that I prefer the keyboard case with the track pad to the one without. Android is at best OK on tablets, despite Samsungs useful improvements.
Date published: 2022-04-12T00:00:00-04:00
Rated

5

out of

5
by
oldyeler59
from
Excellent tablet, with awesome features
I bought a galaxy tablet s7 FE edition, and I didn't think these tablets could get any better. I'm glad to know that I was wrong. From the awesome AMOLED screen to dolby quad speakers, this tablet has become my daily driver. Would highly reccomend
Date published: 2022-04-12T00:00:00-04:00
Rated

5

out of

5
by
Wsolomon
from
Best android tablet so far.
I had the tab 7 fe. And switched to this one and man can you feel the difference espally with the oled screen. Dex runs Fantaastic with the 8gb of ram.
Date published: 2022-04-12T00:00:00-04:00
Rated

5

out of

5
by
Slammy
from
Fantastic Tablet
Fast, easy to use, and great for gaming! Easy to use, good amount of RAM for even the most strenous of tasks
Date published: 2022-07-01T00:00:00-04:00
Rated

5

out of

5
by
Marie
from
Horrible green tint
Horrible green tint making it useless for movies, which is a pretty basic function, got this on two units
Date published: 2022-05-05T00:00:00-04:00
Rated

5

out of

5
by
Eesahmali
from
GREAT all round usage.
I had thus for a month now, and I have to say it is one of the best tablets, if not the best. THE DISPLAY is unmatchable. 120 hz with this resolution is all we needed. The cpu, gpu, and ram speeds are just a bonus. This is a great tablet for work, school and just binge watching shows. The keyboard case is amazing. The keys are great for typing and it is minimal and hides well. The pen is amazing. It is super fast and accurate, almost non-existant delay. AWhich is perfect for drawing and taking notes. My favorite part has to be the speakers. This is what high end tablets lack, a great sounding speaker. AThe tab s 8 plus has one of the best speakers on any device. Dolby atmos Is a plus. Sound is great and gives you a surround sound feel when watching movies. This is a great investment for anyone looking for a on the go work station, streaming device , sketch pad and gaming device.
Date published: 2022-04-13T00:00:00-04:00
Rated

5

out of

5
by
Grayfree
from
Great Tablet. Best out there
I just got this and it is the best tablet I have had. It is so thin and works great
Date published: 2022-12-26T00:00:00-05:00
Rated

5

out of

5
by
CarlosMG10
from
The Best tablet
I bought the I bought the tab S8+ in July and I do not regret it, it has been the best product I have bought, since it is useful for my entertainment and my educational process at the university
Date published: 2023-01-20T00:00:00-05:00