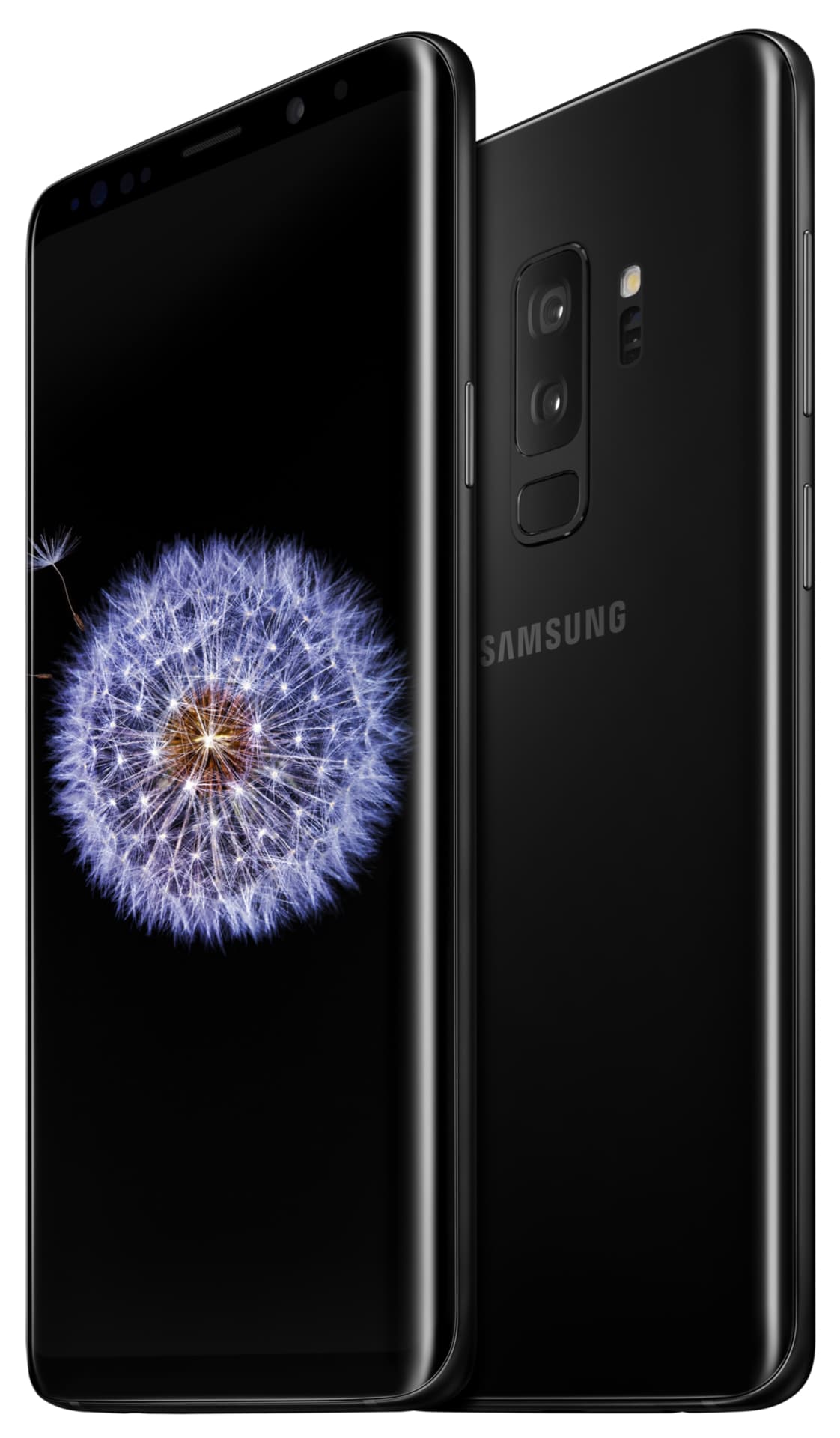 Quick tech specs
Smartphone
64 GB
CDMA / GSM
2960 x 1440 pixels (570 ppi)
RAM 4 GB
Android
midnight black
4G LTE
microSDXC slot
5.8"
Super AMOLED
12 MP (8 MP front camera)
unlocked
View All
Know your gear
Reimagine how you work and play. Make it easy, keep it secure and get more done with the Galaxy S9.
Contact Sales Assistance
(800) 800-4239
,
Monday-Friday 7am-7:30pm CT
Samsung Galaxy S9 - midnight black - 4G - 64 GB - CDMA / GSM - smartphone
is rated
4.35
out of
5
by
51
.
Rated

5

out of

5
by
Candygirl415
from
Custom message tones gone
I just upgraded from my S6 to the S9. While I am still learning the new phone, one thing I absolutely HATE about it is that you can't set custom text message notifications for your contacts. That's very important for me to have, enough so that if Samsung doesn't update the software and add that option soon, I will be returning this phone and going with an iPhone. I have never had one, only had Galaxy, but this option is a must for me. I need to know who is texting without dropping everything I am doing to look at the phone. Samsung PLEASE put this option back. It's ridiculous that you took it off. I know I can download another messaging app in order to have custom notifications, but I shouldn't have to do that. It was an option before and should be one now!!!! Please fix it, then I will leave a better review.
Date published: 2018-04-25T00:00:00-04:00
Rated

5

out of

5
by
Chris07
from
upgrade from S6 to this S9 I fell in love with it
I was struggling with my Samsung s6 model due to no more updates from Samsung and my camera had a crack I had to upgrade so i did the S9 its a nice phone but I believe its still lacking camera benefits the S6 had a better camera in my opinion 16MP to S9 12MP believe me I can tell the difference just some changes here and there also that i believe they should try making Bixby work out its so irritating [This review was collected as part of a promotion.]
Date published: 2019-01-06T00:00:00-05:00
Rated

5

out of

5
by
John h
from
Awesome camera
Best 360 camera ever, it is a awesome camera for almost anything that you can think of
Date published: 2018-10-04T00:00:00-04:00
Rated

5

out of

5
by
Moe siz
from
Only good thing is the camera
Battery dies about 10% per hour when not in use and battery saver on. Recently had 3 phone updates on a tow and the phone got worse with each one. Not durable at all, not easy to use. Wood treasure for a 5 year old flip phone [This review was collected as part of a promotion.]
Date published: 2018-11-17T00:00:00-05:00
Rated

5

out of

5
by
MisterX83
from
Great phone but could be better
This phone is great in many ways. The new camera technology is a huge improvement. Huawei can throw in 100mp camera into their phones and it still won't be a competitor. The stereo speakers sounds beautiful. The main gripe I have is with the design of the phone, don't get me wrong it's an attractive design that feels good in the hand. What I can't understand is why the phone is so much heavier and thicker than the S8? It has the same 3000 mah battery! Even the S7 Edge has a 3600 mah battery and weighs less than S9, while keeping that sexy sleek thin design that I love. For me that is a deal breaker because it doesn't feel as comfortable to hold, especially once you put a case on. Another thing I'm not so pleased with is, what's up with the extra long phone? No real point to have a long screen, we will be scrolling down or up either way lol and that gives us that weird 18:9 ratio. I feel like Samsung did the best job on the S6 edge when it comes to overall specifications of the design with it being much lighter, thinner, etc.. but if that stuff doesn't bother you as it did for me by all means this is the best phone to buy on the market right now and you should buy it.
Date published: 2018-03-30T00:00:00-04:00
Rated

5

out of

5
by
choraskin01
from
Fast then my iphone but certain features sucks
I was happy with the phone until ads pop up too frequently. Health aps should talk to samusng health so you can consolidate your data. Certain features related to aps suck. Too many malwares thry google play
Date published: 2018-07-15T00:00:00-04:00
Rated

5

out of

5
by
AleshaH
from
Common Moisture Detected problem!!!!!! WONT CHARGE
I bought this phone in November 2018 and now June 2019 stopped charging saying there is moisture in the port! I had to go buy a wireless charger which is a hassle if I want to use it in the car ect. my mom has a Note 9 and its doing the same thing. While doing research I have seen this problem pop up a lot. Will be thinking about a different brand next time.
Date published: 2019-07-08T00:00:00-04:00
Rated

5

out of

5
by
MarkyPoo24176256
from
Terrible phone
Listen it does all the basic stuff. But the camera is TERRIBLE. If you record concerts or anything you will be EXTREMELY disappointed. The audio it picks up whilst taking video is absolutely terrible. I'm in a band- I shoot video. Basically the symbols always pick up over everything else and it sounds like garbage.Also there is this button for Bixby- some app that you can't get rid of.Also I can't upload music onto my phone from my laptop- it doesn't recognize it at all. I can't even get files from my phone to my computer (so yes I had to email all 100+ photos I've taken via email)It's terribleBottom line- it's horrible, not what I expected at all.
Date published: 2019-02-20T00:00:00-05:00
Rated

5

out of

5
by
LadyOfQ
from
Almost Perfect
I love this phone. It's cute, and amazing in almost every way. The only downside is the screen. It scratches easily, and any screen cover makes typing hard. Also the preloaded software is pretty pushy.
Date published: 2019-02-25T00:00:00-05:00
Rated

5

out of

5
by
nwkrks
from
SO LOOKING FORWARD TO GETTING ONE OF THE BEST HAND
We got our phones in early May. They were awesome. A couple of days later we recieved an update from Samsung (that APR 1st update). Our phones began roaming, the "pending email" icon is stuck, most of our app notification updates popup but don't make a sound. I'm thinking of returning them and try to find something more suited to our needs.
Date published: 2019-05-17T00:00:00-04:00