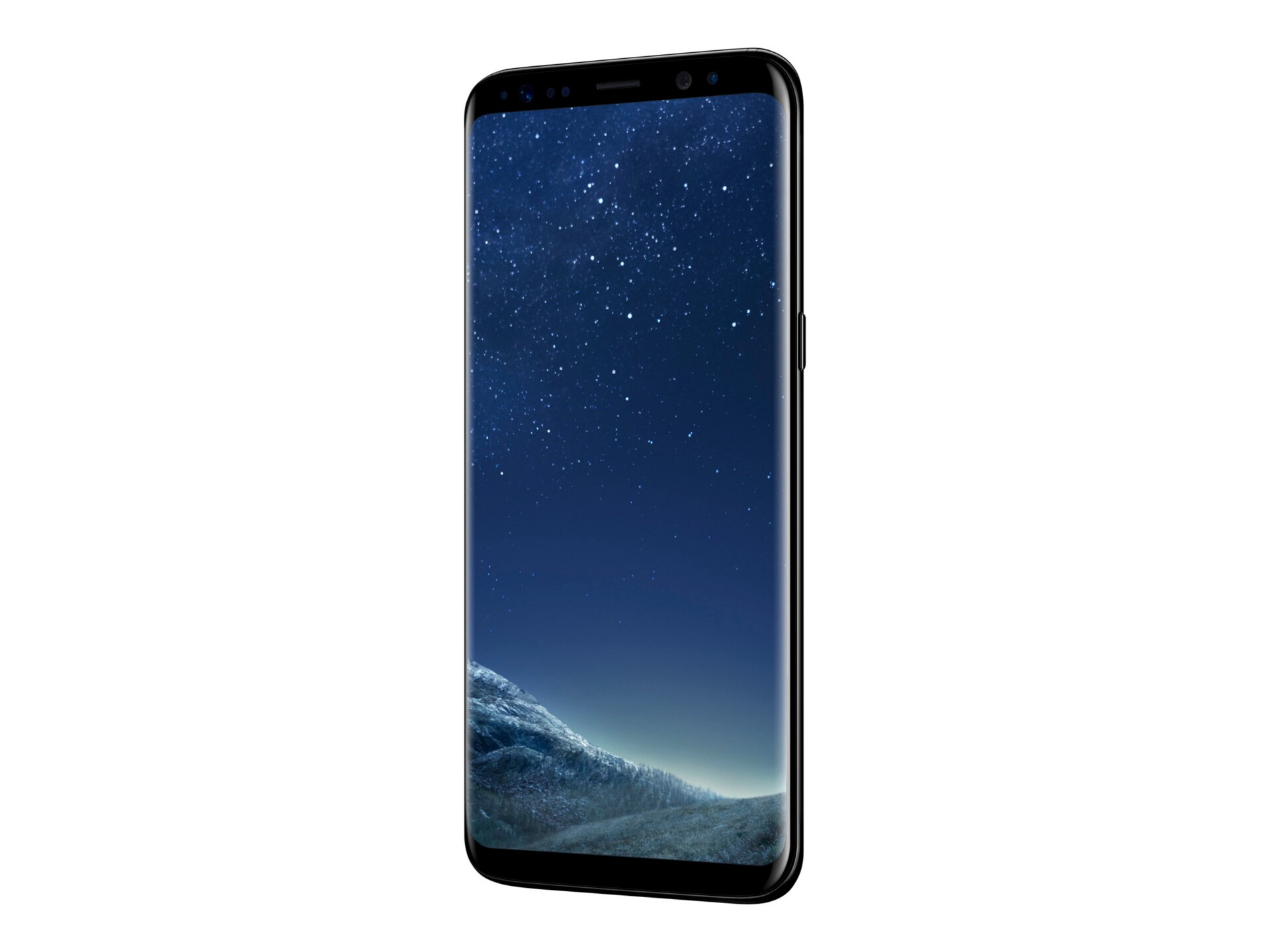 Quick tech specs
Smartphone
64 GB
CDMA / GSM
2960 x 1440 pixels (570 ppi)
RAM 4 GB
Android
4G LTE
microSDXC slot
5.8"
Super AMOLED
12 MP (8 MP front camera)
midnight black
View All
Know your gear
Unlock true mobility with the Samsung Galaxy S8. Now you can see far beyond the task at hand with a super-immersive infinity screen. Turn your phone into a computer with Samsung DeX. Discover Bixby, an intelligent interface that learns from you to help you do more. And feel extra confident that defense-grade Knox security is keeping your critical data and private information safe.
Contact Sales Assistance
(800) 800-4239
,
Monday-Friday 7am-7:30pm CT
Samsung Galaxy S8 - midnight black - 4G - 64 GB - CDMA / GSM - smartphone
is rated
4.70
out of
5
by
92
.
Rated

5

out of

5
by
onufrm
from
Great phone - and no problems activating here!
I already had a Galaxy S8 for myself and I love it. So I wanted to get another one for my kid. I shopped around, and I could not bring myself to pay what Verizon charges. So I bought one from a local electronics chain, and we could not get it to activate, even though it should have worked. So I returned that one. Then I read a post from someone who said they bought theirs directly from Samsung. I was surprised to see their price was just as good as the best offers for new phones on eBay! And when I saw that I could activate the phone on Verizon directly through Samsung, I was confident that it would activate. And it did - I went through the activation steps right here on samsung.com, and it was really easy, and it worked the first time!
Date published: 2018-07-17T00:00:00-04:00
Rated

5

out of

5
by
AlWe
from
Scratches Insanely Easily
I had my previous Blackberry Priv, naked, for a year, with no scratches. I've had this S8 for a month and there are already a handful of (light) scratches. There's nothing else in my pocket, treated well, no drops. While the phone is beautiful, it's horribly manufactured. [This review was collected as part of a promotion.]
Date published: 2017-07-23T00:00:00-04:00
Rated

5

out of

5
by
Andie1982
from
Not my favorite
I've been waiting to upgrad my S6 but after 4 days, the S8 is by far the most initially frustrating to me. I've always had Samsung Galaxy phones (S3 through S6) & this is my least favorite upgrade. It's got all of the amazing normal features like best quality camera, etc, but I don't like the lack of home button, or the option to have normal vs edge, & while you can change the clock format on the always on display, it won't change on the normal lock screen (and if you're type A maybe a little OCD, that will drive you nuts). My biggest complaint though is the button sensitivity - you can change home button sensitivity but whether I'm typing or scrolling for normal everyday use, I feel like I'm going to break the screen because I have to press so hard & it takes me twice as long to type or even play solitaire because it skipped a letter or something. Also, while I realize most people want the uber slim design, I wish the S8 had width of the S8+ but height of the S8. Overall, awesome phone but my initial excitement of my upgrade is disappointing.
Date published: 2017-05-01T00:00:00-04:00
Rated

5

out of

5
by
Lmombo23
from
Incredibly fast and wonderfully reliable; one teeny-tiny gripe...
Let me start off by saying this phone is AWESOME. It's unbelievably quick and has the performance of a well-tuned car; nothing short of the exceptional quality you'd expect from a top-of-the-line Samsung product. Apps run flawlessly and calls are unbelievably clear, by far the best quality I've ever experienced. Prior to purchasing this phone, all I had owned were cheap prepaid phones from various manufacturers. When I bought my last phone, I promised myself it would only be used until I got the money for a good one. I don't regret my purchase in the slightest. Now, one teeny-tiny concern: as sleek and beautiful this phone looks, the back is really smooth and slick. It's actually hard to hold onto for me. Maybe I have girly hands, but it seems to slip around a bit. A bit of external texturing would eliminate this issue and greatly reduce the frequency of phones slipping from customers' hands. Luckily I got a free Otterbox case with my purchase so it's not an issue, but someone who likes their phone au naturale might have a problem. I suppose with a piece of electronics like the S8, you'd be crazy NOT to have a case.All in all, the Galaxy S8 accomplishes exactly what it strives to be: a high-end performance machine capable of handling the most complex tasks with ease, reliability, and sexiness to boot. I couldn't recommend this phone any more highly, and I foresee myself enjoying mine for quite some time.L.M.
Date published: 2017-05-09T00:00:00-04:00
Rated

5

out of

5
by
alwayson
from
Galaxy S8 -The Best Phone Ever Made
I'm 80 and have had a cell phone ever since they came out. Finally the best phone ever is here. It is like I carry my laptop, camera and phone all in one. I love this phone.
Date published: 2018-08-17T00:00:00-04:00
Rated

5

out of

5
by
Ashfont
from
Beautiful
This phone is amazing. It's slick, fast and gorgeous. The display is great, even if you use the standard setting instead of enhanced.Bixby: Bixby has a long way to go to replacing already-existing assistants on the market. It's too early in development to really comment on whether this will become a commonly used application.Security: I'm not completely inconvenienced by the fingerprint scanner, but when I can avoid it I much prefer to use the iris scan. It actually works rather well and saves me the hassle of searching for the scanner, and it's more secure.Battery: The battery life is decent, but the power-saving mode is awesome. My phone lasted on single charge, from 3AM until 10PM, mid-power-save mode, and still had plenty of juice left if I'd needed it. I wasn't heavily using it (during that time I took some photos, chatted on messenger, and browsed social media sites) but I've had plenty of phones die on me with little to no use just due to how long I'd gone without a charge. It's also really convenient to turn on and off, right there in your quick action tray.Speakers: The speakers are decent but I'm not thoroughly impressed. I much prefer using my headset or a bluetooth speaker when available. That being said, dual bluetooth support is an exciting new feature I can't wait to try out.Camera: Great quality and tons of new fun and useful features. Definitely a must-have as phones have replaced the standard digital camera.Overall, I love this phone and it's definitely worth the upgrade. It may not be perfect, but it is easy to overlook the few imperfections.
Date published: 2017-05-05T00:00:00-04:00
Rated

5

out of

5
by
sfdff20
from
Gets better with each version.
Being the newest flagship phone has its perks! This phone has met and exceeded any expectations I had for it. I am excited to use this until the next version shines through!
Date published: 2017-04-20T00:00:00-04:00
Rated

5

out of

5
by
Malejo3141
from
Amazing phone
This phone is so reliable. I've had it for about 3 months and no complaints so far. The camera is fast and takes great shots. [This review was collected as part of a promotion.]
Date published: 2017-09-24T00:00:00-04:00
Rated

5

out of

5
by
BoyMomAhr
from
Best Phone Ever Owned
I have only had it for about a week now but I can already tell its by far the best yet. I have always had the galaxy s phones and I get the new one everytime it becomes available and I keep getting more and more impressed. This phone has major storage, very fast and just an amazing phone all together!
Date published: 2017-06-15T00:00:00-04:00
Rated

5

out of

5
by
Justin O
from
Great design, too many problems
Great phone but unfortunately the phone has too many software issues. e.g phone refuses to load the software
Date published: 2019-01-30T00:00:00-05:00