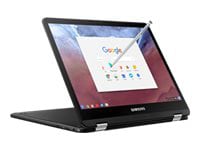 Quick tech specs
Flip design
Chrome OS
32 GB eMMC
HD Graphics 515
black
Core m3 6Y30 / 0.9 GHz
4 GB RAM
12.3" touchscreen 2400 x 1600
Wi-Fi
View All
Know your gear
Built for mobile productivity in the field or on the sales floor, the Samsung Chromebook Pro is a 3-in-1 workhorse featuring a 360° rotating screen and built-in Pen. From collaborating in the cloud to multitasking offline, you get uninterrupted access to Android apps on the go. Plus, business-grade security and a web-based Chrome Management Console let you focus on what really matters, like growth.


Samsung Chromebook Pro 510C24I - 12.3" - Core m3 6Y30 - 4 GB RAM - 32 GB SS
is rated
4.06
out of
5
by
16
.
Rated

5

out of

5
by
Ind3
from
Started great, occasionally fritzed, then died
I loved this when I bought it. The touch screen functionality was great, I liked that in synced so easily with my Google accounts and apps. It was a bit fritzy - the screen would lock sometimes or the touch screen would stop - but restarting it worked. Until today. Totally bricked and no factory reset tab like in some models. 15 months is not very long for a $600 device. I have a six year old tablet and five year old cell phone so I'm not hard on my things.
Date published: 2019-08-07T00:00:00-04:00
Rated

5

out of

5
by
Dmitriko
from
Great device for any work and enjoying!
It is my first experience work on Chromebook. I had the Toshiba Windows 10 and Macbook. But I am very satisfied with results of Chromebook. Highly recomend to for who value the qulaity.
Date published: 2019-04-23T00:00:00-04:00
Rated

5

out of

5
by
joshuaadm
from
Almost Perfect
I absolutely love my chromebook. The only thing I don't like is my hinges are uneven. Which makes the screen uneven while in tablet mode. Of course it doesn't hurt performance its just a little Annoying. Other than that battery life is great and the screen is fantastic. Love my Samsung Chromebook Pro!
Date published: 2017-11-01T00:00:00-04:00
Rated

5

out of

5
by
Kicooke
from
Great Hardware
I see the negative reviews and wonder what the disconnect is. I have had mine for about 8 months now and have had no issues. While I liked it as a Chromebook I have recently converted it to a Linux Mint (Tara) machine which makes for even better use of the hardware. With 4GB of RAM and 64GB of storage space, plus an additional 128GB SD, this machine serves as an excellent development computer. The Linux really makes this computer shine and I am no longer bound to having to be tethered to the internet to be truly productive. I thought I was going to have issues with the trackpad not being recognized but lo and behold when I rebooted the system after the install there it was!
Date published: 2018-11-23T00:00:00-05:00
Rated

5

out of

5
by
SkratchAvenger
from
Chromebook Pro
Had the ChromebookPro for a few weeks now. That being said, I'm pretty happy with the purchase. For you non-tech savvy individuals, Think of it as a larger "CELL-PHONE" but not quite a full blown "Lap-Top". Perfect for light word processing and web browsing. Light in weight and simple sleek design. A+ Thank you Samsung it's exactly what i needed!
Date published: 2017-08-30T00:00:00-04:00
Rated

5

out of

5
by
indi5793
from
great
I bought this as my first computer and i absolutly love it for what i use it for
Date published: 2018-11-17T00:00:00-05:00
Rated

5

out of

5
by
ThatAlex
from
Flaw in touchscreen design
Google "Samsung Chromebook Shaking" and you'll find countless reports of these laptops experiencing phantom touches, window resizing, and on-screen shaking. This is due to a design flaw near the hinges. I absolutely baby my laptop and still ended up with this problem.The bottom section along the face of the screen has a shoddy plastic covering. I suspect underneath this cover there are weak connections. When the laptop is placed into tablet mode, you naturally want to hold the tablet like a notebook along this shoddy plastic covering. I suspect that my thumb presses against this cover and damages the connections underneath.AWFUL DESIGN. I've sent the laptop for repairs under warranty but what's to keep this from happening yet again when I am out of my warranty period? Not to mention, I will now own a "refurbished" laptop. There is no public explanation of exactly what the problem is for me to avoid this in the future. I am beyond livid.Another issue is anyone who is right-handed in tablet mode will have to deal with accidentally turning off the unit as the power button will be on the bottom in tablet mode. A slight brush against your lap, belly, or table and the laptop shuts off.
Date published: 2018-04-17T00:00:00-04:00
Rated

5

out of

5
by
Anwar11
from
Expensive and not much better
This one cost lot more than the basic chrome book and it works the same, not faster. Sound from the speakers are very low.
Date published: 2018-07-07T00:00:00-04:00
Rated

5

out of

5
by
Flimlin
from
Almost great
Fantastic device. Fast and everything I wanted it to be. It does everything I want it to do. The downside of the chromebook pro is the appearance. Inside and outside every single finger print or smudge makes it's presence known. I'm embarrassed to take it into meetings because it looks like I was using it while eating a pizza with no napkins.
Date published: 2017-12-08T00:00:00-05:00
Rated

5

out of

5
by
Adid
from
Good Chromebook
I bought this back in march of 2018, and until now, the only problem I have is that the screen half of the laptop weighs a lot, and the hinges sometimes are a little too loose. Otherwise, best in class screen, good battery life (7 hours with continuous binge watching YouTube at 70% screen brightness. The device can get a little laggy at times (with choppy animations), but this is definitely a Chrome OS problem rather than a hardware problem, as my surface 3 with an intel atom (about half the performance) can run smoother than this with full Windows 10. Updates did fix this a little by little since I got this for what it's worth.
Date published: 2018-10-26T00:00:00-04:00