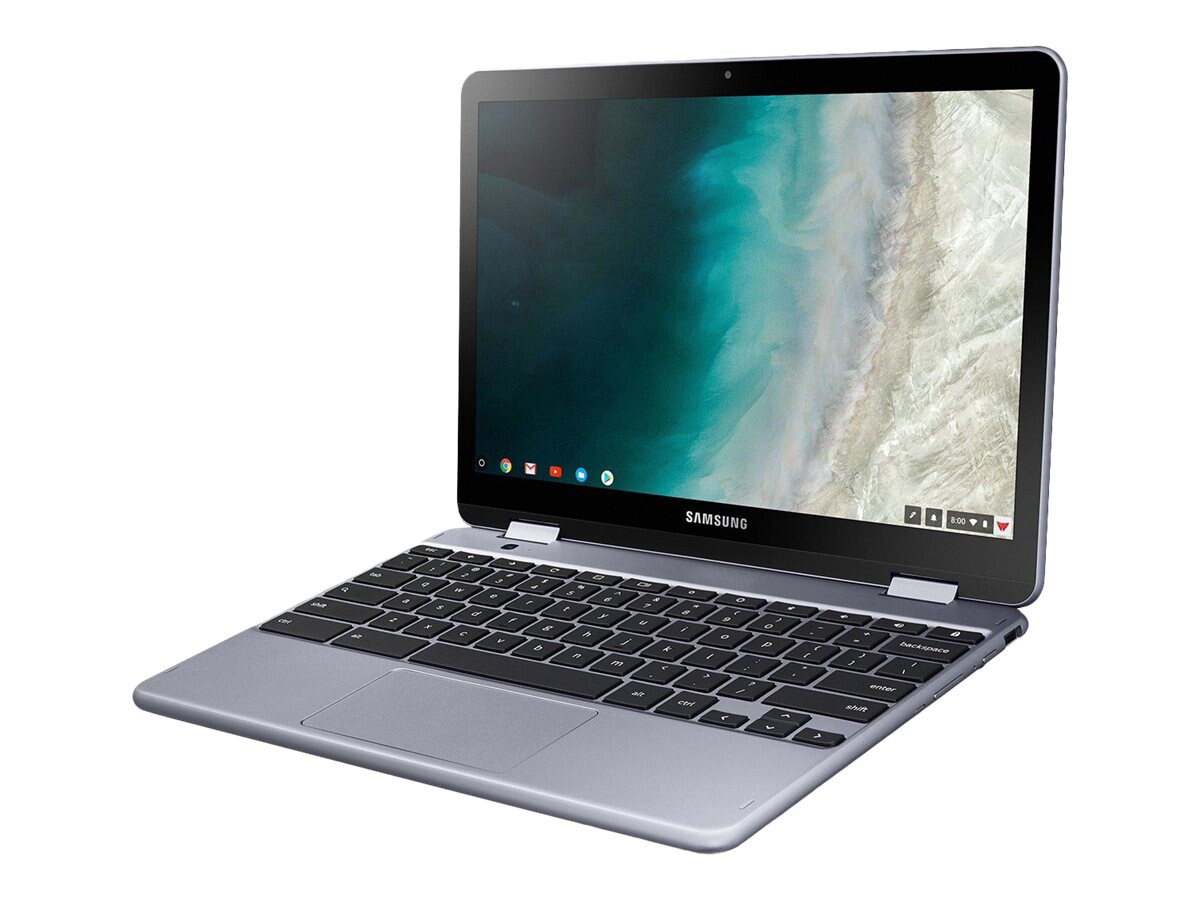 Quick tech specs
Each Samsung Chromebook Plus XE512QAB 32 GB memory offers device storage
360° rotating screen lets you fold into tablet mode
The built-in pen promotes creativity
1-year Samsung limited warranty
View All
Know your gear
The Samsung® Chromebook Plus lets you do more anywhere, anytime without slowing down thanks to its long-lasting battery and powerful Intel® Celeron processor. It features an incredibly lightweight aluminum-alloy body that makes it very portable. Its built-in pen lets you write notes, sketch out ideas, magnify images and take screenshots. This Samsung Chromebook Plus XE512QAB features a 13MP camera with autofocus that enables you to capture clear photos. Its 12.2-inch LED backlight touchscreen can rotate 360-degrees allowing you to effortlessly fold it into tablet mode for a more convenient viewing and browsing experience. Its Quad HD display produced from durable Gorilla Glass gives you the best of both widescreen and portrait-tablet viewing. It features a powerful Intel®Celeron processor that lets you work on multiple things simultaneously. With 32 GB of built-in memory, you'll have adequate storage for your documents and more. This 4 GB RAM Chromebook also features a microSD card slot that can expand up to 400 GB offering you more storage space. The Chrome operating system runs Android apps, enhancing user-friendliness and enabling downloads of games and apps.
Contact Sales Assistance
(800) 800-4239
,
Monday-Friday 7am-7:30pm CT
Samsung Chromebook Plus XE512QAB - 12.2" - Celeron 3965Y - 4 GB RAM - 32 GB
is rated
1.90
out of
5
by
78
.
Rated

5

out of

5
by
nhang6977
from
left hinge cracked screen
brand new work computer. opened with both hands--one on each corner. the left hinge came off and the entire screen cracked terribly.
Date published: 2021-02-12T00:00:00-05:00
Rated

5

out of

5
by
Steve
from
Great laptop if not for the crappy hinges
the wife loves this laptop but unfortunately the hinges break with ease. the hinge broke just out of warranty so a little over a year. samsung was decent enough to repair it last summer, and now well under a year later it broke again. the wife doesn't even use it in tablet mode so the hinge isn't being abused. the problem is the hinge screws into plastic in the screen surround and the hinges themselves are stiff so a broken laptop is all but guaranteed. do not waste your money on this piece of garbage.
Date published: 2021-01-28T00:00:00-05:00
Rated

5

out of

5
by
Deopdeadkitty
from
DONT BUY!!!
this is the absolute worse computer i have ever purchased. 3 months in, it stopped working. went to the shop to get it fixed. luckily i had a warranty so they sent it to samsung where they replaced the morherboard. i kid you not, the day after my warranty expired, the hinge decided to break, which also cracked the screen. i decided i should pribably leave a reciew warning others not to get this overpriced piece of junk. i have since moved on to gaming laptops as they are powerful beasts. very dossapointed in the quality of this thing. i know my computer isnt the only one because tonssss of people have also had this problem.
Date published: 2020-12-01T00:00:00-05:00
Rated

5

out of

5
by
Sushi
from
Broken Hinge
the chromebook itself was pleasant to use and worked well until the left hand hinge broke. the hinge became so stiff that when my wife opened the lid, the whole fitting broke out of the screen part. as you can see from other reviews, this is a common problem. samsung refuses to fix this hinge under warranty and do not recognise it as a design problem. i would be very wary about buying any samsung product in the future and would advise you not to buy one of these!
Date published: 2020-12-05T00:00:00-05:00
Rated

5

out of

5
by
Grayson
from
Poor design
i actually have 2 problems, one isnt as major as the other. my first broblem was that the top part of the s-pen popped off but i didnt use it often anyways so it was fine. but just last night when i was about finished with my work the hinge somehow popped off on the left side and the screen is making distorted colors in the bottom left corner. i am unable to close the chromebook now. although i managed to make the problem a little bit better i am still afraid i might break it more. 1 star
Date published: 2020-10-21T00:00:00-04:00
Rated

5

out of

5
by
Tom D
from
Left hinge failed just like everyone else's
do not buy this piece of junk. opened the screen one morning and the left side hinge tore through the front plastic of the screen. the hinge is frozen solid. less than 2 months out of warranty. there was no prior indication this might happen. the hinge was not stiff, loose, etc. the chromebook hasn't been abused or banged around. i'm 50+, it resides on my desk, the kitchen table, or on my lap. the hinge is frozen solid, it won't move. to fix this i will have to replace the back of the screen (the little brass pieces on the hinge are the threaded inserts torn out of the back panel), the front bezel around the screen, and the hinge. that is if the parts are available.
Date published: 2021-01-25T00:00:00-05:00
Rated

5

out of

5
by
Dell Techie
from
Great at first ... and then it wasn't!
originally bought the device because of: 1. form factor 2. convertible 3. pen 4. m3 processor nice while it lasted but then had the exact same hinge issue as others have listed in the reviews. an expensive device is now useless. of course it's outside of the year warranty, but decided to use samsung chat that popped up when i started this review ... that was a waste of my time. was told to mail it in and a technician would diagnose it. of course they'd probably allege "abuse" so not even going to bother. i went off samsung phones a few years ago, then veered away from their tvs and now it looks like i'll be avoiding their computing devices too. sad ... a lot of potential with some fatal flaws and no recourse once you've spent premium money on the devices.
Date published: 2020-11-11T00:00:00-05:00
Rated

5

out of

5
by
Wessy
from
Awesome chromebook
the computer works awesome has an extremly fast processor. very happy with the purchase.
Date published: 2020-11-06T00:00:00-05:00
Rated

5

out of

5
by
Jessicasarah21
from
Same hinge issue described in other reviews!
i purchased this less than 2 years ago and used it only about once a week since so you'd think it would last years considering the light use. however, as the 20+ other reviews have described, after gently opening the lid as usual the right hinge completely disconnected from the screen and a metal part is now sticking out, causing the lid to be unable to close. i have never dropped this item or even bent the lid back to put it in tablet mode so there is no reason why the hinge should have broken. samsung was no help at all since it's been over a year. there should be a recall on this immediately!
Date published: 2020-10-03T00:00:00-04:00
Rated

5

out of

5
by
Rach
from
Not worth the hassle
we purchased 2 of these chromebooks for our kids. our daughters hinge broke just like everyone else stated here. luckily we got a warranty with our purchase on both computers. 6 months later the same thing happened with our sons computer. again we had the warranty to cover it. now a few days later my daughters computer has completely died. warranty is no longer valid due to the repairs on the screen. we are either looking at replacing the battery ourselves or buying a new computer. super disappointed in this product. why wouldn't you supply a better chromebook? i will be looking into a different brand of computer from now on. these computers aren't even 2 years old.
Date published: 2020-10-17T00:00:00-04:00
Rated

5

out of

5
by
ShaunMT
from
Poor case design
hinge broke internally from normal use in under a year. the case became brittle and broke internally separating from the metal hinge. samsung won't honor the warranty because the receipt for the online purchase from best buy does not include a physical location address and store #.
Date published: 2020-10-14T00:00:00-04:00
Rated

5

out of

5
by
Angelajjean
from
Hinge destroyed my screen
as many of reported, i too had the hinge bust through my screen for absolutely no reason. i contacted samsung and i sent them my chromebook only to be told they want $362 to repair it since it was out of warranty. which would be understandable if this wasn't an obvious design flaw on samsungs part. samsung needs to addresss this issue!! i will report that i contacted samsung after seeing all the reviews of the same issue and they will be repairing my chromebook at no cost.
Date published: 2020-09-27T00:00:00-04:00
Rated

5

out of

5
by
Chrome Home
from
Hinge Issue
the hinge is very week and pulls away from the top housing catastrophically cracking the display. i do not recommend anyone buy this product. before breaking the chromebook was very nice and performed great. features and performance were good and the pen was nice. unfortunately, due to the failure in the hinge and cracked display i can not recommend this product to anyone.
Date published: 2020-09-28T00:00:00-04:00
Rated

5

out of

5
by
Gabby
from
Ghost Screen
i bought this chromebook in 2018 for college and it worked amazingly in the beginning. ironically, four months after the warranty expired and i started experiencing a lot of problems. my chromebook has been malfunctioning and it has been very difficult to use. it randomly opens apps and clicks on random things. i think the term is ghost screen... it is really annoying because i have to keep turning off my chromebook every few minutes and it works temporarily but it starts malfunctioning again. i searched up my problem and apparently other people as experienced the same problem as well.
Date published: 2020-09-27T00:00:00-04:00
Rated

5

out of

5
by
JohnS
from
Perfect Home Schooling Device
i bought this as a gift in december 2019. what a great investment for 2010. daughter was able to complete her school assignments this past spring, and now fall. she likes the drawing option, as she is a budding artist herself. not a complaint from my teenage daughter!!
Date published: 2020-10-10T00:00:00-04:00
Rated

5

out of

5
by
MiaK
from
Poorly made
purchased in december 2018. product is poorly made--the hinges snapped (and, of course, shortly after the warranty window expired). and, like so many other reviews indicate, nothing would have caused this issue--the product sits on my desk and sees relatively limited use (no kids, no pets, no extreme usage requirements, etc.). i'm wildly disappointed in the quality of the product and would absolutely not recommend.
Date published: 2020-09-29T00:00:00-04:00
Rated

5

out of

5
by
Ritalevi
from
Laptop broke for no reason after 2 years
the laptop worked ok with the exceptiom of the touchscreen. hard to take notes on it. it was the reason i bought it but oh well. the 1 star review is that a few days ago the hinge on the computer just broke out of the blue and it caused the screen to shatter. almost $500 to the trash. never buying anything samsung ever again!
Date published: 2020-09-05T00:00:00-04:00
Rated

5

out of

5
by
jtrims
from
Died after 13 mos.
used for 13 months without problems. went to use it one morning and it was dead, no power light, nothing. no light when charging. i've tried different chargers, power flush without success.
Date published: 2020-09-15T00:00:00-04:00
Rated

5

out of

5
by
Steve M
from
Trash, do not purchase
trash, complete trash, i had the chromebook just over 1 year and the hinge pulled out of the the plastic cover. i contacted samsung about repair, the quote was $350. the hinge is a known defect, samsung refuses to fix it. i'm sorry but a $450 chromebook that was not abused should last longer than a year. i should have purchased an apple product
Date published: 2020-09-15T00:00:00-04:00
Rated

5

out of

5
by
Melainew
from
Hinge failure
Just three months out of warranty and one of the hinges seized up, broke my screen when I tried to open it. Otherwise, I love this Chromebook. Plenty of storage and speed for what I use mine for (pictures, writing, surfing the web, light office work). I also love Samsung products, but I'm so disappointed in the quality of this particular product. I don't use this often, not even daily and I don't carry it around much. If I was a heavy user I'm sure it would have broke months ago. Sooooo sad. :-(
Date published: 2020-03-28T00:00:00-04:00
Rated

5

out of

5
by
Eric
from
Fatal flaw in hinge design.
I bought two of these last summer. Hinge failed on one last week. My daughter broke the screen trying to open her Chromebook. Numeous similar reports on different websites point to a serious design issue.
Date published: 2020-05-04T00:00:00-04:00
Rated

5

out of

5
by
G_B_
from
Good Travel Tablet
As far as this being an actual laptop in the traditional sense, this is not the option for you. Considering the entire situation we're in, this was a good choice for me since I can hold my appointments with my clients on this while going over documents with them or spreadsheets on my other laptop. I wanted a 2-in-1 laptop/tablet type of device and so far this has worked well for me. I will warn people, this is a tablet so Microsoft Office will not work. I have been using Google Suite as my back up.
Date published: 2020-05-03T00:00:00-04:00
Rated

5

out of

5
by
DanPutz
from
Hinges Fail
I bought two of these as gifts/rewards, one each for my daughters and the hinges seized up in under a year. First daughter did not know why it was not opening, and the screen cracked where the hinge failed. Second one seized up as well, but did not open screen once it seized up. These are teens and don't handle the chromebooks harshly. Now we can't use either. Not sure if I will buy samsung again!
Date published: 2020-03-17T00:00:00-04:00
Rated

5

out of

5
by
SamsungCEO
from
Broken hinge
Poor design. Barely used chromebook. Opened it for use and the hinge got stuck and broke. Don't buy this model.
Date published: 2020-05-25T00:00:00-04:00
Rated

5

out of

5
by
Jacobm69
from
Do Not Buy - Major Hinge Issue
I have the same issue as a lot of the reviewers have already posted. The hinge somehow gets stuck or frozen and when the laptop is opened, it pulls out of the screen and cracks the display. Had this device for 5 months. Customer service is not easy to deal with to resolve this issue as well. Stay Away from this
Date published: 2020-04-25T00:00:00-04:00
Rated

5

out of

5
by
Luis
from
Horribly made!!!
We bought this laptop a little over a year ago and already the hinge on the left side of the laptop broke and that made the screen crack!! I went to open the laptop as we all need to and it was stuck.. As I continued to try to open it it made a strange noise and the hinge came off and cracked the screen on the bottom left. I have than done ALOT of research and have found over 100 people who have had the EXACT same issue with theirs. Almost all of them bought their laptop around the same time I did.... This is unacceptable!!!!
Date published: 2020-04-07T00:00:00-04:00
Rated

5

out of

5
by
JMBar
from
Hinge came off and cracked screen.
I've had this Chromebook for over a year and the left hinge suddenly pop out and cracked the screen. This is obviously an issue Samsung has to look at since I've read about 8 reviews in a row showing the same issue.
Date published: 2020-05-29T00:00:00-04:00
Rated

5

out of

5
by
JENNA SAGE
from
Great device! Until...
i've been using this chromebook since late november 2018, and it's served me well for taking notes in classes, studying, sketching, netflix, and keeping on average about 20 tabs open at all times. however, the left hinge began clicking last night and began causing discoloration on the screen from the stress it's applying on it. because it has decided to stop being a functional hinge. and if i open and close the lid enough, that hinge is going to go through the screen. which is absurd because i bought this to replace a laptop whose hinge also broke. i suppose it serves me right for trusting plastic and metal attachments or thinking it would be designed to last more than two years. thanks samsung for some great planned obsolescence.
Date published: 2020-07-06T00:00:00-04:00
Rated

5

out of

5
by
avery
from
same hinge problem as everyone else
6 months after my warranty expired the hinge busted out of the screen while opening the laptop. no prior damage and i rarely used the device in tablet mode/flipped the screen all the way back. even before this happened i was very unhappy with the quality. my ctrl key popped off one day after about 6 months of owning it. the laptop is very flimsy in general and just terrible operating system. lack of compatible programs. programs do run smoothly. definitely will not buy a chromebook again.
Date published: 2020-05-29T00:00:00-04:00
Rated

5

out of

5
by
bunderthebridge
from
Great machine, faulty hinge
i've been totally happy with my july 2018 purchase until recently and would easily have given it 4-5 stars before this week. as many others have mentioned here, the chromebook self-destructed on opening the lid during normal use. guess i was lucky that the hinge didn't crack the screen, but the design here is fundamentally flawed. fingers crossed that samsung will come through with some advice or assistance with a repair, but am having no luck getting through so far.
Date published: 2020-06-29T00:00:00-04:00
Rated

5

out of

5
by
STEPHEN
from
Severely flawed, most likely will break
bought 2 of these for my daughters. loved them at first, food functionality and performance. then the left hinge broke on one, shattering the screen in the process. hinge locked in the closed position, ripping from the screen when it was opened. cost to fix was $100 more than new cost, but no parts available anyway. then the second laptop failed a week later in exactly the same way. research on best buy and this site shows many, many others with exactly the same problem very clearly this is a quality/design flaw that samsung are aware of but refuse to acknowledge or fix. their response was "from the photos this is a cosmetic issue and not covered under warranty". this is not cosmetic, both laptops are unusable. samsung just lost a customer for life!
Date published: 2020-07-22T00:00:00-04:00
Rated

5

out of

5
by
Angel
from
Poor Quality - Hinge broke also broke the screen
Bought it December 2018. Lasted 8 months. Hinges broke right through the screen. Who's bright idea was to place the hinges right behind the screen. The hinges are supported to the plastic cover of the screen assembly with 3 tiny metal screws. Reallly? Metal screws and a plastic cover and the hinges behind the screen?
Date published: 2020-04-06T00:00:00-04:00
Rated

5

out of

5
by
Cosmos
from
Hinges lock up cracking screen
Had this for 6 months before hinge locked up and broke the screen and separated from lid.
Date published: 2020-04-04T00:00:00-04:00
Rated

5

out of

5
by
HappyPapa
from
Durable for its price point
Bought this model for daughter 1 year ago and it's still going strong. Had one hiccup after with static electricity build up at 6 month mark—daughter always had it plugged in—but it was an easy DIY fix.
Date published: 2020-01-04T00:00:00-05:00
Rated

5

out of

5
by
CHRIS
from
The hinge curse continues
i bought this for my son for christmas, and fir the most part, it came in great when he had to use it for school. however, just like with many of the reviews ive read so far, the hinge broke off on the left side. needless to say, i am very disappointed that a company like samsung would have a product thst would break so quickly.
Date published: 2020-07-09T00:00:00-04:00
Rated

5

out of

5
by
dana
from
overall good laptop but battery life is bad
i bought this 3 weeks ago for school but the battery only lasts for an hour, besides that its a good laptop not sure if i got a defcted one.
Date published: 2019-12-28T00:00:00-05:00
Rated

5

out of

5
by
Dianad
from
Beware of the hinges
I've had mine for a year and a half and have loved it. Today I opened it up and the left hinge was just frozen. It tore the bottom left corner of the display, cracking the screen. I in no way manhandled it. I just opened it like I've done a million times before! Like Samsung doesn't know about their faulty hinges! Unreal!
Date published: 2020-05-31T00:00:00-04:00
Rated

5

out of

5
by
kiasc
from
Works Great until one of the Hinge Broke
The Chromebook works great until the right hidge broke. Cracking the screen too. I saw many other users have posted having the excat same issue so i think this is a design or quality issues with the product. As the item have already passed the warranty period, there is nothing much i can do with it. What a waste of money for a product is cost $450 that cant even last for more then 2 years.
Date published: 2020-04-18T00:00:00-04:00
Rated

5

out of

5
by
Steve
from
Chromebook Plus V2 Hinge lockup - broken screen
I see a significant number of people have sent in reviews about the Chromebook Plus hinges locking and breaking the screen when opened. Has anyone gotten their Chromebook fixed? Where? Has Samsung acknowledge the problem and are they making any accommodations for units that are out of warrantee?
Date published: 2020-05-18T00:00:00-04:00
Rated

5

out of

5
by
Frustrated mama
from
Purchased 2 defective chromebooks
Purchased 2 chromebooks from best buy for my kids at Christmas and BOTH some how got fused closed at the hinges and when we went to open them the screen was broken. You can see that each book there is an issue with the hinge. Since my son's did it first we didn't try to force my daughters open. Don't even know where to try to get these fixed. And now with school and everything going on they are in dire need of their chromebooks for e-learning. So frustrating. Does anybody know if there is a recall for them I'm not aware of?
Date published: 2020-03-29T00:00:00-04:00
Rated

5

out of

5
by
Andy
from
Stuck hing cracked screen... like many people.
don't buy this product. there is a common problem with this model where the hing gets stuck and cracks the screen. samsung hasn't responded to this issue. just do a quick search and you will see how common this issue is. very unhappy!
Date published: 2020-08-28T00:00:00-04:00
Rated

5

out of

5
by
Shahid Naqvi
from
Don't buy this defective model
less than one year after purchase, the battery died completely without any warning. my warranty had expired and samsung did nothing to help. this is the first computer i ever got that failed less than a year after purchase. do not waste your time and money on this.
Date published: 2020-08-26T00:00:00-04:00
Rated

5

out of

5
by
Tom S
from
I thought it wouldn't happen to me. I was wrong.
just like many of the other reviews you have read, one of the hinges on this device of unbelievably cheap construction broke after 18 months. luckily, it did not break the screen as it did for many others. the unit still powers on, but cannot be used because of the physical damage. believe this: if you buy this chromebook, it won't matter how careful you are...it will break. the metal hinge is screwed into plastic - it is a design that is doomed to fail. i am going to try to fix the hinge with jb weld (a two part epoxy). hopefully this will return function. even though it has better specs, i would suggest buying a cheaper chromebook, as this expensive one has no better construction. it doesn't matter how awesome it is if it breaks and you have to buy another one.
Date published: 2020-08-24T00:00:00-04:00
Rated

5

out of

5
by
SoDisappointed
from
Hinges broke after less than a year, bad design
i really like this device, but when i opened up the chromebook as always after a year of use, the hinge came right out of the frame, breaking the screen. samsung refuses to pay for the repair despite active warranty, claiming it's not under warranty because of the broken screen. i tried to give them a chance to fix it, but they just tried to sell me an expensive repair. maybe someone else can fix it. i'll sell it and get a non-samsung chromebook.
Date published: 2021-01-22T00:00:00-05:00
Rated

5

out of

5
by
Hector
from
Nice until battery dies and screen hinge broke
i was very happy with it until.... battery died in less than 2yr of moderate use, then the right hinge locked in causing it to tear off from back case as many others have experienced it, this is a big time design flaw.
Date published: 2021-01-04T00:00:00-05:00
Rated

5

out of

5
by
Cody
from
Major Design Flaw! Don't Buy!
i purchased this chromebook in november 2018. over the course of two years i probably used it for less than 100 hours. it worked fine in those 100 hours. the pen is kind of gimmicky and i didn't really have much use for it, and the performance is what you should expect out of a chromebook. in november 2020, i opened the screen. just like everyone else here is reporting, the hinge stuck, and caused me to pry the screen and shatter it. i thought i was just unlucky but now i see that it is some sort of horrible design flaw, and if you're outside your 1 year warranty you will be helpless in receiving any compensation for damage that is clearly no fault of yours own.
Date published: 2020-12-10T00:00:00-05:00
Rated

5

out of

5
by
Curtis
from
Trash
i used to think samsung was a solid manufacturer, but no more. their products live just long enough for the warranty to expire and one day just die and they aren't responsible. bought a chromebook for my student and then one day the power light does nothing but blink red. i tried to restore options and nothing changed, so i contacted support and was told my option was to throw more money at it... sad day indeed.
Date published: 2020-12-08T00:00:00-05:00
Rated

5

out of

5
by
MaineManJeff
from
Samsung stands behind their product!
my son has had this for chromebook for 2 years and uses it daily. we had the hunge failure happen to us last week out of the blue. we were hoping to find an easy way to fix it before the screen cracked and called samsung service. i was very happy and surprised to hear samsung stand by their product and cover the repair under warranty 2 years after purchasing! i will always buy from a company that stands by their product well outside of normal coverage.
Date published: 2021-01-17T00:00:00-05:00
Rated

5

out of

5
by
SadCollegeStudent
from
Good While It Lasted
I bought this chromebook to take digital notes when I entered college. I fell in love with the device and enhanced my learning. That was untill about 6 months later the hinge broke from regular use and it also messed with the screen. It was fun while it lasted Samsung.
Date published: 2019-08-27T00:00:00-04:00
Rated

5

out of

5
by
RobertBB
from
Had one for a year, glitches started
Bought one of these a year ago for my Son's school work. After a while just sitting there with nobody touching it, it would start flipping between open tabs randomly. Turns out the touch screen control goes faulty on these. I opened it up and disconnected the touch screen cable, so at least it's usable, but no touch screen anymore. Piece of junk.
Date published: 2019-08-09T00:00:00-04:00
Rated

5

out of

5
by
Engineering_Student
from
Lasts 1 year, 6 months before issues pop up
I bought this in 2018 and it was a great purchase. Excellent little notebook! Nowadays it is suffering a bit though. The screen is spotty with pen recognition (conveniently after my warrantee expired) now so written words will be missing letters, which have to be rewritten only after adjusting the screen with my finger. Strange glitch, but since my warrantee is out they basically told me I was sunk. That aside, its awesome.
Date published: 2019-09-16T00:00:00-04:00
Rated

5

out of

5
by
tito
from
Worthless
Zero, zilch, no support. All the support links are dead and live chat gets you a virtual assistant. Shows how much Samsung respects customers once they have your money. Never again. Goodbye Samsung.
Date published: 2019-09-24T00:00:00-04:00
Rated

5

out of

5
by
g20BB
from
V1 had a better usbc layout for charging
Compared to V1, V2 has a horrid USBC layout. Before I could plug my computer in on either side of the device because the usbc ports were on both sides. They changed that with the addition of an unnecessary USB3.0 drive spot that is just wasted space. Adapters exist for a reason. I absolutely hate this about the new model and because of it, that for me is a complete deal breaker. Horrid design flaw with this change. Hope to see them put this back on both sides. It needs to be on both ends for best charging. It preserves the charger too instead of it getting caught up on the laptop and pulling it off counters, etc. I like the new intel processor, however. But unfortunately that usb drive is enough to make me hate this device. Still no backlit keyboard and keys don't recess when in tablet mode leading to drops and an overall awful feel with the keyboard always exposed underneath the device.
Date published: 2018-11-19T00:00:00-05:00
Rated

5

out of

5
by
OregonBruin
from
V2: All-new Chromebook Plus is one of the best!
Just to clarify, this is the newest Chromebook (as of August 2018) from Samsung and is version 2 (V2) of the Chromebook Plus. They have improved most everything and kept the premium construction. A combination of aluminum and plastic feels sturdy with no hints of flimsiness. I think this model will withstand the daily rigors normally subjected to portable computers. The biggest noticeable change is to the aspect ratio. It's gone from 3:2 to 16:10. It ia less squat in appearance and allows the keyboard to feel closer to a regular size. Everyone has different needs so this may be a big deal to some and uneventful to others. Another change is a downgrade in resolution. V1 had 2400 x 1600 and V2 went down to 1920 x 1080. I think it still looks nice and should contribute to longer battery life and graphics for games should render without as much stuttering. Samsung has put the Intel Celeron 3965Y CPU inside the Chromebook Plus (V2). It's a 14nm chip built on Intel's Kaby Lake microarchitecture. It has two cores that can operate at 1.3Ghz, and incorporates Intel's HD 615 Graphics at 300 to 800 MHz. Although it can support more, Samsung went with 4GB of RAM. I think they went with a balance between performance and cost. It'll be fine for most people but heavy game users probably wouldn't be using something like this anyway. Of course, the pen is a selling point for many people, including me. I'm not an artist but I like to use the pen for navigating around in addition to the things you can do with a pen. I find the lag to be minimal and again, should suit most people. There are still 2 USB-C ports but now they are together instead of on each side. Because the port is used for charging, I liked the option to use either side to plug in depending on where I'm charging it. You are now limited to one side. It's not the end of the world but something I liked better on the V1. There is also a USB 3.0 port for those who want one. The sound is nothing revolutionary and what most people would expect. It works fine. The trackpad also works fine and feels smooth for easy use. The different modes all work as you would expect. The screen orientation doesn't feel as sensitive when changing to tablet or tent modes. Of course, your experience will vary. I've been getting over 9 hours of battery life which is excellent in my opinion. That is general usage. Although I plan to play some of my regular Android games on this device, I have not started yet. I can't comment on battery life when doing tasks that use a lot more resources. Charging takes a few hours and that's to be expected. Overall, I think this is one of the best Chromebooks you can buy. It strikes a balance between the price and performance. I think the performance is actually quite good for the price, which while it's not what I would call inexpensive, but compared to a Pixelbook, it seems like a bargain. You get a solid device that feels far more premium than an all plastic build. The screen is nice and bright, the resolution is lower than the V1 but still looks quite good, and the more "regular" aspect ratio will feel less awkward to those who didn't like the original. The pen is excellent, as you would expect from Samsung and I think the typing experience will be fine for most people. I highly recommend this Chromebook!
Date published: 2018-08-18T00:00:00-04:00
Rated

5

out of

5
by
bed345k
from
easy to use
Have one major problem, the screen has locked up at least twice a day since my purchase and you have to reboot ..
Date published: 2018-12-20T00:00:00-05:00
Rated

5

out of

5
by
MisterPierrot
from
Gentle Pleasure
As a music fanatic, I can't be happier with this Chromebook. The default sound is GREAT and voluminous. This must be said and heard. But there is more which I find so appealing about that aspect. One can boost the volume not only through the the chrome extensions, every Chromebook lover will have found these I'm sure, BUT you can also boost with standalone apps though the Play store for downloaded movies or music files. There is no occasion where you can't have it to full enjoyment. Even boosted, the whole sound spectrum remains good. No distortion. For classical music, this device is a marvel, it's simply a pleasure and the way it should be. The bottom firing speakers work very well for the stereo. It's impressive. Congratulations to Samsung. I bought it for the this reason and although I'd wished for a very bright display too, it is still satisfying at 300+ nits. The FHD on a small device like this is really OK. Very responsive as a touchscreen, the right size 16-10 too, like my Mac. The keyboard is indeed very good, as Chr.Unb. mentions. Aesthetically, it's a very beautiful device that is gentle on the hands with its rounded edges, the rather heavy display doesn't bother me at all. I'd never have felt if I hadn't read it. Last but not least, the pen works like a charm. The longer I use it the more I see its value. 200GB sd-card works perfectly. All in all, the CB+V2 is great. For power users, this device is problably not the right thing, yet I do certainly NOT agree with all the negative comments here. Samsung should have constructed this device in metal completely though. If Samsung wanted to make just a good media device, then this one certainly is, And it's more. Hope it stays like that while I can imagine the Pixelbook 2 some day, ha, only if it can boast a sound like the v2 ...as 'there will always be something better' right?
Date published: 2018-10-25T00:00:00-04:00
Rated

5

out of

5
by
Josef B
from
Great All Around but a few Quirks
I bought this about a month ago and am generally happy about it with a few exceptions, those being the strange camera setup, I'd rather have the 13mp camera on the front rather than the keyboard deck because it gets used more, second the camera doesn't deal with low light well unless you install crouton which then allows for the camera to be adjusted automatically, another issue is the placement of USB-C ports why God why did they put both on the same side it's not that bad since they provide a USB-A on the other side but it's still annoying. The pen is actually pretty great and I find myself using it to take screenshots often. Finally I REALLY wish I would've opted for the extra $100 for the core m3 model. The Celeron in this Chromebook doesn't cut it especially if you plan on running Linux Apps, Crouton, Android Apps, etc. I always find spotify's audio being choppy. I would've liked a bit more storage but that's just because I'm using this laptop to code and have to install Linux Apps (Crostini), Crouton, or a combination of both. Otherwise this Chromebook would be wonderful for general browsing, but if you're planning on Crostini and Android apps opt for the extra $100 core me model.
Date published: 2018-11-16T00:00:00-05:00
Rated

5

out of

5
by
Pinkbirdy
from
Good features, but they don't work
I purchased this and used for a bit. After a month went by, I went to use it to work on an Excel spreadsheet and the app kept crashing before j could click on anything. I then decided to play around with other apps to see if they worked and they all do that. I am also having the same problem when I am in the play store, it opens then when I move my cursor to type in the search field or select an app, it crashes.im not sure what's going on but this Chromebook is completely unusable. I have wiped everything and reset it to factory hoping that would fix it, but no luck. I now have an absolutely useless Chromebook...I am able to surf the web, but I could do that with the Chromebook I purchased this to replace. If there is an update that fixes the issue, I hope it comes soon
Date published: 2018-10-19T00:00:00-04:00
Rated

5

out of

5
by
rcrespo49
from
Samsung Chromebook Plus 2 in 1 12.2
Bought it November 2018. Lasted 8 months. Hinges broke right through the screen. Who's bright idea was to place the hinges right behind the screen. The hinges are supported to the plastic cover of the screen assembly with 3 tiny metal screws. Reallly? Metal screws and a plastic cover and the hinges behind the screen?
Date published: 2019-07-22T00:00:00-04:00
Rated

5

out of

5
by
DanaS
from
Left Hinge Failure - Like Everyone Else
my sopohomore daughter loved this until... like so many others, the left hinge failed causing the corner of the screen to catch on the keyboard and crack off... wonder if samsung is rectifying this obvious design flaw with some credit toward a new one??? we cannot close the chromebook now, and it will not stay upright. so, she cannot bring it to school or use it at home. stinks because it is still fully functional. geeksquad quoted me over $300 to fix. not worth it, unfortunately!
Date published: 2021-03-19T00:00:00-04:00
Rated

5

out of

5
by
Joyleah
from
Not all the glisten is gold..
i bought this computer initially to do some homework and also some video editing on the go, heck even at home. from the beginning i noticed some glitchy, slow, and unresponsiveness later on. final straw is while i was in the middle of editing drone footage. i returned and the screen was blank and asking me to insert a backup usb chromebook recovery media. so i did i even use multiples brands of different usb and constantly received error. error: unable to unzip file. please try again. i encountered this when using 4 different recommended brands. i never found a solution. i never got to the bottom of this and just used a macbook air. the best part is i take it to best buy they could not even get to the bottom of it so i guess it's the paperweight now
Date published: 2021-03-09T00:00:00-05:00
Rated

5

out of

5
by
ZMan
from
Hinge failure + Customer service failure.
i bought two of these laptops for my daughters to use for school. one of the laptop's hinges failed and it was submitted to samsung for repair. the laptop was returned with the screen camera inoperable. i contacted cs and was denied repair despite damage being caused by samsung repair. was informed i would have to pay out of pocket for shipping and repair. now my kid cant attend zoom classes because of the camera issue. i have purchased samsung phones for myself and wife since the galaxy 3 and note 3 in addition to multiple tablets, and i have two samsung tvs. was considering buying a samsung laptop for my wife, but if samsung doesn't stand by their products and warranty repairs, i can't continue to purchase their products.
Date published: 2021-03-10T00:00:00-05:00
Rated

5

out of

5
by
SriK
from
Hinge broken
poor product quality. i will never recommend samsung chromebook. it happened after my warranty is over and samsung is not willing to address my concerns.
Date published: 2021-11-10T00:00:00-05:00
Rated

5

out of

5
by
Alex
from
Flawed hinge desing renders device usless
this is the same hing problem everyone is complaining about
Date published: 2022-07-29T00:00:00-04:00
Rated

5

out of

5
by
ayerto
from
Great performance, broken hinge mount
i've used this for about 2 years. the pen works great, the screen looks great, the battery is great. i was hoping to use it up to its projected end of support in july 2024. last night i opened it as i always do and was greeted with a crunch. the hinge shattered the screen just like all the others. the screws on the screen side of the hinge were still screwed into metal inserts, and the inserts had grey plastic still caked around them. as i peeled the plastic away from the inserts, it just crumbled in my fingers. it appears that the plastic holding the hinge in place inside the screen portion had degraded. stay away. note: i liberated the hinge from the housing. it's pretty nifty. the duct tape replacing the hinge is not.
Date published: 2021-12-29T00:00:00-05:00
Rated

5

out of

5
by
Angie
from
HINGE BROKEN, like everyone else here.
samsung reall dropped the ball with this one. laptop hing out of nowhere popped out and broke. device was never handled poorly or dropped. one day i went to open it to use it and i hear a crack. sure enough the left hinge popped out and now the laptop wont even close. i looked into getting it repaired and the replacement part itself is close to $200. plus repairs?? its going to cost pretty much the same as the device. ive seen so many reviews of people with the same issue and samaung has done nothing. terrible.
Date published: 2021-09-25T00:00:00-04:00
Rated

5

out of

5
by
Tschertz
from
Great chromebook. Bad battery and hinges
great chronebook. nice features. bad battery and hinges bind up hinges ripped out of the back of thetop cover
Date published: 2021-10-30T00:00:00-04:00
Rated

5

out of

5
by
Aaron
from
Hinge broke
i have hardly used the chromebook and today the hinge broke. it seems to be a common thing with this device. i am very disappointed in the reliability of this samsung chromebook.
Date published: 2022-02-24T00:00:00-05:00
Rated

5

out of

5
by
ghost
from
so sad, broken hinge
same issue as everyone else... after having this chromebooks for 2 years the left hinge got stuck, popped out and shattered the bottom corner on my screen.. what a disappointment.
Date published: 2021-11-11T00:00:00-05:00
Rated

5

out of

5
by
MrsS
from
Very Disappointing
was very happy with the laptop, was not in use that often. as soon as the warranty expired the hinge busted out of the screen. apparently this is the number one complaint for this laptop. i called to try and get repaired because i am not able to buy a new one, got it sent out and they ended up quoting me $300 for a laptop that costs $500. the excuse that they gave me is it was an old model. so i am guessing it isn't worth it! samsung really needs to start dealing with problems and obtaining a reasonable solution. people keep laptops for a while because they cant keep buying new ones!!
Date published: 2022-01-26T00:00:00-05:00
Rated

5

out of

5
by
Mary
from
I liked that it could be used as notebook
after one year the battery will not charge the chrome book. i gave it as a gift overseas and now i cant find a battery to get the computer to work.
Date published: 2022-07-14T00:00:00-04:00
Rated

5

out of

5
by
Saddened
from
Saddened
i really liked the device for light work, but mostly for entertainment. i was going to hand it off to my child because she could use the pen for art. but left hinge randomly broke and cracked the bottom left screen glass. never dropped it. always handled it gently. used it once every 2 weeks. broke after a couple of months, after the warranty expired. geek squad said that the price to fix was equivalent to buying a new mini-laptop.
Date published: 2022-07-01T00:00:00-04:00
Rated

5

out of

5
by
2bad
from
Great From Factor Terrible Build Quality
this device was quite a quandry. i say was, because i have decided i am just not going to fix it anymore. it was simultaneously the best, and the worst device i have ever owned. that is a pretty neat trick. today, i experienced the same hinge failure so many other people seem to have experienced. i had three major failures early on, two under warranty and a third i fixed myself, so i treated this thing with kid gloves. i have decided i am just not going to fix it anymore. 4 times is enough.
Date published: 2021-04-02T00:00:00-04:00
Rated

5

out of

5
by
Drewmama
from
Screen Defect
In just a few short weeks, the screen started acting up. The display was faded and there was ghosting. Luckily, was within the 15 business day window and returned it. Still debating if I should replace it with same model.
Date published: 2021-07-08T00:00:00-04:00
Rated

5

out of

5
by
lmd1688
from
Dead
we have had this chrombook for less than 2 years and the motherboard is fried now rendering it useless. wasted money.
Date published: 2021-04-26T00:00:00-04:00
Rated

5

out of

5
by
KitKat
from
Same hinge problem as everyone else it seems...
i bought this book in june 2019. i've done nothing but baby it. it runs fairly well overall, but then today, out of nowhere - literally, there was no warning as i've been using it (opening/closing) everyday with no signs of wear - the hinge just ruptures and the right corner of my screen shatters. now i have three giant cracks going up my screen on that side. i have my thesis defense tomorrow and i guess i'm presenting with a broken screen. at least i'm the only one who will notice since i still can't get every piece of glass and they end up in my fingers. after i graduate next week this is going to be scrapped. it's not even worth the cost of repairs once you add everything up. i already ordered a new acer instead.
Date published: 2021-04-30T00:00:00-04:00
Rated

5

out of

5
by
Tjay
from
Awesome I recommend every 1 go threw Metro 4 a pho
I got this phone a little over a month ago and I'm so grateful that I did recommend everyone look into a galaxy from Metro PCS
Date published: 2022-12-07T00:00:00-05:00
Rated

5

out of

5
by
Redrhonda12
from
Great item
I bought this as a gift for my boyfriend and he loves it.
Date published: 2022-12-22T00:00:00-05:00