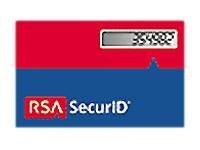 Quick tech specs
System security kit
red (pack of 10)
View All
Know your gear
Do you really know who is accessing your most sensitive networked information assets? Unfortunately, security built on static, reusable passwords has proven easy for hackers to beat. With the advent of e-business, the need for rock-solid user authentication has never been more urgent. RSA SecurID two-factor Authentication is based on something you know (a password or PIN), and something you have (an authenticator) - providing a much more reliable level of user authentication than reusable passwords.

RSA SecurID authenticators are the most popular strong authentication tools on the market, thanks to their reliability, ease of use and safety from destruction or reverse engineering. Much simpler-to-use than other strong authentication alternatives, the wide range of authenticator form factors offers solutions that fit the way your users need to work. Designed to work with current and emerging technologies, the line of RSA SecurID authenticators is constantly expanding. RSA SecurID authenticators are now available in various forms of hardware and software tokens, including a version for Palm computing platforms; no special readers or hardware are required.

This card guarantees complete security for 2 years.