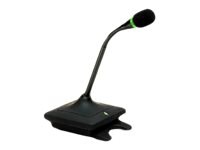 Quick tech specs
Microphone
01-ELITEEXEC4-31GSA-3Y
for P/N: 01-ELITEEXEC4-31GSA
01-ELITEEXEC8-62GSA-3Y
View All
Know your gear
Revolabs Executive Elite microphones merge best-in-class audio with eye-catching design, setting the gold standard for excellence in wireless conference room audio. The innovative wireless microphones feature advanced technologies and extended capabilities that ensure superior audio pickup and sound quality, improved signal-to-noise ratio, enhanced digital signal communication over wireless links, and a user-friendly interface.

For longer meetings, Executive Elite microphones work long time on a single battery charge, even in high-RF settings with receivers up to 300 feet away. In addition, the microphones intelligently conserve power when they are not in use, enabling long stand-by times with a remaining talk time of at least one hour.

Boasting a sophisticated Fortune 500 look and feel, the Executive Elite microphone line's stylish microphone charger tray lets you charge up to eight microphones of any type in the same charger simultaneously.

Once removed from the charger and placed on the conference room table, the Executive Elite microphones are ready for use. A single-button interface enables easy muting and un-muting of microphones, while indicator lights clearly identify the mute status of each unit and make it visible to all meeting participants.

For boardroom and conference settings where participants require individual microphones, Revolabs Executive Elite Gooseneck microphones provide the perfect solution.