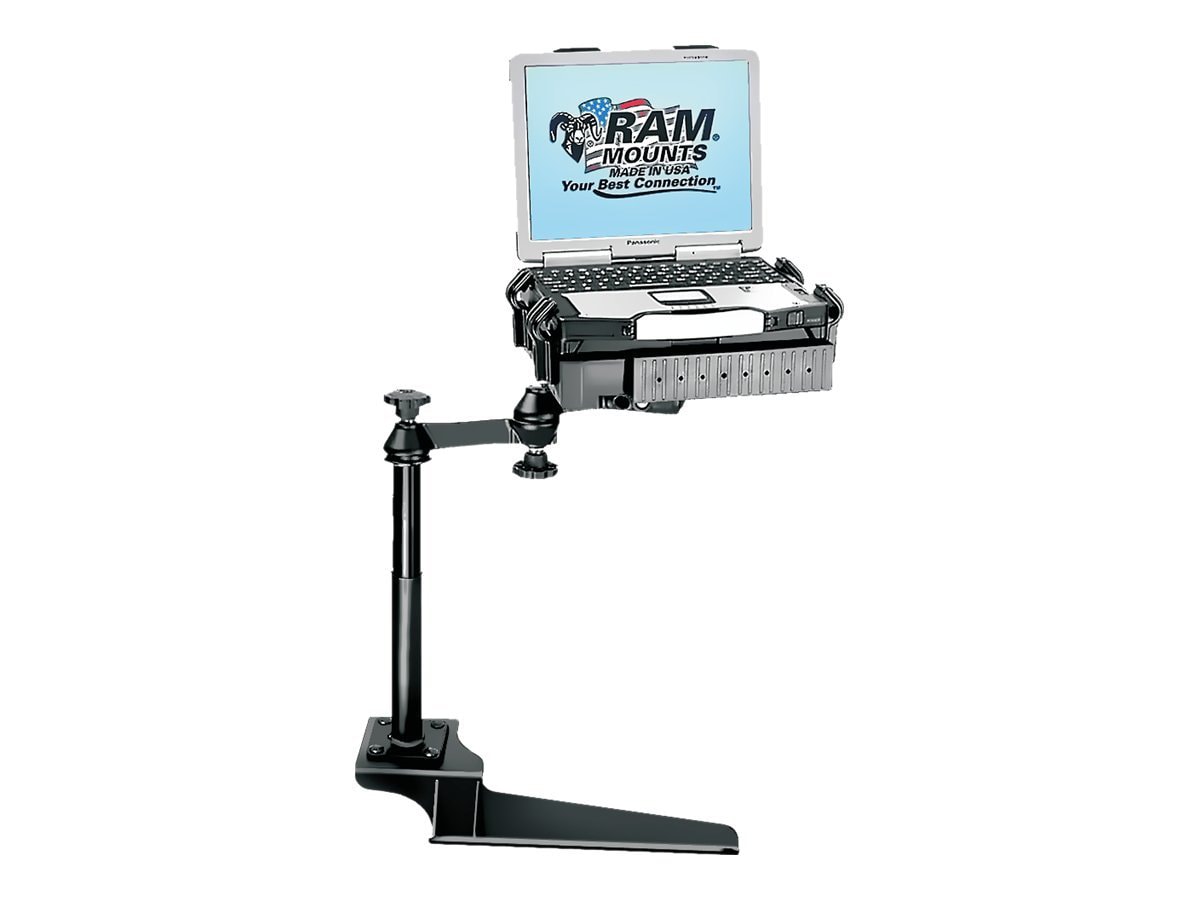 Quick tech specs
No-Drill
Material: High Strength Composite and Powder Coated Steel
Seat Configuration: Bucket
Dimensions: A = 18.15" / B = 7.05" / C = 3.74" / Hole Center = 11.5" -
View All
Know your gear
Compatible Vehicles:
Ford F-250 XL (2012)
Ford F-250 King Ranch (2012)
Ford F-250 Lariat (2012)
Ford F-250 XLT (2012)
Ford F-350 King Ranch (2012)
Ford F-350 Lariat (2012)
Ford F-350 XL (2012)
Ford F-350 XLT (2012)
Ford F-450 King Ranch (2012)
Ford F-450 Lariat (2012)
Ford F-450 XL (2012)
Ford F-450 XLT (2012)
Ford F-250 Crew Cab (2011)
Ford F-250 Super Cab (2011)
Ford F-350 Crew Cab (2011)
Ford F-350 Super Cab (2011)
Ford F-450 Crew Cab (2011)
Ford F-550 (2011)
Ford F-650 (2011)
Ford F-750 (2011)
Ford Excursion (2000-2005)
Ford Excursion Limited (2000-2005)


This No-Drill™ Laptop Stand System installs quickly and easily into the specified vehicles using the existing hardware of the passenger side seat rails. This configuration provides a telescoping feature that ranges from 12 to 18 inches. Dual swing arms provide articulation and 12 inches of reach for passenger and driver access to the mounted device. Patented rubber ball and socket joint provides additional adjustment as well as shock and vibration isolation. The RAM Tough Tray™ is spring loaded to accommodate 10" to 16" wide laptops and (17" wide screens). The tray features four adjustable retaining arms with rubber grip feature. These arms can be moved both vertically and horizontally. This allows for a custom fit for varying thicknesses of laptops and the freedom of not blocking ports or drives. A screen support and USB light are also available to accessorize the tray. Hole patterns on perimeter of tray facilitate the mounting of additional RAM systems to support GPS or other electronics.


Notes:
If the Tough-Tray™ Laptop Cradle is intended to hold a laptop or device while the vehicle is in motion, we recommend the Secure-N-Motion™ kit. (Click here to learn more and order) The RAM-VB-185-SW1 will work on both diesel and regular Ford Super Duty Trucks.


RAM stands for Round-A-Mount and got its start in 1995. Most of the product line is based on a patented design revolving around a rubber ball and socket system. Far and away the most innovative product line of its kind, RAM continues to evolve into one of the most sought after accessories for electronics. RAM products have quickly become an essential mounting component for a wide variety of applications including rugged vehicle, industrial, military and defense, material handling as well as any application requiring a robust mounting solution. Incorporating a non-slip feature as well as shock and vibration dampening, our often imitated but never duplicated mounting solutions are truly one of a kind and enhance every application they are used in. Unwilling to compromise durability and versatility, many RAM products are available to support devices from less than a pound up to 185 pounds. Utilizing the finest assembly hardware, durable composites, steel, stainless steel, rubber, and aluminum, our mounting bases and complete kits are manufactured to perform above expectations and remain cost effective.

For over a decade RAM Mounting Systems has been synonymous with quality and performance. For your next mounting application, choose wisely. Choose RAM.