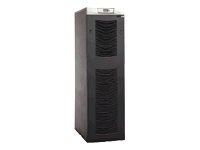 Know your gear
Featuring a modern LCD interface, the Powerware 9355 UPS includes advanced IGBT rectifier technology for active 0.99 input power factor correction (PFC). The output with 0.9 pf rating is suitable for protection of today's high PFC compensated computers, servers, and other critical loads.

The Powerware 9355 is an ideal UPS solution for centralized IT server rooms, building systems and industrial automation applications. The product includes standard automatic static bypass and manual bypass switches for enhanced reliability.

Incorporating the exclusive Advanced Battery Management (ABM) technology, the Powerware 9355 features the ability to significantly increase battery service life compared to traditional charging method. The 9355 UPS can be paralleled for both redundancy and capacity using patented Powerware Hot Sync UPS technology to deliver full uninterruptible power protection against all nine common problems.